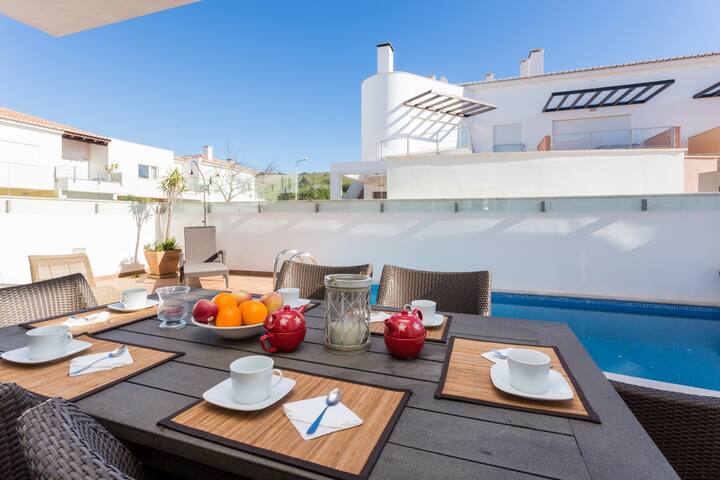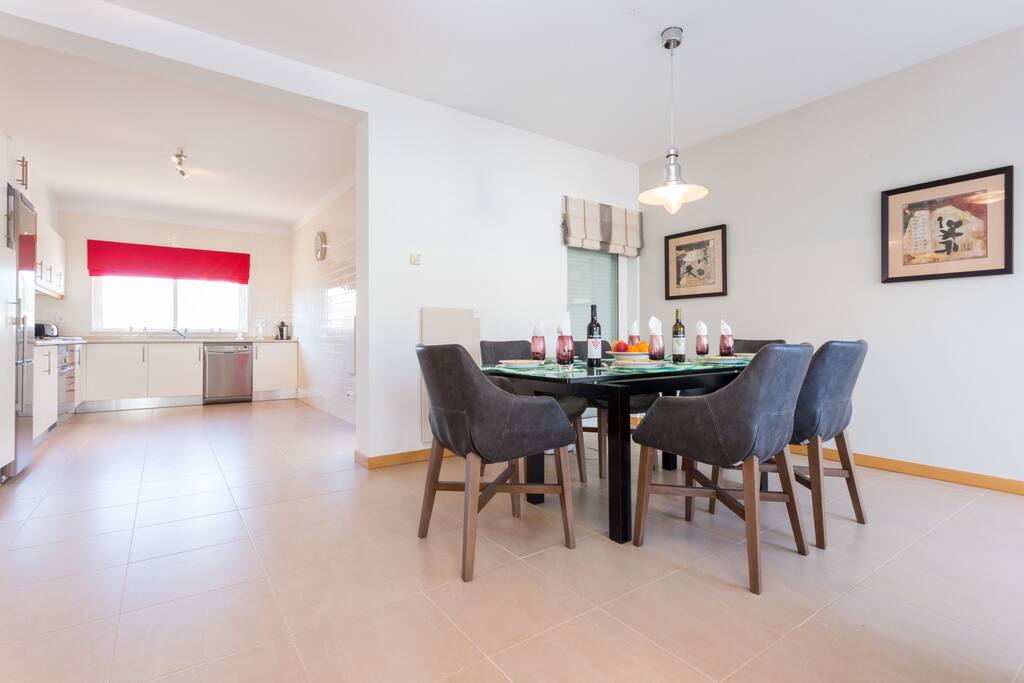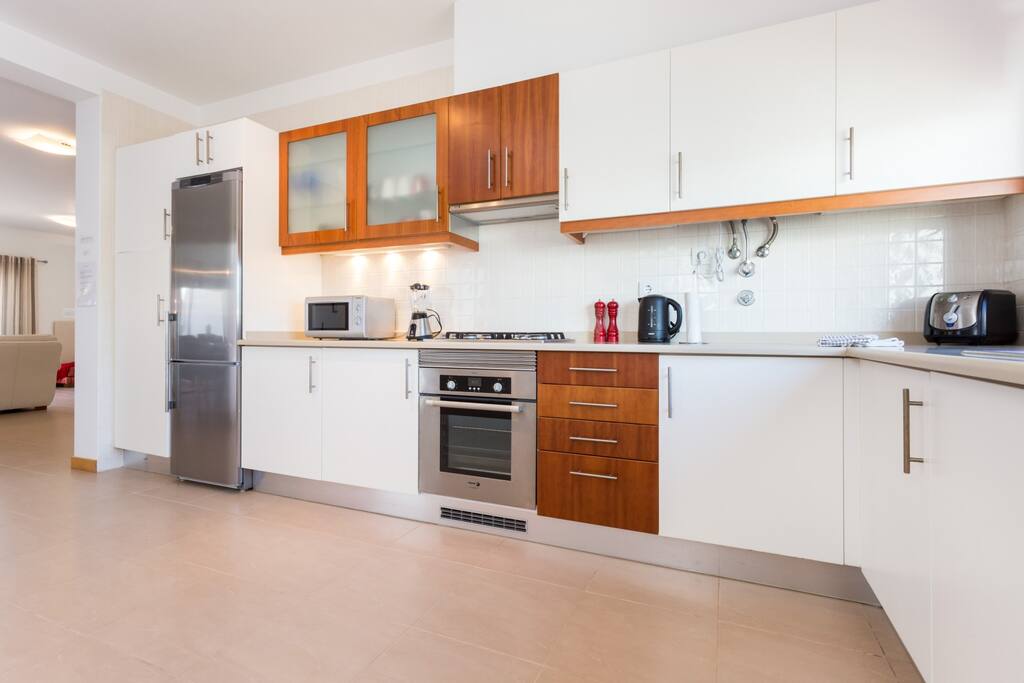 The villa in Burgau has 3 bedrooms and has capacity for 6 people.
The villa is tastefully-furnished, is fully-equiped, and is 200 m².
The house is situated in a family-friendly neighborhood next to the sea.
房源细节
The villa in Burgau has 3 bedrooms and has capacity for 6 people.
The villa is tastefully-furnished, is fully-equiped, and is 200 m².
The house is situated in a family-friendly neighborhood next to the sea.
The accommodation is equipped with the following items: garden furniture, fenced garden, 45 m² terrace, fireplace, iron, internet (Wi-Fi), alarm, private swimming pool, 1 TV, satellite (Languages: Spanish, English, German, French).
In the kitchen, refrigerator, microwave, oven, freezer, dishwasher, dishes/cutlery, kitchen utensils, coffee machine, toaster and kettle are provided.
其他注意事项
Included services:
- Bed linen:
Change each 7 days.
- Towels:
Change each 7 days.

Optional services (not included in the price):
- Extra Beds:
Price: 15 € per day.
Available items: 2.
- Cot/Crib:
Price: 5 € per day.
Available items: 3.
- Arrival out of schedule:
Price: 30 € per booking.
- Baby high chair:
Price: 3 € per day.
Available items: 3.
1. Check-in schedule:
From 01/01 to 31/12: everyday from 15:00h to 20:00h.
2. Check-out schedule: 10:00.
My family (children ages 2 and 6, my mother, my 74 yr old aunt, husband, and myself) enjoyed this beautiful home quite a bit. It was spacious enough for the six of us and had all the amenities of home. The layout is well planned and the decor is simple and contemporary. I have to note that we arrived for our 3pm check in and there was no one there to greet us as discussed. When Pedro sent the cleaners to let us in, the house had not yet been cleaned at all (and was in disarray from the previous renters) so we were unable to settle in and relax after a very long trip (6 hours by plane, 3 hours by car, etc... All with a toddler in tow). The cleaning was not finished until almost 7pm that night, so we went (exhausted and jet lagged) directly to the beach and out to dinner. While we were out, Pedro stopped in and left us two bottles of wine, which was a nice offering but I would have preferred to meet in person. Another odd thing was that there were no keys left for us when the cleaners opened the door at 3:30 pm. While we sat around the door discussing it, a woman passed the front door and tossed them on the wall and kept walking. I presume she was the earlier renter and that they had not checked out on time. Lastly, the bonus rec room in the basement was completely unusable to us. Clearly they are in the middle of mitigating a mold or mildew problem (caused by basement flooding perhaps?) because the odor was intensely strong, there were two dehumidifiers (full of water which had stopped running) and an entire section of wall had been removed. I was not able to let my children play in this room due to the unhealthy air. So in conclusion, aside from the basement, the house was great. Parking was convenient and it is a short walk to town and the beach. We loved the location. The layout, the decor, the amenities were nice. But I wish we had a better welcome. We never did get a face to face greeting, so we had to fumble through figuring out the dishwasher, TV, etc, and even though this listing says wifi is included the sign inside the house said it was unavailable. It was kind of Pedro to leave us the wine to smooth things over, but I would have preferred a personal welcome to the property. Still we had a lovely time! This was our very first airbnb experience so I wonder if some miscommunication was to be expected.
---
When we arrived at the airport I text Pedro as instructed and told him we would be at the villa in 1 hour. Pedro informed me that the key will be left in the safe outside the apartment. We when arrived which was around 7-8pm we got to the villa and put in the code to the key safe. No Key was inside. I called Pedro and he arranged for the key to be dropped off but it will take an hour. Not what you want to hear after a 3 hour flight and an hour cab journey. Anyway, finally we get into the apartment and there is a strong smell of damp. In the basement there are 2 humidifiers on with damp all down the wall. The basement was advertised with a pool table, sofa and TV. Unfortunately we could not use any due to the smell. There was also another smell of drains when you walked up stairs to the bedroom. It was such a shame as the Villa would have been perfect if it wasn't for the damp and the smell. The villa was clean but it wound have been nice to have been greeted at the Villa. There was 6 of us staying there and we were only given 1 key.
---
Very quite place and very comfortable beds, close to the see, small but good cafe and mini market. I can just recommended. Perfect for family holiday. Very small is the outside area and place around pool but enough to relax.
---
The house itself is very nice, comfy and spacious. It was clean inside and all necessities were there. But unfortunately they have a serious humidity problem in the cellar. As I read in other ratings, they already had it last year. Pedro said this just happened the week before, with a pool leak, the other one had been repaired, but all other walls far away from the pool were also wet. So maybe the have a general problem too. The serious smell of the moldy cellar is in the whole house. Even our cloth smelled back home. The pool was very dirty and was lacking 30cm of water, so the filtering system had stopped working when we arrived, we immediately asked for a pool service. It was only done on day six of our seven day stay. Also Internet was only working from time to time for a few minutes. We discussed everything with Pedro, he made an effort but didnt really help. We agreed on a fair refund in the end. So apart from the smell, which hopefully gets fixed some time, and the other two occasional things I would recommend it, but ask for the condition of the cellar before booking.
---
We had a lovely holiday at this spacious well equipped villa. Situated in a very quiet area just about 15 minutes from nice sandy beach with nice restaurants and a few bars. Very clean and tidy villa on arrival, there were a few little things that with a little bit more effort could have made our holiday a 5 star. Terrace was spacious with a nice swimming pool and plenty of outside furniture. Would have liked a bit more communication with host whilst we were there. We did have a problem with cooker on first day which tripped electric but somebody did come and sort it out straight away. All in all a good holiday.
---
Sou calmo e tranquilo, e muito sociável. Adoro conhecer pessoas novas e interagir com elas. Fruto de uma infância em que os meus pais me levaram para Inglaterra onde foram trabalhar, cedo desenvolvi o meu inglês e as relações interpessoais. Uma mais valia que se veio a revelar-se muito importante na minha vida pessoal e profissional.

Adoro tudo o que tenha a ver com novas tecnologias, e recentemente descobri uma nova paixão a Fotografia, que me ajuda a descontrair e relaxar.

Tenho uma pequena empresa de Administração de Propriedades e Arrendamentos Turísticos, que constitui com um amigo de longa data. A ideia surgiu em 2008 durante o almoço em que trocávamos impressões sobre as nossas vidas profissionais, e ambos a precisar de um desafio NOVO! Vimos a oportunidade de colocar num projecto moderno e inovador, toda a experiencia adquirida ao longo dos anos em que trabalhamos em Administração e Manutenção de Propriedades.
Temos varios tipos de propriedades para ferias, desde Estudios a Moradias.
Profissionalismo e arte de bem receber, ao dispor dos nossos clientes.
语言:
English、Español、Português