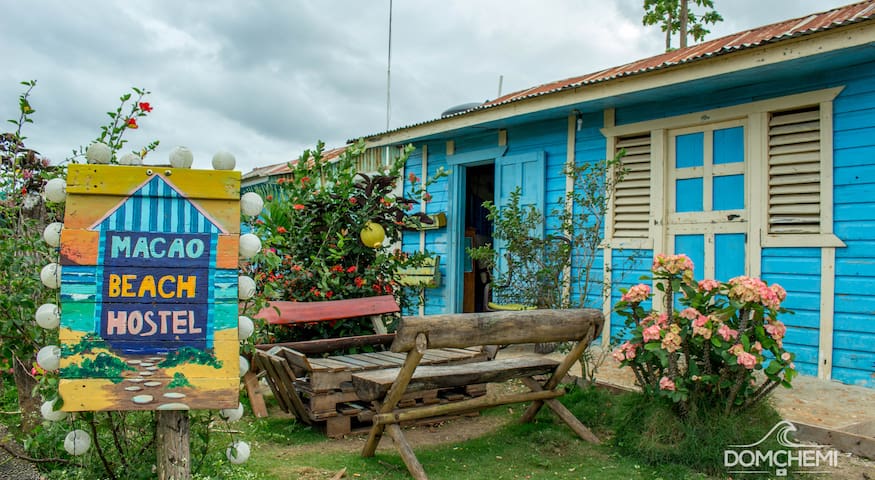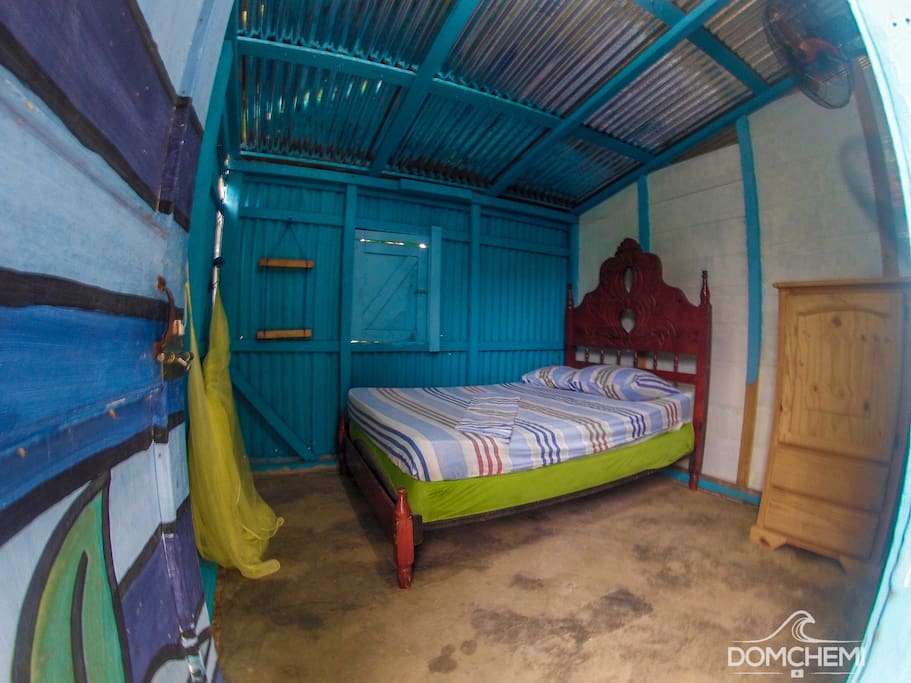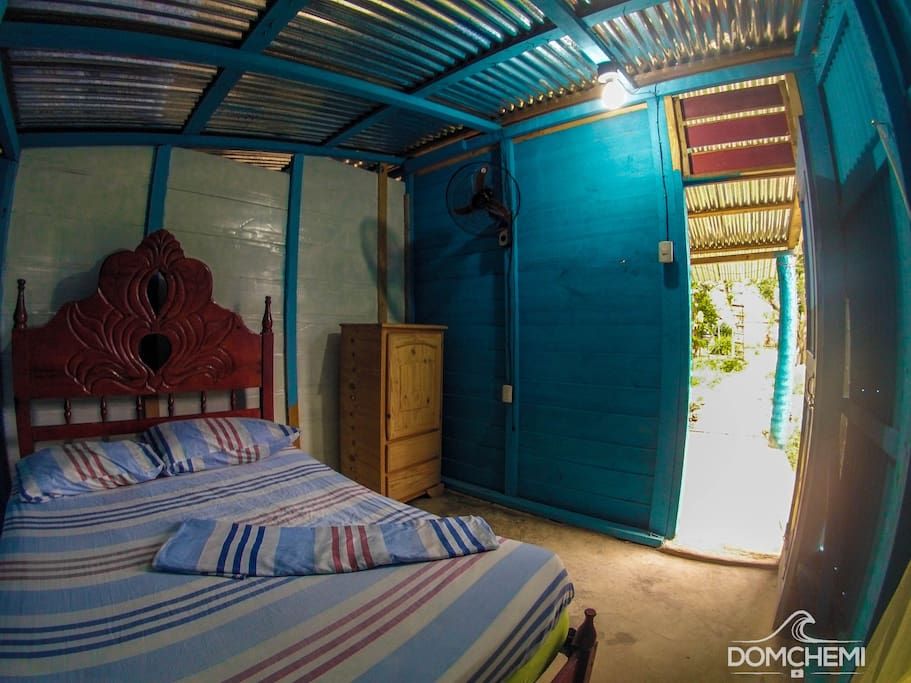 Macao Beach Hostel is a space in Punta Cana - Bavaro area where travelers from all around the world have the amazing experience of getting immersed into the Dominican culture, sharing with locals and the Caribbean nature, creating great memories while going back to the basics in our charming blue spot.
Located in a small and traditional town, Macao Beach Hostel is 15km away from the touristic spots of Bavaro and Punta Cana, and 12 min walking distance from one of the best beaches in the DR.
房源
A basic and comfortable room for 2 people with one fullsize bed, 2 pillows and its bed sheet set. It has a small dresser for your cloths and towels. Inside the chamber you can also find a fan, mosquito net, electric outlet and a lock for the room's door.
This room is located in the backside of the property, with three more private rooms. In the front area you can find a hammock, rocking chairs, a small table and a great view of the camping zone and the green surroundings, where you can get relaxed, read a book, play or listen music, get tanned and probably you will see some farm animals and playful kids.
房客使用权限
Full access to an open air outdoor kitchen with an awesome papaya tree, internal and external bathrooms as well as a beautiful huge back/front yard. Across the road is a cow field with mango trees and behind the house is a papaya and plantain grove. Wifi access available in every accomodation. Parking is available for any size vehicle. The property has 5 very friendly and playful dogs that are cared for by the family which owns the land. Feel free to pet them or feed them, as long as it's not chocolate!
与房客的互动
We host a very open and friendly environment for those who choose to interact with us in our daily routine. We are very welcoming and inclusive in our activities like music, sports, share time with local kids, etc. We are more than happy to guide, consult and direct in any way we can. If privacy and solitude is desired we can accommodate respectfully. Happy children and peaceful tame dogs run all throughout the front and backyard in the afternoons while chickens roam freely around the property. You may find yourself in front of a few curious children staring at you in their school uniforms amidst a variety of wagging tails and panting tongues.
其他注意事项
* Feel free to bring your instruments or painting supplies or any other creative materials as our household is an artistic environment which encourages these activities!
* Laundry service can be requested for a fee of 5 dollars for one large machine washed load.
* Pick-ups, transfer services, tours and local meals are also provided on request.
* As we try to keep the real Dominican countryside lifestyle, there are some facilities like air-conditioning, hot water, cable tv, microwave, that we don't use, this help us to maintain our property rustic and traditional.
---
---
Music is encouraged however to respect the locals we must lower the volume after 12pm.
---
If your looking for a great value close to Macao Beach this is it. Basic accommodations with a basic bedroom shared bathroom, kitchen and showers. Strong wifi and a great vibe. The hosts are wonderful and helpful. Again this is a hostel so if your looking for fancy this is not the place. If your looking for great value with great hosts close to Macao Beach this is heard to beat.
---
Das Hostel in Macao ist eine super Alternative, wenn man einen authentischen Einblick in die dominikanische Lebensweise bekommen möchte. Es besteht aus einigen Holzhütten mit Wellblech-Dach zwischen neu angepflanzten Bananenbäumen in einem kleinen, einfachen, dominikanischen Dorf. Morgens wird man von Hähnen und Kühen geweckt, tagsüber von gutwilligen Hunden begleitet. Es sind 15 Minuten bis zu einem wunderschönen Strand an dem man surfen, baden und Kokosnuss-Wasser trinken kann. Der Strand wird immer wieder von Touristen Gruppen besucht. Als Gast von Andres geniesst man aber einen Sonderstatus, was die Preispolitik anbelangt. Unser Besuch in Macao war eine gute Erfahrung und für Leute, die es gerne so basic wie möglich haben ist dies der perfekte Ort länger zu verweilen.
---
I gave 4 stars because this place has great spirit! It is in an awesome location!!! We had a ver authentic and beautiful experience here. The only downside was that we felt this spot was not advertised completely accurately. We were disappointed with our "private room" -it felt more like stall. The walls did not go up all the way so noise and light leaks were bad. Our neighbours were partying till 3-4am and coming and going in the room next to us keeping us awake. We put in ear plugs, and turned the fan on which helped to drown some of the noise but nothing could be done about the light. There were some other minor issues like the water went out for short periods, lots of bugs, and there were holes in our mosquito net. It is very rustic! This did not bother us and we sewed up the holes ourselves, but I think it would be good for people to know what to expect so they are not disappointed!! We were surprised! I don't want to lead you astray, this was actually my favourite place that I stayed in the Dominican! Minus the not-so-private room, I found the rest of it charming. The town and beach are absolutely amazing and very safe! We surfed a ton! People were so friendly! The hostel is on a lovely plot of land with great spots to chill by the fire and share dinners and chat. If you stay here make sure to say Ola! to all the locals! They welcomed us with big smiles and delicious food!
---
The hostel is exactly as described but a pleasant stay. Breakfast was later than everyone would have liked (9:30am) meaning day trips were always put on hold or breakfast (which is included) was skipped entirely. Be prepared for farm noises aswell! But everyone was welcoming and the beach was great and only a 10min walk.
---