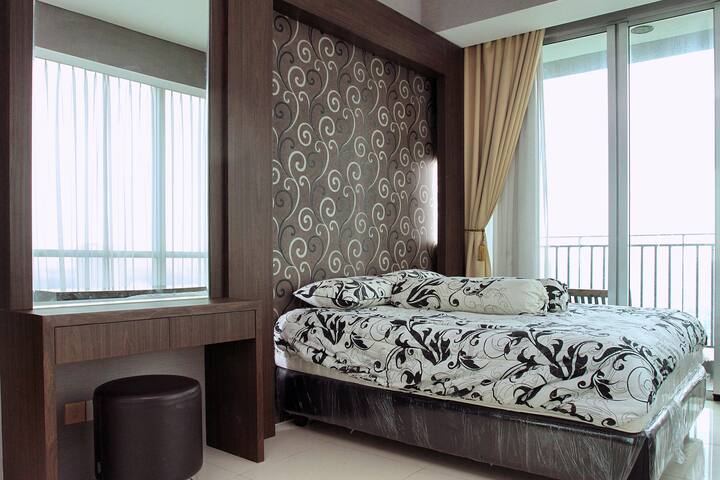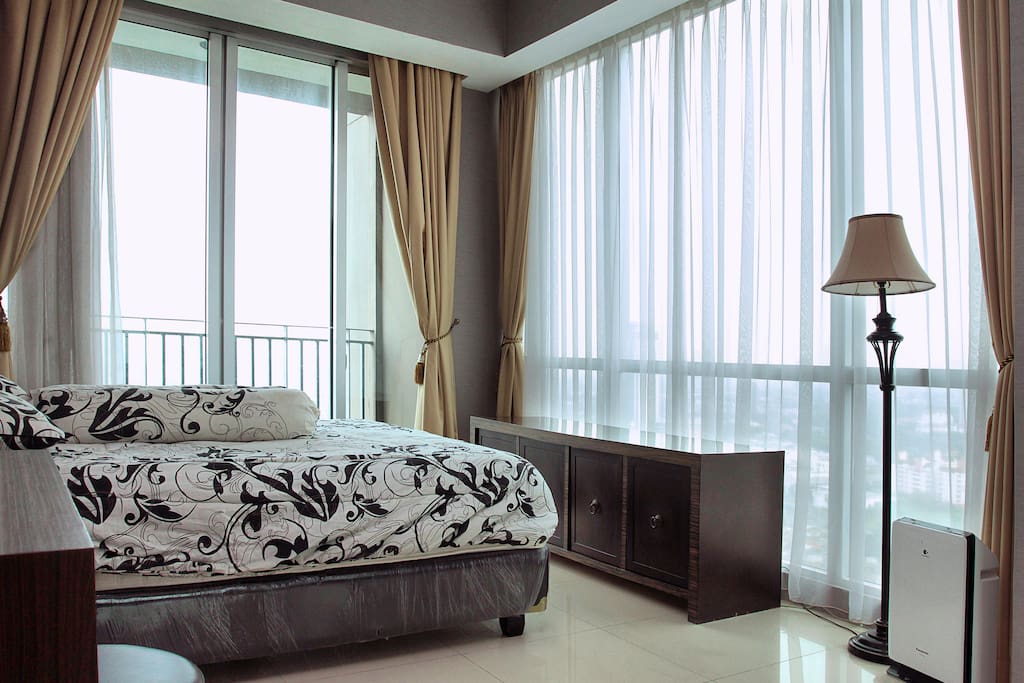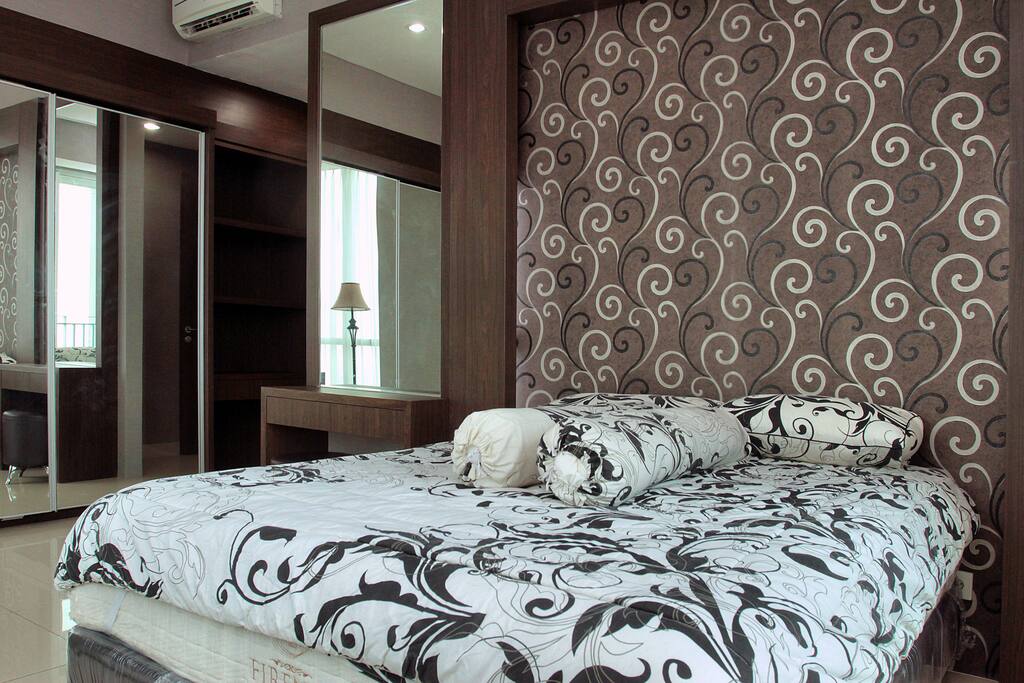 Lux & Spacious 3+1BR Flat in Kemang w/ Office Room
Lux & Spacious 3+1BR Flat in Kemang w/ Office Room
我的地方靠近夜生活,市中心,公共交通。你会喜欢我的地方,因为邻里,灯光,舒适的床,厨房和舒适。我的地方对夫妇,独奏冒险家,商务旅客,家庭(有孩子)和大团体都很有好处。
My place is close to nightlife, the city center, public transport. You'll love my place because of the neighborhood, the light, the comfy bed, the kitchen, and the coziness. My place is good for couples, solo adventurers, business travelers, families (with kids), and big groups.
房源
公寓实际上是3 + 1 BR公寓。但是,我把一个卧室变成了带有专用工作台和椅子的工作室。
The apartment is actually 3+1 BR apartment. But, I convert 1 bedroom into working room with dedicated working tables and chair.
房客使用权限
客人可以使用公寓的整个空间,包括游泳池和健身房等设施。
Guests can access the entire space at the apartment including the facilities such as swimming pool and gym.
与房客的互动
嗨客人, 我是Refki,你的专属主机。在airbnb中的主持已经是一个很好的爱好和工作。与新人见面对我来说总是很有趣。所以,不要犹豫与我联系,问什么。 :)
Hii Guest,
I am Refki, your dedicated host. Hosting in airbnb is already a deligthful hobby and job. Meeting with new people is always interesting for me. So, do not hesitate to contact me and ask anything. :)
---
---
---
1.MANAGEMENT OFFICE:
The management office is located at Gedung Kemang 15, Jalan Kemang Raya No.15. Jakarta Selatan
2.CHECK-IN AND CHECK-OUT TIME:
Check-in time at 12.00pm, check-out at 14.00pm. For any changes, please make an announcement.
3.REPAIRS:
Please report any repairs to us at +(PHONE NUMBER HIDDEN) as soon as they happen. Reporting maintenance early can reduce the possibility of the problem getting worse or causing other damage.
4.EMERGENCY REPAIRS:
For emergency repairs, please call the Maintenance Building Request Line at +(PHONE NUMBER HIDDEN) and select the emergency option.
5.DAMAGES:
Some examples of damages chargeable to the tenant include:
oGrease or foreign objects in drains or toilets.
oHoles or marks on walls, cupboards, or doors.
oBurn marks, stains or holes on floor/carpeting.
oBroken window or screen.
oHauling of rubbish/garbage.
oBroken or misplaced light fixtures and receptacles.
oLocks (if you request to have them changed.)
oUse of any sharp instrument on appliances.
PLEASE NOTE: These items above are caused by the tenant, his/her family or visitors. Call the office at once and report any damage.
6.MOVING FURNITURE:
Please consult with host on the best way to move your furniture to minimize disruption of other tenants and avoid damages to the common areas or your apartment home.
7.LOCKS:
You are NOT permitted to change your apartment lock, common door locks or install any additional locks or deadbolts. Changing your locks can cause significant problems with our care and maintenance of your apartment home including accessing your apartment in case of emergency.
8.KEYS AND ACCESS CARDS:
No duplicate keys / access cards are to be made for any of our apartment buildings or apartments. Lost keys / access cards will be replaced by management (owner). There will be a charge for replacement of keys.
9.TRASH:
Trash must be removed from your apartment daily. All trash must be put into heavy plastic bags and tied securely and placed in the proper receptacle which is located at the rear of the building. Recyclables are to be put into blue bags and placed next to the trash receptacle. Tenants are reminded to be very careful in moving the trash from your apartment home to the trash receptacles. Clean up any leakage and assure that the trash receptacles are covered to avoid attracting rodents or animals.
10.GUESTS:
For all guest and visitor, follow same rules with tenant
(URL HIDDEN) SERVICES:
Tenants that are utilizing supportive services, including live-in aides, are responsible for the actions of these service providers while they are on landlord property. Supportive service personnel must abide by landlord rules and regulations while on the property. Violations to the rules and regulations by a service provider may lead to the eviction for the household members on the lease.
12.MODIFICATIONS TO THE APARTMENT HOMES:
Under most circumstances, we will not allow you to paint, wallpaper, install carpets, contact paper or otherwise modify your apartment home.
13.ENERGY CONSERVATION:
We anticipate all tenants to keep our operational costs to a reasonable level by conserving utilities.
a.Inspect window for gaps and deterioration and make sure they are shut. If there is air leakage, notify the Landlord.
b.When rooms are not in use please turn lights off.
c.Do not use the oven or burners on your stove for heat. This is not only expensive, but unsafe as it may lead to a fire in your apartment home.
14.ILLEGAL FIREAREMS:
NO ILLEGAL FIREARMS OF ANY KIND: No type of illegal firearms are allowed to be in the possession of tenant or any guests of tenants in the unit or on the premises unless carried by Law Enforcement officer who is removing the illegal firearm off the premises.
15.ILLEGAL DRUGS:
ABSOLUTELY NO ILLEGAL DRUG USE ON THE PROPERTY BY THE TENANT, FAMILY MEMBER OF A TENANT OR GUEST OF A TENANT. The first offense will be considered a violation of the lease agreement and is subject to immediate termination of the lease.
16.SMOKING:
SMOKING IS PROHIBITED INSIDE THE HOUSE / APARTMENT.
17.ALCOHOL USE:
ALCOHOL USE IS ALLOWED AT TENANT'S OWN RISK.
*PS.
For long-term stay (1 month or later), We will adjust the water and electricity (WE) bills.

ADDITIONAL SERVICES
In order to make your stay more convenience, we provide guests with several additional services with very affordable prices. We do our best to give you pleasant stay.
1.AIRPORT PICK-UP AND DROP-OFF
The distance between the airport (Soekarno-Hatta Int. Airport) and city center is relatively far. Public transportation is also unreliable. Due to those situation, we provide you hassle-free airport pick-up and drop-off. Surely, with an affordable price.
Price List
-Airport Transportation: Rp 250.000
-Car Rental (8 hrs/day): By Request
LAUNDRY SERVICE
We value your time. Let us take care of your laundry, so you can spend more time to do productive things during your vacation/business trip.
Price: Rp. 75.000 per pick up
3.CLEANING SERVICE
We exactly know that pleasant stay comes from clean and neat home. We have in-house professional cleaning to assist you.
Price: Rp. 100.000 per visit
---
---
---
---
Great location - just an elevator ride down to the mall with tons of restaurants especially for those who are travelling with limited transportation. There's also a huge hypermart conveniently located at the basement floor of the mall to pick up your everyday needs or ingredients to cook yourself. Bonus points that the place is badge-access only starting from the front lobby to the elevator, with security guards manning the front at all times... makes us travelers feel safe. Some technical hiccups during our stay, but host was very responsive and immediately took actions to try and resolve the issues. Good experience overall.
---
I am a young entrepreuner who highly passionate in property business. I am the founder of Expat Helper Indonesia ( I believe that AirBnB has changed the property business market, which allows the property owner to manage its own property to be as productive as it can be. AirBnB not only helps me as the property owner, but also help my company to offer better services to clients.

I am listing not only my property, but also several properties that managed under my company.
语言:
Bahasa Indonesia、Bahasa Malaysia、English