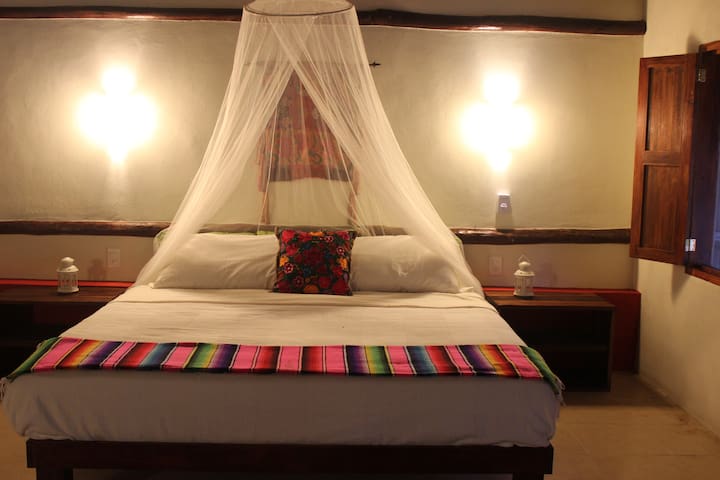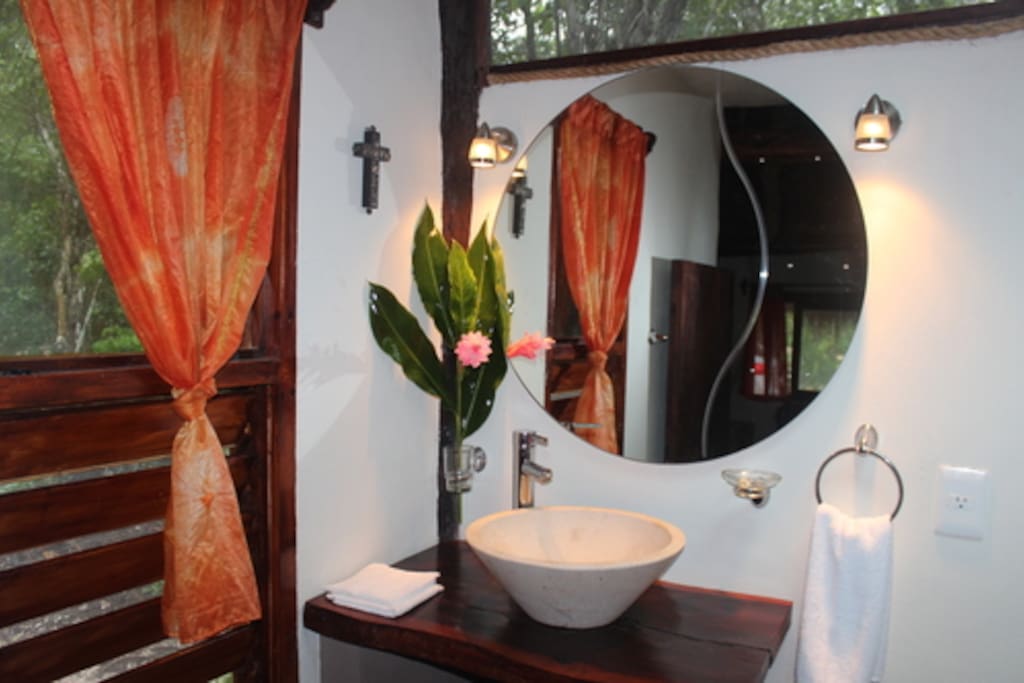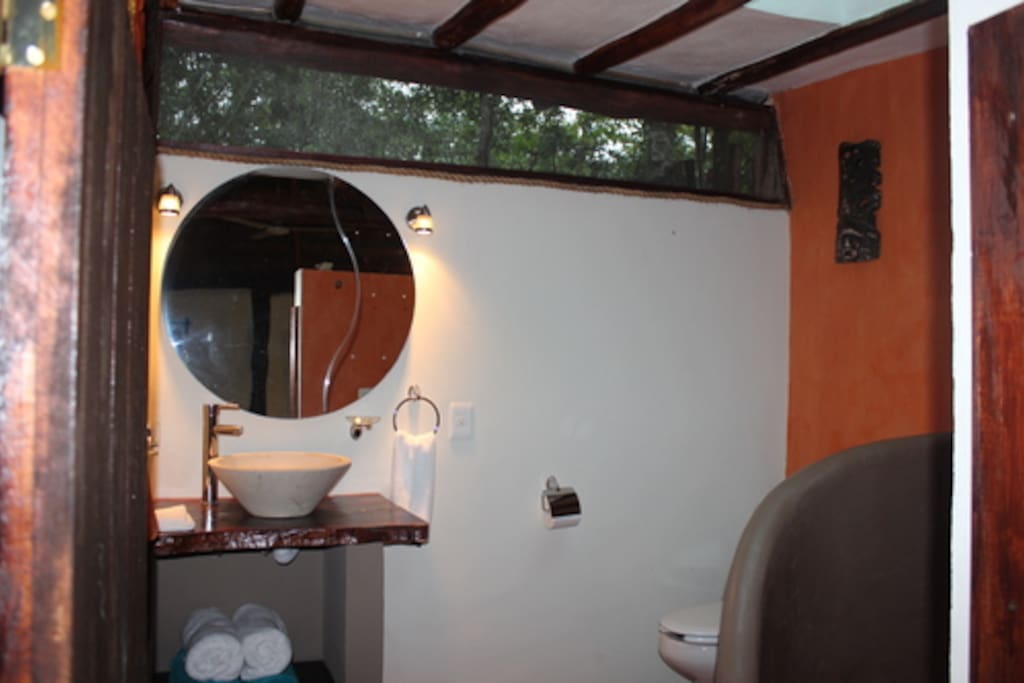 Wonderful cabana in a Mayan villaage of Macario Gomez, 15 mins drive from Tulum, sleeps 4, private bath, kitchen and dining area , safe indoor parking and use of pool included. 24/hrs electricity, hot water, Wifi. Pets welcome!Delicious breakfast !
房源
Welcome to our little piece of paradise nestled in the little Mayan Village of Macario Gomez.
Our private cabana features space to accommodate up to 4 people.
Features:
•King Size bed
•2 individual beds
•Private modern and airy bathroom
•Kitchenette with Fridge, stove, toaster ,coffee maker, pots and pans,plates, silverware
•Outdoor covered dining area for 4
•Ceiling Fan
•Use of our private cenote-like pool and surrounding hammocks
•WIFI
•24 hours a day electricity and hot water
•Indoor parking
•Beautiful tropical gardens full of orchids, banana trees with bananas,and our own jungle walk.
Wake up to the sound of Large Amazon Parrots and Toucans, visiting our property in search of tasty berries and fruit.
Plan your day to include visits to the numerous cenotes ( sinkholes and caverns filled with freshwater) only a few miles drive from Casa Selva Orquidias.Visit the architectural sites of Coba , Tulum, Ek Balam to experience the Mayan culture and their rich heritage.
Visit the Monkey Lagoon, where you can spend an afternoon riding in canoes,ziplining, and seeing Spider Monkeys and Howler Monkeys in their natural habitat in the canopy of 600 year old trees.
Visit and authentic Mayan family, who will show you their craft of hammockmaking, embroidery and will introduce you to their little private Zoo with local wildlife.
The beaches of Tulum are only an 18 minutes drive . Relax in the shade of palm trees, visit a beachclub or drive into Sian'Kaan Bisosfere and explore by yourself the miles of white beaches, or take a snorkel tour to the reef for some underwater sightseeing..
Visit the pueblo of Tulum with it's many attractions, nightlife , arts and crafts.
These are just few of the possible activities to fill your day and make your vacation the most fun under the sun in the Yucatan Peninsula!
We are a very pet friendly family, which includes 3dogs, 3 cats, chickens and 2 peacocks. They are all friendly and most love to be petted and played with.
房客使用权限
Guest will have their own kitchen equipped with a 2 burner stove, coffee maker, toaster oven, full size fridge with icemaker, a cooler, and can use our beautiful cenote-like pool.
与房客的互动
Guest will decide the level of interaction. We can provide great information about the area, suggestions, etc, or leave our guests completely private.
We live in the house on the other side of the pool, which is detached from the cabana and it is about 15 meters, or 45 away.
其他注意事项
the area here is safe, and with relatively few bugs and insects. Mosquitos are few, and mostly only in rainy season, which is Speptember-October.
---
first of all, this place is heavenly. the cabana has an amazing outdoor kitchen that we deeply regret not taking advantage of more and the dining and lounge areas next to the pool are both such nice places to just hang out or take a book to. but the property aside, erika and her crew are what really makes this place shine. so warm and friendly and if you catch her in the right mood, erika might even grace you with a palm reading. we are dying to get back to visit them very soon!! we miss you!
---
Everything was PERFECT at selva orquídeas. Our beautiful cabana was spacious and covered in gorgeous Mexican tapestries. The huge walk-in shower, with amenities, was an amazing perk. The cabanas are located in a tropical garden, a nature-lover's dream! Parrots, peacocks, orchids, and NO MOSQUITOES? With a chlorinated pool cut right out of the limestone? Paradise. There is a menu! Juanito is a phenomenal cook. The food we had there was better than any of the nice restaurants we ended up going to. You must try the shrimps! And the breakfast was amazing: fresh fruits, eggs, sweet-bread, coffee and fresh-squeezed papaya juice. Erika is a sublime host, who can help you with anything you need. She knows all about the best ruins, the best times to go, the best places to shop, etc. Her and her family are so fun, welcome, warm, and gracious, that we never wanted to leave. We both look forward to coming back soon! Thank you for everything Erika!
---
This was my first time in Mexico and first time using airbnb. I travelled with my bf and we rented a car to go from Cancun to Tulum. We were a little nervous at first to rent a car but it was very easy and went smoothly and would recommend it to get the most out of your experience. My trip was absolutely amazing and Erika, Chito, and Juan contributed greatly to this. They were so friendly and great! Erika was so great in helping us figure out where to go and what to do. The cabana was clean and beautiful. The pool felt wonderful. Juan was an awesome chef. It was an absolutely amazing and authentic Mexican experience that I will remember forever and would greatly recommend to everyone!
---
This place was an amazing find! The room itself was a lot nicer than either of us expected, marble floors, a beautiful bathroom, our own little porch patio set up, and very comfortable with the fans. The property is covered in tropical plants with motion sensor lit winding pathways leading you around at night leading up the the main house, breakfast spot, and a natural rock pool. this place was all about the imaginative details, pebble designs in the flooring, tables and chairs painted with sea creatures... Truely a magical place. Erica and the rest of the staff made us feel so at home from day trip planning to making us something different for breakfast if we wanted something other than what was being served. We could not have asked for a better stay
---
Erika, her husband and main help, Juan are incredible. They greeted us with kindness and warmth, pointing out great places to visit near the house as well as offering up delicious meals on their own property. the room was private and comfortable, and the grounds of the house are magical. we loved our experience at the cabana and will absolutely visit again. thank you so much!!
---
We loved staying here. There were 5 of us (3 adults and 2 kids under 4) so we rented this cabana along with one other on Erika's property and stayed for a week. There are 2 individual stand alone cabanas and another 2 story building with 2 studio units (so 4 units total to rent at this time). The descriptions and pictures are accurate. The property is lovely. It is clear Erika and Chito tend to their property with love. We enjoyed the pool and the amazing food cooked by Juan. Breakfast is included and they were sweet enough to accomodate our children's desires for hotcakes almost everyday. Dinner is extra, but worth it (note- you have to place your order in the morning so they can be sure to have food for you in the evening). Ask what might be available that isn't on the menu! Travel time to the beaches of Tulum were around 20-25 mins for us. A rental car is pretty important if you want to get around easily. We also went to Coba and some cenotes. As others have said, Erika is happy to share her knowledge of the area. She also hooked us up with some quality hammocks after we told her how much we loved theirs. It was great not having to navigate the tourist stalls to find a good one. Chito then gave us a lesson on hanging and storing our hammocks which was super helpful. Our kids, especially our 16 month old, LOVED the animals. There were 2 dogs, 3 cats, 1 peacock, 1 peahen, and some chickens. Our almost 4-yr old LOVED the pool. Erika provided us with a high chair and pack and play which was great. We loved our stay and would go back in a heartbeat. We miss it already. Our only regret is we didn't get to chat with Erika and Chito more! Thanks for a great vacation!
Kelli, thank you for your review! We are happy you have enjoyed your stay with us and hope to see you back in the future , so we can spend more time talking! Our menu is new , and as we go, we add more items on it. We will be adding this feature to all listings, so future guest will be aware of it in advance! Our best regards to all of you, including Stephanie!
---
I am a Hungarian born in Slovakia with 25 years living in the US, now in Mexico. Moving to the Yucatan Peninsula has been my dream for the past 17 years, and I was able to finally follow my dream and build my very private paradise here. I love nature, animals, jungles, cenotes, and the sea. My husband is a local Mayan, who knows the area very well. We can give you lots of advise about places to visit in the area.
语言:
English、Español、Magyar、Čeština、Русский