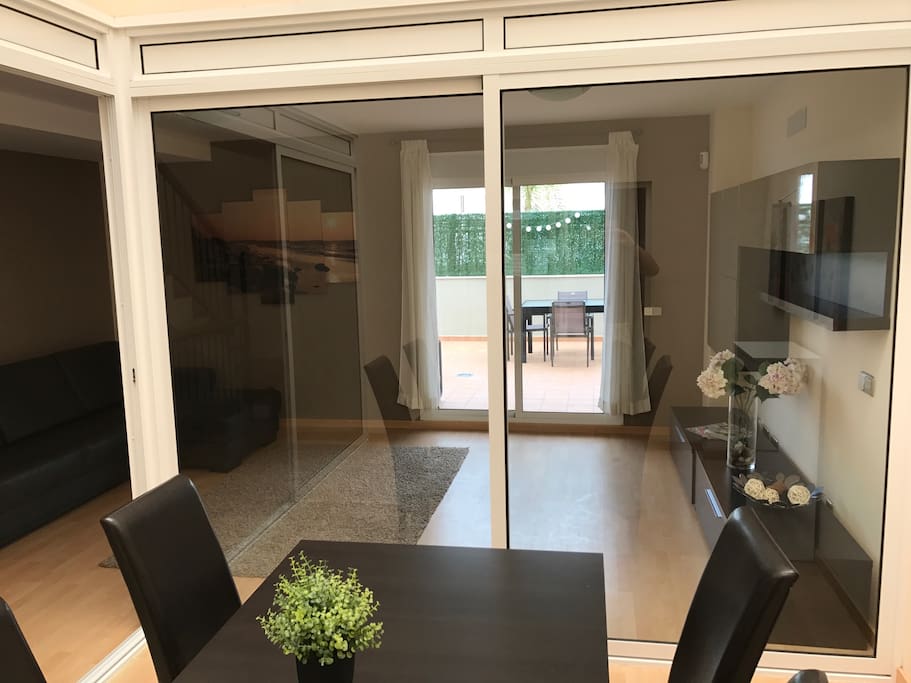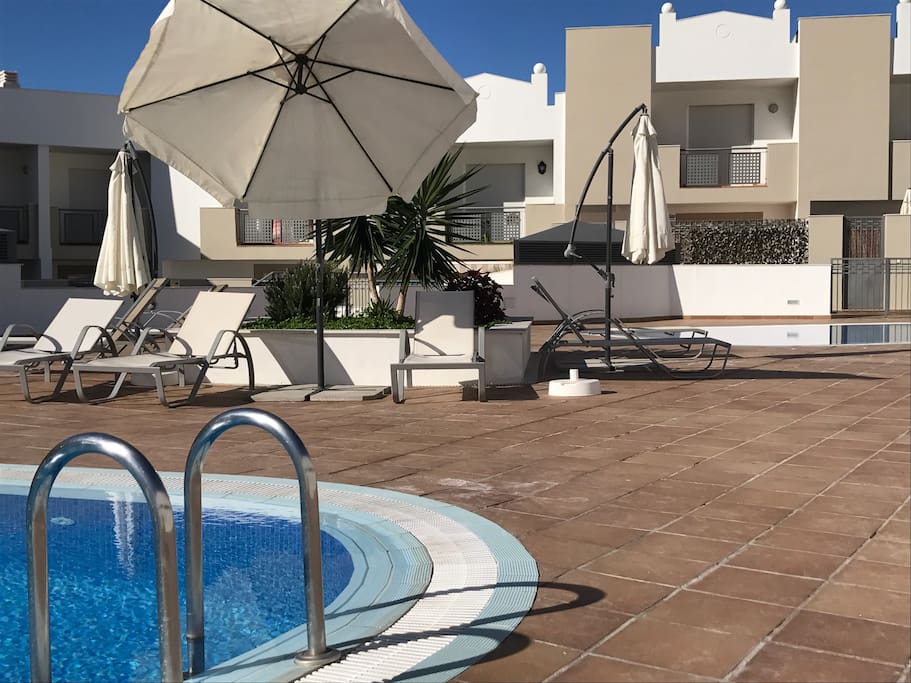 壮观而豪华的3层别墅在Costa Adeje,海景和两个游泳池,Playa和Bahia del Duque步行遥远。惊人的位置,步行遥远的特内里费岛的顶级地区,非凡和现代家具,4间卧室,4间浴室,超快速光纤上网/无线上网! 什么问更多?
Spectacular and Luxury 3 floors Villa in Costa Adeje, with ocean view and two swimming pools, Playa and Bahia del Duque walking distant. Amazingly positioned, walking distant to the top areas of Tenerife, extraordinary and modern furnished, 4 bedrooms, 4 bathrooms, super fast fiber cable internet/wifi !!
What to ask more??
房源
豪华梦幻般的240平方米,3层别墅有2个游泳池,2个露台和海景阳台和卧室。 步行遥远的Baya del Duque海滩,靠近岛上所有的顶级景点。 商店,餐馆,超市和酒吧都非常靠近。 大型私人车库(3-4辆汽车配件)。
Luxury fantastic 240m2, 3 floors Villa with 2 swimming pools, 2 terraces and ocean-view balconies and bedrooms.
Walking distant to Baya del Duque beach, and close to all the top attractions of the Island.
Shops, restaurants, supermarkets and bars are all very close by.
Large private garage (3-4 cars fitting).
房客使用权限
Guests have exclusive access to the whole property.
与房客的互动
I will be at guests full disposal in case of need during their entire stay.
---
Shawn and Ivan are defintely very friendly and responsive, always replying promptly. When we had problems they were trying to solve within 24h. HOWEVER, our case was quite unacceptable for us and caused us a lot of problems, time-wasting and stress. We bboked a house a few months in advance. A day before arrival I received info that house is changed (without any explanation). Then it turned out that our extra people were missed and new house was smaller, which meant we were squeezed. We were offered a price difference refund, but still it was a big problem for us. We didn't want to split into 2 locations. Upon arrival swimming pool was a biological bomb and cleaning took 5 days (out of 7 our stay). We received 100 EUR compensation, but still a big dissatisfaction, we specifically wanted a house with a swimming pool. Again, Shawn and Ivan were fine as hosts, definitely dedicated to their job, but unfortunately our experience was far below what we expected, especially with suddent house change with a day notice.
Hello Radek thanks for your review. Please it is important also that we have refunded you 40% of the original price before your check in and additional 100Euro for the pool because of the issue related to previous guests. I believe we did our best to solve the unfortunate situation refunding you in the best way possible. That is our only goal. Sometimes there are urgencies we need to face and solve related to previous damages of guests or simply extraordinary sudden maintenance interventions because of electricity, water or any other similar reason. Thanks again for staying at our property. Best! Shawn Marco
---
We have stayed in the Shawn house on a family holiday. The house we had a chance to stay in was charming, well equipped and spotless clean. It is positioned 15 minutes away from the Fanabe beach and it is close to few shops. We had a shared community swimming pool that was great fun for kids and relax for adults. Our host - Ivan- was welcoming and was always keen to solve any issues that we might have (for instance we have had children and parents that wanted to stay together and we were given spare single mattresses to accommodate that request). We were welcomed with wine and send off on our way with small gifts which we really enjoyed.
---
Nuestra estancia fue muy agradable,estuvimos en contacto con Iván en todo momento,el cual no puso ninguna pega respecto a llegar una hora antes del check-in indicado.Respecto a la villa,bastante cómoda y con todo lo necesario.Pese a que se puede meter dos coches en el garage,hay bastantes sitios para aparcar en la calle.Lo recomiendo sobretodo si prefieren tranquilidad en la zona
---
The apartment is located in the upper parts of Costa Adeje and not in the touristic center. It's therefore rather quiet, especially during the nights. Our partying neighbors were stopped really fast by some of the other neighbors. If you want to party, this is not the place you are looking for. But I would recommend this place especially for families. The pool is great for kids, my little sister really enjoyed it. The house was clean and we had everything we needed. One of the best parts about it was Ivan. He did the check-in and helped us whenever we needed something or had a question. We could text him using (SENSITIVE CONTENTS HIDDEN) and he always replied super fast. A beach is in walking distance, but we mostly went by car to go to other beaches like the surfing beach in El Medano (about 20 minutes away). The supermarket Mercadona is also in walking distance. It has pretty much everything and is relatively cheap. The house is close to the highway, but it's not noisy. Using the highway you can get to other parts of Tenerife quickly. I would recommend this place for families or larger groups who want to have a relaxed vacation and explore mainly the southern parts of Tenerife.
---
I want to start with the one bright spot of our 3 day nightmare. Ivan works for Shawn to make sure the guests' needs are met and to check us in and out. He was amazing and did his utmost best to try to make us happy. But even he could not make a silk purse out of a sow's ear! I think my issue is to do with the way the "villa" is described. It is described as a "Luxury Ocean View Villa with Pool". We have stayed in many villas and this one is really an apartment with a shared pool. It certainly does not meet the dictionary definition of a villa. It is in the middle of a block of other similar apartments. Nowhere in the description does it say the pool is shared by the whole community or that it is indeed part of an apartment complex with residents who told us they don't want tourists there. The only external picture on the website is of the pool area with what is in fact two apartments in the background, neither of which is the one we are staying in, but it makes it look like there is a nice villa in the background with its own pools. Check it out if it is still there. There is a very small area at the back of the apartment (no external pictures of the place) so it makes you think the pool belongs to the so called villa. The day before we arrived I received a message on (SENSITIVE CONTENTS HIDDEN) giving me some rules which included no noise after 10pm and between 2 & 4 in the afternoon. I have asked for a written manual on house rules and was told there isn't one. I asked for a BBQ and was told it is not allowed due to rules the neighbours have. We tried to sit at the pool and there were not enough seats to go around. There were eight. I asked for more and was told each residence is only allocated 2 - there are 4 of us and the apartment can sleep 10! Perhaps one of the most worrying aspects is the location stated on AirBnB when I booked it which was Calle Reykjavik, Costa Adeje, CN 38679. I received a different location sent to me the day before travel of Calle Beruit, (PHONE NUMBER HIDDEN), Adeje Isole. This is some distance away from Calle Reykjavik both in terms of direction and the quality of the two areas. Calle Reykjavik has what you would call villas in a nice area. No house number is specifically given in my opinion so you can't check it out beforehand. In terms of quality, I had to unplug the aircon to plug my laptop in as there is one socket in the lounge other than the TV. The TV only has Spanish channels. There is only socket in the kitchen for a kettle, toaster and microwave. The sofa in the lounge...
Hello Paul. I am sorry you didn't mention that you had a full refunding from us of the total of the amount you paid for the booking, and that you also slept 4 night for free inside the Villa. The property is a non detached 280m2 Villa, 3 floors, 4 bedrooms, 4 bathrooms, two very large terraces (front and back) at ground floor, , of which there are pictures in the description (you mentioned there are no pics. Untrue), two large balconies at first floor, and a private garage to the Villa at basement floor. There is no way to define such a property an "apartment". Paul thought this was an detached independent Villa, even though clearly the swimming pool is indicated within the description as "shared" and the pics of the house show how the Villa is a non-detached one. Also he paid 1.400Euros per week in peak summer season for a 12 people property, which would have never been possible for a detached Villa in Duque area, which would have had a price of 3.000Euros per week at least. About rules of the neighborhood, i am sorry Paul to hear you don't want to respect neighbors and you don't like rules. But sorry, everyone has to respect them. About sockets, there are several in the living room. Beside the tv set, behind the sofa, behind the dining table. Why you say there is only one? Also funny enough, the TV has English channels, not only Spanish ones. And even the Spanish channels have double language with English as well! Last but not least, Calle Reykjavik is 200mts from Calle Beirut. The legal address of the Villas complex is Calle Reykjavik, while the closest entrance to the Villa is in Calle Beirut. All the best, Shawn Marco
---
Residents are unhappy about people staying in this property and can often come across unwelcoming and unhappy with you being there - understandably. The house is being falsely advertised. The advert states their is air con in the house - which there is not. Due to the time of year, no air con made the house unbearably hot at night. We were brought two fans upon request which helped somewhat but weren't satisfactory. We were told there were 4 bedrooms in the house - one with two double beds. This was also not the case, two of us were on a blow up mattress in the living room. There was no hot tub within the property that was also advertised in the listing. Short on crockery with only about 6 plates, bowls, and cutlery. Overall, a very present stay. However we would not stay here again.
Hello Ellie and thanks for your review. I would like to point out some aspects to address your critics which are always though for us inspiration to do even better than what we did so far. But the truth needs to be told 100% 1) Neighbors have complained about you and your friends being loud and impolite. That's why they were not friendly with you. Simply because you didn't respect simple rules, as not being loud and drunk late night making parties and noise. There are only two families resident at the complex of Villas, while all the others are tourists like you. All of them have complained about your group unfortunately. How can they be friendly in this case? 2) As far as air con concerned. We have portable air con devices which we do not store in the house normally, because we provide it upon guests demand, because in Tenerife it is not so hot to need air con most of the times, so we do not leave the devices inside the Villa but we store it in our warehouse ready to be delivered every time it is requested. The devices would be simply unaesthetic and useless left inside the Villa without need. When you asked us, you asked for fans, not for air con. So we brought 3 fans to the Villa. If you needed more why didn't you simply ask for them? Or why didn't you ask where air con was?? We are always so kind and fulfilling all our guests needs. It would have been so easy to ask. We would have run as we normal do (as all other reviews by the way clearly shows..) 3) As far as the bed in the living room.. We are super flexible with beds settings in our 4 bedrooms. At the beginning, we were keeping two double beds into one of the 4 bedrooms. After a while, some guests started to ask us if we couldn't make a 5th bedroom in the living room, as there is a separate space. This way, also the people sleeping in that bed would have had their privacy and independence. Just like a 5th bedroom or loft room. If you didn't like the setting why didn't you tell us?? We would have restore that bed into one of the 4 bedrooms instead of "creating" a 5th bedroom in the living room. Again more communication form your side would have made your stay much much more pleasant.. 4) About Crockery. We always had 2 sets of 6. For a total of 12 plates, bowls. Sometimes guests break them though. It is so obvious. Sometimes are cleaning ladies forget to communicate that to me but again.. Why didn't you ask to replace to ones missing??? We would have run to buy them for you in no time... Then at the end you close with "Overall, a very pleasant stay..." So Ellie.. Did i just miss something??? :) My suggestion to you and to all guests.. Please kindly never hesitate to ask us what you need. Because we always fulfill your requests (especially when they would have been more than reasonable as in this case...) Thanks again. Shawn Marco
---