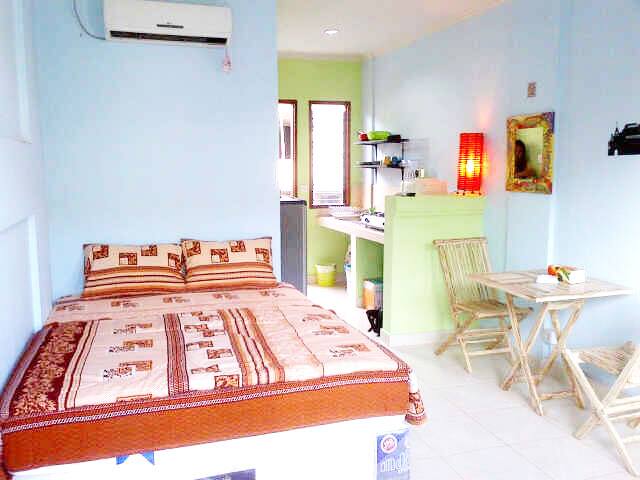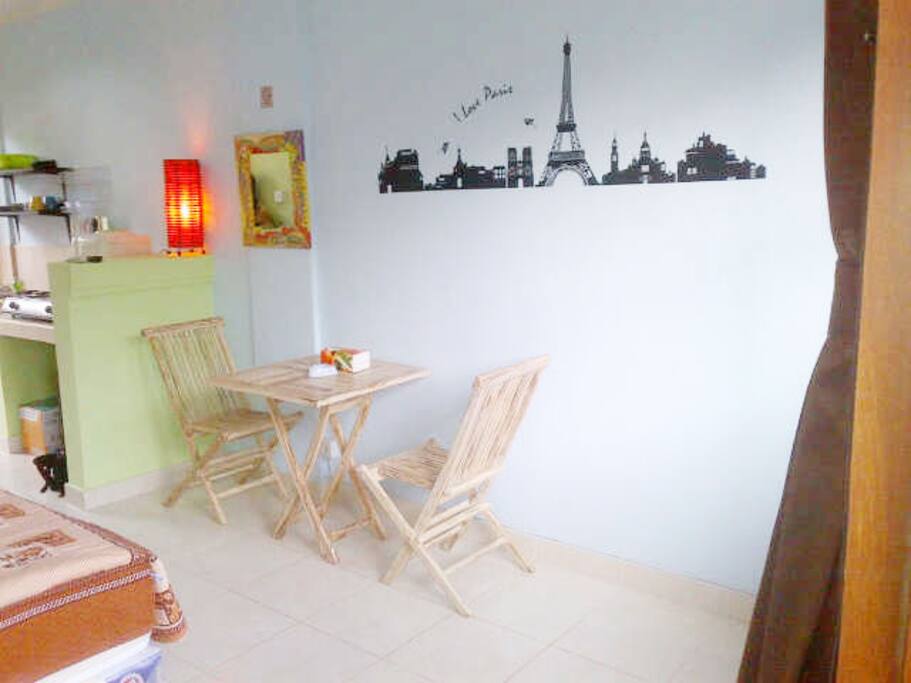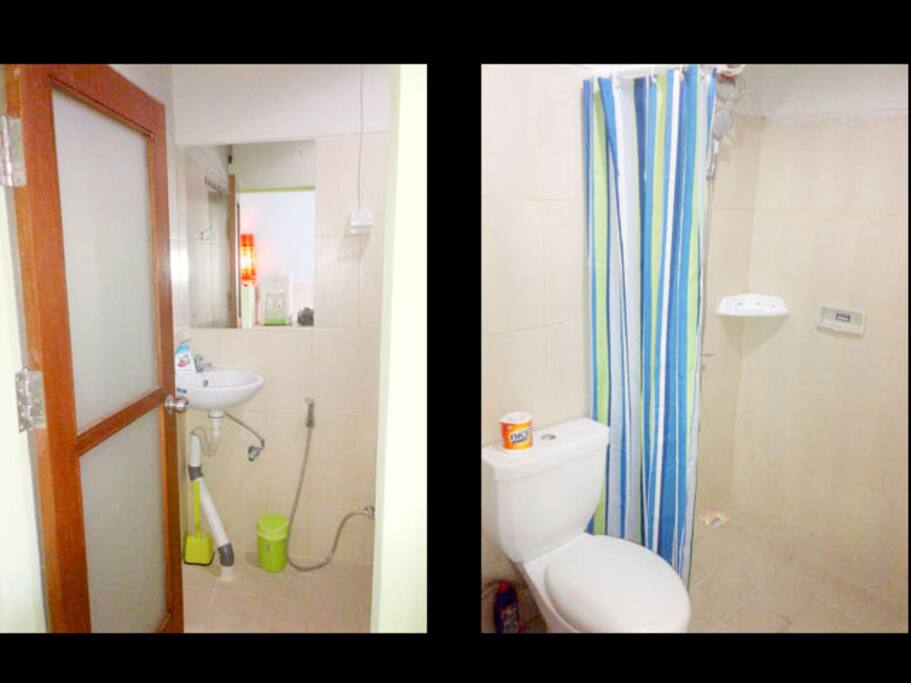 全新的单身公寓,带阳台,价格优惠,是您巴厘岛之旅的不二之选。公寓可以入住 2 人,坐落在一条安静的街道旁,骑摩托车到海滩大约需要 5 分钟。
房源细节
公寓大楼
这栋大楼共拥有 20 套单身公寓:一、二楼各 8 套,三楼 4 套。大楼前有充足的摩托车停车位。

公寓
适合来巴厘岛度假的夫妇入住。
-1 间卧室,配有大床
-1 间浴室
-厨房设备齐全,在这里你可以做您最喜欢的菜或者招待新朋友。
-庭院里有一个小桌子和两把椅子
-WiFi
-空调
-电视,配有 DVD 播放机
-热水和冷水
其他注意事项
登记入住/退房时间
我们登记入住的时间很灵活。然而,如果另一方在你离开的那天入住,或在你入住的那天离开,入住和退房时间如下:

退房时间:中午 12 时
入住时间:下午 1 时或之后

唯一的要求是:请不要在屋内吸烟。庭院里有烟灰缸,如果您能在那里吸烟,我将十分感激。

关于我:
我是 Udayana University 的学生,想要租公寓换一些零用钱。我很爱这个公寓,也很希望您能住的开心!我会尽我所能确保您在巴厘岛度过一段愉快的时光!

我们有漏掉一些信息或是您有其他想了解的事情吗?如果有的话,请随时询问,我们会尽快与您取得联系!
Very friendly hosts Hardy and his girlfriend Sri! Responds quickly to all requests and very accommodating. Hardy and his sister rent out 8 rooms, so if this one is booked, message him for another. Cleaned room twice a week for my 1 month stay. Helped me get a motorbike and was available for any questions all the time. The building is behind Whale and Co cafe, it's a little hidden courtyard with great people and common yard area. It's about 15-20 minute walk to the beach, but everyone uses motorbikes. 2-3 minute walk to laundry and multiple food/clothes stalls as well as convenience stores. Even has cheap drinks in a cooler outside regularly refilled, as well as coffee and cheap tasty sandwiches made by a resident. Everything was great but I did have a few surprises: 1. The electricity is only prepaid for so much, if you want more you'll have to buy it. Very cheap $10 for electricity lasted me 2 weeks with AC, refrigerator, dvd, tv, and everything running all night. Guests paying for electricity seems to be very common in Bali. Also there was no reliable wifi the whole month I was there, for me and for my neighbors. I do give him credit for trying to fix it. If you need reliable wifi, internet cafe Lineup Hub 5 minutes away by motorbike was $15 per day, but only open during certain hours. Also bring your own towels and towelettes. Overall I had great time staying there, met some friendly folks, and would recommend it. Thanks again Hardy and Sri!
---
My experience was good. The studio is an easy 5-10 minute walk to the beach and has s nice balcony. The a/c and internet work great, plus he has many dvds to choose from if you want to watch some movies. I would recommend his place because its s good price and Hardy is very helpful. Hardy got me a taxi for my very early flight out of Bali.
---
Великолепное место для жизни)) Апартаменты небольшие, но в них есть всё необходимое - большая удобная кровать, холодильник, кухня. По близости много самых разных магазинов, кафешек. Пляж в 7 минутах ходьбы. При этом сам дом находится чуть в стороне, по этому тишина и покой обеспечены) Особенно хочется отметить хорошую охрану - вся территория буквально "утыкана" камерами, так же есть охранник. И, самое приятное - великолепные хозяева. Ребята прождали меня 2 часа в аэропорту (мой рейс задержали), по пути провели экскурсию и помогли решить срочные вопросы (типа покупки симки, лекарств, и прочие мелочи). Во время моего пребывания Харди всегда был на связи и отвечал на мои вопросы, помогал советом. Рекомендую это место)
---
Hardy was very helpful during whole our visit. He help us immediately with every problem that we had. The place is small, but very well localized - 15 minutes walking to the beach, very close to busy street with shops and restaurants. The only concern for us was the city itself - it's very crowded - it doesn't feel like the paradise of Bali. Nevertheless, Hardy was a great host! Thank you!
---
We stayed here for just over 3 weeks. We really enjoyed our time. Firstly Hardy and Sri picked us up from the airport as arranged which was great as our flight had been postponed due to the volcanic ash cloud. The apartment was plenty big enough for me and my partner and we cooked there a lot. (There's is a supermarket 1km away and a fruit and veg stall 50m around the corner!) The balcony is lovely to chill out on after a day in the sun and also great for drying clothes! Hardy and Sri cleaned the apartment twice a week and we were constantly supplied with drinking water refills. Unfortunately the DVD player was broken so we didn't get to watch any of the DVD collection, we were told it would be replaced but it didn't happen... Hardy organised 2 bicycles for us for 2 weeks at a reduced price which was great and we used them every day to cycle to the beach and gym(beach 10min cycle, gym 2 min cycle). We hired motorbikes for the remaining week of our stay and parked them outside the apartment with no problem. Electricity cost us 30 USD for our entire stay which was more than we expected. After the first week we reduced our consumption a lot by turning off the shower water heater and only using the A/C at night. Hardy was always on call to answer any questions and always replied promptly.
---
Hello,

My name is Hardy and I am a student at Udayana University. Studying law.

This is my first foray in hospitality and I will make sure you have a great time in Bali. This unit and your happiness are my baby!
语言:
Bahasa Indonesia、English