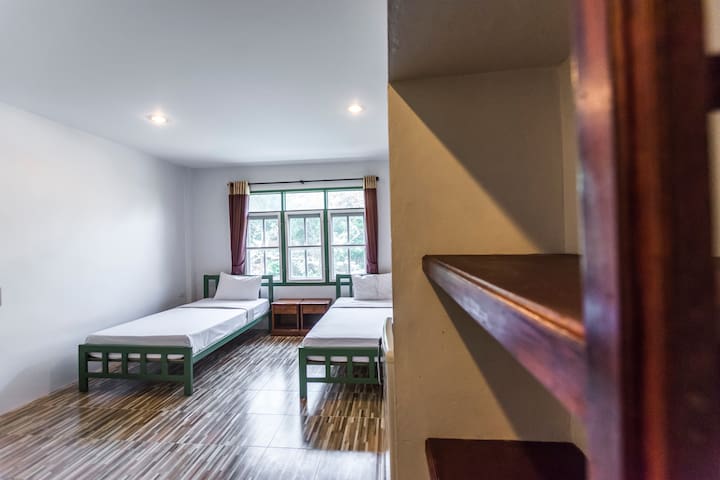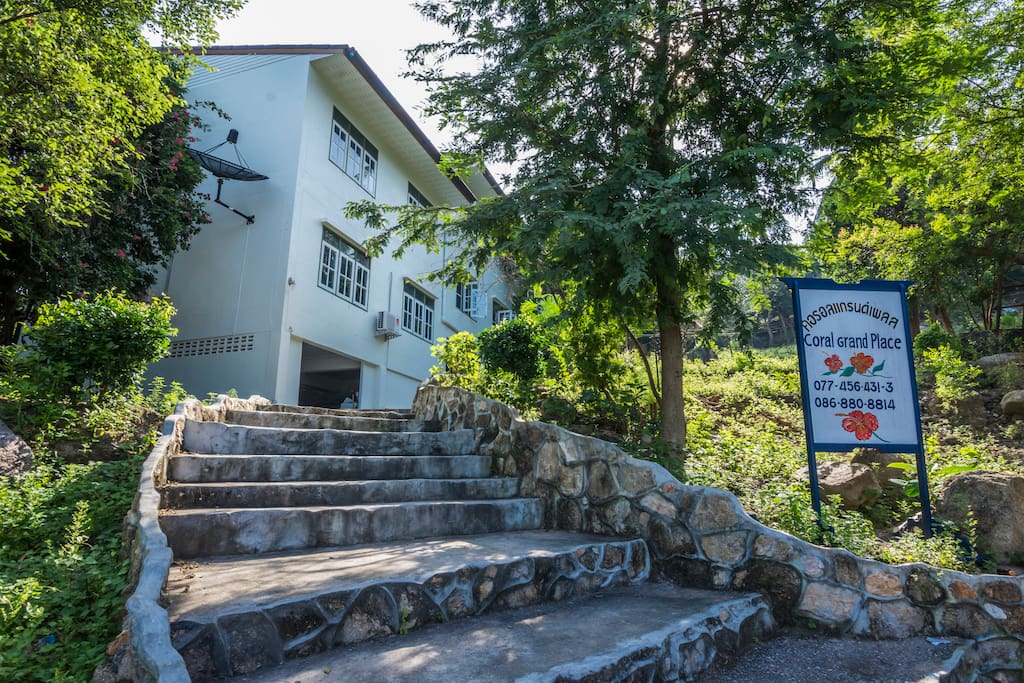 尼斯广场略带山丘,宽敞而干净的客房配有空调和热水淋浴。距离码头(Mae-hard)仅5分钟车程,搭乘8分钟即可抵达Sairee海滩。 享受宁静的微风远离人群,但如果你觉得喜欢去海滩,那就只有几分钟的路程。
Nice Place slightly on the hills with spacious and clean room with Air-conditioning and hot shower. Only 5 mins by bike from the pier (Mae-hard) and 8 mins ride to Sairee beach.
Enjoy the peaceful breeze away from the crowd, but if you feel likes going to the beach you, it's just few mins ride away.
---
We stayed here for 6 days and it was amazing! It totally felt like home, the room was clean, we had a fridge and a water cooker, Wifi is working good and there was nothing to complain about. We wanted to stay longer, because we enjoyed it a lot, but there was no more free room! But we would definitely come back!
---
We stayed at Fong's for a week. It was a nice place to stay as we were out diving most days. Fong took a while to communicate with us about where to go and how to check in, but he did let us know before we arrived at the room. We had an issue with the shower, but Fong arranged for it to be fixed. Unfortunately, the men who fixed it did not clean up after them and left the bathroom covered in muddy water. The room is nice, includes a fridge and has comfortable beds. Overall, all the other reviews are accurate and if this place seems good for your needs, I would recommend it. For the price, it is great value.
---
Logement très propre et à proximité du port et des restaurants. Les gens qui habitent les appartements sont gentils, souriants! Plusieurs chiens sur la propriété, qui sont très gentils mais très bruyants la nuit... Sans oublié les motos, lézards et grenouilles qui ont écourtés mes nuits de sommeil mais si vous n'avez pas le sommeil léger, aucun problème dans ce cas! Wifi pas super mais fonctionnel. Bref, très bien! Nous le recommandons.
---
Fong allowed an early check in. I dropped by around 10am since that's when my ferry got in and I just wanted to see if I could put my bags somewhere since I was told the earliest check in was 1pm. However, Fong allowed an earlier check in and the room was ready. Cleaning ladies came by frequently, two bottles of water were offered, and one of the neighbors was particularly helpful to me for contacting someone to check in since I don't have a Thai phone to call with. Air con was really nice, there's a tv, and wifi (although wifi sometimes didn't work, but being on an island, that wasn't totally unexpected, along with occasional power outages which happened once in the middle of the night, and some bugs so do take out your trash regularly!) The location is more secluded, and being as I didn't use a motorbike, it was quite a hill to walk up each day. With a motorbike, I think it would be fine. I enjoyed being in the forest more, even if it was noisy sometimes due to bugs! Fong always replied to me quickly, and overall I enjoyed my stay and having my own private room and shower! There are a lot of accommodations on the island, so do your research and see what fits for you. Like I said, since I didn't use a motorbike, it could have been better for me to have an accommodation closer to the beach. But aside from that detail which I had read about in other reviews, it was a wonderful stay. My taxi driver didn't know where the place was at first, but a couple other taxi drivers helped him out before we left. And Fong arranged a pick up for me so getting back to the pier was easy!
---
Hola ! I am Fong , I've been studying and travelling in USA (Duke) and China (PKU) for the past 5 years and get to stay in many cool Airbnb places. So now I am back home and I want to be a part of this awesome community.

I am doing a scuba diving school on Kohtao, so if you are planning to head down the south of Thailand I can give you some tips for many breath-taking spots, dive sites, culture and parties !

I love jazz and blues, there are lots of live music house you should check out. Also a big fan of snowboarding :)

Looking forward to know everyone
语言:
English、ภาษาไทย、中文