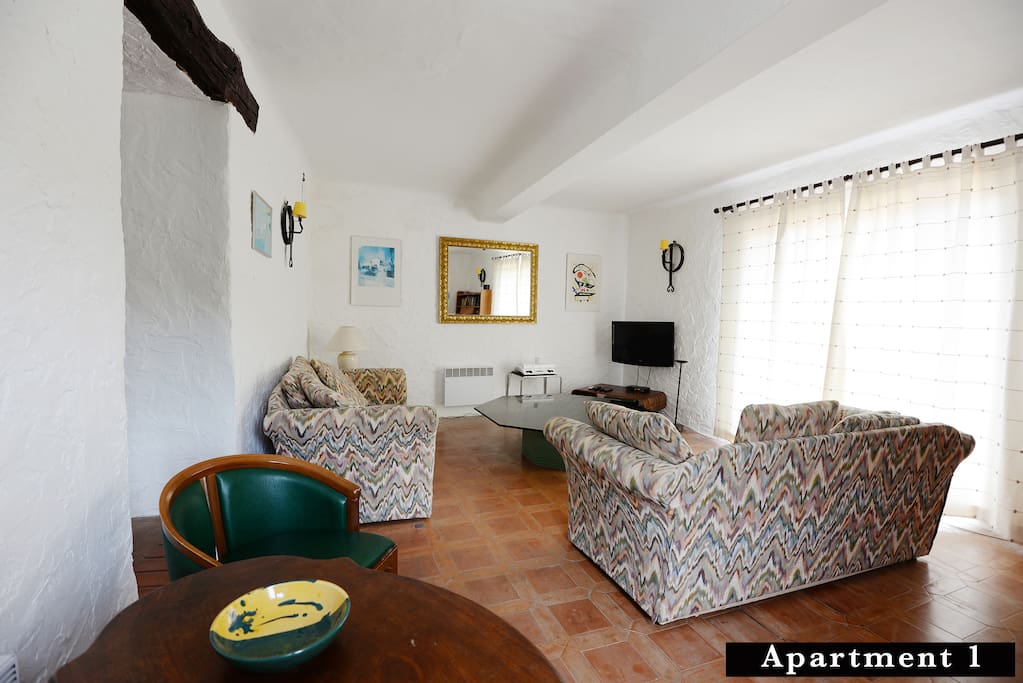 The living room is comfortable, light and airy. French doors lead on to a huge private sun terrace with stunning mountain views. The kitchen/dining area is spacious and well equipped, perfect for entertaining and indulging in the culinary delights of
房源
Apartment 1 has two en-suite bedrooms and a spacious living room. French doors lead on to a huge private sun terrace with stunning mountain views. The kitchen/dining area is spacious and well equipped, perfect for entertaining.
Originally a village house and adjoining barn, Maison Rose has been lovingly transformed into a home from home self-catering villa and two apartments with large heated pool.
Situated in the village of Cipieres, near Grasse, you're only 45 mins from Nice and the delights of the French Riviera.
Set in its own garden and occupying a privileged south facing position, the pool and sun terraces offer the perfect location for relaxing, enjoying the climate and taking in the spectacular mountain scenery.
The villa and apartments offer generous accommodation and are well equipped with modern appliances and free WiFi. Most bedrooms have en-suite facilities with the master rooms boasting super-king size beds from the Savoy Hotel in London.
Your private sun terrace has table and chairs and a BBQ for alfresco dining. Sun loungers, parasols and use of the shared heated pool enable you to make the most of the Mediterranean climate.
The shared pool occupies a sheltered, south facing position, getting sun all day. It is usually heated from May through to October. The pool is maintained every day, ensuring it is kept clean.
You will have the apartment to yourself though there may be other guests in our villa and additional apartment.
Our English speaking caretaker lives on site and is on hand to welcome you and make sure you enjoy your stay.
Cipieres is ideally located away from it all, yet at the same time close enough to the coast to explore Nice, Cannes, Antibes, Monaco, Vence, Grasse and St. Paul de Vence.
Cipieres is among many perched villages in the region and close by to the famous perched village of Gourdon with its Chateau, gardens and tourist boutiques. Definitely worth a visit! Cipieres, however remains relatively unknown and unspoiled. The road to the village terminates in the village square making it a wonderful undiscovered enclave, overlooking the spectacular Gorges du Loup, and particularly safe for children who can wonder to the village shop with no danger.
Cipieres is surrounded by things to do ranging from the very active (see extreme sports) to the very indulgent. Of course the obvious is swimming, relaxing, eating and drinking, but a little further afield there is a great deal more. The neighbouring village of Greolieres has several tennis courts which can be booked. The area is magnificent for walking and climbing. there are several very famous and well signposted walks.
The cultural sights of the area are numerous, but perhaps it is worth mentioning the Matisse Chapel in Vence and the Fondation Maeght in St. Paul de Vence as well as the Picasso Museum in Antibes. There are many good golf courses within 30 minutes drive.
The area is renowned for hiking and walking, hang gliding, para gliding, cycling, kayaking, gliding, mountain climbing and go karting
Public transport isn't great so car hire is recommended
---
There are many wonderful things about this rental apartment high in the hills above Nice, but there are also some drawbacks that should be highlighted. The organization was excellent and communication with the owner was good, as was the management by Anne who lives in the village and was ready to help with whatever we needed. The rooms were spacious and pleasant, the bathrooms nicely done, and the pool itself very inviting. However, the place is remote and the village is quite small with limited options for dining, shopping or anything else -- rare to find a village without a boulangerie in France. Driving to any other village/town takes time and effort, but there is really no choice unless you only want to "veg" at the pool or hike in the mountains nearby. The apartment #1 that we rented is sandwiched between the "villa" below and another apartment above, and a delapidated building next door, and is not really quiet or private. We heard a lot of village noise (kids crying, dogs parking, buzz saws next door, tennis balls on the courts next door) which has its charm, but also seemed to reinforce the idea that we weren't really in a private setting. The irony of driving so far on such challenging roads only to find a lot of noise and a mediocre view from the apt. was disappointing. The very loud church bells ring hourly (which woke us up quite early several mornings)... While the pool is very nice there is an unfortunate rule against sunbathing around the pool --unless one has rented the villa-- which meant that we were constantly taking our things up and down a treacherous pathway and up to our own place, and then back down for a swim. I couldn't watch my son swim in the pool except from my balcony two floors up which got tiring, so I did end up breaking the rule... Had some great food in the village pizzeria, and went canyoning and ziplining nearby. Lots to see and do in the area, but almost everywhere you want to go is a minimum 30 mins, but usually closer to an hour which makes for a lot of driving... Its a nice place but important to be aware of the drawbacks which might not matter to all...
---