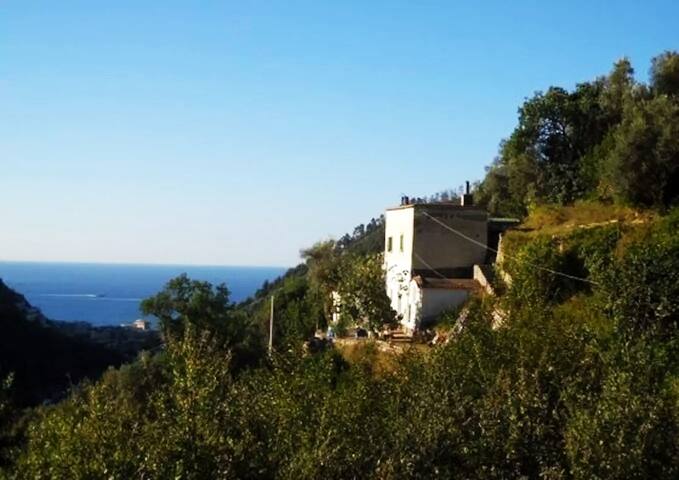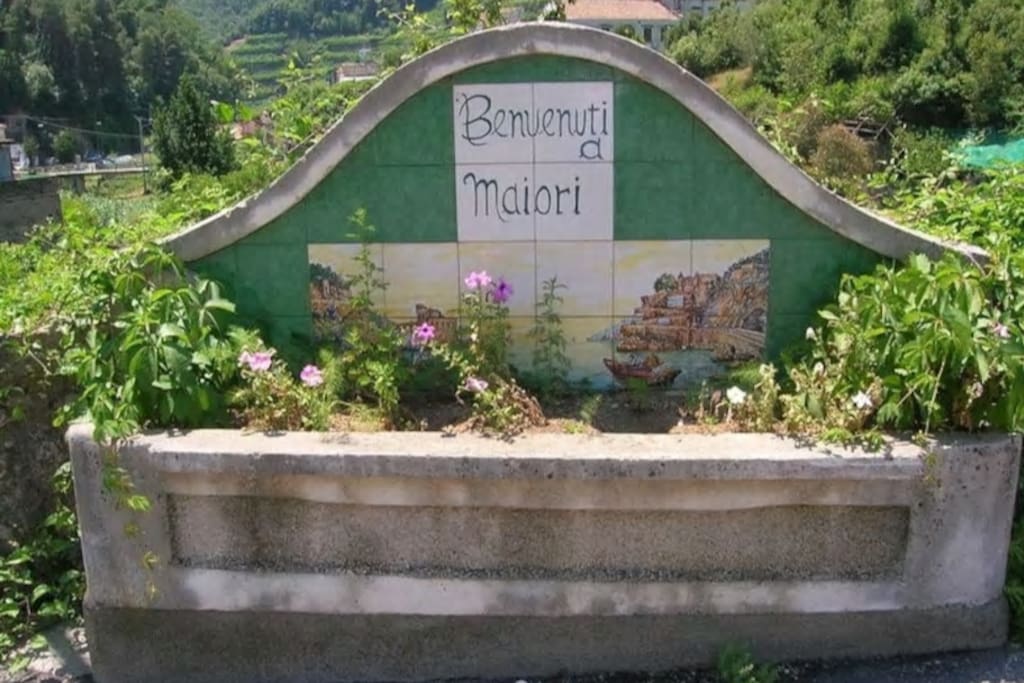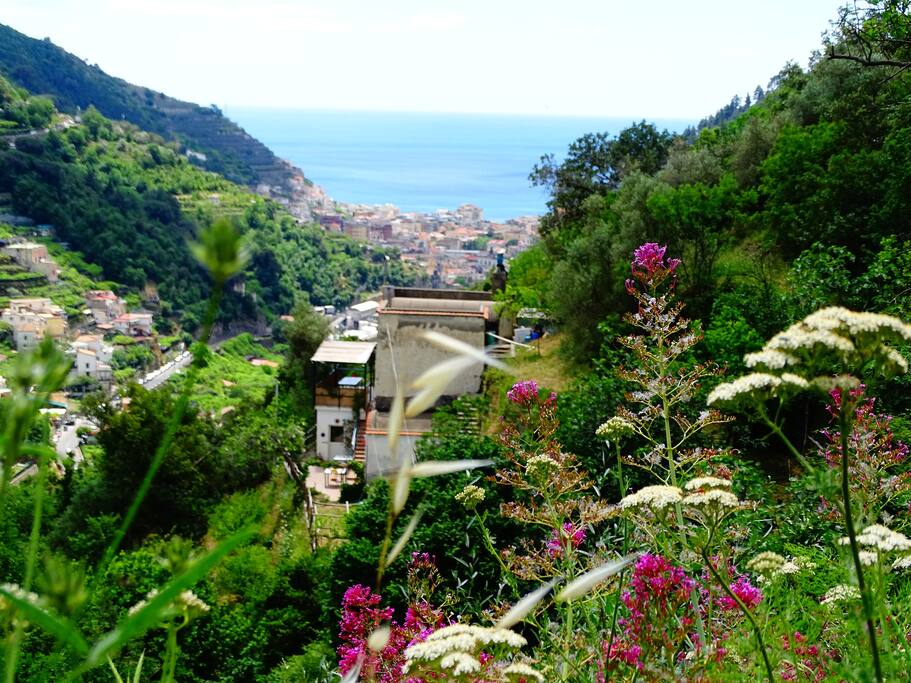 Casa Palomba Maiori stanza matrimoniale
COSTIERA AMALFITANA MAIORI.
PER AMANTI NATURA , ESCURSIONI ,
ATMOSFERE SEMPLICI E RURALI
IN UNA VECCHIA CASA DI CONTADINI
(raggiungibile attraverso un percorso di sentieri e scalini circa 300 in 10-15 minuti)
STANZA CON LETTO MATRIMONIALE .
CUCINA&BAGNO in comune.
OLD FARMERS HOUSE
"THE HOUSE IS ACCESSED ONLY BY FOOT"
through a series of paths and steps (about 300) in 10 to 15 minutes
DO NOT WAIT FOR THE GRAND HOTEL 5 STARS
BUT AN OLD FARMERS HOUSE
---
The house is in a beautiful location, far enough away from all of the hustle bustle so you can relax and breath the beautiful air but very easy to get to other parts of Amalfi. Make sure you try the food! 15 euros might seem like a lot but it is delicious and more food than you would get in a restaurant and just as good.
---
Un petit coin de paradis un peu bohème où on se sent accueilli comme des amis, c'est simple et ideal, vue imprenable qui se merite (300 marches!!) Je pense à la chanson de Maxime leforestier "c'est une maison bleue..." , liberté et spontanéité, confiance et respect, partage de lieu de vie qui permet les rencontres... Super!
---
We truly loved our stay at Casa Palomba. Monica was a genuine, friendly and generous host. We felt right at home and enjoyed her wonderful cooking. I would definitely recommend having at least one dinner with her. We also got to meet some great people who were also staying there. The location was only a 30 minute walk from the beach and the view from the house is amazing. We had a great time and I would recommend to anyone who wants to explore the beauty of Italy and meet some great people to stay here.
---
Although this airbnb is a 30 minute walk from central Maiori, it is worth it. The location is secluded but while we were here there were 3 other couples staying. It was the most sociable airbnb that I've stayed in. Rosanna and Monica are both fantastic cooks and the meal option is well worthwhile. There is ample food, wine and conversation. Their home-cooked meals were literally the best food we'd had in Italy. Armando (sp?) has a heart of gold and showed us the numerous fruit trees in the area, picking fresh fruit daily for us to sample. Figs, pears, plums, cactus (spikey pear) and corruba. A fantastic experience. There is tent or a room option which we were unaware of. The tent option is cheaper. We may have opted for this had we known. Thank you all for a memorable, wonderful stay.
---
When Armando asked why we chose to come to them, I found myself saying, "I think because of the 300 stairs". With this answer I surprised them and I surprised myself, but I realized that what I meant was that only a special kind of person would run such a place and only unusual people would come to such a place. In truth the real reason that I thought this would be a good place to find our way to is that they emphasize the idea of exchange rather than transaction. Now that airbnb has really crossed almost completely from sharing economy to hotel business, this was such a relief! Sure, it's a way for people like Rosana to make a little income while they share space, but it's not all business. The location was divine, the experience of dining together was rich, the mountains and the waters profound. Tips: Do be prepared for exhaustion upon your ascent. Do tell Rosana you are a vegetarian if you agree to the evening meals (they treat their guests to near they wouldn't otherwise eat). Do pack light or leave extra things in a locker in Napoli/Rome. Do bring a traveller's, rather than a tourist's, eyes and ears, slow down, and listen closely, more than you talk. Thank you, Rosana and Armando, for offering such a place. We are grateful to have met you.
It is my habit to ask guests their food preferences before dinner, unfortunately Rebecca and Toni told me to attend dinner only in the evening when I had already prepared the dinner, which is why we ask our guests to Ask for dinner in the morning so you can arrange the meal by considering their eating habits. Sorry but casapalomba is not a restaurant and the uptake on300 steps is not easy !!!!
---
a Casa Palomba "Siamo un gruppo" legati da una storica amicizia,
da un bel pò ci stiamo sperimentando in coabitazione&coltivazioni
in costiera amalfitana
producendo cibo SANO&GENUINO con una nuova visione(OLISTICA) di rispetto profondo della terra
e cercando di mettere in pratica uno stile di vita improntato all'autosufficienza, ,ecosostenibiltà, sobrietà.
scambiando, barattando, colture&culture ,saperi&sapori emozioni sensazioni vibrazioni
Siamo contenti di stare in compagnia ed ospitare persone che sono in sintonia con il nostro tentativo di vivere in modo semplice
siamo Rossana, Monica Camilla Bruno e Armando
Rossana : biologa, specializzata in piante officinali,esperta in fitoterapia ed alimentazione naturale. esperta della cucina genuina di Casa Palomba
che abbina ai piatti semplici della tradizione contadina, preparati con i prodotti biologici dell'orto,le pietanze "più estrose" ,anche se più antiche, a base di erbe spontanee, in un connubio perfetto per il piacere del palato alla scoperta di nuovi ed intriganti gusti e sapori.parla francese.
Monica: Ottima cuoca, socievole,allegra,vera intrattenitrice delle relazioni di casa Palomba parla correntemente in inglese.
Camilla :insegnante/contadina.
Bruno :esperto in sentieristica della costiera amalfitana.
Armando :infermiere/contadino
Casa Palomba "We are a group" linked by a historical friendship,
for quite a while we are experiencing in cohabitation & crops
natural farming in Amalfi Coast
producing food HEALTHY & GENUINE with a new vision (HOLISTIC) compared to the depths of the earth
and trying to put into practice a lifestyle marked by self-sufficiency, ecosostenibiltà, sobriety.
exchanging, bartering, crops & culture, knowledge & flavors emotions feelings vibrations
We are happy to be in the company and accommodate people who are in tune with our attempt to live simply
We Rossana, Monica and Camilla
Rossana: biologist, specializing in medicinal plants, an expert in herbal medicine and natural food. experienced the authentic cuisine of Casa Palomba
that combines the simple dishes of tradition, prepared with organic produce, dishes "most original", although the oldest, based on herbs, in a perfect combination for the pleasure of the palate to the discovery of new and intriguing tastes and sapori.parla French.
Monica: sociable, cheerful, a true entertainer of the reports home Palomba is fluent in English
语言:
English、Français