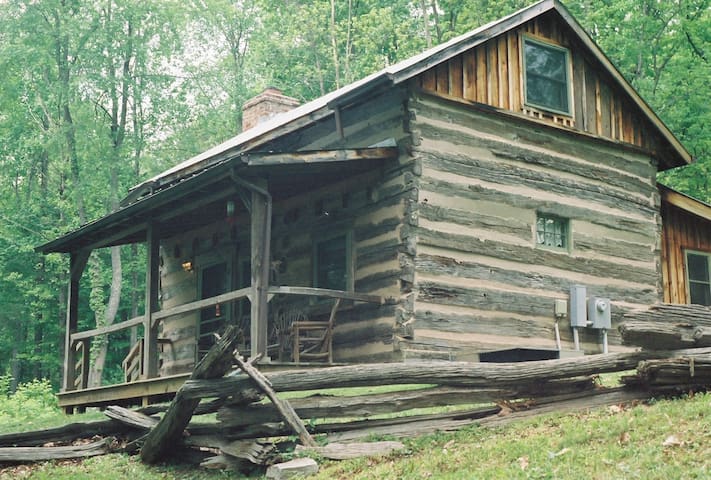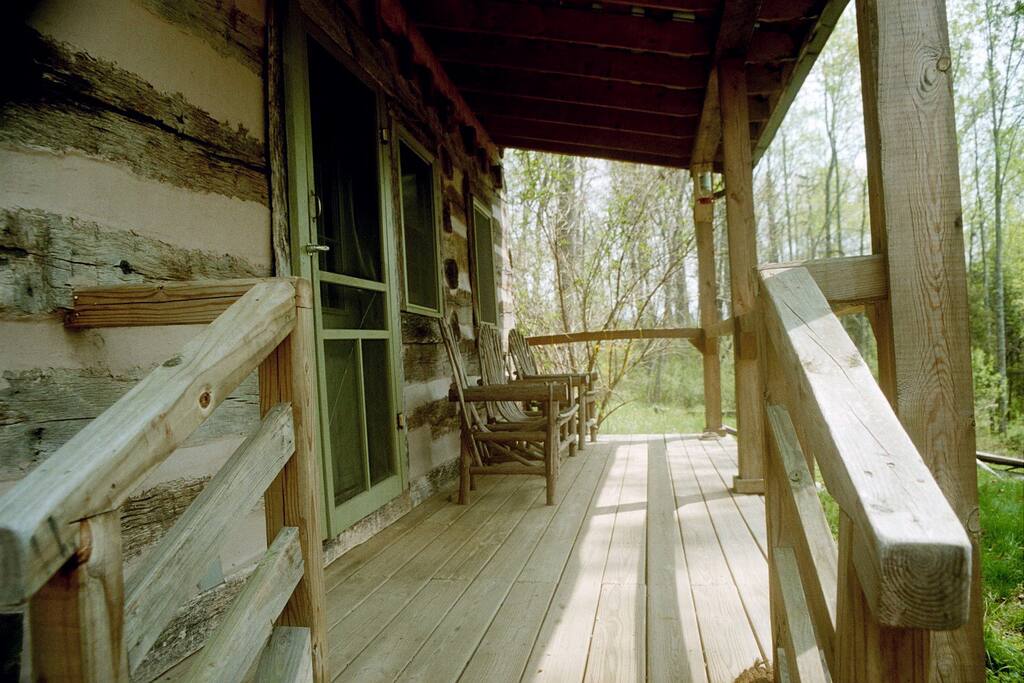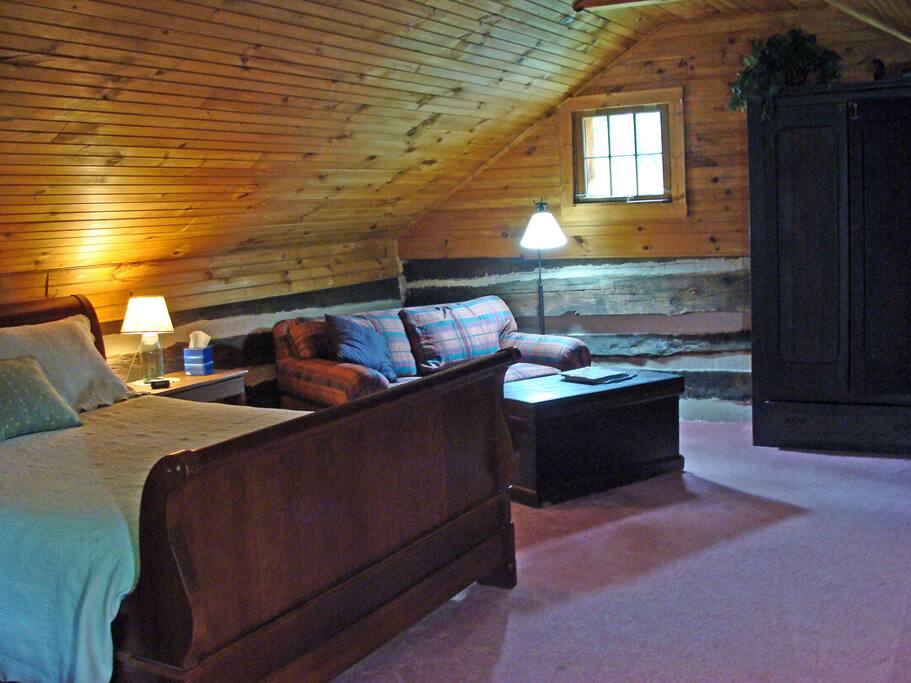 Adventure in c.1775 Log Cabin!
Brought to the farm from West VA, this 1775 log cabin has it all! Character, history, modern amenities, brick fireplace & fully furnished sitting on a knoll in complete wooded privacy only 4 miles from charming Lexington. Great 360 degree vista walks on 250 acres. Modern day labyrinth. Shenandoah Valley magic!!
房源
This cabin is a breath of fresh air from the busyness of our hectic day-to-day lives. It is made of hand hewn logs of maple, oak & chestnut brought to the farm from W.VA, reassembled with a 2nd floor bedroom, large first floor bathroom with a antique pedestal tub, a screened in back porch & a kitchenette. The cabin sits on a knoll off a private drive surrounded by quiet & dark on 250 acres of farmland. You will want/need to be okay with being by yourself & the dark of a country night. Located only 4 miles to heart of downtown Lexington with an excellent selection of restaurants, coffee shops, gift shops etc & 3 miles to several chain restaurants.
房客使用权限
Guests are invited to walk on the fire roads & walking paths on the 250 acres. There are some breath taking panoramic views, a modern day labyrinth & much wildlife to enjoy. Our farm is above the confluence of the South & the Maury Rivers. Across from the entry road to cabin is an access to the 7 mile walking/jogging trail between Lexington & Buena Vista. The cabin is close to many attractions, an AT trail head, the Blue Ridge Pkwy, VA Horse Ctr, Natural Bridge plus many others. We ask guests walking the property to be respectful of guests in the other cabins. Be sure you leave plenty of daylight for your return trip & take a good flashlight.
与房客的互动
This cabin is a 'self catering' space. Our guests do not see us unless they request meeting us. We honor the privacy & quietude that our guests desire. The only person that may be seen working on the farm is Russell mowing on specific days or the gal that cleans the cabins on specific days. If you are very lucky you might get to watch any one of the 4 hay fields being harvested. There is nothing like a freshly harvested hay field with the huge circular bales still in the field.
其他注意事项
NOTE: 12% taxes are included in the quoted pricing so this is a discounted rate from our website. Add'l guests will be an add'l charge.
Guests need to be comfortable with the dark & the country. One can often see the Milky Way without interference from city lights! We do our best to be good country neighbors & 'keep the country in the country' by asking that all outdoor lights be turned off at night. Bring a good flashlight & comfy shoes. The cabin is supplied with 'starter' coffee, teas, cocoa, condiments, dish soap, paper towels & toilet paper etc. If you need more than we provide you will find a grocery store only a few miles from the cabin. We supply 2 towels for each person for a 2-3 day stay.
Our gift to you is a bottle of wine. If you do not wish to have one please let us know beforehand. We know that everyone does not drink alcohol & might prefer to not have it around.
---
---
---
---
不适合婴幼儿(2岁以内)入住,或不能为婴幼儿提供安全的住宿环境
This farm is a retreat space encouraging folks to 'unplug' & reconnect with themselves & the natural environment. We have no parties or groups of people on this side of the farm & ask guests to keep music, loud noise (ie none :) & outdoor lights to a minimum. All dogs must be on leashes while out on our land. Thank you for complying. All smoking is to be outdoors & disposed of properly so as to protect the property from forest fires. This cabin is child suitable & dog friendly. Maximum 2 cars for this cabin. No ATVs. ABSOLUTELY NO CAMPFIRES ARE PERMITTED on the property.
---
---
---
---
Love this cabin! It is such a great find!! We came to Lexington for my husband's VMI reunion weekend so we didn't get to spend nearly enough time exploring the surrounding land. The cabin is tucked away up on the mountainside with total privacy and lots of natural beauty. The cabin is so roomy -super large and comfy bath and bedroom, comfortable living room with a great fireplace that draws well and makes it easy to quickly start a fire to take off the morning mountain chill. Antonia left plenty of wood for a couple days and we picked up all the kindling we needed on a short walk up to the pasture. Kitchen is stocked well and Antonia leaves you enough of the basics to have a pot of coffee the first morning if you overlooked that little detail when you packed for your trip. There is a screened porch with upholstered chairs that was a nice spot for coffee or a glass of wine. Towels, sheets all good, as was the bed. I really can't think of anything this cabin is missing for a few days off the grid. Antonia left great instructions for hikes (that we didn't have time to take which means we have to come back!) She was responsive throughout the weekend and checked in on us via email two or three times, even emailed to tell us we could extend departure for another hour if needed on Sunday morning. Can't say enough about the hospitality we received. We will definitely stay here next time we are in Lexington and you should too! How often do you get a chance to stay in an authentic log cabin with all the modern conveniences you need to be comfortable? Loved it!!
Becky, you are hired!! Gosh, I couldn't have written a more glowing review :) Seriously, you are most welcome. It warms our hearts to know that guests such as yourselves loved the gifts this land & incredibly peaceful cabins offer. I know how busy you were though missing the walk to Mt Grace hilltop was a mistake. You will need to come back for sure. The VMI reunion was amazing. 191 of you attended!! I got to eat some of the leftovers. Yumm. Again, thank you, for choosing this special place to remember what is really important in our lives. Blessings, Antonia
---
If you're looking for a quite rustic getaway with the comforts of home, this is it! Beautiful views, wonderful streams , and historic college town life near by! Would come back!
---
This cabin is without a doubt secluded and yet close enough to both Lexington and the mountains to be able to enjoy both. The first things we saw on our arrival was a young white tail buck and an albino squirrel. Quite the way to set the tone. The trails on the property are also amazing with beautiful vistas at the top. Thank you again Antonia!
---
This cabin is a perfect getaway spot. Quiet, peaceful, relaxing. We loved our time there. The sky and stars are so beautiful. We enjoyed having our dog with us, so much nature for her to explore. Antonia has thought of everything. I felt like I was visiting a friend. The hikes are wonderful, enjoyed the sunsets. Looking forward to a return visit.
Thank you very much, Mark, for your great review & especially for all the lovely private comments! (light bulb taken care of... thnx) We are very happy that you loved your stay. Yes, the stars & Milky Way are very visible without city lights. We hope your travels can bring you back this way again. You know where we are :) Blessings, Antonia
---
This cabin was spot on for what we were hoping to find for our anniversary trip as well as our first trip to Lexington. It is incredibly hard to find a cabin that comes with the solitude that Antonia's does but that also includes the modern amenities such as A/C, plumbing, and electricity. The furnishings are beautiful and you really feel like you are living the picturesque lifestyle we see in so many movies and shows these days. I've got to say though, the part I think my wife and I enjoyed the most was the amazing view from the hilltop that comes with the property that it sits on that the owners are so generous to give access to. If you're trying to decide between this rental or another, I really really would encourage you to give this one a shot because we are very glad that we did.
Eric, I can't thank you enough for your kind words & I am so happy that you really enjoyed your stay here. That c.1775 cabin is truly a 'slice of history', actually having been moved from what is now called West Virginia! The State of Grace hilltop has been years in the creation & definitely has an awesome view surrounding the modern day labyrinth. I notice in your profile photo, a camera around your neck :) If you took any photos that you think we would like & are willing to share them, we'd be delighted! Looking forward to having you return again for another country experience. Thank you for choosing our place for your anniversary celebration!
---
If you want a place to get away and relax, this is the place.I was looking for a quiet place to get away from normal life and that's what I got. I highly recommend it if you just need a break from it all.
---
My husband and I just finished a week's stay in the cabin and loved it! We were in the area for a motorcycle rally and it was wonderful to have quiet place to retreat to at the end of the day. The cabin was clean and had everything we needed. Bed was super comfortable and we enjoyed turning off the AC at night to hear the night noises as we fell asleep. It is a great place to kick back, unplug and relax. Front porch was perfect for enjoying our morning coffee or nightcap. There was lots of nature to enjoy--rabbits, deer and many different bird species. We took advantage of a clear night to walk up to the hayfield for some star (and bat) watching. And, one early morning we hiked up the hill to The State of Grace which should not be missed. There is an unmistakable energy as well as profound peace as you enjoy Antonia's sculptures and gaze at the 360* view. We did not meet Antonia during our stay but our friend, Rob, did and told us she was warm and welcoming. We would definitely rent the Homesteader's Cabin again.
Thank you, Jane :) We really appreciate your lovely words & are very happy to read that your time here was all that you had hoped. I did get to meet your friend. He was delighted to be joining you & that you had brought a bike for him to go to the motorcycle rally. Yes, there is a palpable energy on the hilltop!! So excited that you could feel it. Thank you for adding your energy to it :) Blessings, A
---
I am currently a co-owner/co-operator of a vacation cabin & event facility on 250 acres in the Shenandoah Valley of Virginia. It is amazingly beautiful here. My husband & I moved here after several decades in Sausalito/Sebastopol CA & 6 yrs sailing & living aboard our deep sea sailing vessel. I love water, mountains, the natural environment, travel, good restaurants & fun coffee shops. I am totally intrigued with sacred geometry, design sculptures, facilitate workshops, have had & continue to have a colorful, incredible career & life path. Life is more than good!!