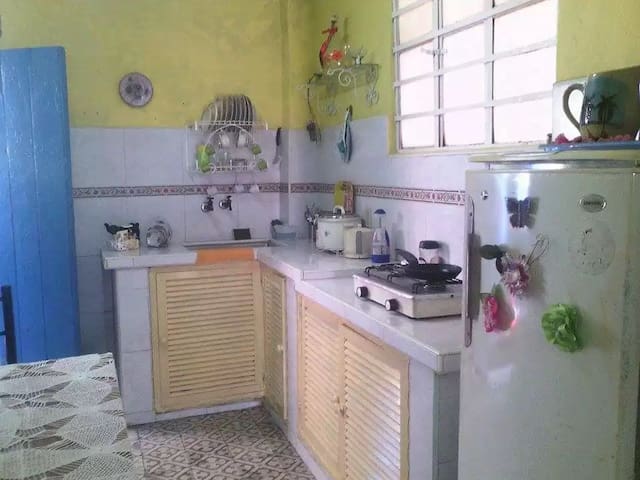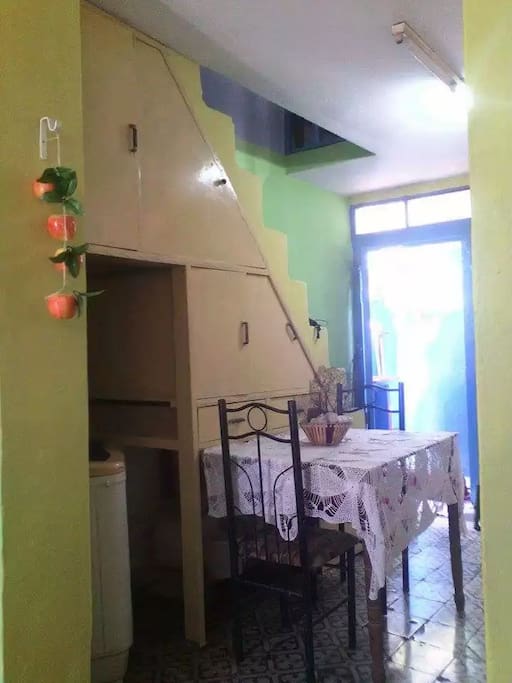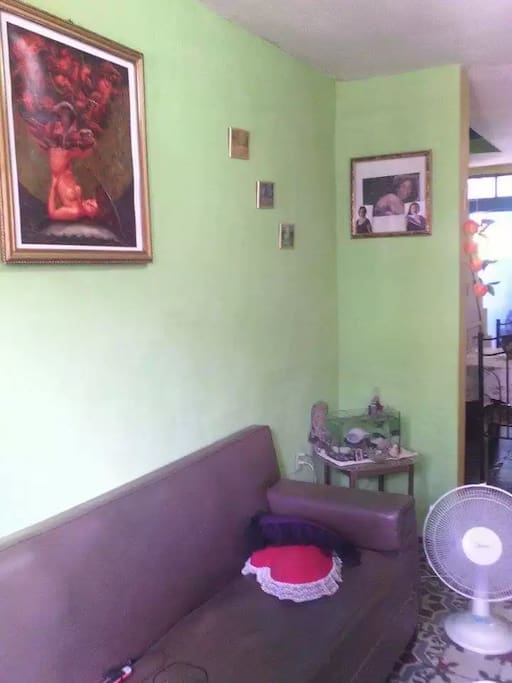 Arisleidy's "Like Family" B & B
We are located just 10 minutes from Old Havana (Center City). The neighborhood is lively and fun, and close to everything you'd like to do. I am available to serve as a personal tour guide, to help you have the best and most authentic experience possible. It will help you avoid hustlers, who are always ready to take you for a ride in terms of pricing for entry to events, transportation, rum, cigars, etc. The charge for a personal tour guide is an extra $40.
---
Arisleidy is sweet, helpful, generous, speaks good English, and makes a great breakfast! However, potential visitors should be aware that the bedroom (there's only one, with one double bed, and no real door) is at the top of a very steep flight of exposed stairs; that there is no shower or easy way to bathe; and that although she is working on making improvements, the home has areas of significant disrepair, from wiring to water damage. The neighborhood is relatively quiet (a 10–15-minute taxi ride from the city center), but you'll definitely hear whatever is happening on the street--from vendors to roosters to the neighbors' music.
Greetings Cerise. Thank your for your feedback. I'd like to correct some of the things you mentioned, as they are not quite accurate. 1) As shown in the picture, there is a large bedroom, with a separate space for an extra bed, if needed. 2) There is a shower area, I never advertised a tub for baths 3) I offered to pick you up from the airport. I'm not sure how fair it is for you to blame my location for your driver's inability to find it. 4) Many of the things you mentioned are characteristic of a typical cuban neighborhood and home. How much luxury were you expecting for $20 a night? 5) The room is offered exactly as it appears in the picture 6) I have had several guests before you (through Airbnb and other venues), your review is the only harsh one I have ever received.
---
Arisleidy was an amazing host. Every step of the way, she made me feel comfortable and accommodated like we were close friends. She is very informative and knowledgeable of Havana so I would recommend her tour guide services. Her home is cozy and inviting. About 10 minutes from Habana Vieja while driving, the location is great if you want to live like a local and get a real feel for Cuban culture and living. A delicious breakfast is included every morning. Aris also organized pick up to and from the airport, and a beach visit for a reasonable fee. When I visit Havana again, I would hope to stay here.
---
Hi My name is Arisleidy! I am happy to offer you an authentic Cuban experience in my humble but happy home. I provide daily breakfast, and lunch and dinner are available upon special request. I also provide daily laundry service. And best of all, I am here to serve as your personal tour guide for Havana and all of Cuba that you would like to get to know (All Day Tour Guide Services are $40 extra per day). I can organize for a private chauffeur if you'd like to get around that way, we can take the famous maquinas (60's cars) to get around, or if you really want to get to know the Cuban experience, we can take the local buses of 5 cents.

If you'd like to get out of the city for popular excursions like Viñales, Trinidad, Verdadero, etc., I will find the cheapest rates for transportation, overnight accomodations (if desired) and all other essentials while traveling.

I help my guests have the most authentic Cuban experience possible by serving as guide, a price negotiator, and protection from the tiburones (hustlers).
You will have an instant Cuban family upon arrival. It'll be like visiting your grandmother, only I'm younger and more fun!