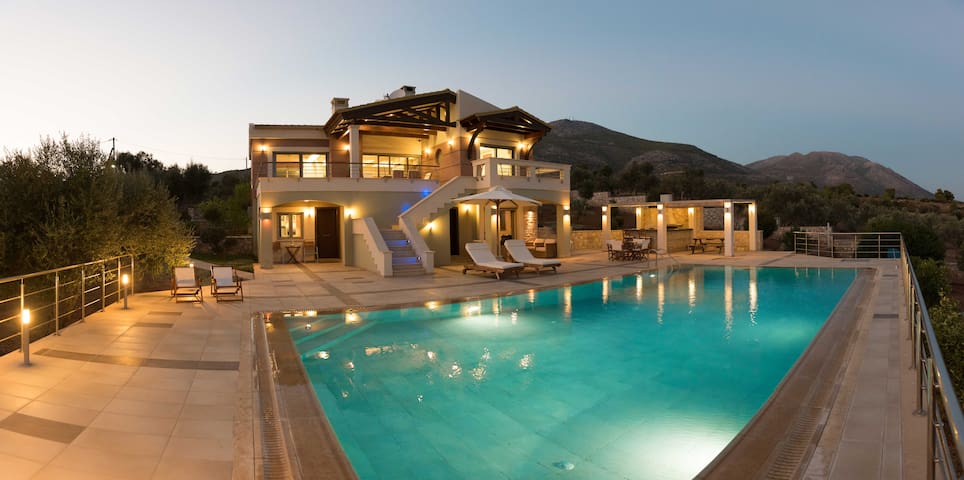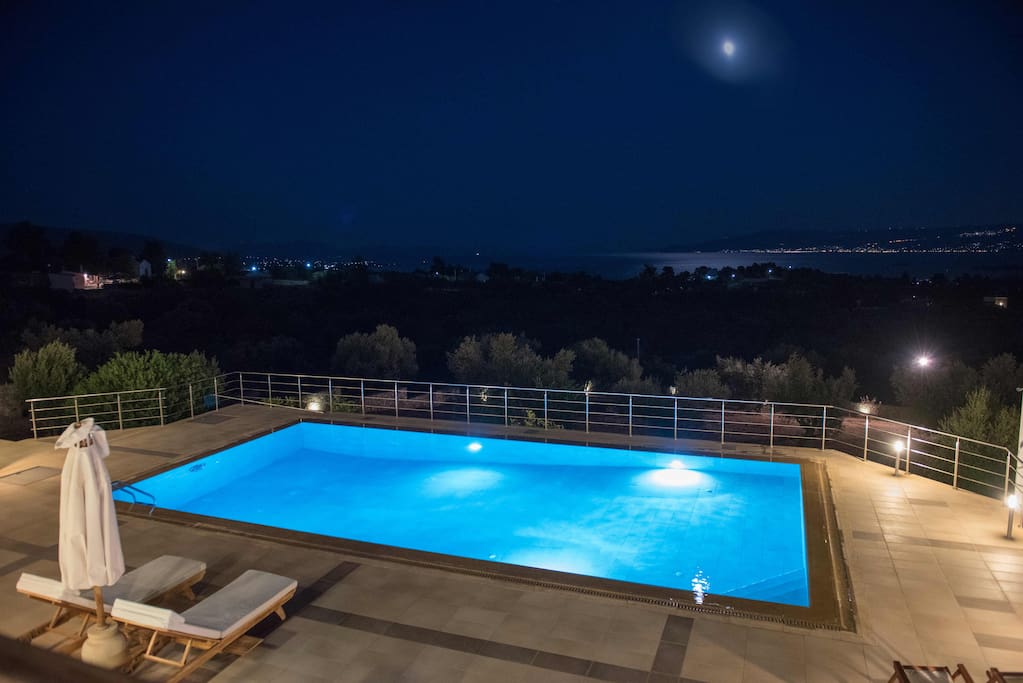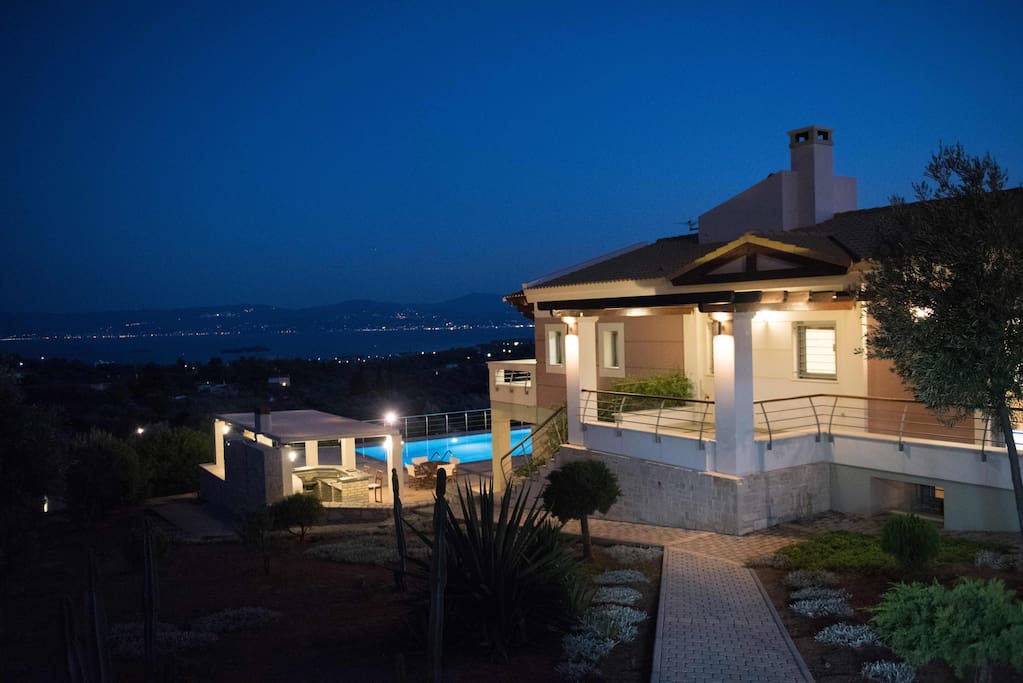 Villa Emmelia with its painting-like and breathtaking view of a serene part of Aegean, the South Gulf of Evia (or Euboea) is located on the Island of Evia, the second biggest in Greece, 1h from Athens. It's a hillside Villa, surrounded with olive trees and only 5min drive from Eretria town, the shops, the ancient sights and the beach. So close to almost everywhere but yet so private.
房源
Villa Emmelia is a full-package experience, whether you like landscape diversity; beaches, mountains, ancient sights, cosmopolitan atmosphere, night life, or you just want to relax reading a book, having a drink under the stars, enjoying the sun, spoiling yourself poolside and being enchanted by the unique view in the comfort of your privacy in modern facilities.
The Villa combines functionality and harmony. It spreads in two levels, but due to the sloping terrain, both levels are "competing" for the scenic view. Including the independent Guest House (http://www.airbnb.com/rooms/20781585) it can accommodate up to 10 guests.

---Interior---
--The upper level has--
a bedroom (king-size bed, A/C),
an open living room (A/C, TV) with
an adjoining dining area (6-12 persons),
a bathroom (shower cabin),
a fully-equipped spacious kitchen and
a big terrace with a dining table.
--The lower level has--
a bedroom (queen-size bed, fan),
a bathroom (bathtub/Jacuzzi) and
a second bedroom (A/C, desk) with a sofa-bed.
--The Guest House has--
its own private entrance and
direct access to the pool. It includes
a bedroom (queen-size bed, fan),
a bathroom (shower cabin),
an open living room (corner sofa-bed, A/C, TV),
a fully-equipped kitchen,
a dining table and
its own outdoor sitting area.
Each bedroom in the Villa has its own closet space but there's also a separate walk-in closet room on the lower level. Also each bathroom has all the amenities included.

---Exterior---
Villa Emmelia – overlooking the Attica and Evian coastline – features a stunning view highlighted during the day by the changing colors of the sea and at night by all the illuminated villages along the gulf, sparkling like precious jewels in the horizon.
The overflow pool (6x12m), which is the epicenter of the exterior, is ideal for endless playing and moments of relaxation. It's equipped with a counter-current swimming system (jet stream) which is excellent either for exercise, a massage or just to have some fun.
You can cook your lunch or dinner poolside at the BBQ and gather around the picnic table to enjoy it.
The Villa also includes a roofed garage with two open parking spaces, but there's plenty more parking space next to them.
Villa Emmelia's security system is equipped with cameras (on the exterior) and an alarm system.
Children will definitely have lots of fun in Villa Emmelia but their safety is important. The uneven and paved areas, pool, stairs, etc., may not be safe for them. In any case, contact us, if you have any concerns.
Visible from the villa, is Holy Trinity, a small private island in the shape of a guitar. Thinking it was karmic, the legendary Beatles were excited and wanted to buy it when they visited it in 1967. At the time Holy Trinity had many world famous guests.
The neighboring Island of Dreams, is connected to Eretria with a small walk-bridge. A must visit for its natural beauty.

---Location---
Villa Emmelia is ideal for its privacy. It's located on the suburbs of Eretria, only 5min drive from the center; convenient if in the mood for cosmopolitan atmosphere, restaurants, fish taverns, bars and cafes, spread across the sea shore promenade.
Eretria is a beautiful seaside town and a very popular destination, especially among Athenians, either as a weekend retreat or for a longer summer vacation, since it combines - along with its close vicinity to Athens- the mild weather, the beach, the calm sea and the archaeological treasures.
There are many beaches, with sand or pebbles, very close to villa Emmelia (5-10min), either in Eretria or nearby.
Every Sunday there's an open farmers market where you can buy fresh local produce. In the town you can find an info center, a post office, banks, pharmacies, fresh-fish shops, supermarkets and many other shops to cover your needs.
During the summer there are events and festivals either in town or in the Island of Dreams.
Not far from villa Emmelia are many coastal villages and other places you could visit like: Chalkida (high tide phenomenon, the Venetian castle, night life), Amarynthos (excellent fish food), Lefkadi, Steni (mountain village with water streams and meat taverns), the local wineries - to get acquainted to Evia's world-famous wine varieties.
or
Delphi (2h - Temple of Apollo, Ancient Stadium and Theatre) and Athens (1h - Acropolis, Museums, Plaka) keeping the privilege of living in a villa vacation home.

---Sightseeing---
Eretria is a natural port first mentioned by Homer, since it took part in the Trojan War, but the human presence in the town is dated back to the Neolithic Period. In ancient history Eretria was a wealthy city with many colonies on the Aegean coasts and Italy and one of the biggest naval city-states.
The town has rich history, so there are remarkable ancient monuments you could admire, like the Ancient Theater, the House of the Mosaics, the Macedonian Tomb of Erotes, the ruins of the Temple of Apollo and Isis, etc. You can also visit the Archaeological Museum and see all the magnificent exhibits like Medusa and learn about the town's history.

---Activities---
Very close to villa Emmelia (10-20min drive) is a Paintball Park, kite -surfing, kite-boarding, wind-surfing, paddle-boarding, scuba-diving, planned boat excursions, water sports, hiking, cycling, trekking, horse-riding. More information and arrangement details are included in the House Book. Note that depending on the season some activities may need to be booked earlier. Feel free to contact us for more information.

---Transportation---
A rent-car is highly recommended.
There are two ways to reach "Paradise" from Athens. The first one is via the national road E75 (direction to Lamia), exit Chalkida, after the New High Bridge, direction to South Euboea, Eretria.
Alternatively, national road E75 direction to Lamia, exit Malakasa/Skala Oropou, direction to Oropos port and take the ferry (every half hour), which arrives at Eretria port (15-20min).

---Information---
Upon arrival you may be asked to sign a short-term vacation rental agreement and you'll be provided with the House Book, which includes a detailed house guide, useful phone numbers and any other needed information. I'll also be available to help, explain and make any recommendations.
房客使用权限
Guests have access everywhere in the villa, except the boiler room and the warehouse.
与房客的互动
I'll be available to help, explain and make any recommendations.
其他注意事项
A rent-car is highly recommended.
---
---
---
---
- Events/Parties upon agreement
---
---
---
---