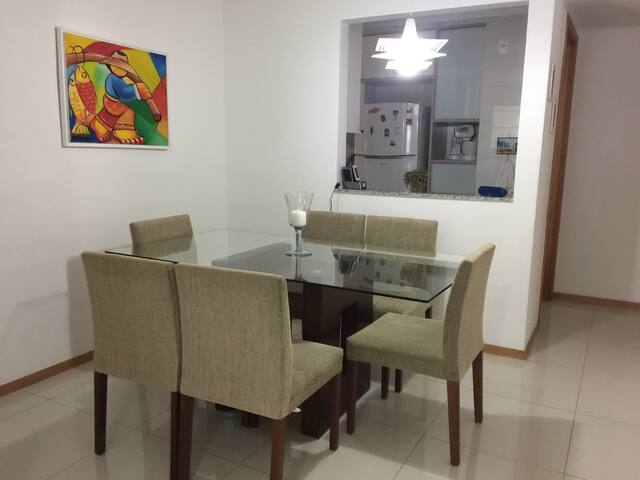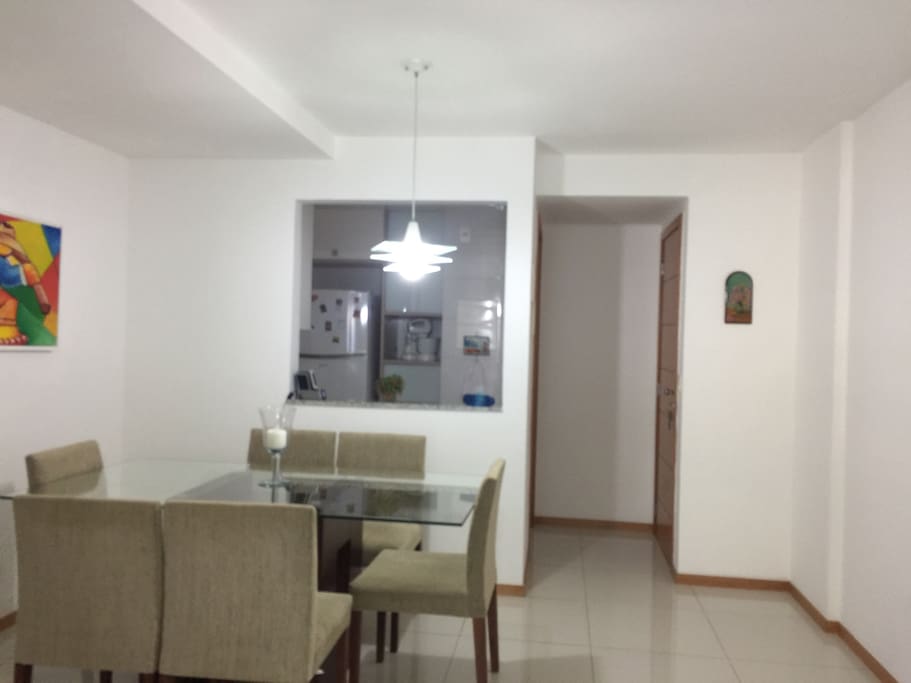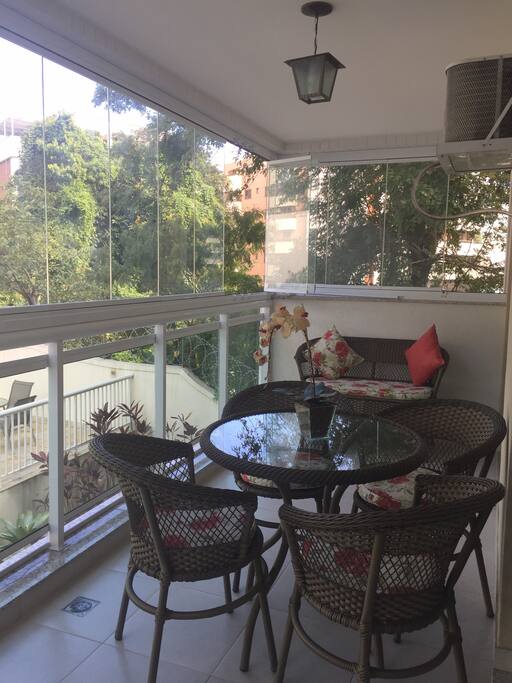 Spacious new - well equipped Condo. Apto. Novo!!!
New apartment, 3 bedrooms, 3 bath, kitchen, laundry room, dinning and living room. One car garage. It's equipped with TV, wi-fi, microwave, coffeemaker, toaster, blender, water filter for tap and cold water, kitchen utensils, fan, air conditioner, linens and bath sets. One parking space.
Very calm and high end building and neighborhood.
Meu apartamento e localizado em um predio residencial com seguranca 24 hrs. Nao sendo permitido festas nem o uso das dependencias do condominio.
---
---
---
---
Please when nobody is in the apartment, leave all the lights off and water faucets closed.
. Please, there is a special adapter connected to the microwave plug, please never remove, otherwise the microwave won't work.
. There is a built in barbecue at the varanda/patio, unfortunately it's not working, sorry about that.
It's not allowed portable barbecues at the varanda neither inside of the apartment.
. All the hot water faucets are the left ones.
. There is two portable clothes dryers that can be used at the Varanda.
. Cable TV is only available in the living room TV, in the couples bedroom the TV is only for videos games if the guests bring their own.
. The cleaning of the apartment is done before you check in and after you check out.
. Please, when there is nobody at the apartment leave the window system located at the varanda locked and all the internal doors (living room and bedrooms locked).
. The apartment can accommodates 5 Adults
. There is a third bedroom where I'll place my personal belongings and the closet it will be locked.
. Guests are not allowed to use any amenities. This is a residential condo and the association rules doesn't allow the guests to use any of the common areas.
. There is one car garage spot, I will always let my guests know the number of my parking spot once they make their reservation.
. All this information will be left at the apartment in Portuguese as well.
. The internet information is in the apartment.
. The name and all information of the person who is going to help my guests to check in, it will be informed the day before of the check in.
Thanks again for choosing my apartment.
Enjoy your stay.
---
---
---
---
Alguns problemas de comunicação, visto que inicialmente se poderia utilizar a piscina e que haveria garagem. Sobre o acesso à área de piscina foi atualizado posteriormente, informando que não poderia ser utilizada. Já a questão da garagem nos impactou bastante, pois não permite a entrada de um carro médio/grande. Portanto, tivemos que deixar o carro na rua o que foi muito ruim, visto que estávamos aguardando pelo parto de minha esposa a qualquer momento e precisávamos do carro próximo (tb não há estacionamento privativo na rua). Outro ponto foi que tivemos que fazer uma limpeza geral no apto no primeiro dia. Fora isso, o apto é muito bom e atendeu as expectativas com um bom preço.
Franco, a questao do uso da piscina lhe foi esclarecido a mudanca no estatuto do condominio antes do seu check-in, infelizmente a mudanca foi feita dias antes de sua chegada o que lhe foi informado imediatamente, apesar de voce nunca ter mencionado que o uso da piscina era imprescidivel para sua estadia, pois voce questionou mais de uma vez quanto ao numero de quartos, localizacao e se havia roupas de cama e banho, o que lhe foi informado prontamente todas as vezes que fui (URL HIDDEN) relacao a vaga de garagem foi lhe informado que tenho direito a uma vaga de garagem, e a mesma existe e voce fez uso dela na sua primeira noite, peco desculpas se a mesma nao e a melhor do predio, mas isso e independente da minha vontade ja que a mesma e escolhida por meio de sorteio anual do condominio. Muitos dos propretarios possuem carros bem grandes e estacionam dentro do predio sem (URL HIDDEN) relacao a estacionamento privativo na rua, nunca foi colocado no meu anuncio a disponibilidade desse servico na minha (URL HIDDEN) relacao a limpeza geral do apartamento tenho absoluta certeza que voce o encontrou demasiadamente limpo, nao somente o imovel teve uma faxina geral no dia do seu check-in assim como toda a roupa de cama e toalhas foram lavadas e trocadas no dia da sua chegada, aonde ate foi usado um aromatizador de roupa de cama e ambiente. Durante sua estadia voce nunca nos comunicou/mencionou algum problema com a limpeza geral no apartamento para que pudessemos tomar as providencias necessarias. Atenciosamente, Denize Oliveira
---