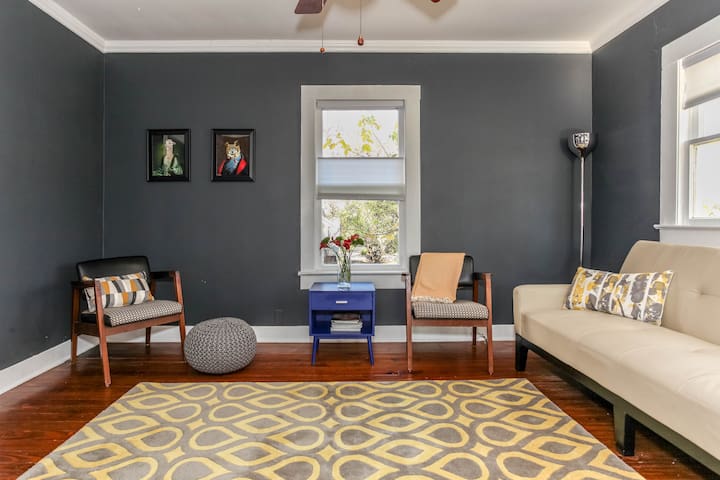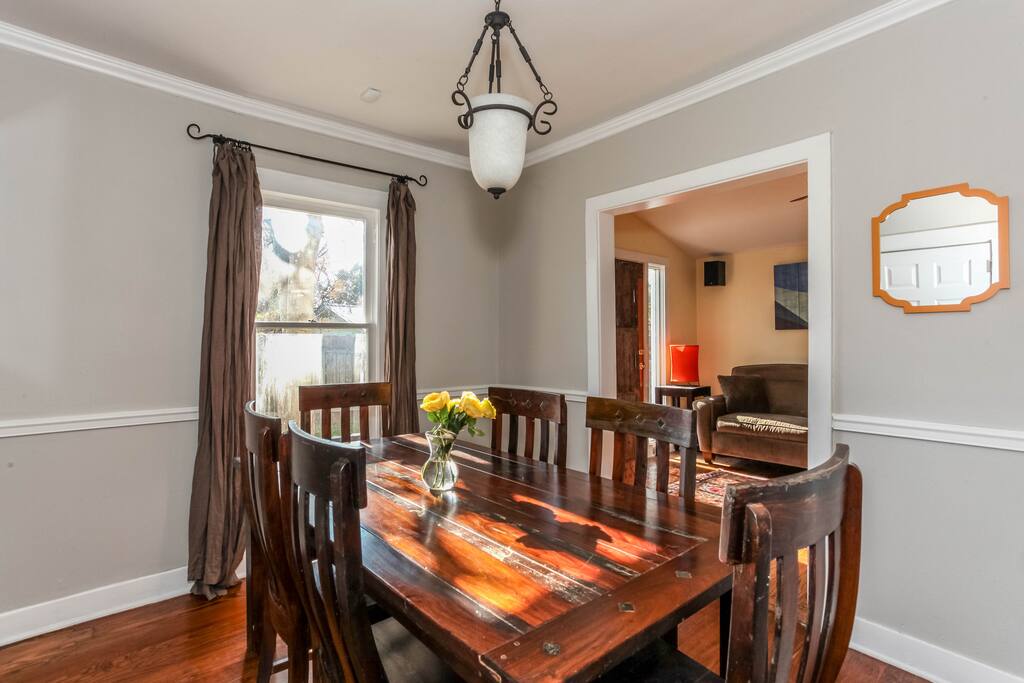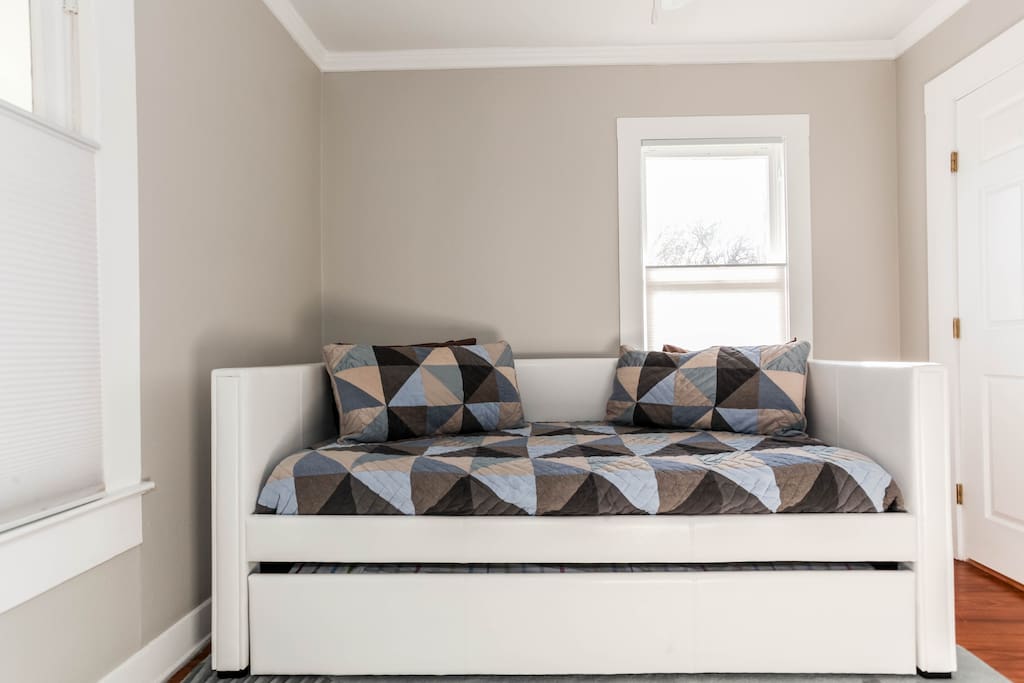 Our beloved home is in one of Austin's best walkable areas, close to restaurants, vintage stores, coffee shops and bars. It's a 1927 house. (2 bedrooms with 1 bonus loft bedroom and 2 full bath with a garage)
We now only accept stays for 30+ days. Most of our tenants are 3 + month stays- we do require an additional cleaning fee with longer stays to keep our house maintained. We have our cleaning professionals come in every other week at $200 per month - and this house will stay clean for you
房源
Our beloved home is in one of Austin's best walkable areas, close to restaurants, vintage stores, coffee shops, brewpubs and bars. It's a 1927 house. (2 bedrooms with 1 bonus loft bedroom and 2 full bath with a garage)
https://www.airbnb.com/locations/austin/north-loop
Our little 1927 house is kept with love and is one of the oldest houses in the neighborhood. Because it is so old, it still has a lot of it's original parts so keep in mind, that this is a house with "character". It has one master bedroom with a queen bed and attached full bathroom with a clawfoot tub with shower. There is a 2nd bedroom with a twin trundle bed and is attached to an upstairs loft bedroom with a double bed. There is a 2nd full bathroom with shower and tub. There is a TV room with flatscreen and cable and comfortable seating. There is also a front living room that has couch that may be turned into a bed. There is a dining room with 6 chairs attached to a full sized kitchen with fridge/freezer/stove/microwave/dishwasher. There is also a washer and dryer. We try to keep food staples in the house along with laundry detergent, soaps, mosquito spray, and other household needs. We are child friendly as well, with a pack and play, high chair, booster seat, step stool, etc.
We live close by and have a handyman that lives close as well! Text me anytime!
与房客的互动
We live close by and have a handyman that lives close as well! Text me anytime!
---
When my husband and I had our first child, all the grandparents descended onto Austin. I rented this place for three months to accommodate them. It turned out to be perfect -- location, value, and amenities. Communication with Shelley was pretty easy: she responded whenever any of us had a question or concern. Would definitely stay again. As a side note: there is an additional cleaning fee. A professional cleaner comes every other week. We had no problem with that, but just FYI: it's another $200/month.
---
5 stars all the way! Our family of four had an amazing six-week stay here. A great, friendly neighborhood one block from a bar, restaurant and vintage shops; two great coffeeshops and great restaurants/food trucks within blocks. The house is clean and comfortable with all the amenities you'll need; and if you need anything else, Shelley will get it right away. Wonderful hosts and a great house!
---
This is truly a great AirBNB rental. The house is even better than described in the listing. I stayed there over a month while in town for work with my wife and baby. We all felt at home at the house and in the neighborhood. Shelley is a top notch host. She was responsive, helpful, and a delightful person to communicate with. I look forward to staying there again. This place is a total score.
---
Shelley was an excellent host! Her and her family made sure all of our needs were met during our 3 month stay. The house is beautiful and in a nice neighborhood. We never had any concerns about the house or the area we were in. As two graduate students this was very important to us to be in a safe area and we loved every second. There are so many fun things to do in walkable distances from the house! Shelley and this cute home made our stay in Austin perfect and I would highly recommend it to anyone!
---
Our host graciously provided delicious local treats that awaited our check in, and the home is even more spacious than it looks in photos. The master bedroom has a very convenient setup with laundry and a full ensuite. There is off-street parking available in the back, which is very nice. We definitely loved the neighborhood. North Loop/Hyde Park is a very hip, lively, and fun area with many high-end restaurants, cocktail bars, and coffee shops (and so much more). We enjoyed walking the area daily with our baby and found the area very safe. It wasn't easy moving with a one-month old for three months! Our host was extremely responsive to our needs. She provided us with extras for our newborn daughter that made the stay comfortable and our lives much easier. Overall, our stay was great and we would love to come back!
---
My wife Reney and I rented Shelley's house for two months while visiting the grandkids in Austin. Couldn't have been happier with the accommodations. Spacious and cosy at the same time. Great part of town, close to everything to see and do in Austin. Shelley took care of our every need even provided some essential food items for when we arrived. Great backyard with surrounding privacy fence, huge deck and a first class gas grill. Highly recommend this home.
---
My friends and I really enjoyed staying at Shelley's home. We stayed there for about three months. When we arrived, we were welcomed with some treats and fresh flowers in the kitchen. The listing describes the home pretty accurately. Her home is in a quiet neighborhood that has easy access to downtown. For those without cars, there is a bus stop one block away. I highly recommend Shelley's home to anyone looking for a place to stay in Austin! She is a great host and was always attentive to any of our concerns! Thank you, Shelley!
---
We are a very lively family of six, who love to travel and eat good food.