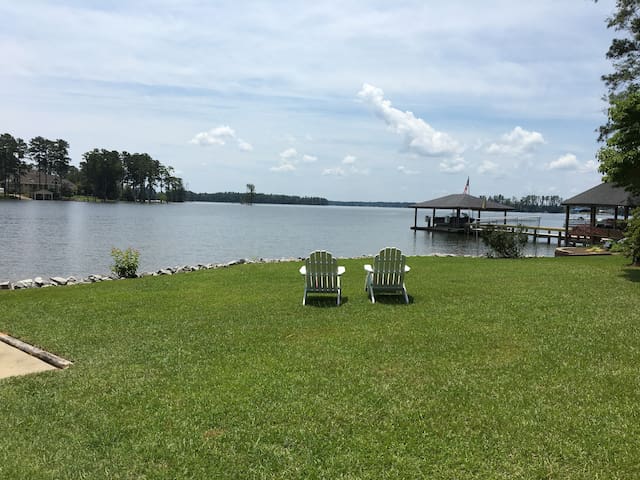 Beautiful Lake Murray Retreat!
Private retreat on beautiful Lake Murray, just a few steps to the lake and minutes from downtown Chapin! This lower level apartment has a private entrance with bedroom, full bath, TV, and pool table. Comfy Queen bed, kitchenette with fridge, microwave and coffee maker. Lake views from every room! Private patio has gas grill for your convenience. Private boat ramp available; fishermen welcome! Enjoy the beauty of lake living!
---
This is a beautiful, immaculately kept, waterfront home. It looks exactly like, or even better than in the pictures. Lake Murray and swimming are a few steps away from the house. We came to view the eclipse and everything was way above our expectations. Liz and Mike are the most gracious hosts. They went out of their way to make our stay enjoyable, including a nice welcoming note, fresh cut flowers, chocolate "turtles", snacks, and a bottle of wine. We hope to be back. Thank you, Liz and Mike! Magda and Avner Butnaru
---
Loved our stay at the lake! Mike and Liz were great hosts, and the space was beautiful. Comfortable, modern, clean, and included all the necessities. I immediately felt comfortable and right at home. Mike and Liz were friendly and attentive, but not overbearing. The bed was awesome, and I loved how we could close the doors to the bedroom at night and wake up in a little cave... but open the doors and the room is flooded with light and a view to die for. We couldn't have planned a better trip with better hosts- we will definitely be back!
---
Liz and Mike are the perfect hosts. We thoroughly enjoyed our stay and plan to visit again. Their home is very clean and has beautiful Lake Murray just a few feet away. A serene, welcoming, and relaxing place to be as busy as you like or as relaxed as you want to be.
Thank you for your kind review! We really enjoyed meeting you and hope that you enjoyed your visit. You and Howard were wonderful guests - thank you for your thoughtfulness; the house was spotless when you left! We hope you're able to return soon and discover even more of beautiful Lake Murray!
---
Mike and Liz are the perfect hosts if you're looking for a relaxing weekend on the lake! My boyfriend and I spent Memorial Day weekend lounging off the dock and exploring the small town charm of Chapin, SC. We even enjoyed some great antique shopping and drinks at a popular local bar. Would definitely recommend!!
---
Anyone looking for a nice little retreat on the lake look no further! My husband and I stayed here over the weekend for our tenth anniversary and it was everything and more that you see online. We enjoyed sitting out by the water watching the boats go by and when it was time to come in the living area was very relaxing. The bed was super comfortable, very nice linens and towels. Our hosts had thought of everything and we appreciated it. Will definitely be back!
---
Liz and Mike were amazing, gracious hosts! We were so lucky to stumble upon their place. The view was amazing and my boyfriend caught lots of catfish on the dock. It was beautiful and relaxing. I highly recommend their place.
---
Le logement était parfait, plein d'attentions de la part de nos hôtes qui ont rendu ces quelques jours très agréables. L'emplacement est juste magnifique, vue sur le lac murray et tout ce qu'il faut pour se reposer et se détendre aussi bien à l'intérieur du logement qu'à l'extérieur. Mike et liz sont des hôtes très chaleureux et accueillants... en bref nous vous conseillons ce logement
---
We live on beautiful Lake Murray and enjoy life on the lake! We want to share the amazing views and peaceful environment with others who enjoy lake life.