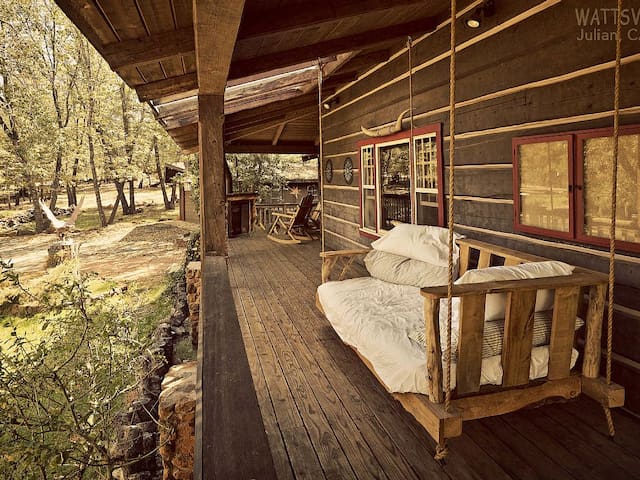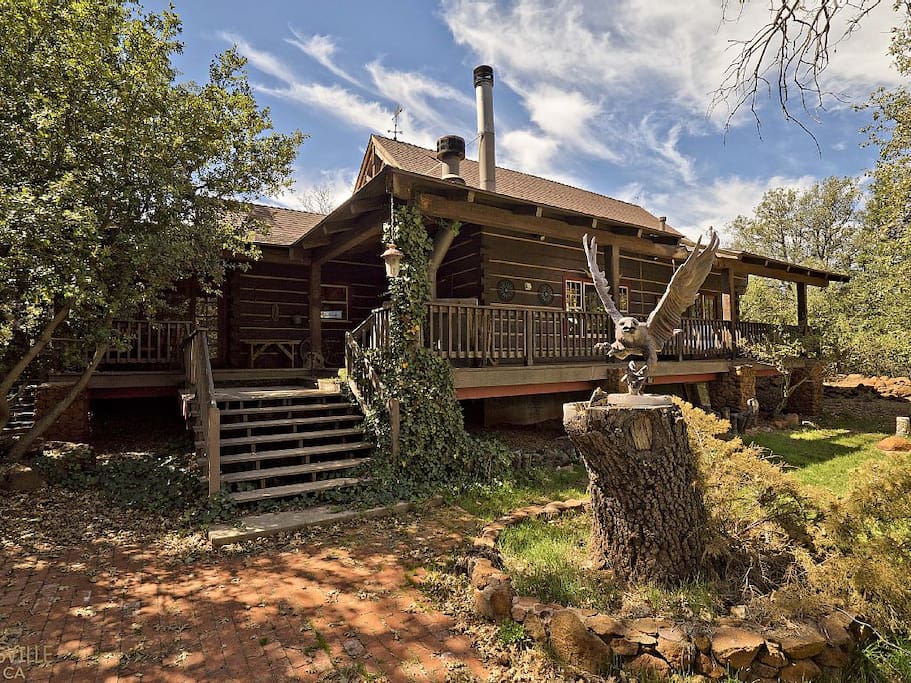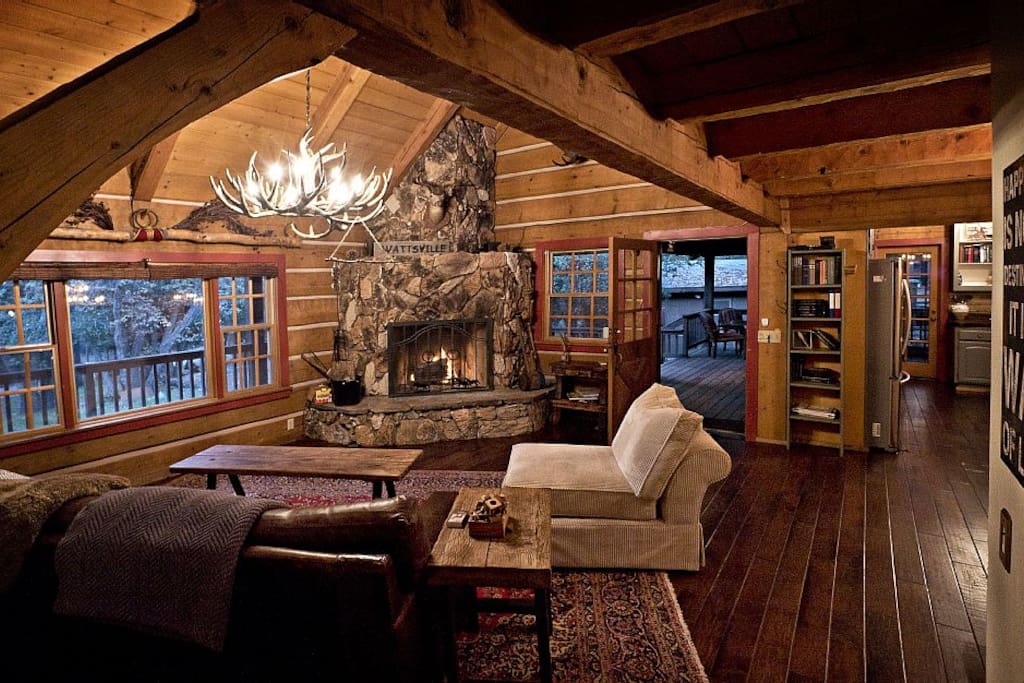 This is a special place for some rest & relaxation! This quiet spot includes fireplaces all throughout the house, even on the porch! There's also an intoxicatingly comfortable porch swing-bed. To top it all off, the master bathroom includes a dry sauna. This cabin is also ideal for friends, families & groups looking for a spacious place to vacation together and enjoy all the fun the town of Julian has to offer; apple picking, hiking, fishing, horseback riding, etc. (note: 3rd bedroom is a loft)
---
---
---
- Inquire about special events such as weddings/celebrations
- Pets considered
- Smoking allowed outside only (porch only please for fire safety)
- Quiet time after 10pm
- Do not disturb other guests staying in any nearby cabins
- Inquire about booking multiple Wattsville cabins at once
---
---
---
We loved staying at this cabin, lovely! The hosts were very responsive and accommodating. This is a great place to tuck away from the busy life and slow down - especially since there's no wifi available. Great indoor and outdoor spaces, loved the big porch out front and back. Would certainly recommend this lovely spot!
---
The communication from start to finish was stellar. The place is adorable. They really did an excellent job with the decor. The bed upstairs was quite possibly the most comfortable bed I've ever slept in. We really enjoyed the sauna too. The swing on the porch is just heavenly. It may be helpful for you to know that this property is in a semi-residential neighborhood. It's still very quiet and seem private, but it's not out in the country, as one might think. It's only about 4 miles form the adorable town of Julian, which is nice. We had a lovely time there, and would definitely stay there again.
---
What a lovely log home! We stayed here (instead of Pine Hills Lodge) for our son's wedding in July, and we could not have had a more enjoyable experience. Although we didn't cook here much during our stay, the kitchen is well-appointed and even has TWO sinks! The rooms are spacious and the beds are comfortable. We needed nothing… but if we did, Zora made sure we knew she was available and nearby. We saw some deer, heard some turkeys, and saw a black cat lounging in the shade near the old wagon in the back. So quiet and serene. We will definitely be back when the weather is cold so we can enjoy the many fireplaces this beautiful home has to offer. Go ahead and book it – you won't regret it!!
---
We could not have asked for a better house and environment for our stay in Julian! The area was so beautiful and peaceful. The house was perfect for our group of four and would house a few additional guests comfortably. Spending quiet mornings on the porch swing listening to the birds was my favorite thing to do! I definitely recommend this listing and will hopefully stay there again.
---
This was a great place to stay. Close enough to Julian but still felt like we were in the woods. We were a party of 6 (4 adults, 2 teenagers) and we were more than comfortable and had a fantastic, relaxing weekend. Definitely recommend if you're looking for a rustic cabin in the mountains with a quaint town nearby to visit.
---
Hands down the best Airbnb I've ever stayed at! I travel regularly for work and rent airbnbs often. I rented this one for my wedding day- for all of my bridesmaids and I to get ready in. The interior design is absolutely stunning and it suited our needs perfectly. I would highly highly recommend! The address can be tough to find, but follow your GPS to a T and you can't miss it. Plus they're is cell service up there which is a huge plus! We saw so much wildlife - so thankful for everything!
---
This was a last minute get away from the city and we are so glad we did it because it exceeded our expectations. Zora made the process incredibly easy and the house was clean, beautifully decorated, comfortable, relaxing, fun and private. We enjoyed sitting on the porch watching the deer walk by in the morning, cooking dinner in the cozy large kitchen and sitting around the picturesque stone fireplace. We can't wait to go back!
---
I am "Your Personal Concierge". I believe in EXCELLENCE, if you should need anything during your stay, I am available to assist you 24 hours a day. Please do not hesitate to text or call! Text is Best :) Please use the mobile number listed in your manual.