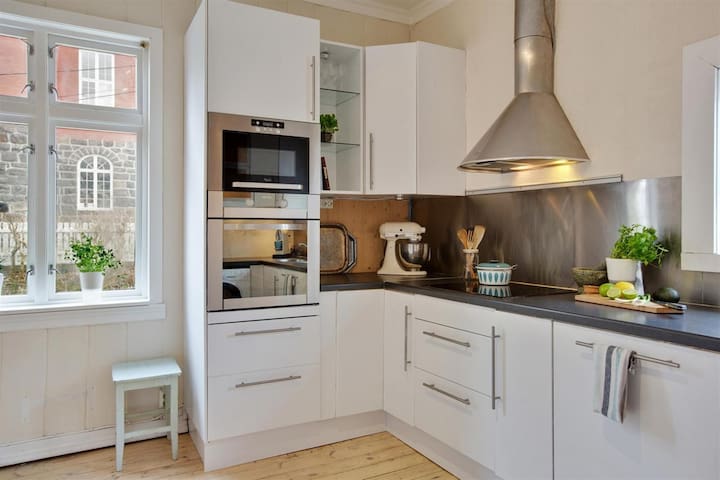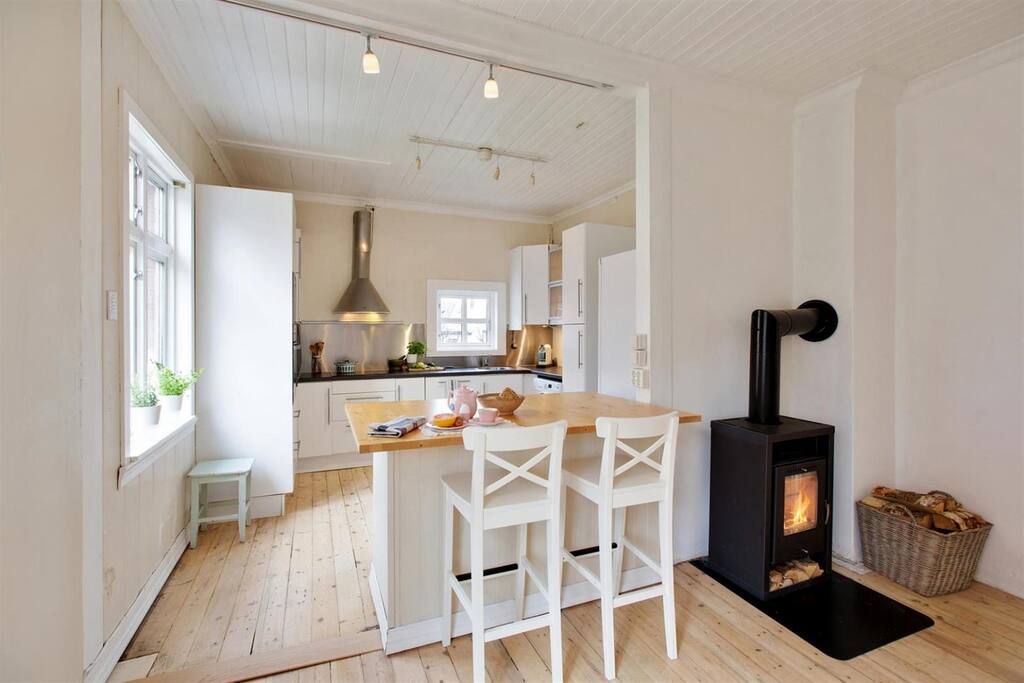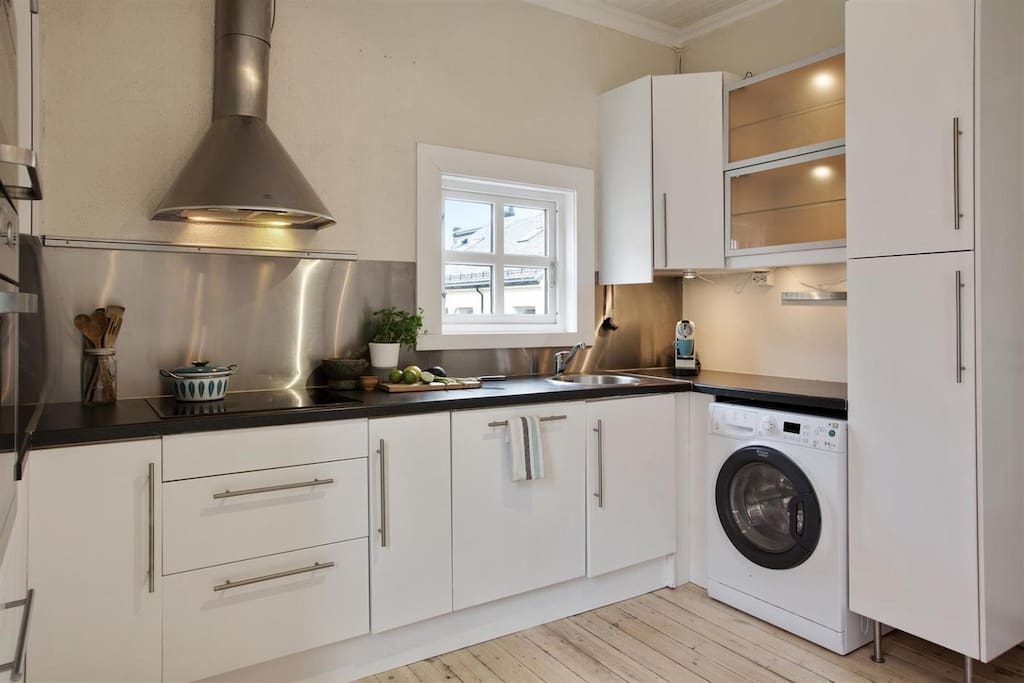 A cozy and traditional Bergen house built in 1924. Our house is newly renovated and appears modern. It is 84 square meters based on two floors - it is spacious with white clean walls. The garden with terrace gives you the opportunity to enjoy the sun during the summer in Bergen.
房源
Welcome to our house!
This is an original built Bergen house from 1924, which is lately renovated and appears modern. Our house is based on two floors with the master bedroom, kitchen, living room and bathroom on the 1st floor, and with two bedrooms in the 2nd floor.
Our house is a 15-20 minutes walk away from the heart of Bergen city centre. The subway (light rail) is a 4 minute walk from the house and takes you to the city centre in 7 minutes. Furthermore, the local area offers all from restaurants to supermarkets. There are a couple of local restaurants in the area, for instance a new Italian restaurant called "Bergtatt" just across the street or "Sumo" - an Asian fusion restaurant nearby. Kiwi, the closest grocery store, is 50 meters from the house, which gives you a great opportunity to cook food at home. There is a grill/barbecue available for use, so you can enjoy dinners outside on the terrace.
The garden with terrace gives you the opportunity to enjoy the sun during the summer from early morning (9AM) to late evenings (8-9PM).
Our house is perfect for a group/family of up to 6 people. The master bedroom in the 1st floor has a big double bed. The smallest room in the 2nd floor has two single beds, and the biggest room in the 2nd floor does also have a double bed. The biggest room in the 2nd floor offers a walk-in wardrobe for storing clothes.
The house is 84 square meters. It has white clean walls and feels spacious. The most important aspect of our house is the fact that it feels like a real home. This is the golden opportunity for a pleasant stay in the lovely city of Bergen, in our traditional and cozy house.
If you have any questions - from what to do in Bergen; restaurants, attractions and more, to questions about the house, please send me a message and I will help you make your stay in Bergen as comfortable and exciting as possible.
Live like a local!
Best regards
Richard
---
Great location if you are visiting Bergen for a few days. Five minutes to the light rail station, then ten minutes to the Bergen TI. There's a well stocked market across the street. The flat is spacious, and the kitchen is well equipped including nice modern appliances. We enjoyed the mixture of modern touches inside 90 year old building. Just a note about parking. You can find free 24/7 parking on streets near the flat, but watch out for the streets with the No Parking signs. Thanks, Richard!
---
The property was conveniently located for easy access into the centre, opposite a small supermarket. There were things that didn't work (TV, hob) which Richard could not sort for us as he was not in the area. He was easily contactable but could not resolve the issues during our stay. The property felt a squeeze for our family of 6 - 2 boys (10/13), parents and grandparents. We slept in bedrooms reasonably comfortably but the living space was not really big enough to allow us to sit together as a family and not dining space/seats to eat together. The bathroom was tiny and again felt a squeeze for a family of 6. I disagree with some other reviews that the property feels modern - it felt tired to me. Clean enough and towels/clean linen provided no problem. We had a pleasant stay but I would not necessarily recommend for the above reasons.
---
Vivienda típica nórdica. La habitación principal muy amplia. Cocina formidable y bien equipada. Muy buen wifi y calefacción. La limpieza estaba algo descuidada y las fotos no se correspondían totalmente con la realidad, sobre todo lo referente al mobiliario. Buen acceso desde el aeropuerto y a 25-30 min a pie del centro de Bergen. Hay un supermercado justo en frente abierto hasta las 23. El propietario Richard fue bastante atento.
---