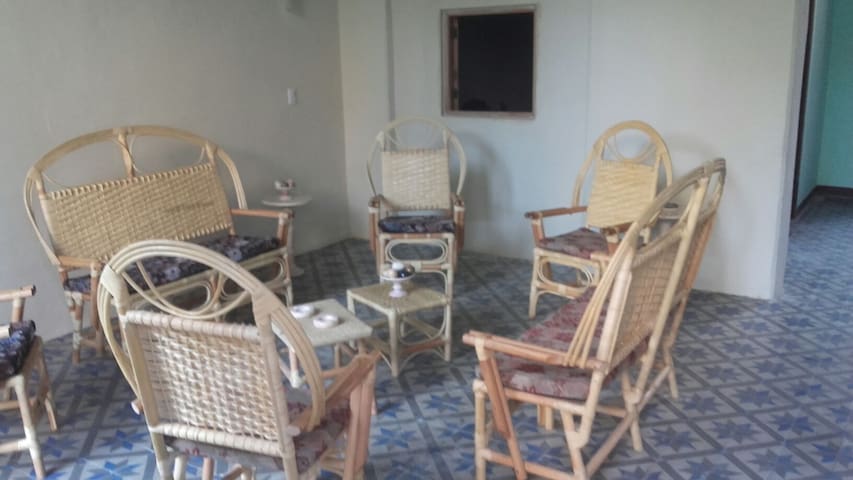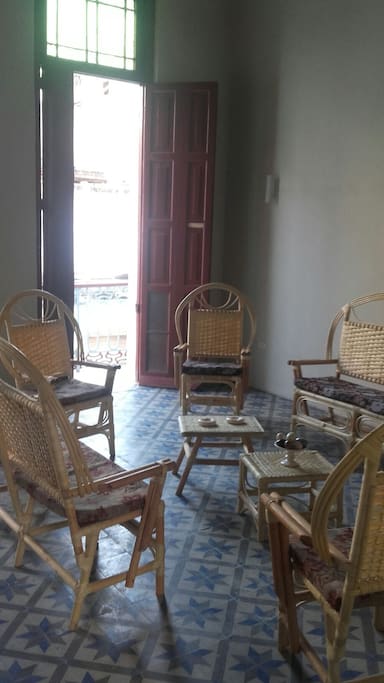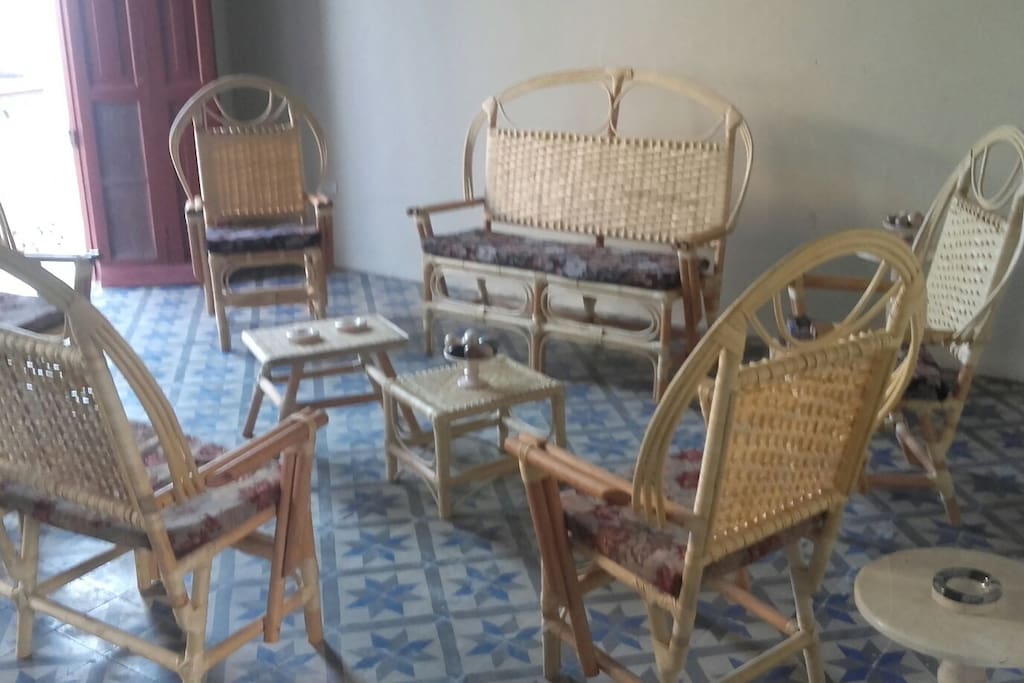 Colonial and comfortable appartement Centro Habana
Located in the heart of Havana in the district of Centro Habana, this accommodation will allow you to be close to all major sites of interest.
This apartment is equipped with 3 bedrooms that can accommodate up to 7 people.A 100 meters from the malecon, 10 minutes walk from the old havana this colonial type apartment in the popular neighborhood of centro habana will allow you to get away from it all while enjoying 'An ideal comfort for rest and relaxation.
房源
This colonial-style apartment is ideal for spending holidays with friends or family, comfortable, with an ideal location to reach the major sights in minutes.
Its great stay is appreciated to share a moment, to read, to relax after a day of walk in the city.
Its 3 rooms are all equipped with air conditioning, they each have an independent entrance.
The dining room and the kitchen will allow you to prepare small dishes, if necessary there is the possibility of taking someone to concoct meals if you wish (extra).
We put cooking equipment at your disposal and ask you to take care of it.
The bathroom is equipped with hot water, which is not common in Cuba.
其他注意事项
We ask that you take care of the apartment and its equipment as if it were yours.
---
Nous avons séjourné dans cet appartement à notre arrivée et à la fin de notre voyage courant aout 2017 . L'appartement est idéalement situé par sa proximité au Malecon ( RDV des cubains en fin de journée ) et proche des visites touristiques . Il se trouve dans un quartier populaire ce qui permet une ambiance 100% cubaine tout en se sentant en sécurité . Elisabeth nous a reçu comme des rois et je n oublierai jamais ses magnifiques et copieux petit dejeuner........un vrai régal !!! C est une personne très serviable et de confiance .elle nous a organise nos déplacements avec le plus grand soin . Je conseille les yeux fermés cet appartement très sympa et plus que propre .
---
I've recently returned from a stay at this home and the service and the house was great. The pictures do not do justice to this house as it's very well spaced and a lot more prettier in person. The living room is very spacious the bedrooms are large enough to accommodate a group of 8. I was a little hestitant that we would be too far from Old Havana or in a neighborhood that was not safe however we walked everywhere and in the wee hours and always felt safe. The people in the neighborhood are very nice and helpful with directions. The house is a short walk to Old Havana its centrally located between old Havana and hotel Nataional. The Malecón is 2 blocks away, great location and cabs are always available if needed. Fanny was great with answering all my questions prior to our trip and was very helpful with educating me on island and everything I needed to know. Liz was great with cooking us breakfast highly recommend it and showing us the area. The service was superb they even arranged transportation to Varadero for all 8 of us. We only stayed in Havana for two nights I would recommend staying longer. Thank you Liz for all your attentions we enjoyed our stay!
Thank you too Sujely, it has been a pleasure to be in touch with you, to give you some tips for your stay at home and about cuba. I wish you have enjoyed your stay in the resort in varadero ;) Te deseo lo mejor, ha sido realmente un placer tenerlas en casa, ya que son muy simpaticas y comunicativas :)
---
The Air Conditioning in each bedroom was great. The front room had a wonderful balcony for to see and hear the sights and sounds of the street. 2 blocks away from the seawall, a great place to walk. New stove and refrigerator. The place has only been on Airbnb for 45 days and was not yet ready for first time travelers. The seasoned sojourner will just go with the flow. The water heater did not work. Low water pressure. Old plumbing, so used toilet paper goes in bucket. Only hand towels and very small pillows provided. The key jammed in the front lock. The neighbors were great. They contacted host when key jammed and found cork screw for our wine bottle. As they continue to host I am sure things will improve. Thanks for hosting us. Joe
Joseph, We are eager to easily find pillows as in your country. Considering your comment I think you only stayed at home in Cuba you don't go to another place, in all cuba the toilet paper goes into garbage cans reserved for this purpose. The system of evacuation of Cuban waters does not allow directly to throw the toilet paper inside the toilet. Unfortunately we are tributary to the difficulties of our country but we really do hope that Cuba can improve, and the shops sell large pillows or large bath towels. Actually we start our activity airbnb, and I understand since you are yourself on airbnb but in the united states everything is different, you go to the store with money and you find anything you want, but not cuba. We had provided a home phone but we had to remove it because of travelers who abused this service, and we are not able to pay bills for travelers! As for the water heater due to the same problem of lack of material parts to cuba, we had to order through a friend who lives in your country to find this famous part to repair the water heater permanently. And the big pillows in cuba even in the hotels you can not find, the standard size in 40cmx60cm. Oh yes it's not so easy to cuba .. I wish you would one day have the opportunity to really go into the deep cuba where I think you will realize the difficulties we are facing. But luckily that travelers will make the difference, it is not the fact of having large towels or very large pillows that will change their experience in Cuba.
---
Decent spot with three adjoining bedrooms. The host was very responsive. In terms of quality, it is pretty standard for a Havana Casa. Only complaint was that there was no hot water in the shower.
---
Soy Fanny me encanta el buceo, snorkeling la Gente , me gusta las buenas cosas de la vida, las comidas entre amigos...
SOy muy comunicativa, por lo cual es un placer intercambiar y dar consejos, recomendaciones a los viajeros para que disfruten de su estancia en la casa y en Cuba en general.

Je suis Fanny j'adore par la plongée, le snorkeling, j'aime les bons repas entre amis, le contact avec les gens, échanger... C'est pourquoi c'est un plaisir de m'occuper de cette annonce, pour conseiller les voyageurs que ça soit sur le séjour à la maison ou sur Cuba en général afin pour qu'ils aient toutes les clés en main pour passer un super séjour sur l'île!

I am Fanny I love the diving, snorkeling, I love a good meal with friends, contact with people, share ... This is why it is a pleasure to take care of this announcement, for advise travelers that it is the stay at home or on Cuba in general so that they may have all the keys in hand for a great stay on the island!
语言:
English、Español、Français