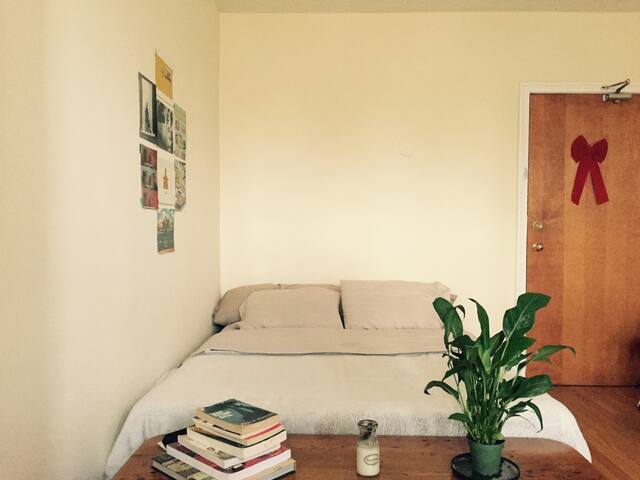 Cozy studio in Toronto's well known neighbourhood
My apt is a small cozy studio that keeps warm throughout this winter. The kitchen and bathroom are spacious and everything is in great condition.
The apartment building has four floors and the suite is on the 4th floor. It's located in a well known, safe and quiet neighbourhood of Toronto and right bells there is a small village where you can find a couple of restaurants, a super market, convenience stores and banks.
The subway that goes right to downtown is 8 min walking from the apt.
---
Perfect place for a trip to Toronto! Incredibly close to the subway, and lots of coffee shops, restaurants, and amenities right out the front door. The place was very clean and had everything we could need! Lucia made it very easy to pick up the key because we were late getting there! Would stay there again :)
---
Lucia was welcoming and attentive to any question we had about the area or the place itself. The studio is surrounded by a variety of shops (grocery, restaurants, coffee shops, etc.) and just a few minutes away from the Subway making this place already fantastic. Although only spending one night here, Lucia's studio was clean, fragrance-free, and well stocked with kitchen, bedroom, and bathroom essentials. Furthermore, the Chromecast and HDMI cable was an unexpected bonus as my partner and I were able to enjoy Netflix. My partner and I overall fell in love with the place and Lucia's hospitality and flexibility with checkout ensured we will come back here.
---
Lucia was very nice and helpful, though I accidentally told her a wrong arrival time and messed her day up. The apartment is located close to a metro station and a streetcar station so that it's easy to get to the city centre. The furnishings were very clean and I'm really sorry to say that the floor wasn't (maybe it was caused by the wrong arrival time). The apartment's space is more than sufficient for one or even to persons. All necessary utilities were available and the Wi-Fi worked well. I would definitely stay there again.
---
Lucia's place is quaint, but very nice. My partner and I only went for one night and we made the reservation the day before. Lucia confirmed the day before and set everything up for us on a schedule that suited us, which was great. It's located a bit far from the core, but it is manageable. The area itself is still nice and pleasant, and als right by a Starbucks (which is a bonus, to me). The bed was very comfortable, the kitchen was well stocked with appliances (except no coffee machine - that I could find, but again, Starbucks is right there), and the everything was neat, and tidy, and easy to use, overall. The bathroom was also in good condition, and the living space was cozy. Overall, we were really comfortable there, and Lucia's flexible check-out helped us to relax and enjoy our morning.
---