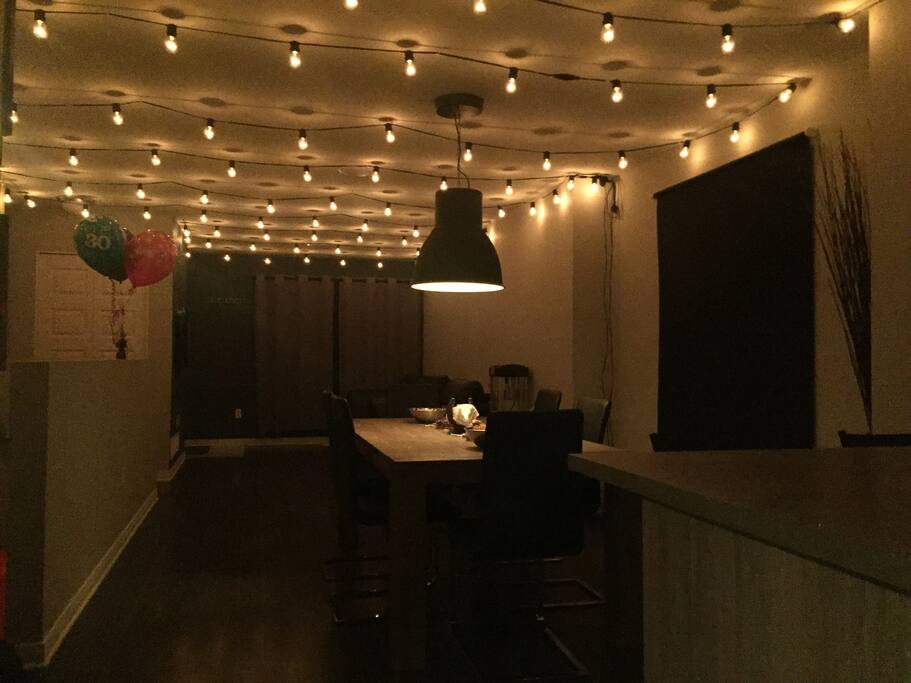 此房源的描述已由谷歌翻译从英语翻译成您的语言,但谷歌翻译并不能保证翻译的准确性。
我的地方距离渥太华市中心,Rapibus,Parc du Lac-Beauchamp市中心17分钟(海滩,皮划艇,划独木舟,滑冰,管道,越野滑雪和小径)。你会喜欢我的地方为开放的概念,氛围,剧院室与10英尺的屏幕,环绕声系统和酒吧。我的地方对夫妇,独奏冒险家,商务旅客,家庭(有孩子)和大团体都很有好处。
房源
4间卧室,开放式概念,两层楼高音系统,10英尺高清屏幕,酒吧,围栏后院和步行2分钟到海滩和许多活动。
其他注意事项
夏季的中央AC车道和车道3-4个停车位以及24小时免费停车场,除冬季外。
---
---
---
---
Here are the house rules
No smoking in the house no shoes in the house. No noise outside after 10pm. No illegal activities, no gangs. If you break or damage something you agree to pay to either replace or repair the item/s within 3 business days of your last day of rental at your own fees and expenses. Close all lights, windows and doors before leaving. No open doors or windows when the AC is on. Please put everything back to its original place. If you cook we expect that you clean your dishes and place them back where they belong. If there are dishes in the dishwasher we will take care of them. Check in time will be 5pm and check out 1pm. You agree to meet and leave at these set times if not additional fees will apply. If you approve these conditions please reply - I approve
---
---
---
---
I couldn't have asked for a better place! I hosted a bachelorette with 10 girls and they were all in love with this place the moment they walked in. Great sound system, amazing LED lights, and a beautiful bar downstairs with a theatre room. The location was a bit far from DT Ottawa but we did not mind as the house was perfect for our event. JF was also very efficient with his communication and very friendly. We had a great stay and would highly reccomend!
---
Jean François has issues and takes his tenants hostage (look at previous reviews). He is on a power trip... if you don't do as a say you will have to leave and He won't refund you. What kind of hosts treats his guests this way after hours of flying and driving. Don't waste your time and money on this host it will be a terrible experience. Lucky for me AIRBNB took care of us promptly.
You agreed to my house rules and you lied to me in your communication with me you said that YOU were coming over for work and you were in Toronto with no intentions to ever come. I would be happy to post all communications and proving that I am a fair an j'honnest person if you don't like my house rules you always have the option to not rent my place.
---
Jean Francois is a very fair host, his communication with our group was always immediate. I felt however, as though due to his recent string of "bad guests" we got the short end of the stick during our stay. He was definitely on edge with our group starting with the check-in mix up. His page reflected a 3:00pm check-in although he said his house and guests always agree upon 5:00pm. As we were a part of a wedding, we told him we had to check-in for 3:00pm. He eventually agreed, but not before telling us we could just cancel, but that he would not refund us, because then "guests waste his time and he looses money." We felt very pressured when we arrived at 3:00pm to check-in, that we were somehow a nuisance to him and his cleaning up schedule. He was very agitated, but explained that he had had several poor guest experiences recently. I still thought his behavior to our group was unfair, as he assumed we'd be partying late, playing loud music, breaking chairs (like his previous group). I just didn't appreciate him bucketing us in with his "bad guests" telling us there would be large fines for his neighbours complaining should we be "partying too loudly" or not following all his rules. It even went so far as telling us to take a video of his house before we leave and send it to him so he can verify everything is in order, with nothing "broken or missing." Our group was literally only there for a few hours on Friday night and a few hours on Saturday night JUST to sleep as the wedding location was an hour away. In any case, the house itself is very nice, very clean. 1.5 washrooms was a bit of a hassle for our group of 8, but he is building a second shower in the basement room. All facilities, like fridge, oven, microwave, utensils, laundry, etc are there for your use. We didn't get to try out the theatre room, but judging by the other reviews, it was pretty good.
I could post our conversation saying that I normally always have people check in at 5pm and that I need hours average of 4 hours to clean the house so I can't have you check in earlier. You said we just need to drop our bags that's all. I then agreed to since I always like to help people but you and your friends entered and one of your friends started eating in the kitchen then your other friend changing in the master bedroom when all I needed to do wash the floor but you guys were in the way. Again I can post our convo if needed. Thanks
---
I love to travel and meet new people. Trying to enjoy life to the fullest! I have driven all of the states and Canada if you need travel tips on things to do, restaurants, don't hesitate to ask me it will be my pleasure to guide you to make your vacation memorable. If you need a guide and I am available at that time I can show you around I also have a van for large groups. Very easy going person all I ask is that you treat my house like it was yours.
语言:
English、Français