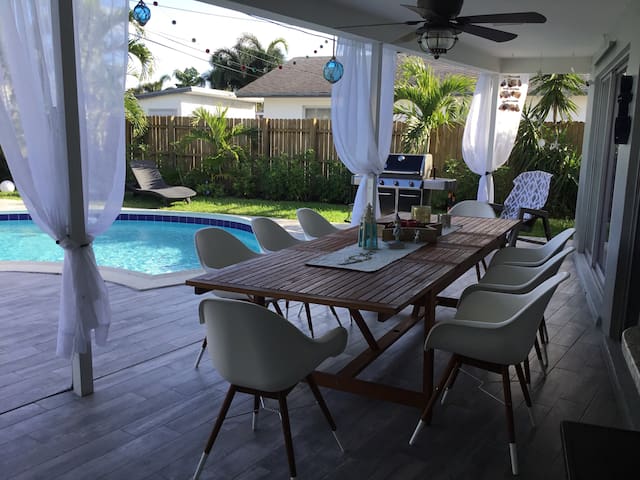 我们的房子是两个孩子两个家庭的理想场所。新的现代化装饰房屋配有两台高清电视和直播电视体育频道,无人娱乐。后院提供大型温水游泳池,您甚至可以在冬季时间享受游泳池。您可以在我们的自然草地上玩乐,烧烤与我们的专业烧烤将是非常棒的。 House位于着名的Boca购物中心附近,您可以步行3分钟即可到达。我们有4辆自行车,所以你可以乘坐海滩5英里。房子是全部功能与厨房,床和浴室设备。
Our house is perfect place for two family with two children. New modern decorative house with two big HD TV and Direct TV sport channels offer never ending entertainment . Backyard offer big heated pool so you can even enjoy pool during winter time . You can have a fun on our nature grass field and barbecue with our professional grill will be awesome. House is situated near famous Boca Mall so you can shopping by 3min by walk . We have 4 bicycles so you can ride to Beach 5 miles . House is full features with kitchen, bed and bath equipment.
---
---
---
OUR HOUSE'S RULES

Toilets

Please keep our toilets clean and don't throw hygienic aids in the toilet, please use bin only.
In case of hot water problems please check the main electric heater located in garage it must be switch on .
Kitchen

If you use trash disposer, please use it with water and don't throw there big and hard stuff.
When you leave house make sure that the oven is off.
Patio – backyard

Please take care of our furniture and use waterproof cover on sofa when it is raining. You can also use our sunbeds, please make sure that the legs are fully extended. Beach and pool towels are placed in corridor wardrobe opposite garage doors.
Please use only these towels for outdoor activity.
Pool

Our pool has automatic compressor and is weekly cleaned by professional company. This weekly service is operating every Thursday, so please beware of this occurrence. For better comport you can use our pool heater for additional payment 15 USD per one day.
You can set up heater, that is located outside our house. On the panel you have to switch on and set up required temperature.
1) Use your finger and slide from the left side to the right side to unlock
2) Use bottom up and down to set up the temperature
Please don't set up temperature more than 85 (30 °C).
Garden

Our garden has automatic irrigation system, which runs during night time.
Two times a month we have professional landscaping company, so please beware of this occurrence.

TV

We have direct TV system operating by AT&T, so you can enjoy all pre-paid channels.
If you want to order more require specific channels you must pay additional payment, directly at AT&T. Please use only direct TV remote control. Both TV's has similar remote, each of them are set up for each TV. For better definition backside of remote has sign.
Laundry

You can use our washing machine and dryer situated in garage.
Garage

If you want to use our garage, please beware of our motorcycles and take care of your children and don't touch it!
For opening garage use the control panel on the left side of garage door.
You can also use our 4 bicycles, for inflate please use tire pump.

Front door

Our front door has automatic locker but you have to use only key for close and open.
Windows

Our windows have inside shutters and its not easy to open them, please use window handle like a screwdriver to open it.
Air condition

We have automatic air condition system you can use only panel situated on above kitchen surface. For require temperature set up by turning.
---
---
---
---
It is the perfect home in a quiet area! The house has everything you need for a comfortable stay: plenty of kitchen utensils and everything you need for cooking! There is a very cozy sitting area in the yard, in the living room a beautiful sofa in front of a huge TV. Across the road there is an excellent Macy`s. The owner has always been in touch, we recommend this accommodation!
---
Jiri's place was a perfect home base for our family vacation. The house is located in Boca Raton, within 5 miles of the beach, and within 15 minutes of Delray beach. The house is large enough for everyone to have thier own space, which we loved. I did not want to be cramped into hotel rooms for seven days! I enjoyed being able to make meals in the well-equipped kitchen. I especially enjoyed the Nespresso machine. The jolt of espresso each morning got me ready to have fun all day! My husband noticed how much I liked it and bought one for our home.❤ The house was very clean, as was the pool. There were plenty of towels for showers and pool fun, even though we brought some of our own beach towels. I wanted to thank Jiri for providing the playing cards. We used them to play games such as Crazy 8s and Spoons with the kids. We laughed so hard! It's a memory I will always treasure. The Boca area has so much to do, you could easily stay for several weeks without experiencing it all! I do wish we had devoted more time to the beaches. We spent the afternoon at Delray beach and it was amazing--clean and family friendly. I recommend visiting the Gumbo Limbo Nature Center to see the sea turtles and aquariums. On the second day, we booked a fishing charter and grilled fresh mahi mahi for everyone back at the house. Yum! For a great breakfast, try the Tom Sawyer Restaurant. One night, we drove down to Fort Lauderdale to have dinner at Bubba Gump Shrimp Company. The dinner was ok, but the highlight of the evening was when we walked across the street to Fort Lauderdale Beach to sit on the sand and wade and wade in the ocean. It was lovely! The house is very close to excellent shopping (seriously, across the street), convenient to grocery stores, and close to evening entertainment such as bars and restaurants. Check out Rocco's Tacos at the Boca Town Center, it's great! My vacation goal was to show our family that Florida has so much more to offer than just the amusement parks. I'd say it was a tremendous success!
---