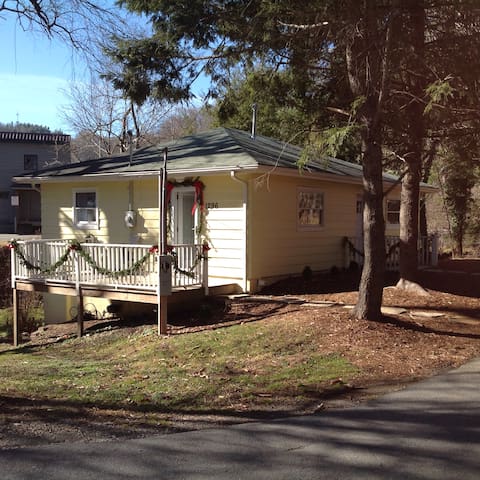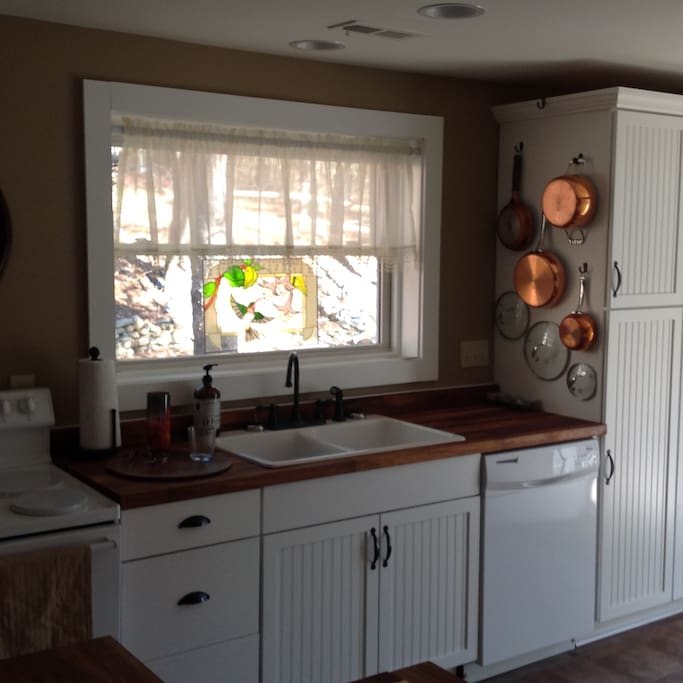 Built in 1945, totally renovated.
Central heat, ceiling fans, and original hardwood floors run throughout. Comfortably sleeps 4-6 people.
All towels and linens are supplied. The kitchen is fully stocked. Located just 2/10ths of a mile from the main stoplight in Boone, it is in walking distance of the university, stadiums and local restaurants.
Convenient to public transportation, as well as all of the areas' popular ski resorts, zip lines, rafting and tubing transports.
---
We walked into this quaint little home with jaws dropped. What a gorgeous space Lee has created. The kids enjoyed playing in the creek as well. We really enjoyed the cleanliness, perfect floorplan for our situation, and we walked next door to the diner for our first lunch. Quiet and secluded but central to any shopping or dining in Boone.
---
This cottage is 100% adorable - clearly renovated and beautifully decorated. Lee is a wonderful, wonderful host who takes a great deal of time in addressing the details and to responding to any questions that you may have as a guest. The Airbnb community is lucky to have this listing. However, I want to note here my own opinion as a parent to an almost three year old toddler. I do not think you should rent this property if you have young children. The creek runs literally next to the cottage. There is no fencing - absolutely nothing to stop your child from going down into the rushing water. When we arrived it was raining and the water was high and the current was significant. The cottage is also sitting right next to a very busy highway. If you have a child that can open a door (like my toddler can), he/she can easily walk into the creek or the traffic. My child was fascinated by both and it was frankly a stressful few days of making sure I knew exactly where he was at all times. If the photos and the description had been more clear I would NOT have rented this cottage as a parent. I would recommend this listing for ADULTS ONLY. This is only one mama's opinion. Other parents may disagree.
As a responsible, caring and concerned host, I find this review very troubling. I appreciate her concern, but feel that it is unfounded and a very personal opinion. I have been honest in the description of my home, its' location and the property it is situated on. A highway passes by across a bridge and up a hill from the house. There is a small, lovely creek that passes through the bottom side. I have rented to many families with small children and have heard no such concerns from any of them. Potential hazard exist everywhere, everyday. As parents, it is our duty and responsibility to keep a watchful eye on our children to inure their safety. We cannot build fences and chain off that which we deem as scary and dangerous. I am very upset that Karla used my review section as a place to emphatically express her very personal and derogatory opinion. I can only hope that those of you who read her review will realize that it is just that, a falsely exaggerated opinion from one paranoid person.
---