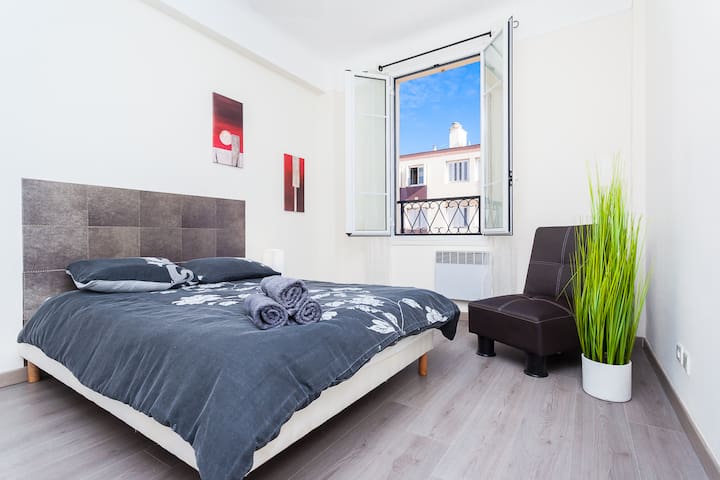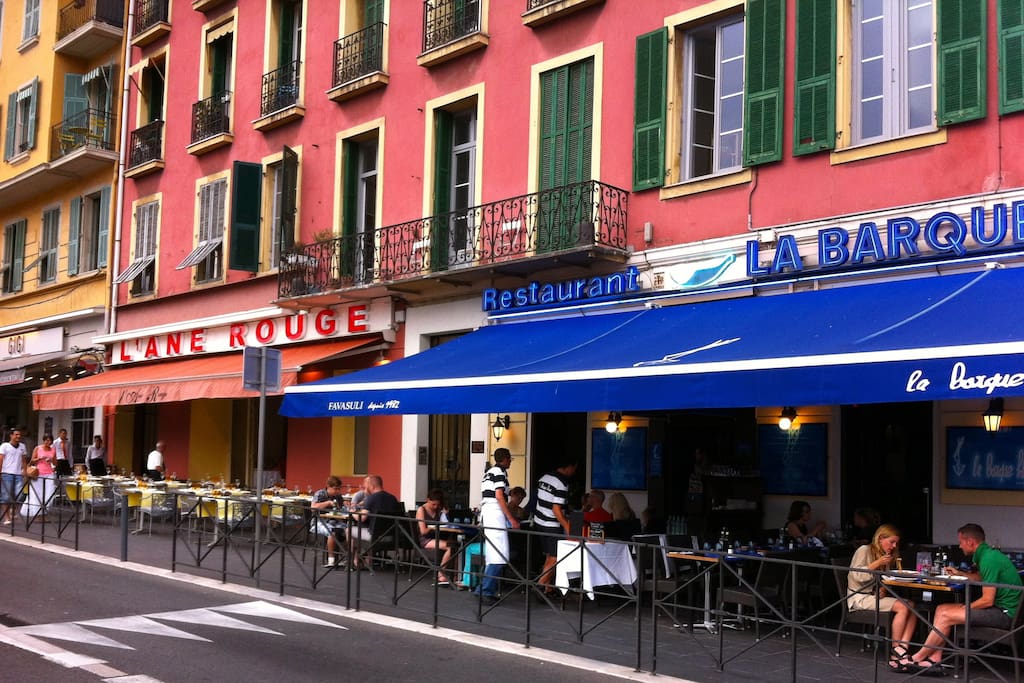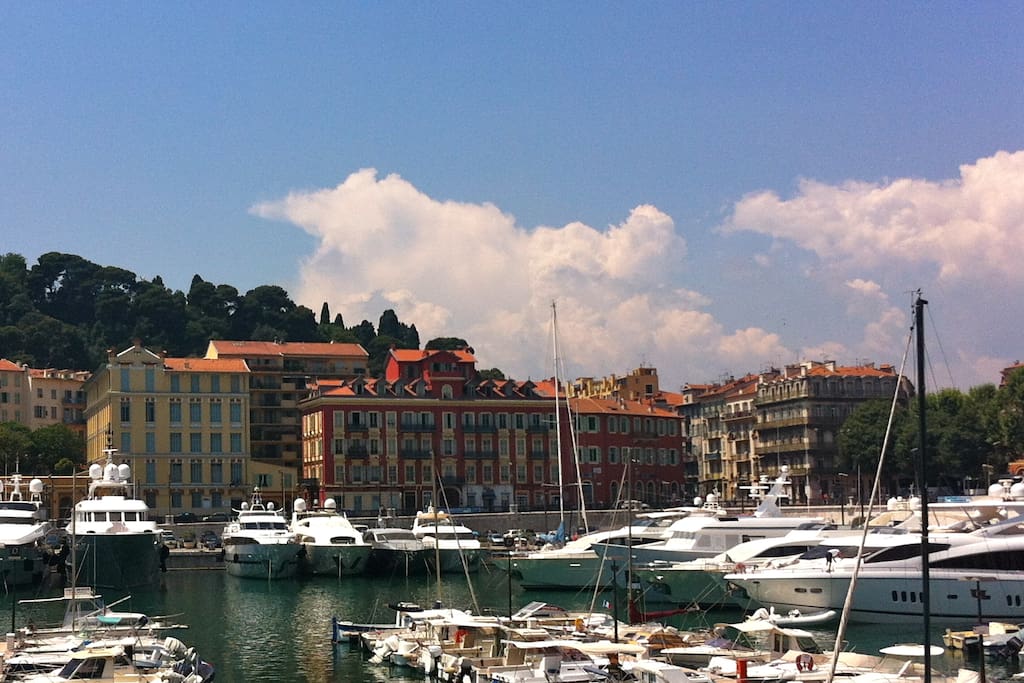 来吧,爱上这个可爱的,大型的一卧室公寓,最多可容纳4人。公寓位于一条迷人的"装饰艺术"建筑,坐落在一条平静的街道上,但从字面上到处都会发现美丽的海港。
Come and fall in love with this lovely, large 1-bedroom apartment, that can accommodate up to 4 people.The apartment is situated in a charming "Art-deco" building on a calm street, but literally around the corner you'll discover the beautiful harbor.
房源
发现尼斯美丽的海港,其豪华的游艇和着名的餐馆。观看从科西嘉岛和Sardaigne附近岛屿出发的大渡轮是独一无二的地方。 公寓本身设有一个设备齐全的宽敞厨房,洗衣机为衣服,舒适的起居室设有4人舒适的座位和平面电视(当然也包括无线网络连接)。您可以在里维埃拉的下一个阳光灿烂的日子里度过一个独立,平静的卧室,这里有一个大衣柜和衣服。 海港区设有许多不错的咖啡馆和餐馆,还有药店,银行和超市等实用性,都可以步行到公寓内。您也非常靠近旧城区和市中心。 提示:如果你感到懒惰,只需150米,你可以搭上一辆公共汽车把你带到全城各地。或骑自行车骑在尼斯阳光明媚的街道上呢?在建筑物入口前,你会发现城市自行车可以免费去!
Discover the beautiful harbor of Nice, with its luxurious yachts and famous restaurants. It is a unique place to watch the huge ferries come and go to and from the nearby islands of Corsica and Sardaigne.
The apartment itself has a fully fitted, spacious kitchen with a washing machine for clothes, a cosy living room with comfy seating for 4 persons and a flat screen TV (and Wi-Fi, of course). You may dream about the next sunny day in the Riviera in a separate, calm bedroom, which has a big closet for your clothes and bags.
The harbor area features lots of nice cafes and restaurants, but also practicalities, such as pharmacies, banks and supermarkets, all within walking distance from the apartment. You're also very close to the Old Town and the city center.
Tips: If you feel lazy, just 150m away you may hop on a bus to take you all across the city. Or how about a bike ride around the sunny streets of Nice? Just in front of the building entrance, you will find city bikes free to go!
---
---
There is a mandatory 52 EUR final cleaning cost per stay, included in AirBnB quotation.
High speed internet, bed linen and towels are included.
Check-in between 2pm and 8pm / Check-out before 11am. Later check-in are possible with 20 EUR extra fees to be paid upon arrival.
---
The location was very centralized, which was perfect. Alex owns several properties and his employee, Eric, met us there. Alex asked us to meet him there as close to 2 as possible, so I booked a flight to arrive around that time. I (SENSITIVE CONTENTS HIDDEN)mapped the place from the hotel and that put our arrival to the flat at 2:30 pm. Eric told us it would take an hour and a half from our arrival time at 1:30 pm from the airport and that we would meet at 3:00 pm. Of course, we arrived early and he wasn't there or ready for us and we had to wait. No big deal but not ideal. We were told the place was clean. It wasn't filthy and I'm a little picky but it wasn't that clean. I found a little food behind the garbage can in the kitchen and there were mops and brushes laying in a corner of the bathroom. There was a whitish clear stain on the sofa which didn't put me at ease either. There was no bedding or towels and Eric told us he would return with some for us. He did and we made up our bed. The place had a bug problem we soon discovered. Roaches. There were some coming out of the sofa and some in the bedroom. There were some in the hallway and some in the kitchen. Obviously they are nocturnal, so it was a bug party at night. Alex addressed it very quickly by having someone come by to spray but it didn't fix the issue. He told us bugs were in Nice that time of year. He then said the building people said they had a bug problem and it wasn't his fault. I told him they were still there and he said it would take a few days for the spray to kick in and kill them off. We were only there for a few days so the whole thing defeated the purpose as far as fixing the issue for our stay. At the beginning, I told him I didn't feel comfortable staying there if we can't solve the bug problem but he assured me it would be fixed. I never felt comfortable there. I felt I had to keep my shoes on, put a blanket on the sofa if I was going to sit on it, put all food away so bugs didn't get to it and hide my toothbrush so that bugs didn't get into it at night. Alex is a nice enough guy, but I can't say I would stay there again. I've had some great experiences with AirBnb, but I can't say this was one of them.
Dear Hilary, It seems like your trip went all wrong from the beginning and I am sorry about that. You were unfortunately part of the 1% of the unlucky ones. I do appreciate the feedback though and took necessary actions to solve the issues you mentioned. Luckily, those are easy issues to solve while what you appreciated is here to stay: the location of the apartment and its surrounding.
---
We had a great stay in Nice at this apartment. The location right on the port is great for walking to lots of restaurants and it is very convenient to get to the super market. You can take the 98 bus from the airport to La Port and then it is a very short walk to the apartment (don't take the 99, we made that mistake as tired travelers). The apartment is much more spacious than most of the places that we stayed and the bed was very comfortable. Alex was accommodating and we enjoyed our time in Nice. Thanks!
---
Alex's place was great for our stay in Nice. The bed is small, but worked fine for 2. The location is close to the beach and other attractions. It was great to have a kitchen as we had lots of left overs from diner.
---
I'd like to thanks Andrea and Airbnb staff for the support during our short stay. Unfortunately we had issues with the bugs and I wouldn't recommend this listing. Even though, Andrea was very supportive trying to re-alocate us for other listing of hers but there was no option without moving more 2-3 times in approximately 35 days. The lesson learned was always to use airbnb to rent and the communication needs to be registered using the chat. Once again thanks Andrea and Airbnb team.
---
L'accoglienza é stata buona, ci sono state date tutte le indicazioni , l'appartamento era pulito , rinnovato pur essendo in un palazzo antico, posizione ottima per la spiaggia è la città vecchia, vicino si trovano supermercati , locali e il porto , uniche due pecche la mancanza di aria condizionata , e la difficoltà di trovare parcheggio vicino, si trovano a pagamento un po' più lontano ma sono molto cari
---
L'appartement d'Alex est idéalement situé près du vieux port, on accède au vieux Nice en 10 minutes à pied. C'est Eric qui nous a accueillit pour le chek in, il nous a donné des adresses de bon restaurants. Pour ce qui est de l'appartement, il est dans un très bon état et conforme au photos. Bon par contre quelques points négatifs, la nuit, des blattes sortent se promener notamment dans la salle de bain, le drap house fourni pour le canapé lit était trop petit et enfin on entend bien les voisins malgré les murs, donc ce n'est pas l'idéal pour dormir.
---
L'appartement était conforme aux photos, lumineux et confortable. Il est très bien situé, à deux pas du port et proche de grandes surfaces et des bars. Cependant, moi qui suis un peu maniaque, il n'était pas parfaitement propre à mon gout. Mais Alex est très disponible et très serviable. Il a été très réactif pour répondre à toutes mes demandes.
---
Since very young, I've had a desire to discover new places. I've had a chance to travel and live in different countries and continents. Besides seeing different things, I believe we can always learn something new. This passion has led me to the wonderful French Riviera, the place…
语言:
Deutsch、English、Français、Italiano、Suomi