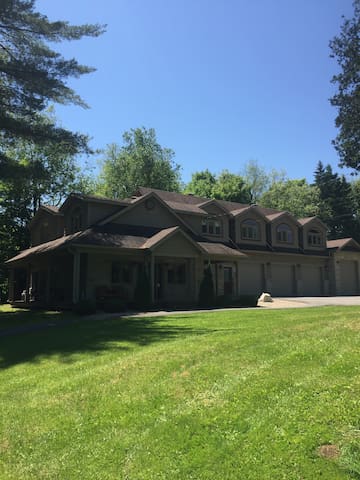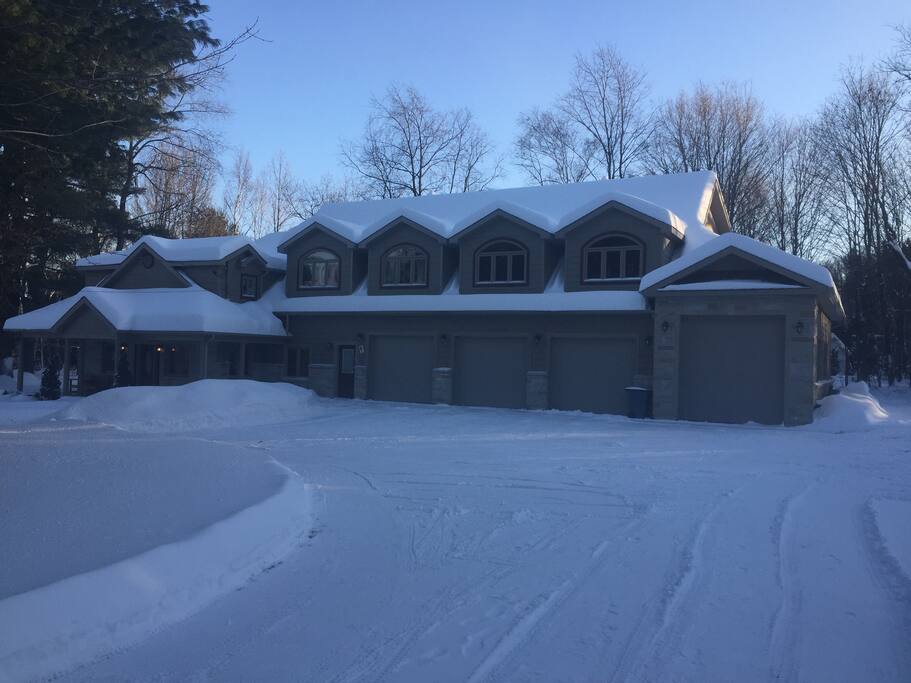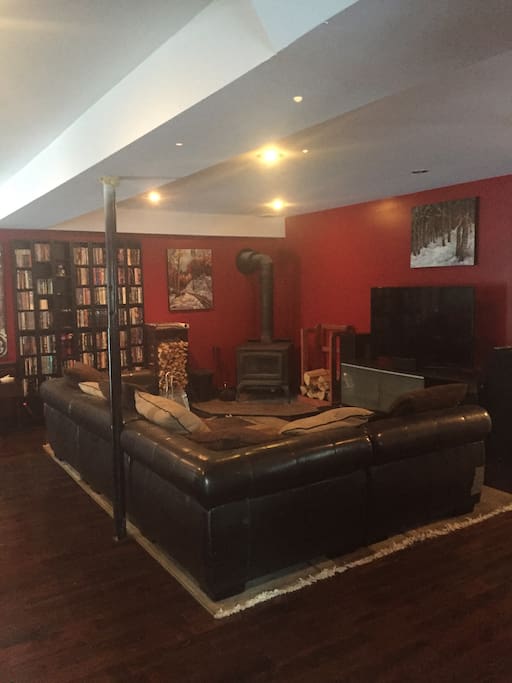 Chez Cripp坐落在一条非常私密的街道的拐角处,拥有一些很棒的星光凝视,在一个非常忙碌的一天后,在安静的寂静中篝火周围。 在滑雪板,雪鞋或徒步旅行中欣赏令人惊叹的加蒂诺山。 在Camp Fortune或Edelweiss处理斜坡。 在温泉Nordik自然公园,您可以步行到世界上最大的户外水疗中心 在L'Oree Du Bois,Les Fougeres,享受加拿大最好的法国美食, 或在老切尔西路的一间酒吧或小酒馆吃饭
Nestled in a corner of a very private street, Chez Cripp boasts some great star gazing, in quiet solitude, around a campfire, after a very busy day.
Trek the Amazing Gatineau Hills on skis, snowshoes, or hike.
Tackle the slopes At Camp Fortune, or Edelweiss.
Take in the worlds largest outdoor spa, within walking distance, at Spa Nordik-Nature
Enjoy the best French cuisine in Canada at L'Oree Du Bois, Les Fougeres,
or eat at one of the pubs or bistros off Old Chelsea Road
房源
享受浪漫的蜜月套房,设有一张特大号床,特大号浴缸,电视,私人淋浴间和洗手间以及自己的壁炉。 使用功能齐全的健身房并保持健康。 在娱乐室内的火中观看电影。 阅读一本书,在舒适,温暖,着陆。 在大厨房里用燃气灶和大量的锅和平底锅调整一顿饭 享受只有一个大房子可以提供的隐私!
Enjoy the romantic honeymoon suite, with a king sized bed, king sized tub, TV, private shower, and restroom, and your own fireplace.
Use the fully functional gym and stay fit.
Watch a movie by the fire in the Entertainment room.
Read a book in the comfy, warmly lit, landing.
Fix a meal in the big kitchen with the gas stove and plenty of pots and pans
Enjoy the privacy that only a big house can offer !
房客使用权限
Enjoy the privacy or the entire home.
与房客的互动
如果需要,只有一点点额外的东西,让它成为一个床和早餐,让厨师肯布朗做所有的饭菜。 厨师肯是一位五星级,训练有素的厨师天才,热爱哇哇哇哇哇哇哇哇哇哇哇哇,,,,,,,,,,,,,,,,,,,
If so desired and for only a little extra, make it a bed and breakfast and let Chef Ken Brown make all your meals.
Chef Ken is a five star, highly trained, genius in the kitchen, loves to wow people with his food, and just happens to live right next door, so it's really no trouble !
其他注意事项
Chez Cripp菜单 早餐 杏仁和格兰诺拉麦芽糖10 分层浆果,蜂蜜或枫糖浆和天然酸奶 高山麦芽9 绿苹果,葡萄,核桃和酸奶 Smoothie酒吧GF 9 与蜂蜜,橙子和芒果汁混合您可以选择以下两种(2)以下草莓,菠萝,蓝莓,香蕉 全麦谷物7 牛奶 - 2%,脱脂牛奶 加水果2 经典加拿大人13 两个鸡蛋任何风格与新鲜的油炸土豆,培根,香肠或加拿大背培根,烤面包和保鲜代替蛋白只有额外的2 Chez Cripp鸡蛋本尼迪克特GF 18 两个荷包蛋和加拿大背包培根供应马铃薯馅饼,并装在丰富的荷兰酱酱中,配上烤西红柿和炒熟的蘑菇 升级到烟熏三文鱼鸡蛋本笃会另外2 西海岸早餐套餐15 炒鸡蛋,鳄梨,西红柿,菠菜,洋葱,蘑菇和奶酪与Sriracha aioli Gatineau Flap-Jack Stack 16 纯魁北克枫糖浆,3个煎饼,黄油和您选择的风味和一面选择 - 平原,蓝莓,香蕉或巧克力片 侧面 - 培根,香肠或背培根 早餐煎锅18 农场新鲜鸡蛋搭配炒洋葱,辣椒,蘑菇,葱,育空金土豆,培根或背面培根配上胡萝卜汁 晚餐 沙拉 切碎的Crippin GF 15 罗曼尼亚和季节性混合蔬菜,培根,番茄,鳄梨,黄瓜,洋葱,山羊奶酪和枫香醋香醋 凯撒沙拉15 自制的小面包子,苹果木熏培根和巴马干酪 意大利面 厨师肯的烤烤宽面条20 用San Marzano西红柿,新鲜的布法罗奶酪干酪,罗勒,烤大蒜和巴马干酪制成 松露Mac N'奶酪20 老式的切达干酪,工匠Oka奶酪和草莓奶酪与Cavatelli面食和巴马干酪草皮结合在一起 主要 慢红烧黄油鸡24 GF 配以巴斯德米饭,配以凉爽的黄瓜酸奶酱,薄荷酸辣酱和温暖的烤面包 5香料枫叶釉大西洋鲑27 GF 配以巴斯芒米和季节性混合蔬菜 平底锅10盎司肋眼36 GF 用野生蘑菇,捣碎马铃薯和根菜 菜单需要24小时通知,可根据您的需要定制。厨师肯布朗 (PHONE NUMBER HIDDEN) (EMAIL HIDDEN) GF - 无麸质
Chez Cripp Menu
Breakfast
Almond & Granola Parfait 10
Layered with berries, honey or maple syrup and natural yogurt
Alpine Muesli 9
Green apple, grapes, walnuts and yogurt
Smoothie bar GF 9
Blended with honey, orange and mango juice Your choice of two (2) of the following Strawberry, Pineapple, Blueberry, Banana
Whole grain cereal 7
Milk – 2%, skim milk
Add fruit 2
Classic Canadian 13
Two eggs any style served with fresh pan fried potatoes, bacon, sausage or Canadian back bacon, toast and preserves Substitute egg whites only for additional 2
Chez Cripp Eggs Benedict GF 18
Two poached eggs and Canadian back bacon served on Potato stacks and draped in rich Hollandaise sauce, served with grilled tomatoes and sautéed mushrooms
Upgrade to Smoked Salmon Eggs Benedict for an additional 2
West Coast Breakfast Wrap 15
Scrambled eggs, avocado, tomatoes, spinach, onion, mushrooms and cheese with Sriracha aioli
Gatineau Flap-Jack Stack 16
Pure Quebec maple syrup, 3 pancakes with butter and your choice of flavour and one side Choice of – Plain, Blueberry, Banana or Chocolate Chips
Side – Bacon, Sausage or Back Bacon
Breakfast Skillet 18
Farm fresh Eggs paired with sautéed onions, peppers, mushrooms, scallions, Yukon gold potatoes, bacon or back bacon topped with hollandaise
Dinner
Salad
Chopped Crippin GF 15
Romaine and seasonal mixed greens, bacon, tomato, avocado, cucumber, onions, goat cheese and maple balsamic vinaigrette
Caesar Salad 15
House-made croutons, apple wood smoked bacon and parmesan cheese
Pasta
Chef Ken's Baked Lasagna 20
Made with San Marzano tomatoes, fresh Buffalo mozzarella cheese, basil, roasted garlic and parmesan cheese
Truffle Mac N' Cheese 20
Aged cheddar, artisan Oka cheese and herbed cream cheese folded with Cavatelli pasta and parmesan herb crust
Main
Slow Braised Butter Chicken 24 GF
Served with basmati rice and accompanied by a cool cucumber yogurt sauce, mint chutney and warm grilled naan bread
5 Spice Maple Glazed Atlantic Salmon 27 GF
Served with basmati rice and seasonal mixed vegetables
Pan Seared 10oz. Rib Eye 36 GF
With wild mushroom ragout, whipped potato and root vegetables
Menu needs 24 hours notice and can be customized to suit your needs... Chef Ken Brown
(PHONE NUMBER HIDDEN)
(EMAIL HIDDEN)
GF - Gluten Free
---
---
---
Help is maintain the beauty of the space by utilizing the mud room/computer room, to store your shoes.
---
---
---
This house is incredible, honestly the pictures do not scratch the surface of just how nice this place is! There is so much space in the house and it is fully equipped with everything you would need for you stay. The location is also perfect, you're so close to the Gatineau park and it's so peaceful in the area. I would thoroughly recommend this place to anyone looking to stay in the Chelsea area, you won't be disappointed!
---
From the very start till the end of the process, Christian was incredibly helpful and always available for communication. He also has his neighbour Ken Brown help manage and we found him very friendly as well! The place was so warm, cozy and easily hosted our group with room to spare. The recreation/living room downstairs was well stocked with a variety of media from Chromecast to Netflix to PlayStation. Additionally, there was darts, a foosball table and a few more game equipment such as racquets and a soccer ball. Upstairs the kitchen had everything you would require on your trip from toaster oven to a coffee maker to pots and pans and other utensils. The airbnb was well stocked with all the essentials (extra linens, towela, toilet paper, paper towels). There is also a bbq machine on the deck outside that we regrettably didn't get a chance to use since we were out most of the day. I would definitely return and high recommend this well maintained (and clean) location to others!
---