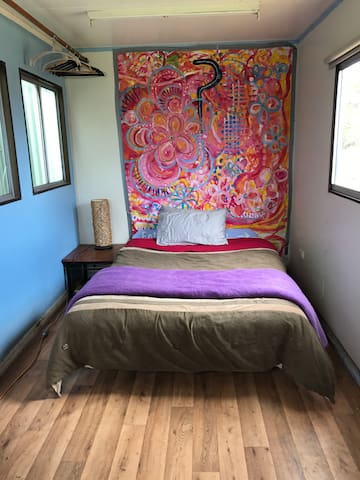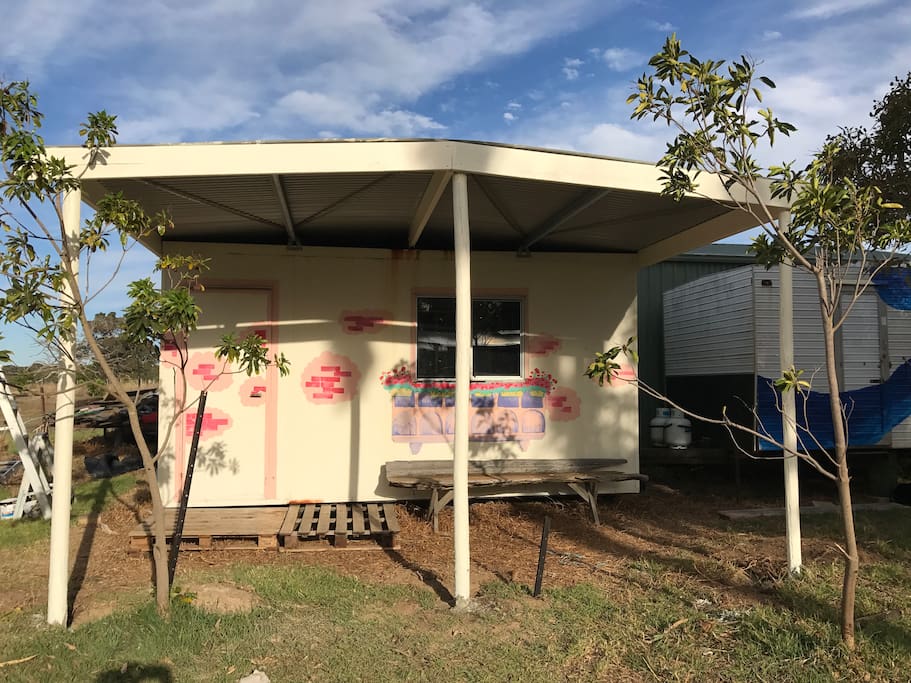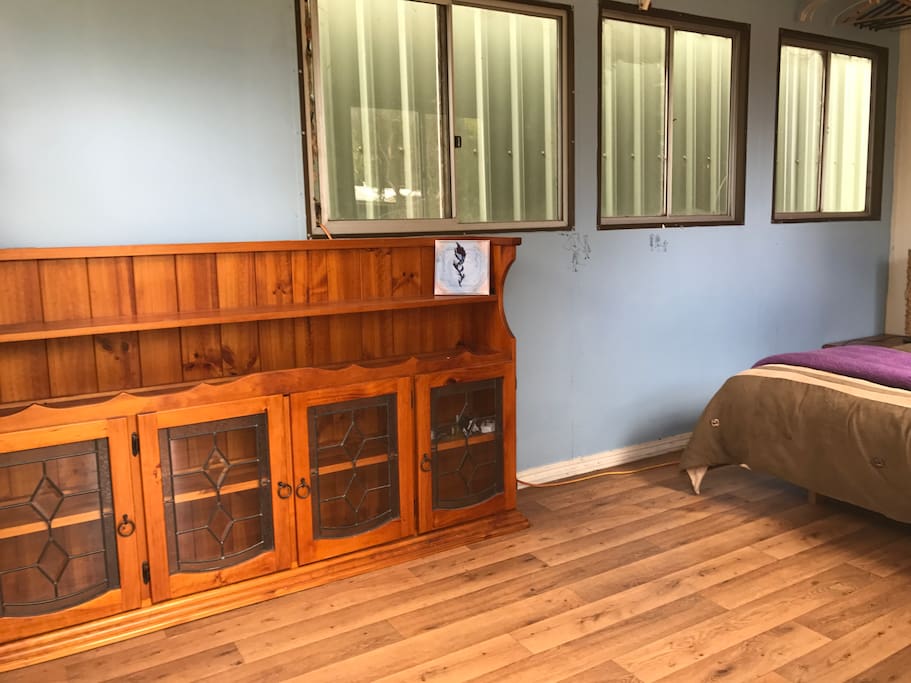 This little hut is available for couples who are backpackers, WWOOFers, Helpx, itinerant farm workers. It is separate to the house, and very basic. Bathroom & kitchen is inside the house. You will be expected to keep the bathroom and room clean. It is close to many vineyards for those seeking a convenient home base while completing rural work elsewhere. The bed is a double futon mattress. If work is available we offer 50-90% discount for farm work exchange.
房源
We are a 200 acre farm which has avocado trees, cattle and an art studio / gallery. We welcome travellers who are respectful, have a sense of humour and a can-do attitude.
Having a double bed (a futon, so very firm), this room is suitable for couples.
For those travelling on a budget, we have seasonal work to do around the farm and (if available) are open to you working 10 hours per week (per person) in exchange for a 50% discount on the accommodation, or 90% discount + 3 meals a day for 28 hours. (We are flexible to when/how you use your time, so it's a great option for those doing rural work for their 2nd year visa.)
It is also good for Helpx travellers wanting to experience life with an Australian family for a while.
We do not keep a timesheet, and are flexible when these hours are done.
We are committed to working with you to find jobs that suit you, so that you can enjoy your time with us. Jobs include:
* au pair (minding our child, light cleaning duties such as laundry and kitchen)
* gardening (weeding, mowing, trimming, pruning)
* cleaning (AirBnB rooms, general house cleaning, cobweb cleaning outside)
* cooking
* construction (fences, general handyman duties) -- this may expand to paid work and therefore 2nd-year-visa sign-off
* bring-your-own skills — tell us what you're good at, and we'll see if we can find a way to use your skills!
In summary:
1) Book the desired length of your stay.
2) Let me know if you want to work 10 hours / week in exchange for a 50% discount on the accommodation, or 28 hours for 90% discount + 3 meals a day, and I will send you a "special offer" to complete your booking.
Regarding the 3 meals a day.... You can help yourself to bread etc for breakfast and lunch, and when possible, share an evening meal with us. (Sometimes we are too busy to cook / eat together, in which case you will be provided with ingredients to make your own evening meal.)
We have hosted dozens of travellers and have enjoyed meeting everyone, learning about their culture, and sharing part of ours. If you think you can be a fit, please get in touch.
房客使用权限
Kitchen in off-peak times, BBQ, washing machine, washing line, space for parking.
其他注意事项
We have other (more upmarket) AirBnB rooms available too, so there are always people around to talk to. Because the guest bathroom will be used by paying guests, it *must* be kept clean.
---
I had an absolutely fabulous time staying with Anita and her family. Anita and her husband offered wonderful local advice that vastly improved my trip. Her home is comfortable and inviting with interesting conversation around the dinner table. The location could not be better. The setting is rural, but very scenic (with wild kangaroos along a trail at the back of the property), yet only ten minutes by car from the town of Margaret River. If you have a car, I don't know why you would ever consider staying in town, if Anita's listing was available.
Thanks for your kind review Tom! When I tell people about spotting kangaroos in our forest, I am reminded of that scene from Funny Farm where Chevy Chase says "cue the deer"... I have a little giggle on the inside ;-) Glad the kangaroos behaved and you got to see them :D It was great to meet you, and hopefully our paths will cross again some day. Enjoy Esperance!! ~Anita
---
I had an absolutely amazing time at Anita and Gavs place. Such wonderful, kind, interesting people. The setting is stunning and a nice distance from town. The porch is a great spot to hang in the hammocks and enjoy the view. Just such a welcoming and lively spot to stay. Would highly recommend, was the best Airbnb I've had!
---
It's been an awesome stay. I just started travelling on my own and was a little anxious, but I felt comfortable the second I arrived. Amazing people who did surround me, a picturesque landscape and a quick 10min to the center of Margaret River. I hope I'll get the opportunity to return some day.
---
Great central location. Friendly welcoming and generous hostess. Perfect base for exploring. Had an amazing visit :)
---
We are social with our backpackers and love learning about your country. Join us at the dinner table if you like, or for a sundowner drink occasionally.
My husband and I are living on land settled by his grandfather in 1932. Therefore, it is a very special place to us, and it's just one of the reasons we've named our property the "Margaret River Heartland".

We share our space with our five-year-old daughter, a golden retriever, 8 chooks, 1 bunny and a rooster, and 2 naughty peacocks. Sometimes the occasional WWOOFA is passing through also, meaning there'll always be a mixed bag at our place + many interesting stories to hear.

I'm an artist in my spare time, so with any luck you'll find some original pieces on the walls (if they don't sell first!)

We're not the types to watch much TV, but when we do we love the crime shows like Castle and Breaking Bad. You're far more likely to find us in the kitchen cooking up a storm, or on the deck watching the stars and sipping a brew.

Just to clarify... the guy in the photo is not my husband, (but in a parallel universe I'd certainly consider it LOL) -- Heston has an amazing brain and it was awesome to listen to him speak about the science of cooking at the 2013 Gourmet Escape. He reignited my passion for cooking, and exploring new ideas in the kitchen. For that my husband is grateful!
语言:
日本語