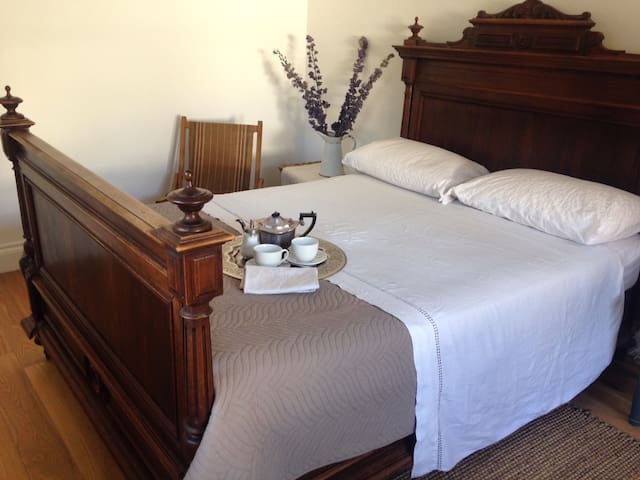 A Georgian house over looking the River Stour, Mistley. Ideally situated for exploring local Constable country and enjoying the scenic walks and country pubs.
---
A very nice B&B, with a fine view over the river Stour. Sally welcomed us, made sure we were comfortable and made us a great English breakfast in the morning. The room was furnished with antique and the bathroom is one of the finest you will ever see in a B&B. The location is great, perfectly located to discover Essex and Suffolk. For us it was a great final night in UK before taking the day ferry to NL. Harwich is really close by. Highly recommended!
---
A hidden gem! We had a wonderful stay at East Cliff House; superb service, romantic bedlinen and a gorgeous bathroom. Sally is a perfect host and provides good advices for the area and wonderful home cooked breakfast, which we enjoyed in the cosy garden. All this is topped up with the possibility of buying art and antiques, which we also took advantage of - we'll be back :-)
---
We had a really lovely stay at East Cliff House. The accommodation is excellent, clean and really well appointed throughout. The bed was really comfy, and there was enough room in the bedroom to comfortably fit the travel cot for our son. Breakfast was delightful and filled us up for a long morning. Sally was a fantastic host. We felt welcome and looked after and we even got to enjoy our breakfast while she entertained our son! We wouldn't hesitate to come back if we are in the area.
---
We really enjoyed our stay with Sally. She was very welcoming, easy to deal with and very responsive. The room is very comfortable and clean, with a lovely outlook onto the garden. The house was lovely and well presented and is an easy walk from the station. We also enjoyed walking around the Mistley and Manningtree area. Thanks again
---