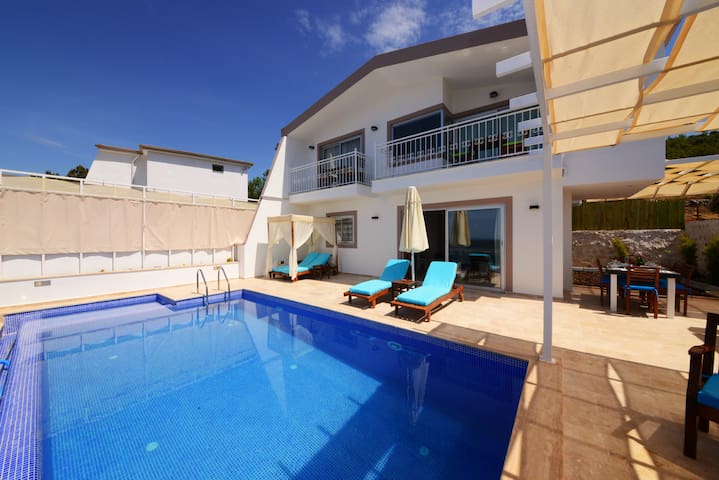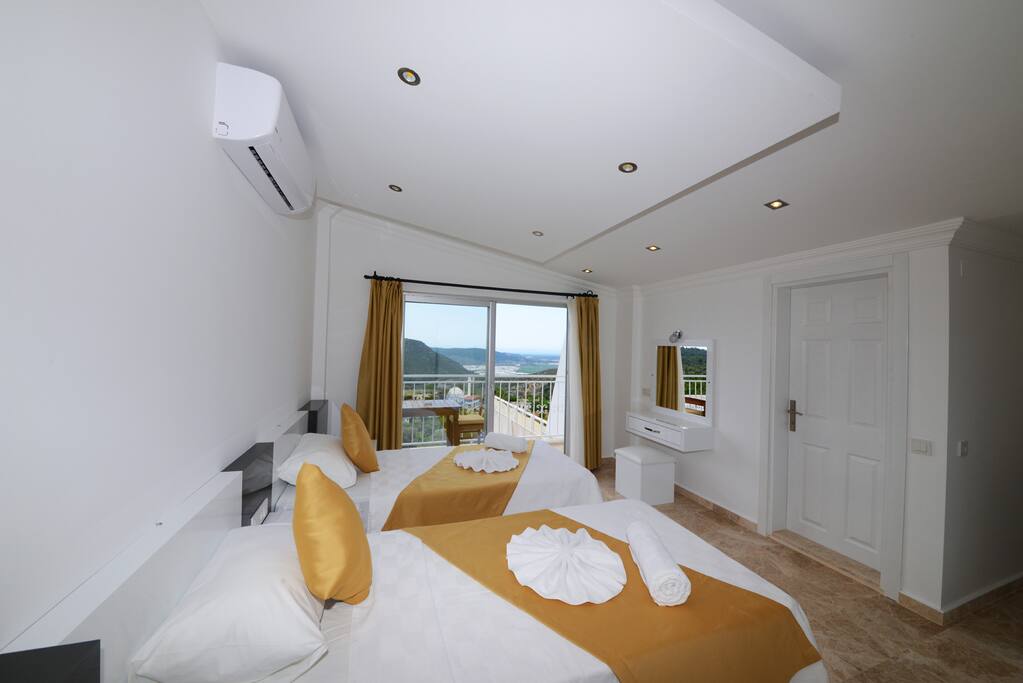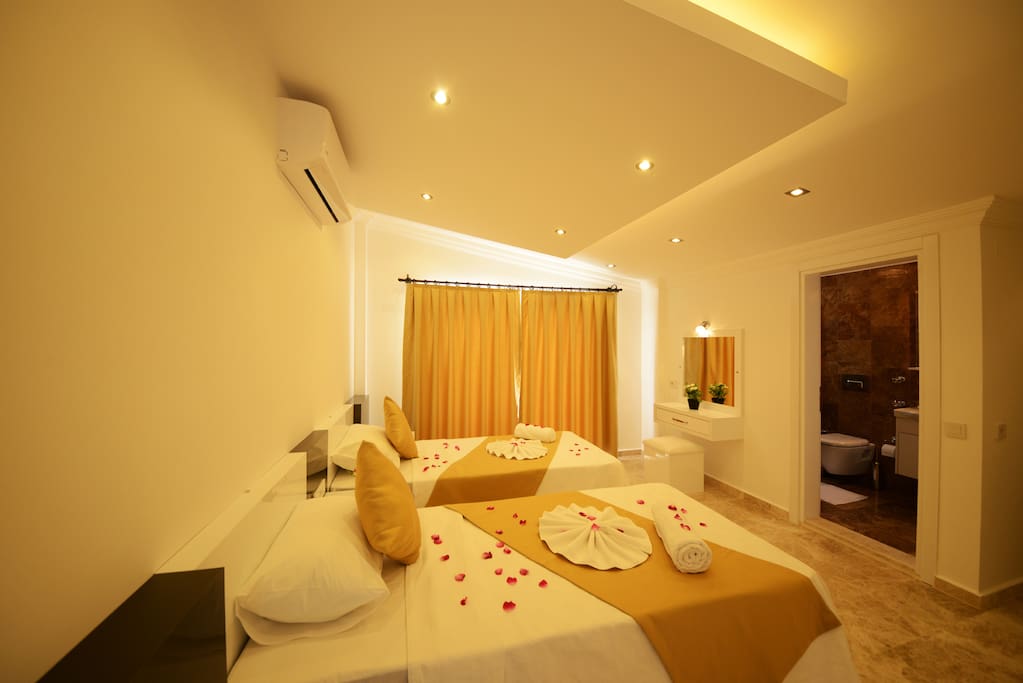 Villa Poli in Kalkan/Üzümlü (2Bedrooms) &Jacuzzi
Our Villa have 2 air-conditioned bedrooms and 2 state-of-the-art bathrooms. The layout and rather romantic feel makes the villa ideal for couples. It has a large pool,chldren pool,jacuzzi,sun deck and lots of lovely lounging space to enjoy the sunshine
房源
Bedrooms
1.Bedroom: 1 double bed, air conditioner, nightstand, make up table, berjer, dresser, jacuzzi, balcony, bathroom and toilet.
2. Bedroom: 2 single beds, air conditioner, bedside table, make-up table, berjer, dresser, bathroom and toilet.
Air-conditioned bed Clean linen and towel sets are included in the room.
In our lounge we have a sitting room, TV, satellite receiver, air conditioner, wireless modem, coffee table. The pool terrace is available for check-out.
Kitchen Modern kitchen has a microwave oven, kettle, oven, quadruple cooker, hood, dishwasher, washing machine, dining table for 6 persons, dinnerware, cutlery, knives, pots and pans, cups.
Pool Pool measures 6mx3.5m depth 1.60m. There is a pool in the pool. The pool terrace is sheltered and does not appear from the outside.
Garden Garden with sunbeds, sunshades, pergolas, garden seating, dining table and chairs.
Important information Pool and garden maintenance is regularly performed by the staff once a day. Electricity, water and gas charges are included in the prices. There is also no charge. The villa is delivered to you cleanly and cleaned once a week. Extra new sheets and towels, extra cleaning, car rental, health etc. Fuses are not included in the price. There is Wi-Fi wireless internet in the villa. There is a hot water, ironing table, hair dryer, washing machine, electric vacuum cleaner.
Damage deposit Damage, loss, broken, broken, etc. There is a deposit of 500 Turkish Liras at the entrance. Deposit is refunded at the exit of the villa if there is no problem like loss, damage or loss.
Note: Villa has a pool heating system and is operated with an extra 250 TL.
General note: All of our villas, which are located in nature, are regularly cleaned and disinfected for insects and pests. In our houses which have the position in nature, the bugs, It is more likely to leave. This note is written as a footnote on the homepage of all houses for general information, not about this house.
---
VillaGezegeni markası Türkiye genelinde birden çok noktada tanınmamış,halen daha keşfedilmeyi bekleyen tatil bölgelerinde sizlerin farklı özelliklere sahip kiralık villa ve apartlarda unutulmaz bir tatil geçirmenize vesile olmak için 2016 yılında Serter Group tarafından kurulmuş villa/apart kiralama sitesidir.Villa Gezegeni geniş portföyü ile her türlü talebi karşılayacak konumda bir firma olup misafirlerine balayı villası,geniş ailelere uygun villa,muhafazakar villa,havuzu korunaklı villa,ekonomik villa,lüx villa gibi seçenekler ile hizmet vermektedir.
Diğer ilanlarımızı incelemek için lütfen logonun üstüne tıklayınız.
Ahmet SERTER-Koordinatör
Villa Gezegeni
语言:
English、Türkçe