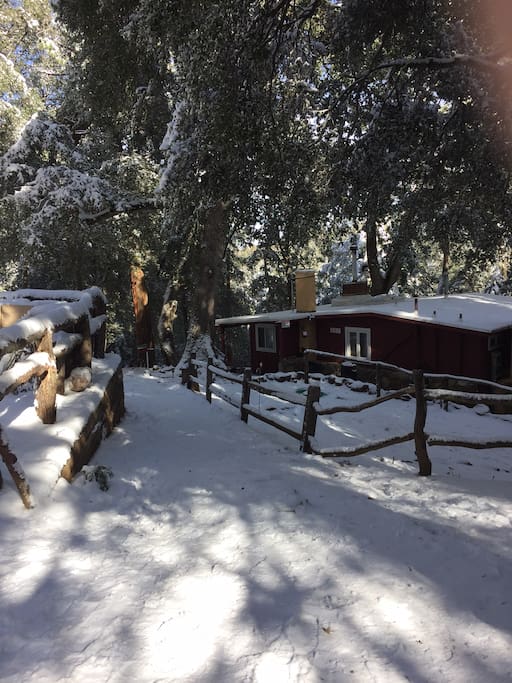 Palomar Mountain Escape - Air Conditioning
Let your mind escape while you Relax, Reconnect and Rejuvenate! Breath quality air, drink mountain fresh water, unwind, explore, hike, bike, fish, bird watch, priceless views and more.
Only the best for our guest, upgraded linens, blankets, throws and towels. Newly remodeled for elegance within and ruggedness outside.
Forget the City, leave the electronics behind. Let your best vacation be the simplest. But of course, Wifi and Direct TV is available.
---
---
---
---
---
No smoking in the cabin. This is a smoke free environment. Please wash dishes before leaving and do not leave any scrap food. You are in the mountains and you do not want unwelcome guest.
---
---
---
---
On a last minute impulse we booked the cabin on a Thursday for Friday arrival and the communication was flawless. The cozy cabin has all the comforts with a lovely and secluded tree and bird (and star!!) filled view. Coming from sea level the altitude took a day to adjust to, but what a lovely place to relax and enjoy the quiet. A few days in a big leather chair with a good book or Netflix was a delight and a welcome retreat.
---
What a perfect getaway. The house was quiet and quaint. It had everything we needed to cook a nice meal and be comfortable. There was a room off the master perfect for small kids to sleep close to parents but not in the same room. Great porch to have coffee in the morning or a glass of wine at night. Lots of birds and squirrels and chipmunks. And a 10 min drive to the state park. I want to go back! Thank you!
---
Dave and Denise are great communicators. They responded to any questions we had pretty much immediately. The house is super cute/quaint although a little bit of a tight squeeze with 5 of us but we were exploring the area a lot of the time or outside so we weren't bothered too much. The wifi only worked on 2 of 5 devices so that was a little disappointing but again, we were there to explore the mountain, not be on the internet, so we got over it. The house has everything you need and we had no trouble cooking. The tv gets Netflix and other apps so that was nice for a half hour in the morning and night with the kids. We made it to the house in our Sonata and Element but it is definitely in the woods! I could see it being difficult if the weather was bad. We had great weather. Palomar Mt State Park took about 15 minutes to drive to. Get groceries and gas before you get up there. We did go to Rincon area and found some groceries but you can also go to Santa Ysabel. The beds are comfortable but kind of slope a tad. It didn't bother us. There is only 1 bathroom and it is in a bedroom so just keep that in mind. That also was fine for us. Overall, nice stay!
---
We are life-long residents of San Diego, who embrace the Southern California lifestyle. Both of us are successful professionals in the Real Estate industry, specializing in the finance, acquisition and management of luxury properties in San Diego and the surrounding areas. We love family, friends, new acquaintances, food, wine, music and entertaining. We look forward to hosting you at our vacation home.