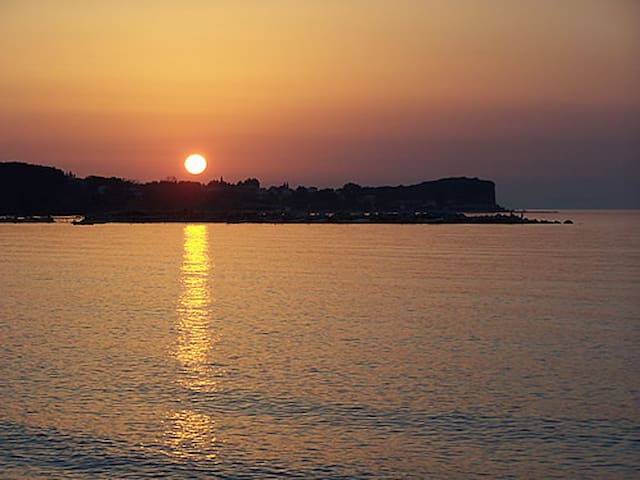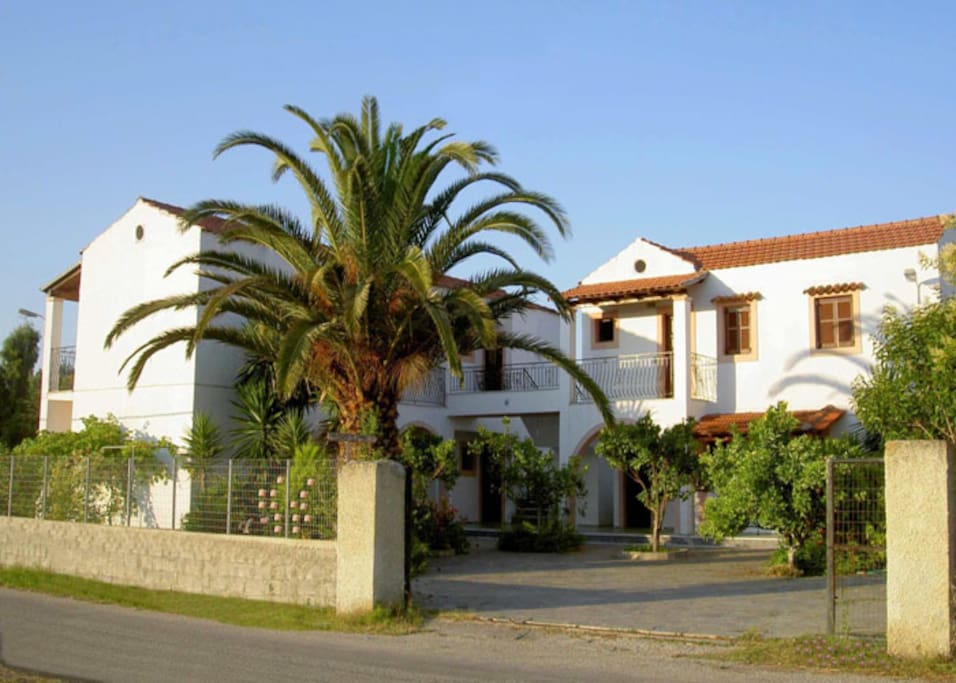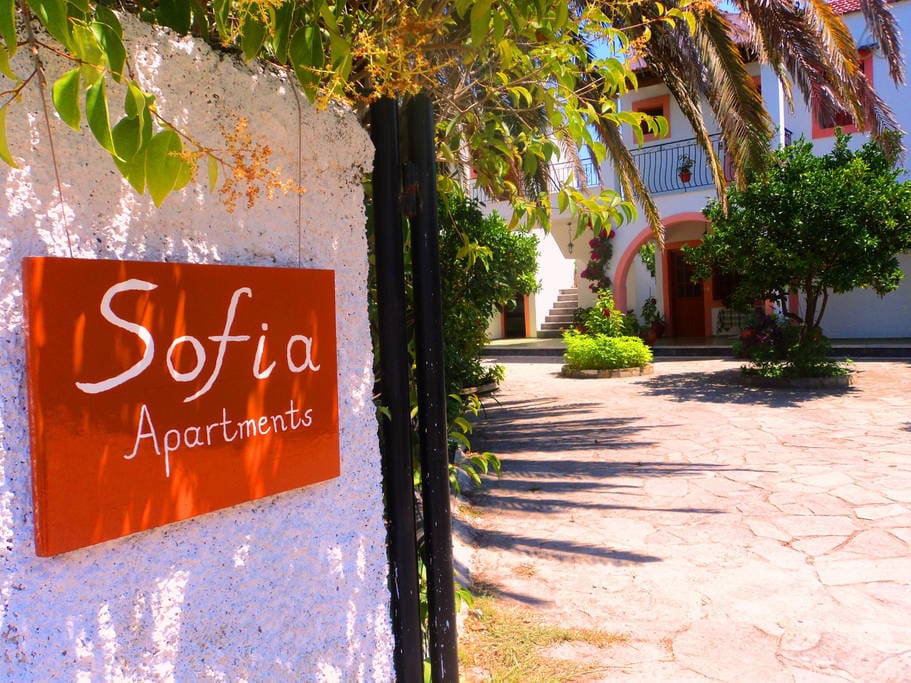 Near the sea Sofia Apartments 7
Excellent location, only 2 minutes walk from the sea and 10 minutes from the centre of Roda. With balcony, equipped kitchenette and lovely scenery around. TV, wifi, a/c, parking. Very close to sea and Roda centre. Minimarket, bars, restaurants,pool nearby.
房源
Excellent location, only 2 minutes walk from the sea and 10 minutes from the centre of Roda. At the front, there is a quiet yard full of flowers and trees and at the back you get the rest of the field and the parking space. The apartments are situated at a beneficial point, in the middle of the northern coast line of Corfu, thus providing easy access to lots of other, equally wonderful places of Corfu. The studio apartments are on the ground floor and on the first floor and each one has 2 beds, a balcony with lovely view, chairs and a table, toilet with shower, fridge-freezer, mini electric oven with hotplates, cooking utensils and cutlery. There is a/c, free wifi access and a TV with usb media player. All the studios are very cool and relaxing. They are quiet and get the feeling of the sea breeze. Bed linen and towels are provided.
房客使用权限
Guests have access to all sorts of beaches. In a few minutes of an enjoyable walk right by the sea, guests will find themselves in the center of Roda at a sandy beach with sun-umbrellas and sea-beds. Just in front of the apartments the beach has white pebbles and at the right hand side of the apartments, one will also find pebble beaches. Right close to the apartments, guests can find a mini-market and a beach bar-restaurant with free swimming pool. Within walking distance, guests will find all sorts of shops, banks, restaurants, pubs, beach-bars either quiet or noisy depending on the preferences.
与房客的互动
Guests are welcome to ask any question concerning their stay, how to get around etc. We are always present during the guest's stay, so if you need anything, we are here to help. We will be glad to give you all the information and little tips that will make your stay as enjoyable as possible. So, please ask information about shops, places to eat, drink or see, beaches that you can visit, ways to get around etc. The languages spoken are English and Greek.
其他注意事项
There is an extra fee for the use of the air-conditioning at 5 euro per apartment for each day that it will be used. Guests say whether they want to use it and for how many days after they arrive and they pay for it in cash, at arrival.
Bed -sheets and towels are provided. Towels are changed after the 4rth night and sheets are changed after the 7th night. Guests buy their own toilet paper and bathroom amenities. The host is happy to provide recommendations about the area and speaks Greek and English.
---
---
Damages in the apartment or the equipment/amenities are to be paid for after communicating with the owners about them. None of the apartment's equipment is to be taken outside the apartment. The aircondition is optional, that is guests can choose to use it or not on any day at a small fee. Pets are generally allowed so long as they are looked after their owners and as they keep reasonably quiet. Guests should ask if there is any problem with them bringing their pet.
---
---
---
---
We spent 10 days at Sofia Appartments. Sofia was very nice and helpful since the beginning. One of the most beautiful things was the balcony with seaview where we always had breakfast. The appartment was clean (although not perfectly clean) when we arrived. The WIFI worked perfectly troughout our entire stay but we were very annoyed by the condition of the bathroom: the flush didn't work properly (almost no water) and it took 5-10 minutes until you could have a warm shower, which was very time consuming. The appartment is locatet near the sea (2 minutes walk) but there isn't a beach where you could spread out your towels, it is more like a road next to the sea where you can take a walk and have some lunch and dinner (plenty of restaurants and a minimarket). If you want to see the beautiful beaches of Corfu when staying at Sofia Appartments you definitely have to rent a scooter or a car. One of the main reasons why we hired an appartment was that we wanted to be able to cook sometimes but the "kitchenette" was so small that you didn't even have some space to prepare your food properly (Only fridge, sink and a small oven but no space to cut or prepare something). Overall, our stay was fine. The little problems we had weren't that bad because we didn't spend a lot of time at the appartment and therefore we were okay with it.
---
Alexandra was very helpful from the beginning. When I booked the apartment, she provided very detailed instructions. Sofia (Alexandra's mum) was there to welcome me upon arrival. Sofia was also very welcoming and offered lots of good advice. Sofia also tends to a lovely garden which surrounds the apartments. I was placed in one of the upstairs apartments which had a beautiful sea view.
---
Thank you very much for the great vacation in Sofia apartment to Alex and her family. we have spent a month , and it was very pleasant and great. The apppartmnet is very close to the sea and at the same time to the restaurants and clubs, also there is very good destination to get to to the bus station, that could bring you to the Corfu town. Alex and Sofia are very helpful, and could answer all questions and advice a lot (places to visit, where what to get). The place is very good for families with kids. My boy felt himself as athome. Thank you very much one more time!!!
---
Alexandra was a wonderfull host!!! We really enjoyed our vacantion in her property (clean and cosy)!!! Pros: wonderful host - really helped us with maps and info about the interesting places around really good location - close to a lot of interesting bars, restaurants and beaches (agios stefanos, kalamaki, canal d'amour, cap drastis, etc.) clean and cosy rooms wonderful sea view from the balcony cons: realtively small rooms for "studio", kitchen is really hard to use. cleaning (towel changing) is on every 3-rd day. Because it's a seaside it'll be better to clean and change towels more often ;) keep in mind the vast mosquito attacks and buy couple of repellent devices - Alexandra provide us with one, but it wasn't enough at all ;) If you keep in mind those cons, mentioned above for us the place was really comfortable (in the matter of location and amenities)!!! Overrall: 5** star from 6!!! Great place with wonderful location!!! Thanks Alex ;)
---
ENGLISH Mrs. Sofia speaks excellent English. She is very talkative and happy to answer any question. The apartment is comfortable and very well ventilated without air-conditioning. 50 m. across the street is a food store, where all is needed to buy and the prices are not over priced. The best thing about the apartment is its location - in the middle of the north coast between Roda and Acharavi, both towns are within 10 to 15 minutes by foot. There are some big supermarkets in Acharavi, otherwise the taverns, coffees and pubs are everywhere. In Roda is the beach very disappointing - only stones but 1 km. east of Acharavi are 2 km. sandy beaches, clear water but deep and extremely salty (not for allergic eyes). For visitors without a car I recommend very hot the S-Bike Bicycle Rental Shop - 500m. on the main road, direction Acharavi - super bikes and cheaper than in the center. The best sandy beach of Corfu is the small Agios Spyridon - 7 km east of Acharvi suitable for small children. Sidari and Kassiopi are both 14 km away from the house, less than 1 hour by bicycle because of 2-3 km. steep grades. In the countryside of Corfu are German speaking tourists pretty rare. There are most English, Italian and Russian-Tourists all over the Island. DEUTSCH Frau Sofia spricht hervorragend Englisch. Sie ist sehr gesprächig und antwortet gerne auf jede Frage. Die Wohnung ist gemütlich und sehr gut durchgelüftet ohne Klima-Anlage. 50 m. gegenüber ist ein Lebensmittelgeschäft, wo alle nötig zu kaufen ist und die Preise sind nicht sehr überteuert. Das beste an der Wohnung ist die Lage - in der Mitte der Nordküste ind zwischen Roda und Acharavi, beide Ortschaften sind in 10 bis 15 min zu Fuss zu erreichen. Grosse Supermärkte gibt es in Acharavi, sonst sind die Tavernen, Kaffes und Pubs überall. In Roda selbst ist der Strand sehr enttäuschend - nur Steine, aber 1 km. östlich von Acharavi sind ca 2 km. Sandstrände, klares Wasser aber tief und extrem salzig (nicht für Allergische Augen). Für Besucher ohne Auto empfehle ich heiss das S-Bike Fahrradvermietung - 500m. Richtung Acharavi auf der Hauptstrasse, super Bikes und Billiger als im Zentrum. Der beste Sandstrand Korfus ist der kleine Agios Spyridonas - 7 km östlich von Acharavi auch für kleine Kinder geeignet. Sidari und Kassiopi sind jeweils 14 km. vom Haus entfernt, weniger als 1 Std. mit Fahrrad wegen 2-3 km. steilen Bergstrecken entfernt. Am Corfuland sind deutschsprachige Touristen ziemlich wenig. Da sind meistens Engländer, Italiener und Russen zu hören.
---
Hi all! I am Alexandra. I am a teacher and my family and I run the Sofia studio apartments in the summer. I love the sea and walking along the beach. I enjoy meeting new people and I am always in for a good chat.
语言:
English、Ελληνικά