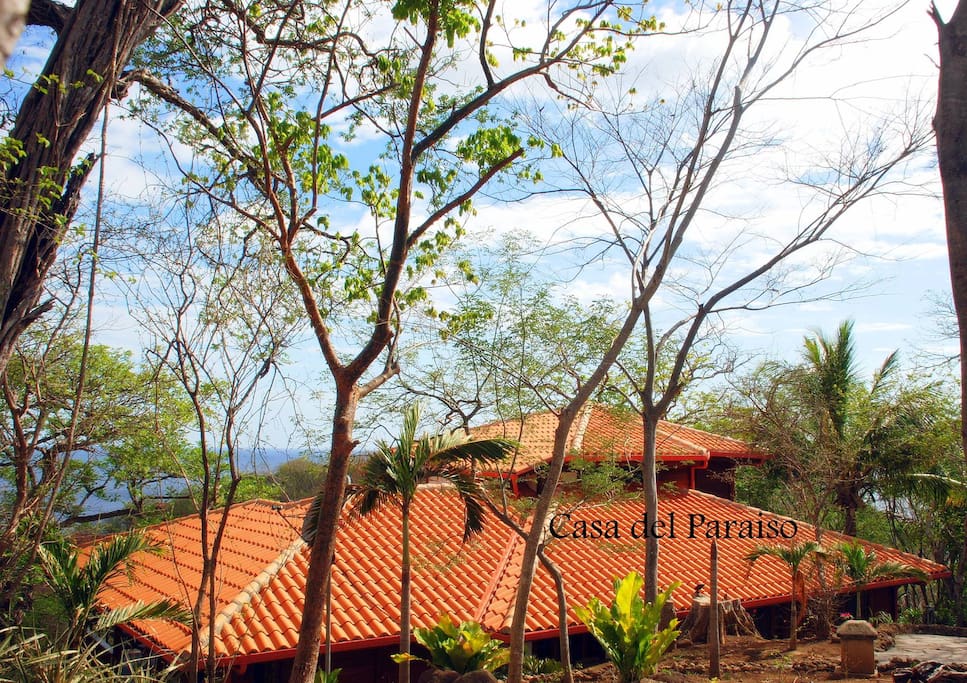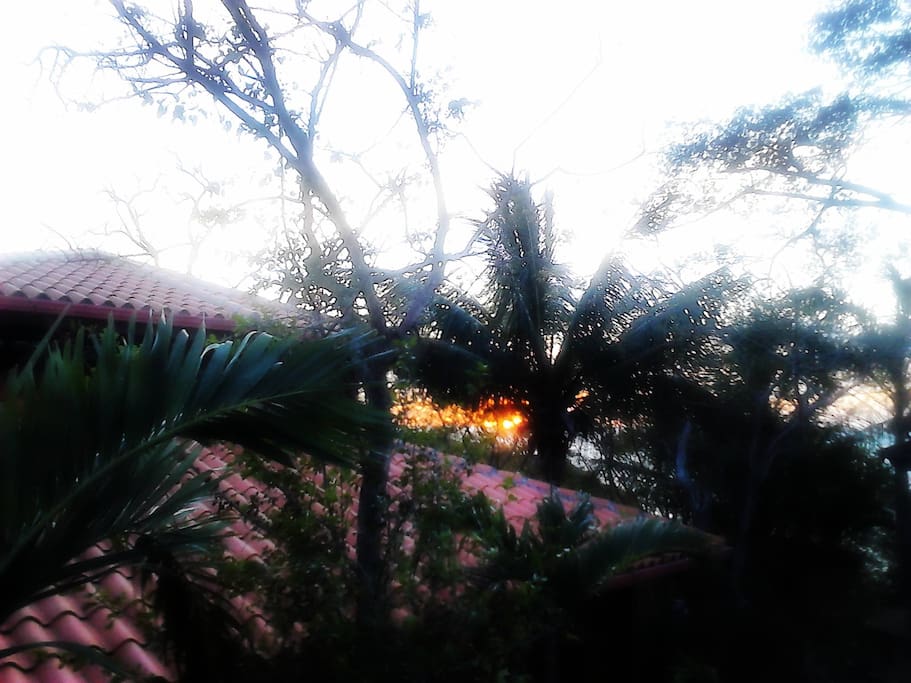 Our Villa is unique in the quality of our services. The developers had great forethought and left as much natural habitat as possible. This means we enjoy the beauty of a well maintained development and with the natural habitat we are so lucky to have monkeys, hawks, so many kinds of birds, endless butterflies, foxes, Iguana's, owls and more. Our Casa is very private and most of our guests said they felt like they were at home, they were so comfortable.
房源
You will be awestruck with our secluded beach. Playa Redonda is one of a few "swimmable" beaches in the area. Most days the water is calm for swimming, kayaking, paddle boarding, and snorkeling. Enjoy a yoga class; the setting is spectacular overlooking the ocean. Indulge yourself with a massage in a truly tranquil setting, wonderful ocean breezes and the magical sounds of the ocean. All activities offered by Aqua are payable to Aqua. Take advantage of all or some of what they have to offer, if you wish. For tremendous value pack a picnic and your beverages and enjoy the beach and play in the waves. Relax, beach comb, sleep, enjoy the inner solitude, people watch and get your exercise on the walk back up to the villa as there are inclines. Enjoy the Villa during the day and/or go on an excursion, come "home" grab a flashlight (provided) and go the beach – if you are lucky you will either see beautiful female turtles building their nests and laying their eggs (do not disturb them with light or noise please) OR you may see baby turtles hatching and you may be honored to help them make it to the ocean safely.
房客使用权限
Our guests have full access to the Villa, except for the laundry room. If you would like laundry done please ask Zoila, the fee is $5.00 USD a load. Please pay Zoila directly.
与房客的互动
The Villa has reliable on site Property Management and house cleaning. The Villa can be cleaned daily (except Sunday) or you can let me know if this doesn't suit you and we will work around your needs. The Property Manager will greet you, give you a tour of the Villa, give you your keys and be available for you in case you need help with anything that may occur in regards to the Villa.
We do not live on site, but of course we are always available to assist you with your needs before you arrive and while you are here. We love to ensure that you have a perfect vacation!
ENJOY your privacy, one of the amazing advantages of "having your own space".
其他注意事项
Casa del Paraiso is located in Buccaneer Point Casa #20, Tola, Rivas, Nicaragua, The area is called Redonda Bay, "The Pacific Riviera". Redonda Bay is located on the Pacific Coast of Nicaragua 125 km north along the coastline from San Juan del Sur. We are located in between Guacalito de la Isla and the coastal fishing and surfing community of Playa Gigante. We are neighbors with Aqua Wellness Resort and share the beautiful beach. Access is through the cities of Tola and Rivas.
Cash is King in Nicaragua. The last ATM is at Tola before you get to the Villa. (35 mins) Most places at the beach take cash, some take credit cards.
Ask about the availability of a private chef. The chef is not my employee and she runs her own business. If our guests would like a private chef we would like to help accommodate that for you if we can, and we also want to help Celina with her business. The discussion will be between you and the chef, she sets the price and you pay her directly.
---
---
---
Please be considerate of the environment and turn off the air conditioning when you are not in the Casa. It is a great waste of energy. There is no smoking allowed in the Casa or on the upstairs balcony. Outside is fine, on the main deck. No pets allowed. We will not accept more than 8 people in the Villa. Please be respectful of our Villa and our neighbors.
But most of all HAVE FUN!!!!!!
---
---
---
---
What a great place to stay in Nicaragua! The views are incredible! We really enjoyed our stay there. Judy was extremely easy to communicate with. House manager was amazing as well. Highly recommend staying here.
---
La casa es increíblemente bonita! Se puede apreciar una vista fenomenal. Es un lugar muy fresco y con una playa preciosa. Los anfitriones son súper atentos y buenos también.
---
We loved our stay at Judy/Greg's place. What a lovely, magical location. Judy is the consummate communicator and planner and suggested many day trips and activities for us, which really made the trip amazing. The home is well furnished and located on a hill overlooking lush vegetation and the amazing sea. Gorgeous views. We followed Judy's advice and hired Edgar to pick the six of us up in Managua. We stopped for groceries during the 2.5+ hour ride to the house and got all the provisions we needed to make meals at home. March is the hottest month in Nicaragua and the house gets really, really hot/humid. However, three of the four rooms have AC units so you sleep well despite the heat. As mentioned in other reviews, the walk to the beach adjacent to the home is about 5 minutes, but you need to wear good shoes and you need to be able to hoof it back up a steep and uneven terrain. We spent more time hiking over to the beach at Gigante Bay where there are plenty of waves and fewer rocks. That's a long walk and full of uneven terrain so I recommend this area (well, Nicaragua in general) for people who don't have any issues or limitations (bad hips, aging knees). We hired a cook to make an authentic Nica dinner for one of our guests who was turning 14 and it was the highlight of our trip! The kitchen is fully-equipped for mostly everything (except baking, which you would not want to do in that humidity). We had a feast! Trust anything and everything Judy recommends. Other highlights: Magnificent Rock (best surfing) and be sure to stop for pizza (Edgar will remember the place) on your way home; San Juan Del Sur (great waves, El Timon food was outstanding, entertaining music and cultural show); and a visit to Masaya, Laguna de Apoyo and Granada. We adored every minute of our stay in Nicaragua. Judy's home was lovely, comfortable and an excellent home away from home for all six of us!
---
The best part of my Airbnb experience was interacting with Judy, the host, over email. She was incredibly responsive, proactively helpful, and friendly! Whenever I had any issues or questions, she would immediately help in any way she could and gave plenty of advice before the trip for activities. While on the trip she also added to our Wifi when we needed it for communication purposes and it felt as if we were at a bed and breakfast despite her not being there! The home itself was incredibly comfortable. I spent many hours outside on the hammock listening to the waves which, as described, are only 5 minutes away. All of the appliances in the kitchen worked perfectly, there was clean drinking water, and the A/C made my sleep quite comfortable in the warm climate. It also is simply a beautiful home, and lovely to have nice dinners in just as you see in the the main airbnb photo. This location is perfect if you want to relax - the small beach 5 minutes from home is truly perfect for swimming/snorkeling and not crowded whatsoever. If you want to walk to town it gets a bit tiresome after a few days, but I appreciated the exercise.
---
This is a great place to stay for big groups. Judy is a fantastic communicator and very accommodating. For two people we would have liked to have forgone the house cleaner option, but didn't really know of a way to do that. The extra privacy would have been nice. Great location and will definitely recommend to others.
---
The house is exactly at it seems in the pictures. Both Zoila and Sady, the people who greeted us, were very helpful and nice. The surroundings are breathtaking and the beach is clear and calm. We really wanted to extend our staying, hopefully we will go again. I would most definetely recommend this place! Thank you so much, Judy and Greg!
Thank you so much for taking the time to write such a wonderful review. We are happy we were able to share our little piece of Paradise with you. Thank you for complimenting our amazing staff, Zoila and Sady, I will pass along your kinds to them. It makes us happy when our staffs hard work is appreciated and acknowledged. Please come again when you can stay longer! I agree, it is breathtaking and we have the most beautiful beach. Please know you are always welcome at our Casa! Sincerely Greg, Judy, Zoila and Sady
---
Greg and I wanted an extraordinary grand adventure in an exotic land. We moved overseas from Canada in 2013 to take advantage of the excitement and the opportunity of living in a new country. We enjoy a better quality of life and we are re-inventing ourselves and breaking into a brand new livelihood. We prefer to look ahead with anticipation, rather than look back with resentment. We stroll beaches, and started our own business. We keep our sense of humour as our ally, we have to be able to laugh at ourselves and get by huge obstacles. "The perfect place" has changed for us as we grow and evolve. We are very good at what we do and compliment each other in our abilities. We are very proud of our Casa, and have built a very nice business as a Bed and Breakfast. We loved to share our Casa and our knowledge with our guests, whom many become friends. What a wonderful life. Now it is time to try something new, we have a new dream we must seek and fulfill. So alas, we will leave our Casa for you to enjoy and allow you the time to fall in love with Nicaragua, like we did and still do. We are only an email away! Enjoy Casa del Paraiso, by yourself, with friends, with family, with both - enjoy, breathe, laugh, love and let the beauty and peace seep into your soul.
"Learn and appreciate the culture, have an open mind, be flexible....and have fun!
语言:
English