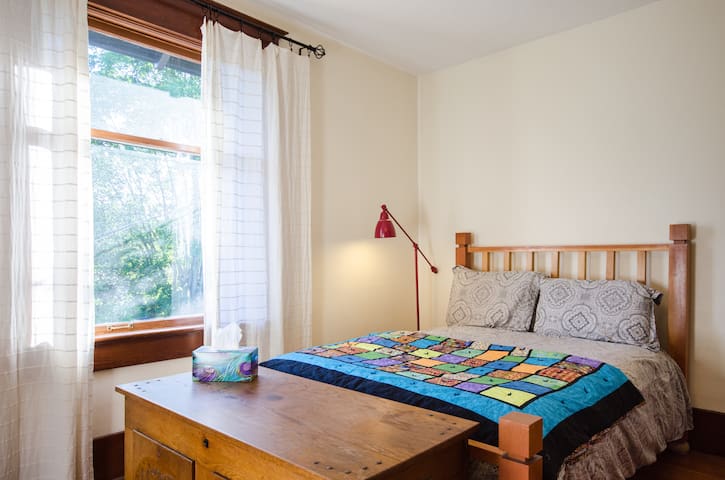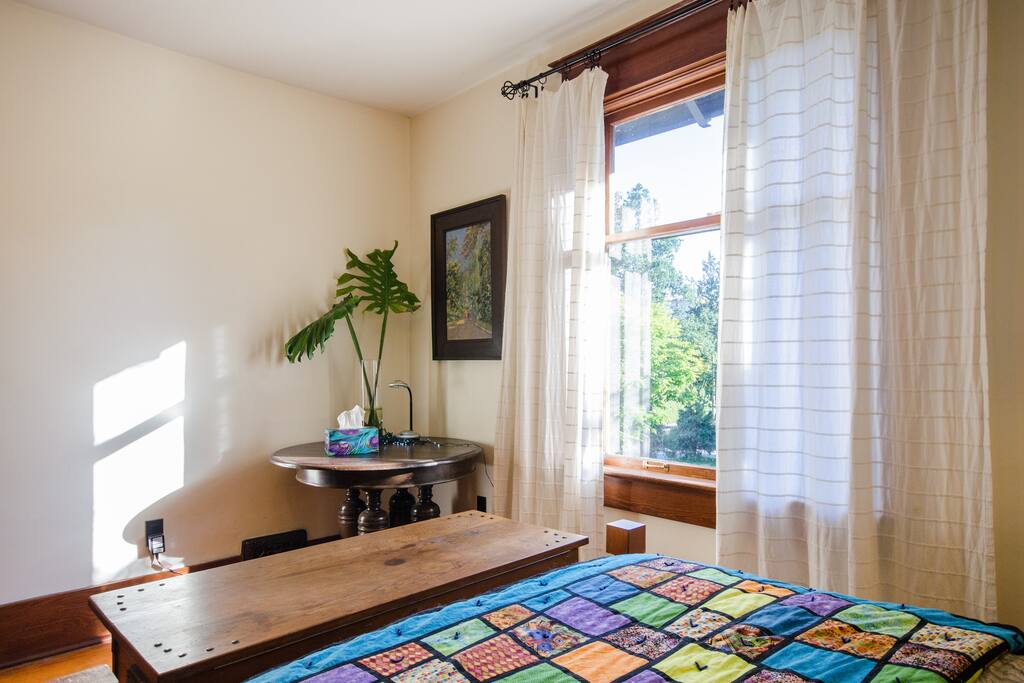 我们的地方是一个优雅的古老遗产。柔软的地板,高高的天花板,大量的空间。
Our place is a graceful old heritage home. Soft glowing floors, high ceilings, lots of space.
房客使用权限
Feel free to use the kitchen, do your laundry, hang out on the deck or in the yard.
---
Melinda provided tips on locations and things to do. She offers shower supplies, towel, etc. I think this would be appreciated by many guests, although I️ brought my own, and always do. I️ suggested maybe having a small space heater, :-) because I️ was very cold (being from SoCal), but she did offer more blankets even I️ mentioned being cold. Melinda strives to be a good host. She has a very big, well-maintained relic home. Overall, it was a every cool house and neighborhood. Good place to get work done online in the am, and crash for a day and night, as well as explore the area. I️ was able to bring my small fur babies, but last minute let them stay w a sitter via Rover. (If you'd like a $20 credit on Rover for first time guests, you can use my discount code btw: FELICITYLOVESDOGS20.) It was nice to book a place I️ knew would be near things to do, and have tips from the host too.
---
This home is an haven of warmth, comfort and humor, run by a real gem whose hospitality is exceptional and whose advice is right on, whether it be about transportation or how much time a particular sight will take to visit. The bed is very comfy, and the wooden floors and high ceilings of the room are a real plus. The window has a view out to a lovely tree lined street. The neighborhood is charming and quiet, the pub fantastic, and the sky train a short walk away. The bathroom is sparkling clean, with a shower of many options. The kitchen is just fabulous, spacious and bright, and the backyard has both deck and greenery with an exercise area for pets. I enjoyed it so much I extended my stay.
---
Melinda was an amazing host!!! She stayed up until after 1:00am to greet us and give us a home tour. The next morning she even drive us to the hotel my family was meeting at. We had great conversation. She was funny and even educated us on the ride. I would definitely recommend staycation in her home. This woman has a heart as big as Texas!!!
---
Melinda was an incredible host. She really went out of her way to help me out when I needed a place to stay last minute and was in a pinch! Her house and my room was beautiful, and had all amenities needed and more. Also had a ton of really fun life talks, and developed a great relationship with her in a short period of time. I was sad to leave! Would highly recommend staying with Melinda. She's wonderful.
---
我们经常在晚上在电视前放松,或者去吃点东西。通常有人会回答问题或给出指示。
We're often relaxing in front of the tv at night, or out for a bite to eat. There's usually someone around to answer questions or give directions.
I live in New Westminster and was born here. I've lived in Europe as a youngster, and Australia as an adult. I love this house and heritage area