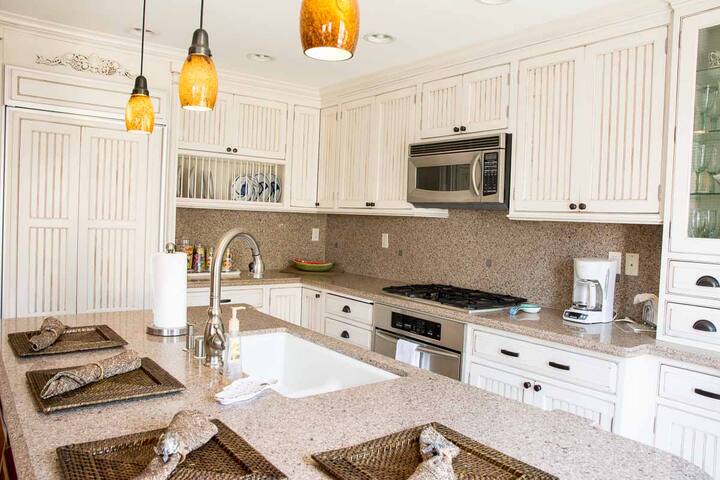 30 second walk to the beach!
Disneyland 25 minutes away! South Coast Plaza for world class shopping/Pelican Hill Golf Resort for world class golfing is 10 minutes away! For a romantic charm, rent a gondola to float through the Newport harbor/take a sunset cruise through the harbor on John Wayne's boat 'The Wild Goose'. Hollywood and Universal Studios is 1 hour away!
Personal Concierge Service for excursions/babysitting/in house massage!
---
---
---
We are a family friendly property. Parties are Not allowed and groups under 30 years old will not be eligible to rent this property. Feel free to call us regarding this rule for possible exceptions :) There is a maximum capacity of 5 guests including any daytime visitors. There is a $50 per day charge for more than 5 guests including daytime visitors. PLEASE NOTE: Linens, bath towels and beach towels are provided after Labor Day and before Memorial Day. During the summer months linens will need to be rented by a local service or you are welcome to bring your own.
There is a $50 per hour early check in fee if requested. Early check in may not be possible and is absolutely not available in the summer months, no exceptions.
Once the reservation has been confirmed a rental agreement for your review and signature will be sent from HappiTravels.
The signed rental agreement and ID of guest signing the rental agreement will need to be sent to HappiTravels to complete the reservation.
The rental agreement below will be emailed to you for from HappiTravels for your review, signature and will need to be returned to complete the reservation:
Section 1:
Check-in is after 3 PM and check-out is 10 AM. There may be an hourly fee for any persons or belongings left in the rental or garage past the 10 AM check-out time and for every hour there after.
Section 2:
Flooring-No outdoor equipment is allowed in the house! This includes bikes, surf boards, boogie boards, skate boards and ice chests! Any outdoor equipment found indoors can result in full forfeit of deposit!!
Refrigerator/freezer: Please do not overfill the refrigerator or freezer. There are fans/vents inside the back of each that if blocked will stop air flow which could lead to repairs which you will be responsible for if it is determined the damage was due to over packing the refrigerator or freezer. The refrigerator and freezer are checked prior to check in and check out.
Section 3:
This unit does not have air conditioning , but does have the ocean breeze. There are ceiling and floor fans in every room. Most rentals this close to the ocean do not have air conditioning.
Section 4:
Please be considerate to your neighbors regarding minimal noise after 10 pm and before 9 am.
Section 5:
Security Deposit- There may be a partial or full forfeit of the security deposit should there be any damage claims filed regarding your stay for any of the following issues:
No damage is done to the unit or its contents, beyond normal wear and tear.
TAR: The ocean deposits tar on sand occasionally. Please use baby oil and paper towels provided to remove tar off feet BEFORE entering the unit! Do not use cloth towels to remove tar. There will be a deduction from the deposit for tar damage to towels, carpets or furniture. Please check feet before walking in the unit.
NO fires allowed in fireplace.
No charges are incurred due to contraband or collection of rents or services rendered during the stay.
All keys and remotes are left on the kitchen counter and the unit is locked.
All charges accrued during the stay are paid prior to departure.
No linens, towels, dishes, cookware, boogie boards, chairs, fins or bikes are lost or stolen or damaged including make up on towels.
All towels and linens are not to be taken from the unit or stained.
No smoking in the rental or on the property.
No illegal drug use in the unit or on the property.
The renter is not evicted by the owner (or representative of the owner), or
the local law enforcement.
There may be an hourly fee for any persons or belongings left in the rental or garage past the 10 AM check-out time and for every hour there after.
If there is damage beyond the deposit amount the guests agrees to pay the full amount of damages.
NOISE:
Please respect the neighbors and other guests between 10 PM to 8 AM.
Section 6:
Washer and dryer are provided for your use.
Section 7:
FALSIFIED RESERVATION: Any reservation obtained under false pretense will be subject to forfeiture of advance payment, deposit and/or rental money and the party will not be permitted to check in.
Section 8:
No fire pits allowed on the premises or fires in fireplace.
No large pieces of indoor furniture allowed outdoors. No fireworks. Fire works are illegal in the city of Newport Beach.
Section 9:
Smoking: There is no smoking (including vapor cigarettes) in the house. Patio doors must be closed if smoking on patio. Smoke odor in rental may result in loss of deposit.
Section 10:
Excessive sand found in rental, tub or sinks will result in full forfeit of deposit! There is a hose on the front patio to rinse off sand.
Toilets: Do not put anything in toilets except toilet paper. Do NOT put toilet wipes in toilet. There will be deduction from deposit if a plumber is called out.
Section 11:
No Pets- Pets reported on premises will result in loss of full deposit.
Please remind any visitors that pets are not allowed on the property at anytime. Pets on the property, including the patios, will result in forfeit of entire deposit!
Section 12:
Parties, Noise, Alcohol use, and liquidated damages
Parties often cause disturbances, and result in the police being called. You will find a policy below regarding damages if police are called.
Please note: Anyone under the age of 21 caught with alcohol WILL be cited/arrested. Alcohol is not allowed on public property and that includes the beach. The police have a no tolerance policy.
Because of prior disturbances, the following policy has been implemented.
Most police intervention is due to a breach of the peace. When and if the police determine it necessary to arrive at the premise occupied by Guest(s) to investigate any activity by the Guest(s) or occupants authorized, either directly or by implication by Guest(s), and that activity is founded and verified, and such activity violates the peace and/or other resident's, tenant's, and/or guest's peaceful and quiet enjoyment of their property,or violates other city or county ordinances or Local, State, and/or Federal penal codes, rules, regulations, or case law, and/or necessitate any intervention due to any action or failure to act by any Guest, activities causing damage to the owner,owner's reputation, and/or business reputation, and possible cumulative damages leading to the city negating the license will result in cash damages paid by Guest(s) of $1500 as liquidated damages and not as a penalty, and completely separate and distinct from the "deposit", and can result in automatic simultaneous immediate eviction to prevent further damages to the premises, business, owners reputation in the community, and business reputation. Both parties agree that $1500 in liquidated damages will compensate owner for actual time spent to investigate and evict, speaking with witnesses, neighbors, Guest(s) and Co-Guest(s), legal consultations and legal fees, associates time, and security personnel time. This $1,500 will cover only these costs up to 5 hours total and Owner(s) have the right to pursue actual damages which exceed the 5 hours anticipated. This liquidated damages clause is only by and between the Owner and Guest(s) and any other injured party may bring their own cause of action against the Guest(s), including, but not limited to the City of Newport Beach.
Upon such violation(s),
Guest(s) will immediately surrender the property back to Owner, and without further notice, other than warnings herein agreed to be locked out of the unit until such time as the liquidated damages can be paid to Owner. Only then will Guest(s) be allowed back into the unit to remove their personal belongings.
Section 12 A:
INFORMED CONSENT AND RELEASE OF LIABILITY
Guest: A guest is well defined in California Law. Guests, for the purposes of this agreement, are individuals who occupy the property for less than 30 days and have entered into a written agreement with the owner to occupy the property prior to occupancy. Guests may have less rights than tenants in California. Some minor children or others unable to enter into agreements on their own, who are legally related to the Guest(s), may be considered Guests as per this agreement, but only if they are listed in the agreement and the Guest(s) have informed and they have consented to the agreement to the best of their abilities. When a Guest unilaterally invites another person, without prior written authorization, knowledge, or consent of the Owner, to enter the property and premises, that person(s) are not Guests and are considered trespassers. All other individuals not listed on agreement who enter the property are also considered trespassers and have no right to be on the property and may be expelled at the demand of the Guest, owner, or agents of either, at will, and immediately, should they be discovered and have no explanation or legal claim for their presence. Oftentimes, Guest's children bring other minor friends. The parents of those friends must sign releases in order to meet the requirements of being a Guest.
Owner: The owner is defined as the person who has a secured interest in the property, who pays the taxes on the property, who is otherwise responsible for the property's upkeep, maintenance, and all other associated duties related to property ownership. .
Section 13:
Any litigation shall be held in a Orange County court.
Section 14:
BIKES- There are two beach cruisers available which you are welcome to ride at your own risk. There are locks to all bikes. Although this is a safe area, bikes can disappear quickly. The bikes are your responsibility. Any injuries which occur to the tenants or guests of tenants on the bikes is not the responsibility of the owner.
A person under 18 years of age shall not operate a bicycle, or ride upon a bicycle as a passenger, upon a street, bike way, as defined in Section 890.4 of the Streets and Highways Code, or any other public bicycle path or trail unless that person is wearing a properly fitted and fastened bicycle helmet that meets the standards of the American National Standards Institute.
Also, riding bikes at night require that you have some kind of light on the bike or you MAY GET A TICKET!
Section 15:
PARKING- There is ONE parking space available. Compact cars are easiest to park in garage. Vehicles over the garage space provided dimensions will have to find parking on the street(URL HIDDEN)
Garage space provided dimensions are:
17 feet long X 9 feet wide X 6 feet tall
PLEASE always park car all the way to the front of garage!! Your car must be parked so your front bumper is aligned with your door entrance into the unit and rear bumper cannot block side door entrance into garage. There is a storage rack in the garage so if your car height does not fit you will have to park on the street. Repeated offenses with parking issues can result in deduction of deposit!!
Rollo may need to park in the garage at times to assist other units and cars not parked all the way forward block Rollo's ability to park in the garage and the upstairs tenant.
PLEASE KEEP GARAGE DOOR CLOSED AT ALL TIMES!
PLEASE KEEP CAR PARKED ALL THE WAY TO THE FRONT WALL OF THE GARAGE AT ALL TIMES!!
During your stay you are welcome to exit the garage through the door next to the washer.
Please keep the side door in garage locked. There is a combination which is the same combination for the door to enter the unit. Please ask Rollo upon check in if you have any questions.
Parking on the street in summer months can be difficult to find. Compact cars are easiest to park in garage. Cars larger than a compact may not fit in the garage space provided! You are responsible for driving a vehicle that fits into the garage space provided and you are able to park that vehicle in the garage.
If you park on the street, watch for street sweeping signs where you park. You will get a ticket if parked on a street sweeping street after 8:30 AM.
PLEASE DO NOT LEAVE YOUR CAR IN THE SHOPPING CENTER PARKING LOT WHERE JACK IN THE BOX IS AS YOUR CAR WILL BE TOWED!!
Section 16:
MAXIMUM OCCUPANCY: Do not exceed the maximum number of five occupants.
There is a $50 per day charge prior to arrival for each additional overnight guest or daytime visitors beyond five guests total. Please let me know if there will be additional visitors prior to arrival.
By signing below, I agree to all terms and conditions of this rental agreement. I have read and understood this entire agreement, including but not limited to Sections 1-16 of this rental agreement as well as read and reviewed either (SENSITIVE CONTENTS HIDDEN) (SENSITIVE CONTENTS HIDDEN) Airbnb, (URL HIDDEN) or (URL HIDDEN) web page for this unit and understand all details relating to the rental. I am over 25 years of age.
---
严格
旅程开始前的7天之前取消预订可以获得50%的退款。如果在旅程开始前7天内取消预订,该预订将不可退款。
---
---
---