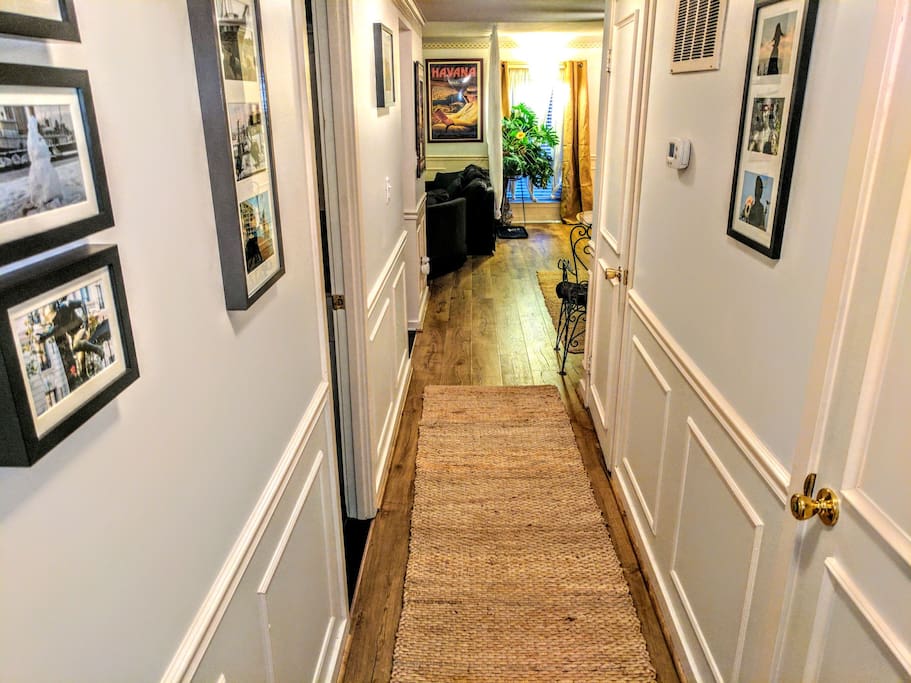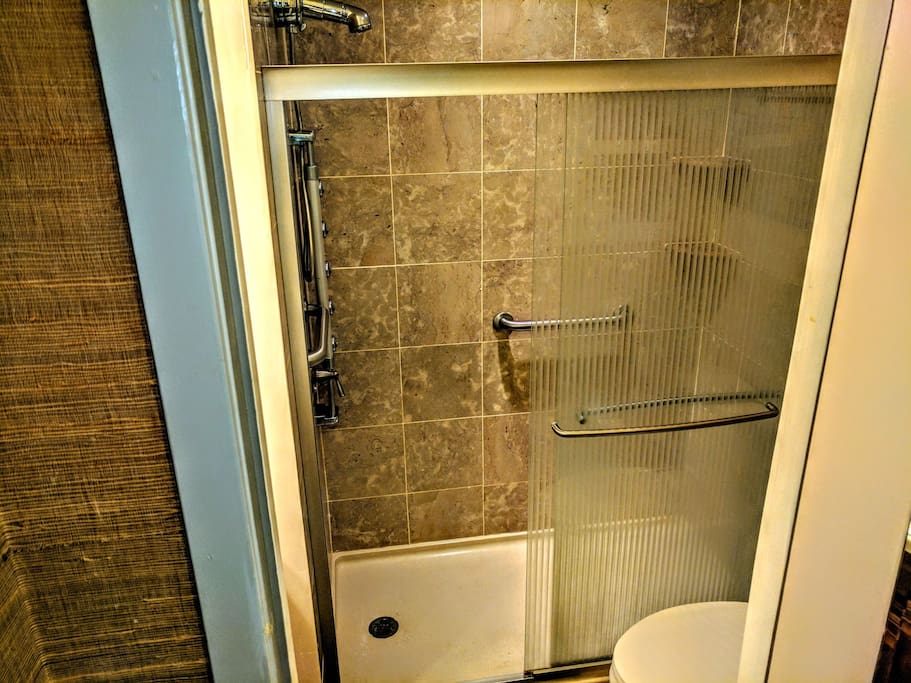 AREA: Otterbein is Inner Harbor's most Historic,Central & Established Residential Neighborhood. Walk to Convention Center;DC Trains/Light Rail, Hyatt/Sheraton Hotels; Orioles/Ravens Stadiums; HarborPLACE Restaurants/Waterfront Trail/Park; Gym; Aquarium & more.
HOME: 2 Bedrooms/2 SPA Baths/Jacuzzi Bathtub w/2 Parking. Alexa & XBox360 equipped, LGBTQ Families & Gay Friendly, but strict NO SMOKING/NO PARTIES policy.
LEARN: More on area in FREE "Baltimore Inner Harbor" Mobile App
房源
Our home is a 1,100 square feet second floor corner 2 Bedroom 2 Baths apartment with recently installed (February 2017) beautiful recycled wood laminate floors throughout the apartment; except in the kitchen, and bathrooms where imported Italian porcelain/marble tiles, and green surf style granite counter-tops were installed.
All of the photographs displayed throughout our home are of local Baltimore spots and by local photographers.
We lived in Japan for a while and fell in love with their no-shoes in the home custom. Therefore, our home is a "no-shoes" environment to help you leave the dirt and stress of the streets, the travel and the day by the front door & "Breathe/Relax". Slippers in different sizes are provided for you at the entrance of the apartment for your enjoyment and relaxation while staying with us.
The home has
- an airbnb suggested August smart lock with app and keypad accessibility but as backup in case your app does not work - a lock box is also provided,
- "the ring" doorbell camera which will alert you to anyone at the front door via motion sensor.
- In addition, and for those guests that can always use more security when they travel, you will also find a portable motion sensor alarm on top of the bar. Please keep in mind that the portable motion sensor alarm is quite sensitive, and very loud - so please read the instructions prior to its use.
In the center of the living room, you will find
- a ralph lauren inspired green/black plaid design low back down-filled sectional sofa bed with a queen mattress which also has a foam topper for greater comfort. Down moves around a lot, so you will likely need to adjust cushions to you comfort.
- A brown Alpaca rug for which no animals were destroyed, and one that was bought from low income local artisans in Peru during one of of our trips to that beautiful country,
- Also in the living room you will find a fireplace (locked for safety) with strings of small "soft white" star lights inside that are controlled via remote or can be put on a timer for ambiance.
Next to the Fireplace, you will find
- a large HDTV flat screen television with all the over the air digital local Television stations;
- an Xbox 360 with a Kinect Sensor for playing one of the 20+ video games left there for your enjoyment while staying with us, or playing your own. In addition, you can also use the Xbox 360 to access your Netflix of Amazon Video accounts, but you will need to set up your free account with Microsoft to log into the xbox if you have not already done so.
- a DVD player you can control thru the red "central" remote that has the Stanford University logo on it.
- REMEMBER to choose which source (ie, TV local over the air digital stations, Xbox, DVD or other) you would like to wath on the long Television remote.
The Master Bedroom has a
-Comfortable Queen Size Bed,
- "Alexa" virtual personal assistant for soothing music, latest news, weather and more requests on voice demand,
-2 full length mirror closets on both side of the hallway leading to its own - Private Master Bath with a Vertical Spa Shower, and
- Brand new Seat height Jacuzzi toilet, and here is also
- a foldable luggage rack for easy access to your luggage.
The Guest Bedroom has
- a new Queen Size 12" Green Tea Infused Memory Foam Mattress with an 18" Platform for luggage storage underneath, and providing you with a bed height/sitting of 30" for less stress on the knees when getting up or down to sleep,
- a reading lamp, and
- a small antique mahogany desk to set up your local office.
- a large walk-in closet.
In the guest bedroom walk-in closet you will find a 1/2" thick Extra-long (72") Eurosport Yoga/Pilates Matt and in the living room under the HDTV, you will find a collection of Yoga CDs.
In case you needed, in the guest bedroom walk-in closet you will also fin
- a portable clothes steamer, and
- an ironing board and iron.
Right outside the guest bedroom, you will find the guest bathroom with Italian porcelain tiled floor and marble tiled walls. The guest bathroom also has
- the Jacuzzi Whirlpool Bathtub with
- a second Vertical Spa Shower for your enjoyment.
- a new dual flush water conservation toilet is also found in this bathroom, - a newly installed sink fixture with a blue (non-power operated) light that runs on water power.
- Foam-comfort rugs are also provided for your comfort.
- A bathrobe hanging on the door
As you head away from the bedrooms to the dining area, you will find
- a light colored wood dining table with chairs/cushions surrounded by a sectional sofa(sofa-bed) for additional seating/reading/ipad space around the dining table and with a view of the open living room's large screen television for those of us who like to work from the dining room with TV/News in the background.
- an air purifier next to the living room's sectional sofa-bed.
This is an urban setting, and the galley kitchen with porcelain covered floors and green surf Countertops has a bay window that carries in the morning light. Nothing should be placed on the bay window.
In the kitchen for coffee and tea lovers, you will find
- a single cup coffee maker,
- a steel hot-water/tea pot,
- a French Press for the true coffee aficionados,
- Starbucks or Seattle's best ground coffee will be inside the freezer for your enjoyment. If you finish the coffee, please replace it for the next guest, and we have a Starbucks about 2 blocks away on the Inner Harbor.
The kitchen has,
- Electric Stove (IMPORTANT: Please remove the burner metal covers on top of the stove prior to turning on the stove)
- Microwave
- Dishwasher
- Memory Foam Kitchen rugs for greater comfort when cooking,
- Small rice steamer,
- A toaster,
- A small blender, and
is stocked with dishes, utensils, and pans.
Please clean your own dishes or after scraping the leftovers in the trash, please place them in the dishwasher. Do not leave dirty dishes or open food containers overnight, and please place the in the trash container or closed trash bags. A recycle plastic container is inside front entry closet. Thank you.
If you need them while your stay with us, extra blankets, and towels will be inside the guest bedroom walk-in closet.
If you like plants, and you are able to - please water the plants during your stay.
Enjoy this great city, but remember this is like every other major city in the world - always be alert to your surroundings.
房客使用权限
While there is a small garden in the back of the complex, the best views and setting is only 1 block away on the Harbor Trail by Harbor Place.
There by the Baltimore Visitor center, you will find the city's new bike share program/bikes where you can rent bikes for 1 ride or a day, and return the to other locations in the city but wear bike helmets and lights if biking at night.
To the right of the visitor center, you will find one of the newest park additions to the inner harbor with recliners, seats and picnic areas, and you can have a beautiful sunrise or sunset walk on the harbor trail that follows the harbor.
To the left of the visitor center, you will find the stores and restaurants of HarborPlace, and also access to Baltimore's water taxis, water pedal boats, and the must-see National Aquarium. Next to the Aquarium there are additional restaurants and the Harbor's Barnes and Noble with a Cafe on the second floor with outdoor seating and great views.
For more information on the area, please download the Free "Baltimore Inner Harbor" Mobile App on iTunes, (SENSITIVE CONTENTS HIDDEN) Play or Amazon.
与房客的互动
Available thru email and text for any questions you may have about the apartment or the inner harbor neighborhood.
For more information on the harbor and downtown areas prior to and during your visit, we suggest you download the Free "Baltimore Inner Harbor" Mobile App on iTunes, (SENSITIVE CONTENTS HIDDEN) Play or Amazon.
其他注意事项
IMPORTANT:
With your reservation of this home, you and all individuals staying with you or visiting the home during your stay at this property acknowledge and accept the NO LIABILITY, INDEMNIFICATION & HOLD HARMLESS agreement below. If you or any of the other guests staying with you at this property do not understand any parts of the agreement included below, you will need to let us know within 24 hours of your reservation. Specifically, the owners and hosts of the property do not assume liability for the loss, theft, damage or injury (or death) to persons or their personal property. All Guests agree to indemnify and hold the owners and hosts harmless for any liabilities, theft, damage, cost or expense whatsoever arising from or related to any claim or litigation which may arise out of or in connection with Guests' use and occupancy of the rental property, including but not limited to claims for personal injury or property damage/loss.
---
---
---
---
---
---
不适合儿童(2-12岁)入住,或不能为儿童提供安全的住宿环境
Welcome to Baltimore's Inner Harbor historic and exclusive residential neighborhood of Otterbein.
We are happy you are here and only ask that you please treat our home as you would want us to treat yours, and be considerate of our great neighbors.
This centrally located historic neighborhood and our home are a great place from which to launch a great 100% walkable visit to our great city. However, this is not a good location for any type of parties or loud events, but we can suggest some - if you are interested.
The home comes with Free Wi-Fi access; Over the Air TV Stations; Xbox with a local inventory of 20 Games; DVD; Ambiance Night Lights inside Fireplace/Hallway/Entryway and all of these are controlled by remotes that will be on your immediate left when you enter the apartment, please make sure you return all remotes to this area to make sure they are not misplaced for the next guest.
Please keep in mind that this is a NON-SMOKING home. There is no smoking of any type; including eCigarettes or similar in or near entrance area to the apartment. This is also a DRUG FREE home, so No Illegal Drugs or Substance of any type can be brought into the apartment at any time.
Enjoy your stay and aside from keeping noise to an acceptable level at all times while staying with us, and observing a quiet time of 10 pm - a couple of additional things to keep in mind during your visit:
1. Shoe-Free Home:
Please take your shoes upon entering.
There are slippers in various sizes provided at the entrance for your use and enjoyment while staying with us. After living in Japan for a few years, found this custom to make perfect sense. The street dirt and germs stay outside, not inside.
2. Jacuzzy BathTub:
After a long day of walking, sightseeing or working, please feel free to enjoy the Jacuzzy Tub and Vertical Spa Shower, but remember to:
- Put your Hair in Shower Cap so it does not get caught in the jets. There are shower caps for your use in the mirror cabinet in the same bathrooms where the jacuzzy tub is located.
- If you want to use the relaxing lavender bubble bath provided for your enjoyment, please use only a "capful" or you will have our neighbors enjoying your bubbles too - which we do not want.
- Please keep close watch on level of water and do not turn on jets until water is above the highest two yets on the rear of the tub. Put an alarm on your phone to turn water off. If you want the water very hot, you may need to turn the water on and off to let the water heater re-heat more water.
- Please do not consume any type of alcoholic beverage while in the jacuzzy tub, and do not stay in the tub for longer than 15 minutes . If you are pregnant, please consult your doctor as to whether you can use the jacuzzy tub.
- One terry cloth bathrobe is provided for your enjoyment while you are staying with us so please make sure to leave so other can enjoy it also. It will be hanging behind the door to the guest bathroom where the jacuzzy tub is found.
3. Please no eating in the bedrooms or the bathrooms.
4. Please do not leave any unattended children/minors in the apartment at anytime,
5. The fireplace is locked for the safety of all, but inside it will have remote control "soft white small star lights" for ambiance that you can turn off or leave on timer thru its remote on top of the fireplace mantel.
6. An Xbox 360 with an inventory of 20 Video Games are provided for yours and your family's enjoyment while you are staying with us. Please make sure that it is turned off when not using and that all games remain for the enjoyment of other future guests. Thank you.
7. Internet/Wi-fi Use - Please enjoy the use of the internet and wi-fi, and the password will be on top of the bar to your left as you enter the apartment. Please refrain from logging into any illegal sites; including but not limited to any sites dealing with the exploitation of human beings; women, children, animals or others. Thank you.
8. Laptops/Ipads/other electronic equipment - Please do not leave any unattended electronic devices like laptops, ipads, and other electronic equipment charging while you are away from the apartment.
9. Parking - Gated Area Behind the Apartment: Inside the apartment, immediately to your left as you enter, you will find a Rear Mirror Parking Pass and a Visitors Street Parking on the bar. PLEASE make sure to put the parking pass on your rear view mirror facing out and PARK ONLY in any UNCOVERED parking spots. FAILURE TO DO THIS can result in towing of your vehicle as they patrol the parking area. IN ADDITION, if you choose to exit via the gated area, MAKE SURE YOU WAIT until the ARM RAISES, as it takes a few seconds. IF YOU BREAK THE ARM, you will be responsible for the full costs of its repair/replacement. IF YOU LOOSE THE REAR VIEW PARKING PASS or fail to return to the apartment prior to departing Baltimore, you will be responsible for its replacement cost of $350.
10. Parking - Visitor Street Parking: You will find the visitors pass in same area as the Rear View Mirror Pass detailed above, and this pass is to park in the street as per the zone on the parking only. PLEASE MAKE sure to park only in the zone designated in the pass, and MAKE SURE to display facing up on the drivers side of the vehicle.
11. HOUSE ALARM: There is a house alarm, but it will be off and needs to remain off while you are staying with us - so please do not touch the panel in the entry hall to avoid setting it off. HOWEVER, for guests that desire greater sense of security when traveling, you will find a portable motion sensor alarm on the bar table immediately to the left as you enter the apartment. Feel free to use but READ instructions left next to it as it is very sensitive in its field of view. If you would like to use, one suggested area is right behind front door in between entry hall closet and outside wall so its field is limited to prevent false alarms.
And above all - Hope you ENJOY Baltimore's Inner Harbor and the historic neighborhood of Otterbein as much as we do, so explore and remember you can just about WALK anywhere in the Inner Harbor, Downtown and Federal Hill from here,
Download the free "Baltimore Inner Harbor" mobile app on itunes, gggle play or amazon app stores to get more information on all that Baltimore's Inner Harbor has to offer.
---
严格
旅程开始前的7天之前取消预订可以获得50%的退款。如果在旅程开始前7天内取消预订,该预订将不可退款。
---
---
最少住宿5晚。
从2017年9月01日 - 2017年9月12日起最少住宿7晚。
---
This is a well located place for conferences in the downtown Baltimore area. The apartment is easy walking distance to all venues, grocery, sites, and night life. Great place to watch a ball game. I was able to do business in Baltimore and D.C. due to the close Camden rail line which goes directly to the capital. The hosts were helpful and communicated well.
---
Very close to the convention center / inner harbor. I could literally come back for lunch in between talks. Ideal location for conference attendees as well as baltimore tourists. The immediate neighborhood is very nice / quiet and but its 5 minutes away from the lively area, which is fantastic. Check in very easy, apt is in very good condition as well. Highly recommended
---
I travel extensively for work, and in Baltimore for business every month. This is my second time at this property. Because I am in Baltimore a lot, I have had the chance to stay at most of the major hotels in the harbor, but regardless of how great the hotel staff is, a hotel is a hotel, and this place is a home. The neighbors are super quiet, felt very safe in this area and aside from the central inner harbor location, the area is historic and very quaint. My experience during my first stay here a few months ago was excellent, and this time it was the same. The place is two short blocks from the harbor and I am a runner, so love being able to get out of bed and into my run on the harbor, and then walk to all my appointments. The hosts are very responsive, the place is super clean, comfortable, quiet and they have continued to leave both regular & decaf Starbucks ground coffee in the frig - something very important to me when on the road. Since my last stay, they have also added a new queen size memory foam mattress in the guest bedroom that I loved because it reminds me of ours at home, and they also added new teas & a new stainless steel tea pot that I like having late at night. On my last day, the weather was so great that I over did it in my run, and the jacuzzy whirlpool tub came in handy on this trip. In short, if it's available on my next trip, I will be back again.
---
We live in Baltimore (Gus) & Orlando(Pam), and way too often in airports and planes for work. We live in and host airbnb homes in Baltimore's Inner Harbor and in Orlando near Universal Studios.

As Hosts:
We are friendly, clean, non-smokers and respectful hosts who appreciate your visit, but also understands and values yours and your family's privacy and limited time in our wonderful city - so there if you need us, but this is your time in this great city.

As Guests:
We are very independent and love to walk or bike to get to know the places and the communities we travel to.

Enjoy your travels
语言:
English、Español、Français、Português