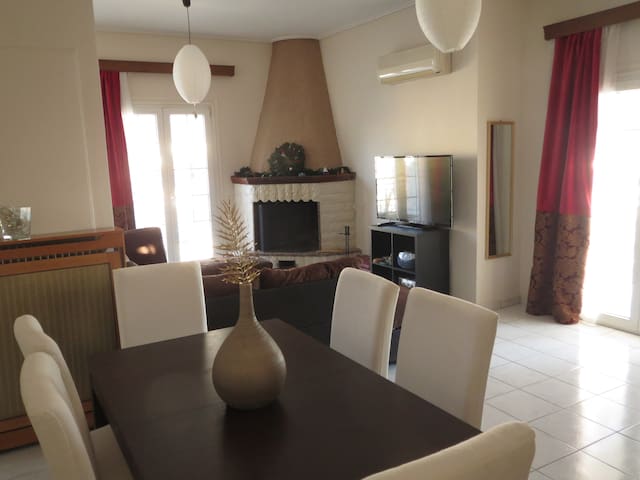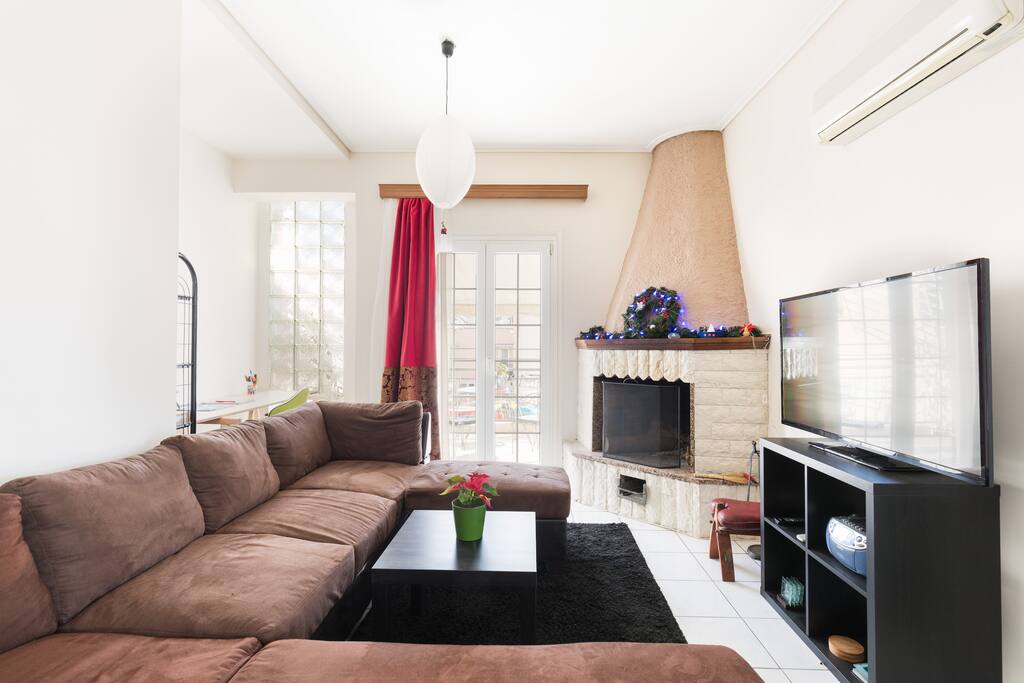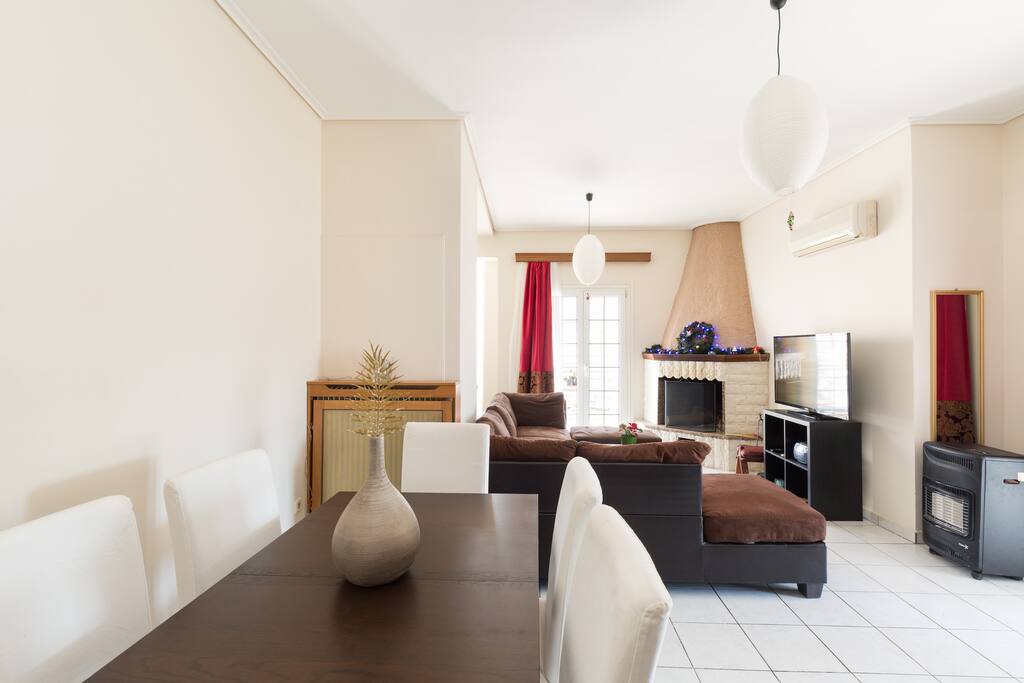 此房源的描述已由谷歌翻译从英语翻译成您的语言,但谷歌翻译并不能保证翻译的准确性。
房源
它是一个非常宽敞的三卧室顶层公寓,拥有大型私人风格,拥有360度的雅典景观。烟囱和可爱而轻松的社区在雅典的心脏地带加成了独特的体验!伟大的朋友谁想要放松后,一个艰苦的希腊之夜,出现在家庭谁想要的空间和舒适,超级罗马对夫妇想要度过一些精英质量的假期!不用谢..
房客使用权限
客人可以轻松地到达酒店的地铁或火车,即使是出租车也很容易通过主要的高速方式访问。不需要担心地图和gerting lost.The邻里有可爱的当地酒吧,希腊酒馆,早餐的地方正常价格不是那些奥奇旅游的!
---
Anyone wanting to stay out of the city center I would recommend this apartment. We used Uber so Im not sure how good the location is if you are reliant on public transport. We did enjoy the local restaurants and shops if you want to walk around the area. The place was clean and the accommodation is adequate for 4 adults and children. I have not stayed anywhere else in Athens so cannot compare, but I did find it good value for money.
Hello Anne thanks for your comments! the apartment is in the city center of Athens but outside the typical hustle and bustle of the city center. We can have the Acropolis as reference, located in few minutes to the best spots. By public transport you can reach the main spots of the city in few minutes but by uber is a very good choice. Good to know you enjoy in your stay, you and your family wil be welcome always :)
---
Wir waren sehr zufriedn mit der Wohnung von Raul. Die Wohnung war echt schön und in jedem Zimmer gab es einen Balkon. Außerdem ist es sehr zentral, sodass man schnell in das Zentrum von Athen kommt. Die Wohnung ist klimatisiert und das war echt super, denn bei den Temperaturen wären wir ohne Klimaanlage wirklich verloren gewesen. Was ich auch gut fand war, dass Raul immer sehr schnell auf die Mails antwortet, das war wirklich super! Bei unserem Check-In konnte Raul persönlich nicht dabei sein, aber das war nicht schlimm, denn eine Frendin von Raul hat das gemacht und sie war super lieb und hilfsbereit. Außerdem war das für den Preis wirklich super! Aufenthalt im August 2017
---
Хорошая квартира с великолепными балконами! На кухне есть все, что нужно. Нет необходимости бежать за водой в магазин - в квартире вода фильтрованная, для приготовления еды в самый раз. Немного жарковато, но в каждой комнате кондиционеры. Рауль и его друзья были очень добры и внимательны. Отвечали на все вопросы очень подробно, охотно рассказывали о всех особенностях жизни в Афинах. Отдельно стоит сказать о дороге в аэропорт. Наш самолет вылетал в шесть утра. Метро не работает, до автобуса далеко, такси непонятно как вызвать. Друзья Рауля помогли нам и мы с комфортом и недорого доехали в нужное время в аэропорт! Такая отзывчивость редко встречается, спасибо вам.
---
Raul was a good host in answering questions promptly and providing information on the area. But there were some communication issues dealing with the apartment that caused discomfort and frustration. A few days prior to our arrival, after finding out that the temperature was going to be between 44-46C, I inquired and found that air conditioning units were not available in all the rooms. Raul graciously agreed to add two additional units to the bedrooms. I asked him on several occasions if the units would be installed prior to our arrival and he stated they would. I suggested that if they were not going to be installed, we had a contingency plan to get a hotel until the installation was complete. When we arrived, the units were not installed, and after waiting seven hours, we had to get a hotel which put a damper on our first day because we could have made better arrangements had Raul communicated more effectively concerning the installation. He initially suggested that we all sleep in the one room that already had an air conditioning unit which was an unacceptable option. He did not offer to pay for the room or refund the day that we missed. He eventually offered to give us a free extra night, however that did not work with our schedule (since we were on holiday from other countries). Again, a better option would have been to pay for at least half of the cost of the hotel room or refund the night we missed which we asked and he declined. Overall, the housing was adequate. The bathrooms are small, only two of the beds were comfortable even though it's a 3 bedroom apartment. The bedroom off the kitchen is a sofa bed which was extremely uncomfortable. The living room sofa is broken and uncomfortable, as well. Not located in the best neighborhood, the nearest metro is about a 15 minute walk. There is a market about 2 blocks away and a mini-market on the corner but there are not many restaurants or bars in the area. The wifi was pretty good and the elevator was a plus. The apartment is set up as if no one lives there so amenities are limited (pots, pans, toilet paper, towels, fridge is empty, very few kitchen essentials). If you're seeking basic accommodations to tour Athens with not much concern for comfort, then this is a good option.
Thanks for the positive things you wrote about me and the apartment I appreciate it. Always I try to do the best for all guests and offer them everything they request except from money. About the other comments, you are free to write everything you want even lies but is not good, The human being by nature when feels frustated for some reason has the necessity to express that so I understand, although it is not right. I will explain what happen and I can show the evidence with the messages we had before your arrival. Four days before the arrival I could manage to buy two new air conditioners and found somebody to install them (paying extra money, due to summer season and the express installation). We agree that they will come to install the machines first or second day of their stay. Two days later = two days before the arrival Tisha changed her mind and told me if the air conditioners are not installed before their arrival they will book a hotel for first night and I said to her okay, I will try my best but it doesnt depend on me. Finally they booked a 5 star hotel far from the apartment where I went to give to them the keys because they forgot them inside of the flat. (Around 200 euros per night, the apartment it cost around 50 euros per night…May be if they had booked a normal place at a normal price I would have paid it, but that wasn´t the case…). The same day of their arrival I had a check out of a family of 7 people and everything was ready in the apartment for check in. I talked with them after check out and their told me that everything was very good, they slept in the sofas which are not broken and every room has three memory foam matress one of the best in the market. In the smallest room there is a sofa bed only as a bed base (there is a memory foam matress on top as well). The biggest room has a bed of 2 meters x 2 meters where there was already installed one of the two air conditioners of the flat and sometimes they sleep 3 people without problems. As you can see in the pictures there were two air conditioners, one in the living room and one in the biggest room. In the other two rooms there were fans before and nobody complained about the heat. I could leave it as it was to avoid them to go to another place but they didn´t want to. Anyway they would complain about the heat because it was extreme so I thouht is better for them and the confort of the future guests to proceed with their demand. The apartment is located in a nice and safe neighborhood in the city center of Athens with all facilities around the corner and few minutes walking you can find good bars and restaurants. Less than 5 minutes walking you can find Attiki the nearest metro (red line) and train (green line). Obiously if you get lost you can take 15 minutes or more…but is very easy to find it. Here in Greece the people is very nice and most of them speaks English so its better to ask. In 30 minutes walking you are in the Acropolis, the most common spot of the city. The apartment has everything inside, products for the washing machine, shower gel and champu, towels, sheets, blankets, toilet paper, light bulbs in case they break, all information about the city center, tours, Greek food delivery information, guides of Greece and the Greek islands, a sim card with a Greek phone number, straws, spoons, forks, knives, colander, pots, pans, plates, glasses, kitchen paper, cooking spices, salt, sugar, oil, coffee tassimo with a coffee machine, normal coffee, dishwasher, oven, microwave, grill toaster, kettle…all the nesessary stuff to cook and that a house needs. The fridge is supposed to be empty …each one has his preferences in food and there are many options for each one to full the fridge with his needs. The truth is that now the apartment is better than before and the guests will be much more comfortable. I wish you all the best Tisha and thanks for your stay.
---