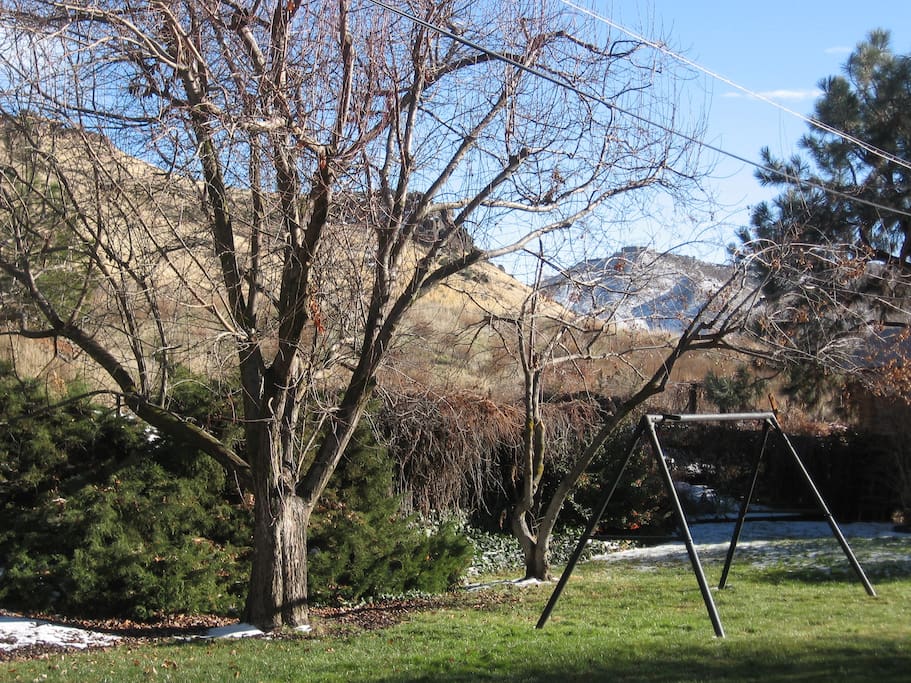 Set in Boise's popular East End, off Warm Springs Ave, this lovely 1-level home is ideal for people travelling for business or pleasure--or both! About 5 min from downtown, St. Luke's, BSU; and 15 from the airport. Our beautiful, verdant backyard abuts Castle Rock and Table Rock foothills trails. A few blocks away are the Greenbelt, neighborhood grocery, cafe, parks, Old Pen, Botanical Gardens, golf course. Guests enjoy comfortable furnishings with touches of elegance. We hope you'll visit!
房源
You will enjoy bright, comfortable, and quiet rooms with lots of windows (and plantation shutters). 2 bedrooms, 2 full bathrooms, a living room, a study, full kitchen, dining area, lovely covered outside patio, and yard with views of Castle Rock and Table Rock.
Our well-cared for, mid-century ranch home has been in our family since 1958, and I am happy to have a chance to share it with Air BNB travelers. During the winter you'll appreciate our luxurious radiant floor heat, and in the hot months you'll cool off with our new central A/C. Also new is an eco-friendly, on-demand tankless water heater, as well as new appliances.
The verdant backyard has views of Castle Rock and Table Rock, and it flanks Boise's famous foothills and Ridges to River trail system. Relax in our lovely garden swings and delightful covered back patio. We especially love the Castle Rock Reserve behind our home--my mother was a primary leader in the effort to secure this beautiful area as open space!
Two HD TVs are available--one with Roku and DVD/BluRay player and one with Cable One channels.
We're set up well for business travelers, providing WiFi and space for your laptop.

The kitchen is well-equipped including complimentary coffee, tea, cocoa, condiments, and basic spices. Also available for people who prefer cooking to dining out: pots, pans, crockpot, electric fry pan, rice cooker, drip coffee maker, French press coffee maker, coffee grinder, toaster, blender, hand mixer, citrus juicer, salad spinner, Dutch oven baking dish, and more. We have a nice set of Corelle dishes for you, as well as flatware, utensils, and mixing bowls. BBQ, too. I have an outdoor picnic basket and blanket for your enjoyment, too.
Enjoy our brand new kitchen and utility room appliances: Bosch dishwasher, GE stove/oven, GE washer/dryer. Our new GE fridge is coming in a few days. Detergent provided.
We also just installed an eco-friendly, on-demand tankless water heater!
Enjoy our 2 newly-refurbished cruiser bikes (with foot breaks) to get around the neighborhood, downtown, and the Boise River Greenbelt. A yoga mat is also available.
Our home is inclusive and welcoming--a friendly environment for people of all shapes, sizes, colors, religions, and sexuality.
房客使用权限
Guests will have the entire space all to themselves (except storage and garage): 2 bedrooms, 2 full bathrooms, kitchen, dining area, living room, study/reading room, utility room, yard, and patio space.
We have plenty of parking available: driveway, street parking, and even some off-street parking across the street at our other home for special circumstances. We'll discuss your needs and make arrangements for you.
You will use a front door keypad with a code generated just for you and sent to you the morning of your arrival.
与房客的互动
I am available to help throughout your stay, and will promptly respond to your needs. I will be just a few houses down from this Air BNB space, so I can be there in a jiffy. During the warm months, I will be spending a little time most days tending to our vegetable garden in the backyard.
其他注意事项
We are dog friendly, but dogs who bark often and who dig are not welcome. See our rules section for more details about pet stays.
Please note that we do not have a telephone land-line available. You will want to bring your own phone.
---
---
---
---
不适合儿童(0-12岁)入住,或不能为儿童提供安全的住宿环境
In the spirit of open and clear Air BNB communication, we do have rules for our cherished family home, to help make sure we are on the same page with you in terms of what it means to be respectful of our home and neighborhood!
- While we aren't currently set up for smaller kids, teenagers
are welcome! However, please do not leave them alone without a parent to supervise. And please let me know in advance.
- Prefer no shoes in the house, please. During the colder months, you'll enjoy the warm floors heated with "luxurious radiant heat." If your feet really do feel and perform better in shoes, that's all right, too. Please just let me know, be sure your shoes are clean, and use the shoe booties provided!
- Thank you for honoring our quiet family neighborhood. Please be respectful during the days and evenings. And, after 10 pm, no loud music/loud TV/loud outside conversations, and no frequent or noisy comings and goings.
- Do not use the living room fireplace.
- In addition to no smoking (of anything, including vaping) in the house, no smoking of anything on the back patio or front porch. If you smoke in the yard, be sure to put out your cigarettes in the small can provided (to reduce the risk of foothills fires).
- No fireworks. No aerial fireworks and no other types of fireworks. Due to fire hazard living next to the foothills, no fireworks of any kind on the property (front and back yards, driveway), in the street, or in the adjacent foothills and trails.
- We have a gas barbeque on the outdoor patio for you to use. But, no candles, charcoal fires, open fires, or other flame-burning lamps or stoves--outside or inside. No incense.
- At the end of your stay, please take your own personal items with you or throw them away (including unused open containers of food, toiletries, etc.). And please leave my personal items and furnishings in the home!
- Do not take indoor furniture outside, and do not bring outdoor furniture inside. Please do not move furniture around in the house. And please don't move the patio furniture into the yard. Also, none of your own furniture and furnishings inside or outside, please. Collapsible camp chairs are OK on the back patios.
- Please keep all screen doors and window screens closed when not using them. Because we are close to the Boise foothills, rodents, snakes, and bugs are frequent visitors to the yard. Keep them out by always keeping the front door closed except when entering and leaving, and by keeping all screens closed! It's tempting to leave the patio door screen open, but please don't!
- Thank you for eating meals in the dining area and kitchen (or outside patio), and be careful with drinks in the living and TV rooms. No food--only water--in the bedrooms.
- I prefer that food not be kept out on the counters. Best to seal all food well and store it in the fridge. Please keep fruit in the fridge, too. We don't have bugs and we don't want them! The pantry has room for you to store any new, unopened packages of food that don't require refrigeration.
- You may park in the driveway and in the street. If you park in the street, park only in front of our house, and do not block our drive way or our neighbor's driveways. If your vehicle happens to leak oil, please park in the street instead of the driveway. Our neighborhood's general practice is to park in front of our own house rather than in front of others' homes.
So, for special circumstances or when you have more than 2 cars, we can discuss your use of our additional off-street parking at our other home across the street.
- We do not have a telephone landline, so you'll want to bring your cell phone.
- No sports gear in the house or on the grass. Please keep your bikes, skis, and other sports gear in/on your vehicle, or on the driveway, back patio, or side sidewalk.
- If you have tools, machinery, or other equipment with you, those kinds of things need to stay in your vehicle.
- If you are moving here, and travelling with more than the usual travel luggage, your "moving stuff" would need to be kept elsewhere. If you're travelling with a U-Haul-type truck or trailer, we can talk about using our other off-street parking area.
- While parties and events aren't allowed, 2 or 3 visitors during the day or evening are welcome. Since I keep the base price per night low to reflect that most reservations are just 1 or 2 people, anyone spending the night after the first 2 people need to be reflected in the AirBNB reservation and will be charged a small additional fee. 4 people per night is our maximum, for your comfort!
- Our Pet-Friendly Rules (Dogs only!):
• We do love dogs, but we love keeping our home clean and damage-free even more! So we have rules specific to pets.
• Dogs are welcome only if agreed to prior to booking and when the additional pet fee is paid. I will charge you the pet fee through AirBNB's "resolution center" which is set up for asking for additional fees. The fee will be set by me taking into consideration your pet's weight, number of pets, and length of stay.
• One medium or large dog per reservation, or two small dogs, max.
• Pets must be housetrained.
• Barking, digging, chewing, or aggressive dogs can't stay.
• Leashes are required in the front yard and throughout the neighborhood. Leashes aren't required in the back, but check the fence first to make sure your pup can't wriggle out.
• Always supervise your dog, inside or outside. If left alone without an adult, your dog must be crated with water (in the utility room, or outside and in the shade if it's below 90 degrees F) and only for 2 hours max.
• Do not leave the patio door open for your pet to come and go from the house as s/he pleases. Bugs, foothills rodents, and snakes can get in! Do not leave the glass door open and the screen closed, either, because we don't want dogs leaning on/scratching on the screen door to get in. If your pet goes outside, please go outside with him or her.
• Thank you for cleaning up after your pup. Bags are in the utility room for cleaning up the yard. For the trails, you'll find bag stations at the Coston St. and Quarry View trailheads.
• If your pet gets on furniture and beds, cover all furniture and bedding with the towels/ sheets stored on the floor of the hall closet. When you leave, put those in the utility room so I can wash them.
• If you are a couple (with a pet) and you're not sleeping in the twin bedroom, keep that door closed to limit pet hair in that room.
• If your pet has an accident inside, call me right away so I can have it tended to.
• Any stains or damage will be taken out of your usual security deposit.
---
---
---
This entire home is fully remodeled with many excellent amenities and appliances we could use. There is a full kitchen. The host, Brenda, went out of her way to assure that we had a wonderful time. She leaves lots of information, and there were special touches that made our stay easy (like two bikes to ride, lots of wonderful fruit, coffee and snacks, etc.). Some might think the bathrooms are a bit small (older homes are like that). My wife found the queen bed too hard, but loved the single bed in the second bedroom. The area is very beautiful (we stayed when the leaves were turning) and near both the Boise river and BSU.
---
This is an awesome place. Great location! We went to Boise for parents weekend at BSU and it was very convenient to everything. It was rainy so we look forward to another stay where we can enjoy the many trails and the Greenbelt. Brenda was an excellent host and provided everything we needed plus more.
---
BOOK this place immediately! Every day this goes unbooked someone is really missing out on a great experience. This is the GOLD standard of how to run an Airbnb place. Whether you're visiting Boise on a business trip or like us, a family of 4, on a week long vacation this place has everything. All we brought were our cloths and toothbrushes. We stayed here a whole week without having to buy anything other than food. Brenda the owner must have been a hotel manager in a previous life because this is the most comfortable, homely feeling airbnb we've stayed at and we've been all over the USA and Europe using Airbnb. It's so hard to create the feeling of a second home that feels like its yours but Brenda did it. This place has EVERYTHING. It feels like it's always been your house. You feel like you live here, and belong right here, in this neighborhood, in this house. - 100% spotless and clean. - Location. Location. Location. And this place has it. Right by the foothills, a hike away from Tablerock view point, 10 min walk to downtown. No noise. No traffic. Sleep with the windows open kind of place. - Lots of parking of course, it's a quiet little neighborhood. - Friendly noiseless quiet neighbors. - No dogs barking. No traffic noise. Perfect for light sleepers. - Brenda has everything prepared, and little directions and note cards have been placed everywhere to let you know where to find things. From towels, to toasters, to silverware, to shampoo, this place has everything. Washer and Dryer and even 2 bikes. - We were a family of 4 and all we brought were our cloths and toothbrushes, and we lived at this place for a week without having to take a single trip to the store to buy something. The only thing we bought was food. - Crime free quiet neighborhood. This is literally the Gold Standard of how to run an Airbnb. Thanks Brenda!
---
I am fortunate to have grown up right here in beautiful Boise, Idaho and I attended college at the University of Oregon in Eugene, Oregon. I then lived in enchanting Switzerland for nearly a decade before returning home to Boise.

My favorite travel destinations include anywhere in the northwestern and southwestern United States (especially Idaho, Oregon, and Arizona), Hawaii, Switzerland, Egypt, and China. If I could go anywhere tomorrow, it might be Bali or New Zealand!

Lately I've really enjoyed preparing and signing up to host Airbnb travelers!
My other favorite things are my family and friends, walking along our Boise foothills and greenbelt, playing with my favorite puppy, and watching movies.

I will do all I can to assure that your stay at our home is just what you hoped for! I'll be staying just a few doors down while you're renting our home, so I'll be available to help make you comfortable without hovering over you the whole time! :-)

As a trial run prior to hosting paying Airbnb guests, our neighbors' family stayed here for a family reunion. They travel on Airbnb, so they gave me some helpful input to make your experience a great one. Their comments included: "Such a warm, cozy home w/ all the amenities!" "A home away from home!" "Great stay! Super comfortable, especially with the radiant floor heat." "Most [used] rooms were: 1) Bedrooms--cozy, clean and quiet. Great! 2) Baths--clean and fancy. Towels & tissue perfect! 3) Study--relaxation!" "Floor heat was awesome!"


语言:
English