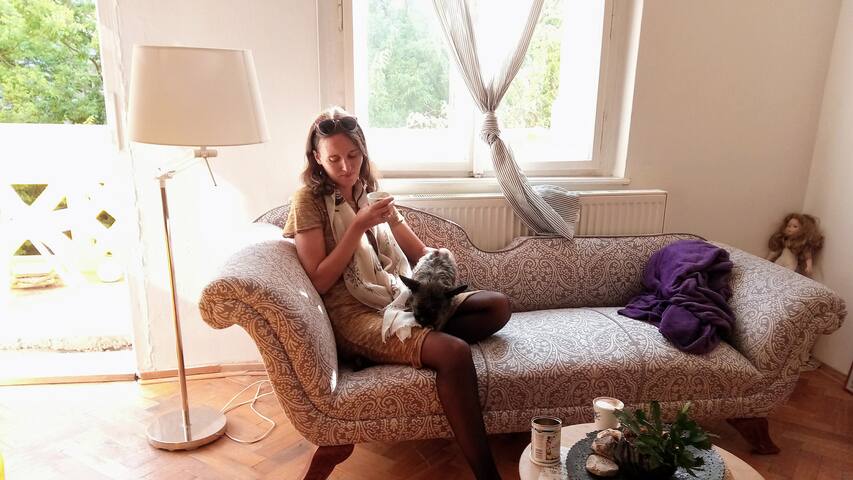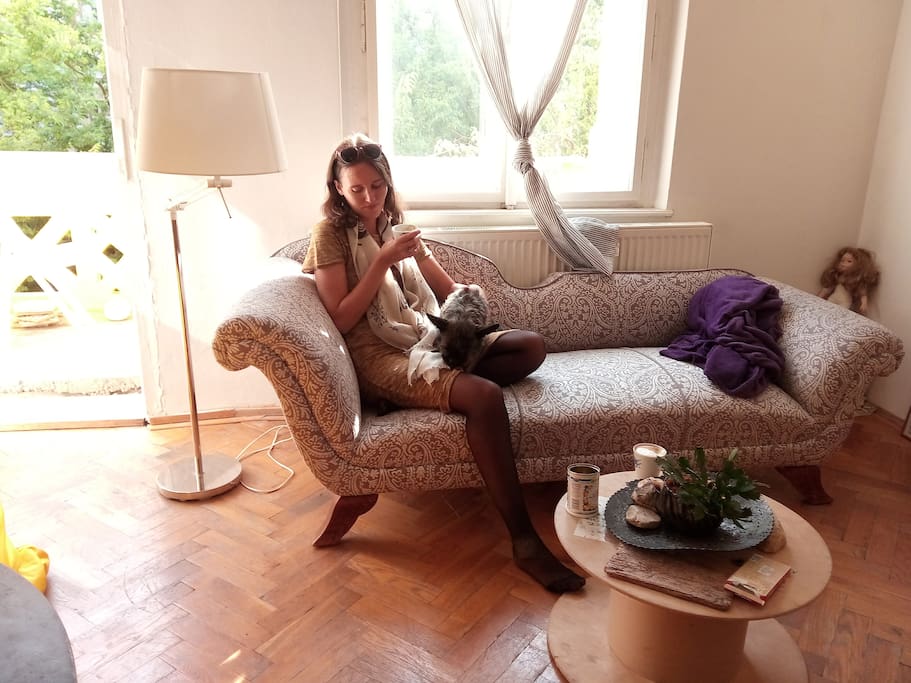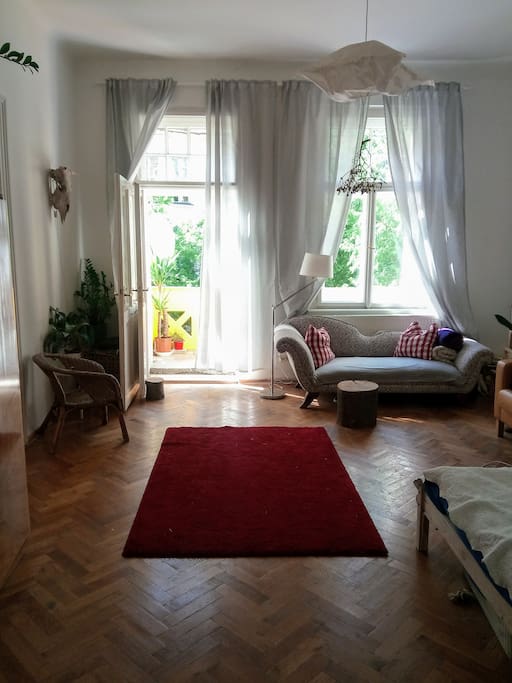 Cosy apartment with soul of Prague with balcony
Cosy flat, located in resident area well comunicated with city center - by tram 15 minits. Many parks, coffees and bars around.
We love our flat. Its light, clean, with little balcony, furnished in kind of bohemian style.
Vinohrady is on of the most required quartes in Prague.
Its arquitecture from beginning of the 20th century is charming, lot of parks are there and its location near to the downtown makes it very popular between well situated local people and expats as well, not so much turists are here, so you can enjoy more the authentic spirit of Prague and it people.
Number of cosy cafes, places to eat a easy going atmosphere will make you love it too.
If you are comming by plane (airport=LETIŠTE):
taking a taxi shoud not be more than 500 CZK, cca 40 min ride
or you can take airportbus or bus number 119, wich takes you to metro/subway line A stop Veleslavín, take the metro and get out at the stop Jiřího z Poděbrad (once leaving the metro area the stairs exit Vinohradská, Čechovi sady), cross the park and it is within 5 blcks. (cca 1 hour)
Comming by train to central trainstation (HLAVNÍ NÁDRAŽÍ):
take metro line C (direction Háje) drop off at I.P. Pavlova - 2 stops a nd change to tram 22, 4 (direction up the hill) to the stop JANA MASARYKA or tram 10, 16 (direction up the hill) to the stop VINOHRADSKÁ VODÁRNA, than crossing the park its 3 mins.
Comming to the central bus station FLORENC ("autobusové nadraží")
take bus 135 (terminates at florenc) and it takes you directly to the stop JANA MASARYKA (cc 5-6 stops) than its 4 mins walk
How to pay the city transport?
if you plan to travell more you can buy a pass for 2-3 days
if you plan to walk more you may not need to buy the pass and you can buy single tickets (reachable at metro or small chinees shops or at tabacoshops) 24CZK is valid for 30 min (you can free change tram to metro etc) or 32CZK ticket valid for 90mins, from out place you are ok with th 24 CZK ticket to travell to all places in the center.
Be aware: you need to stamp the ticket when entering the bus, tram, metro - if it is not stamped it is not valid (even the 2-3 days pass)
Our flat is in the 2nd flor on your right handside.
HOW TO REACH THE CITY CENTER
by tram 22 from the stop JANA MASARYKA
by merto/subway - stop JIŘÍHO Z PODĚBRAD (line A) direction Motol/Veleslavín (cca 4 stops)
RECOMMENDED
Take the tram 22 from the stop JANA MASARYKA (4mins walk) and it take you throu all Prague city center till the Prague castel :)
I recommend to make this tramtour to get oriented in the city. Drop off at PRAŽSKÝ HRAD (Prague Castel) and than you can do sight seeing just walking all way down throu Pargiue Castle, Little Side, crossing the river by the famous Charles Bridge and finish your tour in the Old Town square Than you can comme back to our place by metro line A (green, direction Hostivař) from the stop STAROMĚSTSKÉ NÁMĚSTÍ getting off at the station JIŘÍHO Z PODĚBRAD
---
Dasa's apartment, family and neighbourhood have been a real blast. I have been missing these very genuine Airbnb experiences for a while, which is very welcome in a touristy city like Prague. The flat is really cosy, Dasa is an always smiling person and combined with her partner, they have been resourceful persons in term of places to go, to eat and to visit. The neighbourhood is quite hip when you pay a bit attention to the details, a coffee shop here and there, some genuine food, and even a wine shop selling the wine produced on the very same hill in Prague. Some locations are definitely more central but if you want a more realistic viewpoint on what the life of Prague citizens is, Dasa's place is definitely the one to stay at :-)
---
Hi,
Im Dasa, I love travelling and meeting new people.
I speak spanish, german and english. We are very happy at our place and I hope you will also enjoy it. Im working for an NGO and teaching spanish
Im keen on history of Prague. Im ready to give you all information and tips you need for you stay.

语言:
Deutsch、English、Español、Čeština