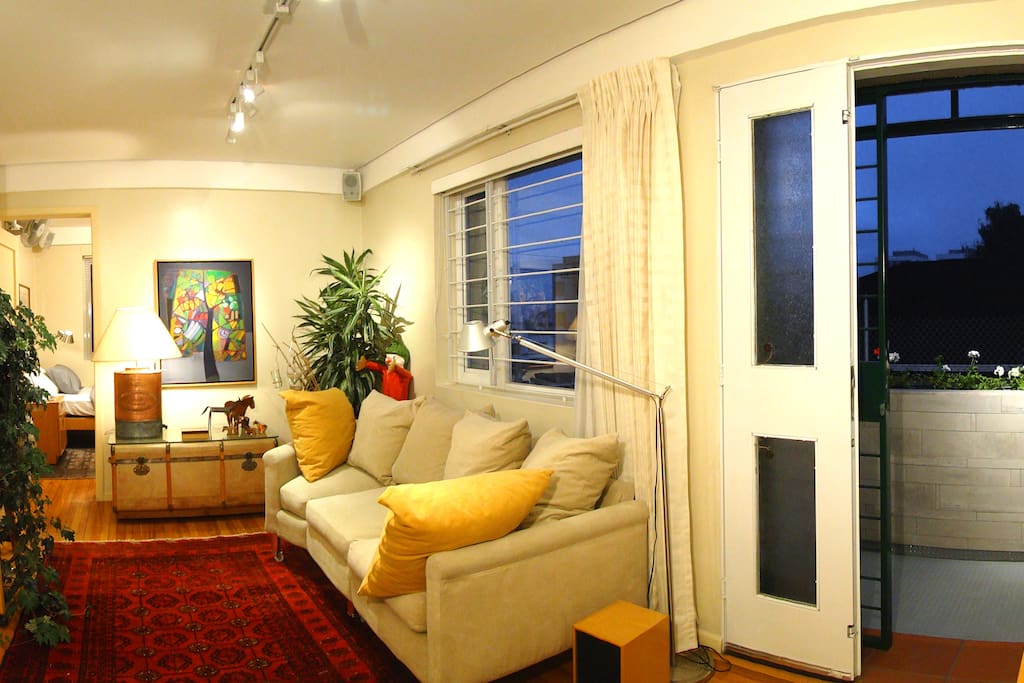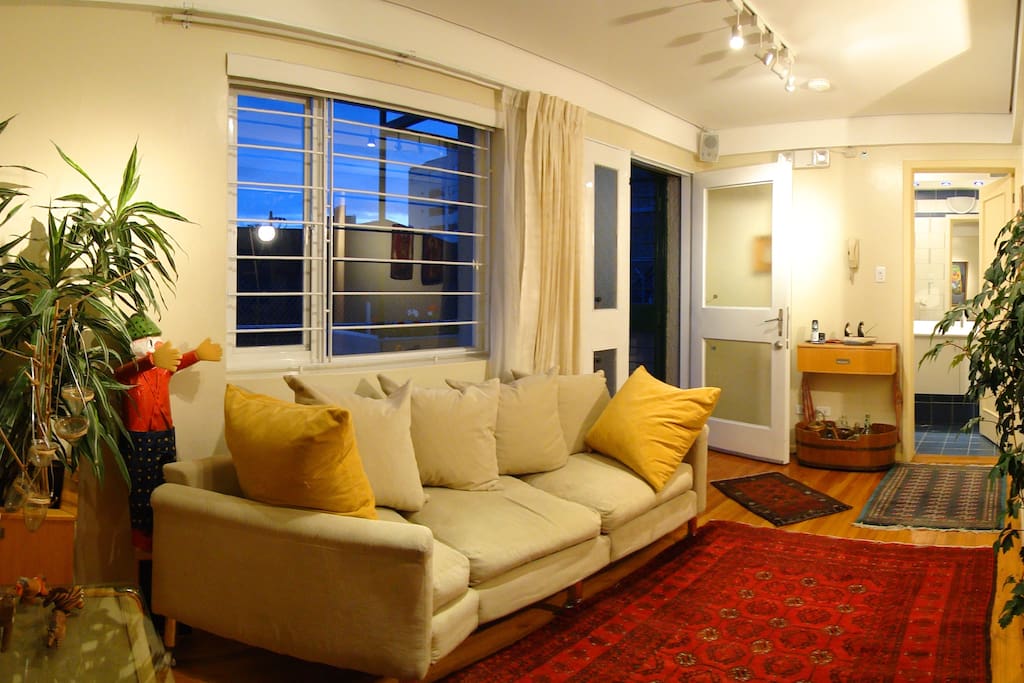 We are in "La Floresta" Quito´s trendy "new gastronomic, artistic and cultural district"
Eco-friendly practices are part of our philosophy and daily activities
In our vacation-rental apartment, family history and contemporary comfort breathe together; thanks to a careful choice of furnishings and accessories that portray a distinctive and appealing atmosphere of warmth and subtle modern elegance
For outdoor relax and enjoyment there´s a well-equipped pergola, adjacent to a nicely-tended garden
房源
OUR MISSION.-
Honoring "hospitality", as one of our family´s traditions, we open the doors of our Quito city house and welcome guests. While on our premises, we would like to contribute for a pleasant residence and unique living experience.
OUR VISION.-
It is our intention that, whether you are on a long stay or a short visit, our apartment becomes "your city base" while exploring: "La Floresta´s" neighborhood appealing attractions, Quito´s city enchanting marvels and/or Ecuador´s country natural diversity.
房客使用权限
HOUSE, SUITE AND GARDEN PROFILE.-
The 60´s one-family house, in the 90´s, was carefully remodeled /transformed into three independent living-units. The built additions maintain the overall exterior geometry and the interiors´ original charm and personality. Between 2015 and 2016 the house was fully renovated and enhanced to the present condition; the apartment is located on the upper floor.
During the renovation process: family history, traditions, jungle farm life, local up-bringing, education with-in the country and abroad (as an architect) and world travels; were a strong influence and source of inspiration. The continuity of this heritage is present throughout the apartment´s interior with a graceful display of: recycled antiques, family heirlooms, lush indoor plants, custom-made furniture (honey colored woods) and local craftsmen works. As a counterpart a selection of quality: modern furniture, appliances, accessories, art work and travel souvenirs complete the decoration. Altogether they portray a distinctive and appealing atmosphere of warmth, subtle elegance and contemporary comfort.
For our daily use we grow green fresh ingredients in the front garden and terrace. Colorful, fragrant (aromatic, cooking and medicinal) herbs and flowers are conveniently close at-hand. To enjoy the greenery, a well-furnished open terrace-pergola, overlooks the garden and the street. Both, garden and pergola are intended as shared spaces for guests´ interaction, enjoyment and contact with nature.
ECO-FRIENDLY PRACTICES.-
While remodeling / renovating our house we have:
- Kept original eucalyptus hard-wood and hydraulic-tile floors.
- Reused /recycled existing doors, furniture and wood pieces.
- Installed weather-tight windows.
Daily/weekly we:
- Recycle kitchen organic-waste; in our mini-garden make compost, used as natural fertilizer.
- Save water, with aerators installed in shower heads and faucets together with water-saving toilets and retrofitted toilet tanks.
- Water with drip-irrigation: garden and planters.
- Have changed to LED light bulbs where possible.
- Use solar energy panels to heat water.
- Support local fauna by tending to our garden as a source of: natural food, shelter and nesting areas for birds and pollinators.
- Facilitate waste recycling, by providing two kinds of waste baskets.
The neighborhood is well-equipped and offers within walking-distance:
- Public transportation along major avenues: taxis (on the street or by phone call) and a combination of trolley -bus network (1 block), throughout the city (with direct connections to airport and (N/ S)) city main bus terminals.
- Bicycle facilities: routes, repair shops and rentals.
- Conveniently located commercial areas, organic farmer´s market, stores, services and urban amenities.
APARTMENT CONTENTS AND FURNISHINGS.-
The (87,50 sq. m./ 941.50 sq. ft.) well-furnished apartment has:
- Living room accommodates five people seated.
- Dining room seats six people, china and silverware for six places.
- Kitchen well equipped: double sink, electric stove with oven, refrigerator/freezer, microwave oven, blender, juicer, coffee grinder, toaster, electric kettle, two coffee makers, pots, pans and kitchen utensils.
- Breakfast area seats two people.
- Laundry room with electric washer/dryer, sink, drying rack, iron, board and hangers.
- Master bedroom with queen size bed (160 cm x 190 cm) with a king size goose down comforter and pillows, 42" LED TV with r/c, closet and hangers.
- Study-bedroom with twin size (106 cm x 190 cm) electric-reclining bed with a twin size goose down comforter and pillows, desk, closet and hangers.
- Bathroom with tub (w/ folding plastic chair), toilet, lavatory and hairdryer.
- All spaces equipped with stereo system/speakers, Wi-Fi and free internet access.
- One oil electric space heater and five ceiling fans with r/c (use if needed).
APARTMENT´S SAFETY/ SECURITY EQUIPMENT.-
Six smoke detectors, 1 emergency light, alarm system, first aid kit, fire extinguisher, accessible windows and entrance door with metal bar protections, exterior lights with movement sensor.

OUTDOOR SHARED SPACES AND ACTIVITIES.-
A covered porch precedes the apartment´s entrance. As an inviting outdoor space for: relaxing, reading, having a cup of coffee/tea, eating or cooking; we have a covered open pergola-kitchenette (20 sq. m. / 215.20 sq. ft.). It is furnished with: a gas space-heater, a large sink, a 4 element electric stove with oven, a 2 burner gas stove, firewood oven, table and chairs.
In our small garden (24 sq. m. / 258.24 sq. ft.) you can enjoy the flowers, the lawn or sway in the hammock under a fragrant "arrayán" (Myrcianthes Hallii) tree.
Bird-watching fans, could follow among other species: 2) tangaras, (3) pinch-flower birds and hovering (3) hummingbirds (if lucky even the "largest Andes hummingbird" (Patagona Gigas)).
ELECTRICAL SYSTEM.-
Electricity in outlets runs at 110-120v. , 60 Hz. (three prong grounded outlets)
HOT WATER SYSTEM.-
Heated by solar panels (6 sq. m. / 64.56 sq. ft.) with a 70 gal. storage-tank and a built-in electrical
back-up. As additional back-up we have: two electrical water-tanks (50 gal. ea.) and an extra gas water-heater.
MAXIMUM OCCUPANCY.-
2 guests or 3 guests (1 couple + 1 guest)
SERVICES AND PROVISIONS INCLUDED IN RATE.-
- Vase with fresh flowers.
- Electricity, cold and hot water, free Wi-Fi and internet access, 32" LED T.V. (local channels), liquid dish/hand soap, weekly cleaning.
- Ingredients for an initial courtesy breakfast: milk, cheese, bread, cereal, tea, coffee, sugar, fresh fruits, bottled water and juice. (Guests provide their own meals).
- Three local maps (neighborhood, city and country).
- Access to our collection of tourist magazines and books.
LAUNDRY SERVICE.-
Clothes washer/dryer in laundry room, clothes may be alternatively dried in the garden cloth-lines. Professional cleaner service may be requested (charged by cleaner).
WE DO NOT.-
- Provide car parking in our property.
- Accept: pets, smoking, parties nor loud music inside the suite.
- Have facilities for wheelchairs. (From street level there are 11 + 3 + 14 outdoor steps).
- Recommend our premises for children under 12 years of age.
REGISTRATION FORM.-
Upon arrival a form needs to be filled with name/s, nationality, passport/ID number/s, dates of arrival and departure, flights, permanent address, phone numbers, signature and copy of passport/s.
SECURITY DEPOSIT.-
$240 (dollars) advance payment required, inventory list will be checked/ signed at entrance. Prior to departure inventory list will be checked (the cost/repair of any damaged/missing item will be deducted) and deposit/balance will be returned.
INVOICE.-
The proper invoice will be issued for the lodging service.
RESERVATION IS NOT TRANSFERABLE.-
The right for the stay could not be transferred, will be honored only for the names included in the registration form and for the time and dates agreed.
PAYMENTS.-
Payments made via Western Union only.
RESERVATION DEPOSIT.-
We require a deposit of 30% of the total fee to confirm the reservation. The deposit shall be applied against the rental fees. Payment in full is due 60 days prior to the check –in date.
其他注意事项
FAMILY HISTORY.-
I belong to the first generation of Ecuadorian born to Czechoslovakian immigrants who arrived in Ecuador between 1928 and 1930, settling in the eastern foothills of the Andes. Until a road was built, it took around four days to reach the farm, by horse/ mule back-riding or walking from Baños (the nearest inhabited town). Considering the geography (a canyon formed by the Pastaza river running east, produced a natural pass in the central mountain range), this zone became a threshold to access Ecuador´s central Amazon tropical jungle.
With a farmer/miller´s professional background, our parents became pioneers while enduring in a pristine and totally unfamiliar tropical environment. Experimenting and thriving with cattle, sugar-cane (mills and distillery), lumber (mills) and a tea plantation; both brothers raised their families in the well-known farm, "Hacienda Moravia". The area´s growing farming activities attracted a small permanent population; as common benefit for the newly formed neighborhood, a church and the first elementary school were built.
Due to the remoteness of the area and the adjacency to the only (Baños-Puyo) entrance-trail (following the dangerous Pastaza River canyon), for decades, the farm house became an obliged stopover-lodge offering both comfort and shelter.
Hospitality was the family´s signature; welcoming always: fellow friends, local authorities, adventurous travelers and explorers on their journeys; en-route to and from the deep and unknown Amazon jungle.
A posterior acquisition, a house in Quito the capital city, facilitated the family´s new generation continuation with high school and college education.
---
La casa de Miroslav es maravillosa. Bonita, muy bien decorada, cómoda y situada en uno de los Barrios más agradables de Quito, tanto por su belleza como por su buen ambiente y seguridad. El anfitrión es muy amable, atento, respetuoso y agradable.
---
语言:
English、Español、Français、Čeština