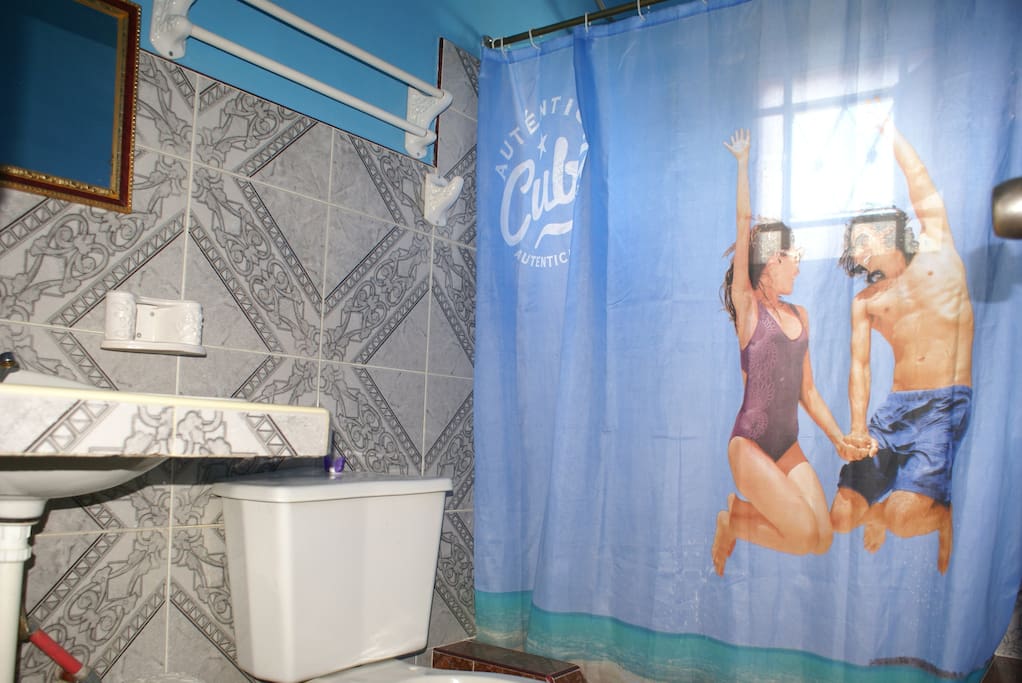 Come stay in a quiet place with excellent views, overlooking the valley of Viñales and the Valley of Silence. The room is very nice, spacious and bright, There are two beds, a private bathroom with hot water shower 24 hours. There is a beautiful dining room where you can enjoy your breakfasts and lunch and dinner. There is also a fan and air conditioning in the room to keep you cool. We can organize various activities for the National Park.
房客使用权限
. We can help you with any questions or reservations for activities around Vinales.
---
Josefina and Louis' home in Viñales was so wonderful, my girlfriend and I had an incredible time staying with them. Josefina's cooking was the BEST food we had during our entire stay in Cuba..definitely get breakfast and dinner (especially the fish!) at their home if you're able. Louis also helped us to go on a horse riding tour of the valley (its right behind their house!). Their house is also very walkable to the center of Viñales for any souvenir shopping, salsa dancing, or restaurant eating you want to do. We would highly recommend staying with Josefina and Louis if you end up in Viñales while visiting Cuba!
---
There are so many memories of Vinales I will never forget. Josefina and Luis were incredible hosts, so kind and generous. Josefina is an amazing cook, so I'd recommend asking her about her breakfast and dinner services. Luis also offers tours of the valley on horseback at an extra cost (absolutely worth it, my cousin and I had an awesome time maneuvering through caves, sampling local cigars, coffee, and honey, and checking out the more popular Murale de la Prehistoria). Although Josefina and Luis don't speak English, we managed to make it work and communicate. I speak and understand Spanish well enough, but I'd recommend bringing a Spanish translation guide if you don't. This is a great place to stay if you want to experience Vinales as a local. The center of town is a pleasant ten minute walk up the road. Behind the home is a quick descent into the valley. I can't wait to visit Cuba in the future, because I hope to see Josefina and her family again. They were wonderful and I have so much love for them.
---
This is a great spot to stay in Vinales! My girlfriend and I spent 3 nights with Josefina, Luis, and their family and we could not have had a better time. Luis and Josefina were so welcoming. Luis met us in the center of town as we got off the Viazul and escorted us to his home where Josefina had dinner cooking. She's, arguably, the best cook in Vinales! The room is as advertised. Nothing fancy but perfectly accommodating. The large trail network of Vinales is accessible from their front door which was awesome. Town center is a short walk. Breakfast is $5 CUC and Dinner was $10 CUC and well worth it. I would recommend this place above all. Josefina and Luis made my girlfriend and I feel like family. I can't wait to stay here again. -------------------------------------------------------------- Este es un gran lugar para alojarse en Vinales! Mi novia y yo pasamos 3 noches con Josefina, Luis, y su familia y no podíamos haber tenido un mejor tiempo. Luis y Josefina fueron muy acogedores. Luis nos recibió en el centro de la ciudad cuando bajamos del Viazul y nos escoltó hasta su casa donde Josefina cenaba cocinando. Ella es, posiblemente, la mejor cocinera en Vinales! La habitación es como lo anuncian. Nada de lujos, pero perfectamente servicial. La red de gran sendero de Vinales es accesible desde su puerta principal que era increíble. El centro de la ciudad está a un corto paseo. El desayuno es de $ 5 CUC y la cena era $ 10 CUC y bien merece la pena. Recomendaría este lugar por encima de todo. Josefina y Luis hicieron que mi novia y yo nos sentimos como familia. No puedo esperar a volver a alojarme aquí de nuevo.
---
Josefina and her family were the perfect hosts. They assisted me with all my needs and were infinitely patient with my lack of Spanish. Their house is about a 10 minute walk from the center of town which is just what I was looking for. Josefina's husband was the perfect guide for my tour of the valley. I would definitely stay there again.
---