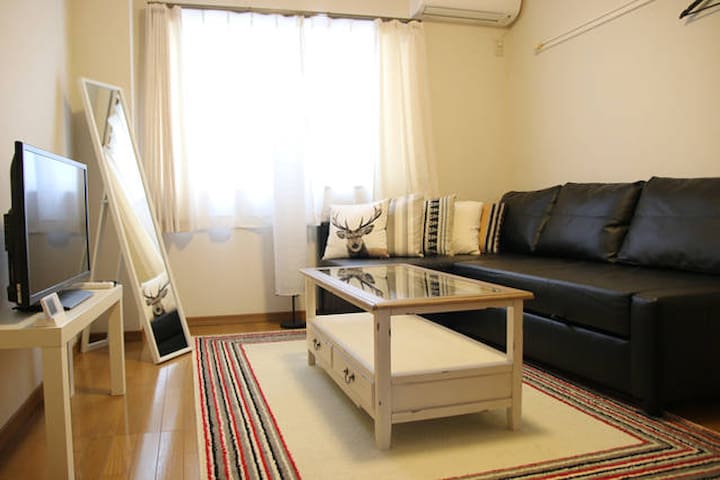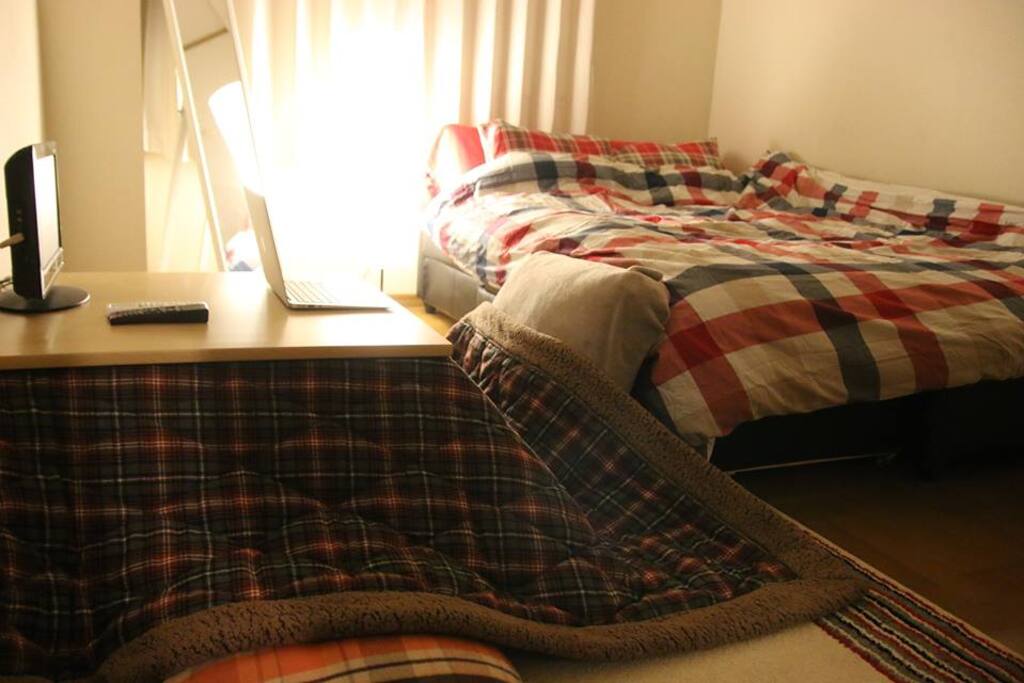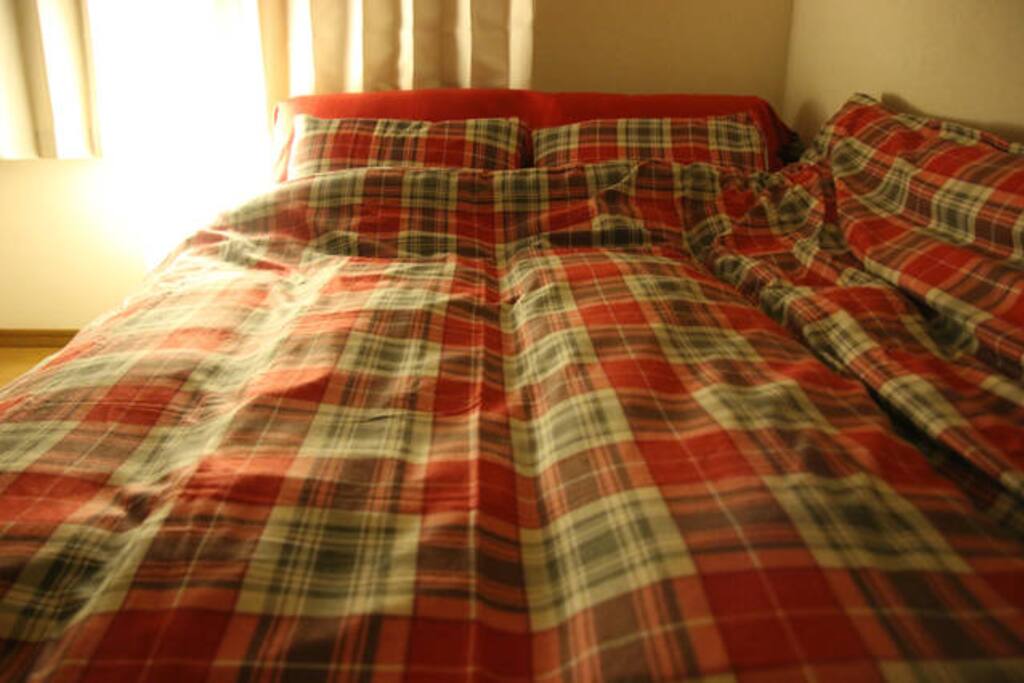 从代代木sta 1分钟! 5分钟从新宿sta! 30%的折扣7天以上的住宿! 一个非常干净的房间在二楼,有独立的浴室和卫生间,和一个传统的日本加热表(kotatsu)。这个冬天,请享受与你的特别的人的温暖的舒适。 房间的总楼层空间是26平方米,有一个双人床和三个futons空间。能力是5人(如果5人留下,例如,2个成年人和3个孩子或4个成年人将容纳)
1 mins from Yoyogi sta!
5 mins from Shinjuku sta!
30%off for the over 7days stay!
A very clean room on the 2nd floor, with separate bath and toilet, and a traditional Japanese heated table (kotatsu). This winter, please enjoy its warm comfort with your special someone.
The room's total foor space is 26㎡ and there is one double-sized bed and space for three futons.The capacity is 5 people(If 5 people stay,for example,2 adults and 3 kids or 4 adult people will be to the capacitiy)
房源
房间里有一个独立的厕所和bathoom,总是保持清洁,没有其他人除了房间客人可以使用和厕所有一个受欢迎的buil-in washlet和座位总是保持温暖。 你也可以使用水壶,炉灶,麦克风和烤箱在房间里。我希望你会满意的所有这些设备。 此外,将为每位客人提供面巾和浴巾。如果您在入住期间需要更多的客房,请提前通知我们。 房间的总楼层空间是26平方米,有一个双人床和三个futons空间。能力是5人(如果5人留下,例如,2个成年人和3个孩子或4个成年人将容纳) 根据您的要求,我们可以为您提供免费的便携式Wifi。 请记住,总是随身携带,所以你不会失去它,以防万一你把它带到房间外面。 ##设施/设施## * 沙发床 *被褥(折叠床垫)x4 *空气床 *全长镜 *微波炉,带烤箱功能 *毛巾和面巾 *化妆品(洗发水,护发素,沐浴露) * 吹风机 *家庭Wi-Fi *便携式Wi-Fi *浴室(浴缸和淋浴和厕所分开) *厕所(浴缸和淋浴和厕所分开) *冰箱/冰柜
The room has a separated toilet and bathoom and always maintained clean, which no other people besides the room guest can use and the toilet has a popular buil-in washlet and the seat is always kept warm.
You can also use a kettle, stove burner,micowave and oven in the room.I hope you will be satisfied with all this equipment.
Also,a face towel and bath towel will be provided for each guest.Please let me know in advance if you need more of them during your stay.
The room's total foor space is 26㎡ and there is one double-sized bed and space for three futons.The capacity is 5 people(If 5 people stay,for example,2 adults and 3 kids or 4 adult people will be to the capacitiy)
Upon your request, we can provide you with a portable Wifi free of additional charge.
Please remember to always carry it with you so you won't lose it in case you take it outside the room.
##Amenities/facilities##
* Sofa Bed
* Futon (folding mattresses) x4
* Air Bed
* Full-length mirror
* Microwave, with oven functionality
* Towels&Face Towels
* Toiletries (shampoo, conditioner, body wash)
* Hair dryer
* Home Wi-Fi
* Portable Wi-Fi
* Bathroom (tub and shower separate from toilet)
* Toilet (tub and shower separate from toilet)
* Combined refrigerator/freezer
---
Taka was seriously the kindest host ever, we were so taken care of and he had everything provided there but also there's a 7-Eleven across the street and tons of stores a short walk away if you need anything else. Also a Mcdonalds across the street (shrug). The Yoyogi station is literally like, a right turn and a street away. Location-wise the place is perfect— nice and quiet but close to everything in the shinjuku area. Taka left little gifts and snacks for us on the door so I want to cry from the cuteness.
---
Taka is a very nice host who gave us lots of advice on the travel. The location is very central - near to both Yoyogi and Shinjuku station. The apartment is small but fully-equipped. Overall it is excellent experience here. 房东Taka小哥哥超级热心,在旅途中给了我们很多建议。公寓的位置无敌中心,临近代代木和新宿两个车站,出行方便无比。公寓本身虽小但五脏俱全,两个人住正正好。总的来说是非常好的一次住宿体验!
---
You will love Taka's place as it is really near the Yoyogi station and Yoyogi is well situated in between the shopping heartbeat of Tokyo. Aside from the water heating that may require some fixing and getting used to the timing otherwise I really have no complaints. Taka is an amazing host that attend to you personally and is actually there himself to receive you. well done!
---
Welcome to Tokyo!

Nice to meet you, my name is Taka!
I'm originally from Hiroshima, but I've lived in Tokyo for 13 years now, starting after my university graduation when I moved here to work for a major copy machine manufacturer.

On the weekends I like to play sports like baseball, basketball and futsal, or cheer on my favorite baseball team, the Hiroshima Carp, which is currently in the middle of an unprecedented boom in popularity.
I love interacting with cultures from around the world, so I've organized cultural and language exchange events since 2012, bringing together foreigners who want to study Japanese and Japanese locals who are studying foreign languages. I've put on barbecues, skiing trips, sport events, cooking parties and a variety of outdoor events.

Whenever I get the chance to travel abroad, visits to old ruins or famous tourist destinations are of course memorable, but it's the memories of fun times spent with new friends and locals, or their surprising acts of kindness, that really stick with me and separate the good trips from the great ones.

My hope and goal is that you come back from your time here with just as many great memories of Tokyo as I've been lucky to have in my times abroad.

Around the middle of November I will start attending a programming school, but until then, if our schedules fit and you're interested in having a local guide you around Tokyo's various sights I'll have time during the day to join you.

After November, my time on weekdays will be limited to later in the evenings, but if our schedules work out, I'd be more than happy to show you around some of the city's drinking spots!

I'm looking forward to seeing you!

By the way, if my very non-Japanese sounding name might stirred up your curiosity - I am Japanese, but it's actually the name I started using on (SENSITIVE CONTENTS HIDDEN), which gained enough recognition that I continued using it at my other events. There's no special significance to it other than that, lol.