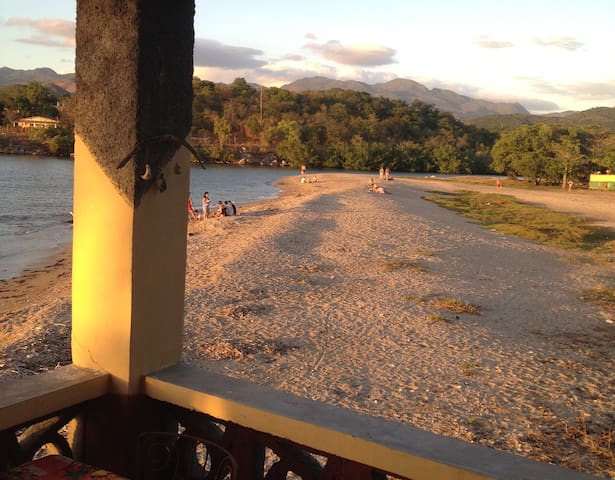 Charming beachfront cottage overlooking the ocean. Open plan kitchen/lounge area. Air conditioned bedrooms with double sized beds. Private parking if you have a rented car.
This is the perfect little getaway cottage as a base for the adventurous traveler to explore the city and be close to the sea at the same time or a lovely beachfront location for a romantic affordable vacation.
房源
两间舒适的客房设有共用浴室和一个露台,距离大海仅有2米。
Two cozy rooms with a shared bathroom and a terrace just 2 meters from the ocean.
房客使用权限
Breakfast is included in the price and dinners are prepared on request(normally you should let us know in the morning what you'd rather have)
与房客的互动
As we live in Trinidad, a friend of mine who lives in La Boca is the one who makes sure that everything is right with our guests at the cottage and he prepares the breakfasts and dinners. He and his lovely wife will take good care of you , that's for sure. :)
---
This space is amazing. There are two bedrooms, a kitchen, a bathroom and an amazing porch in the back. The house is literally right on the beach so the view is breathtaking. The person who takes care of the house is right down the street and he helped us organize rides from Havana, let us rent bikes to get to Trinidad, and made a delicious breakfast every morning. I definitely recommend to anyone traveling in the Trinidad area.
---
Absolutely lovely place, right by the sea as others have noted. I would point out that the locals really do come out in numbers on the weekend, especially Sunday, so it can be a little noisy and colorful, not least with the Cuban love of loud music everywhere. It also seemed to us that the house next door was like the local chapter of the Hell's Angels that first Sunday evening, with something like 20 - 30 motorbikes of various kinds parked out front, including some right across the entry to Alejandro's place, and loud noise blaring out till pretty late. Much of it was thankfully muted by the AC units once we turned them on, and as the two bedrooms are at the back it made the racket from next door even less intrusive, but it was still something of a pain having to deal with the hordes milling around out front with their bikes every time we tried going out. With that said though it only lasted for that Sunday, and whether it's a regular Sunday occurrence or they were just having a big party that day I can't say. The other couple of days we were there were much quieter, and to us there was simply no comparison between La Boca or Trinidad when it came to preferred accommodation - we'd take La Boca in a heartbeat. For one thing being right next to the sea makes La Boca that little bit cooler in the stifling summer heat. The other aspect is that if you really want to immerse yourself in the culture and see Cubans and their families relaxing by the beach La Boca gives you a perfect opportunity - as long as you don't mind being stared at like you're a Martian, because you'll be just as much a novelty to them as they are to you. You can wander along the waterfront each night and watch the locals strolling and enjoying themselves, and you can call in on the various kiosks along the way and help yourself to some local snacks and food priced at rates for the locals, not tourists - while CUC is accepted it helps to have some CUP as well to pay for the small stuff that only costs a few pesos. Rounding out your experiences in La Boca are Alejandro's hosts in the town, Guillo and his wife Viola, who are two of the most genuine, sweet and helpful people you could hope to meet. Some Cubans you can meet on your travels in the country can leave you worn out, frazzled and questioning why you ever decided to come to Cuba. Not so Guillo and Viola. They're big-hearted, warm, and so very welcoming and helpful. By the time we left the town we felt like we were saying goodbye to old friends - we miss them already! As for the home itself it's everything that the pictures indicate - a lovely little place that looks right out over...
It is impossible to find a beach without people, when you come to Cuba in the summer, a little noise, loud music and colors is also part of the Cuban culture., that's part of the fun of traveling through out this island. You guys were ''lucky'' with the motor-bikers party issue, I've never heard that this happened before. I apologize for that. still waiting for the pics. :) Regards!!
---
This place is literally on the beach! We loved the open litte beach cottage and falling asleep to the sound of the ocean. Viola and Guille were awesome hosts! They live just around the corner and prepared us an amazing breakfast every morning (fresh fruits and fruit juice, eggs & more). Their set up is very nice and they have different mango trees in the backyard! They were genuinely nice, accommodating and help us organize taxi rides and day trips. Viola also cooked us delicious dinner and they even had some beer and water in the fridge when we arrived! Thank you!
---
The beach house in La Boca is absolutely amazing. The view of the water from the porch is something to gaze for the entire day. The price is unbeatable! The family who takes care of the guest ( if wanted) does an excellent as host. Breakfast is great, bike rentals, arranging taxi, stocking the fridge with beer and water if you'd like and other goodies! Nonetheless, this is a beach house so you will need to deal with something's such as the occasional hermit crab stumbling in! All in all bargain value for the location to Trinidad, food services, proximity to playa ancon, the bikes, beautiful porch view, your host, price, secluded town of La Boca, and the size of the home.
---
We had a wonderful stay in La Bocca. Guill and Viola (who look after the house) were especially helpful. It's a fantastic spot, right on the beach. Would recommend to anyone wanting to get out of the hustle and bustle of Trinidad, and it's a short bike ride to the lovely Playa Ancon! One thing I will note is that due to the rain we had a few crabs come inside at night - but this is common in La Bocca and they are easy to shoo away.
---
We were here for 8 nights and it was a great experience. Guillo and Viola were really wonderful hosts. We miss them all ready so much and we really hope to see them one day again. They helped us a lot with everything and cooked us some delicious dinners :) we recommend this place to people who are ok with a very basic home and don't need luxury. It's perfect for people who love adventures. If we visit Cuba again we will definitely come here again too see Guillo and Viola :)
---
Hello,
I like traveling ;)
语言:
Deutsch、English、Español、Français