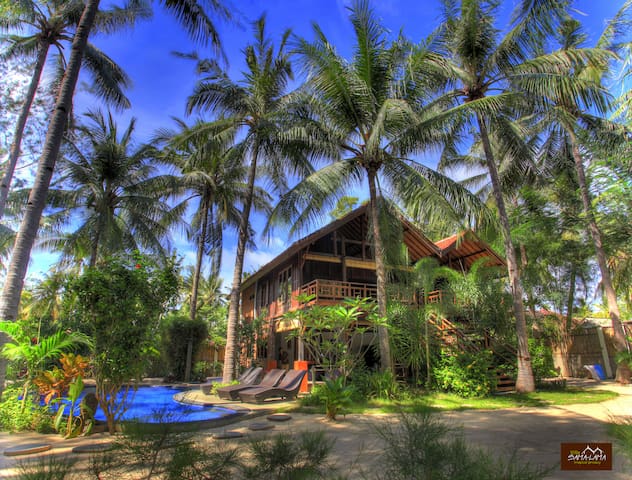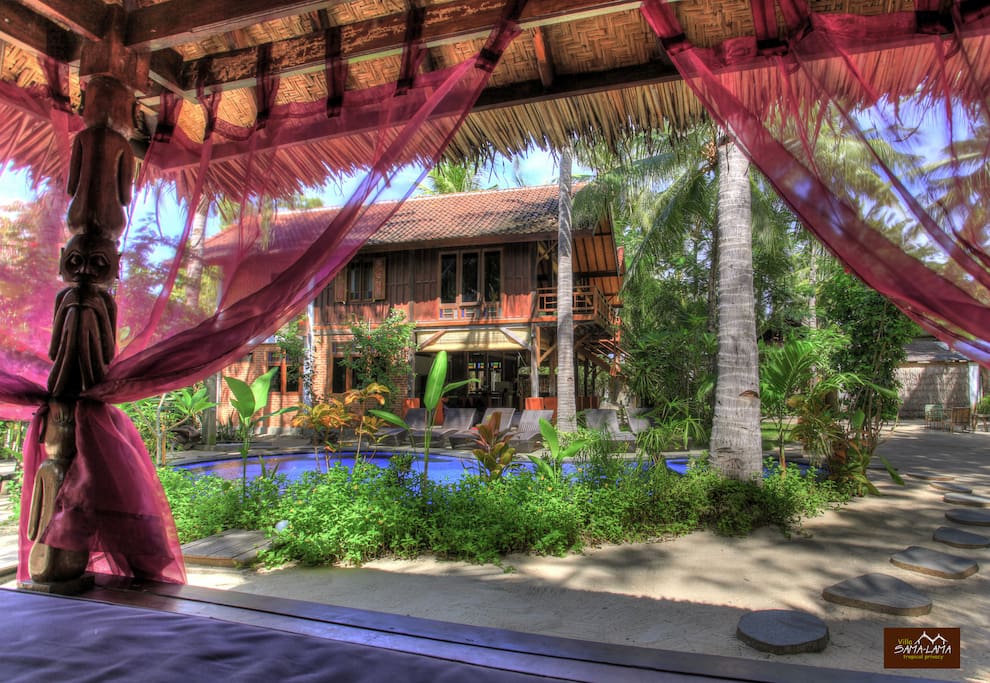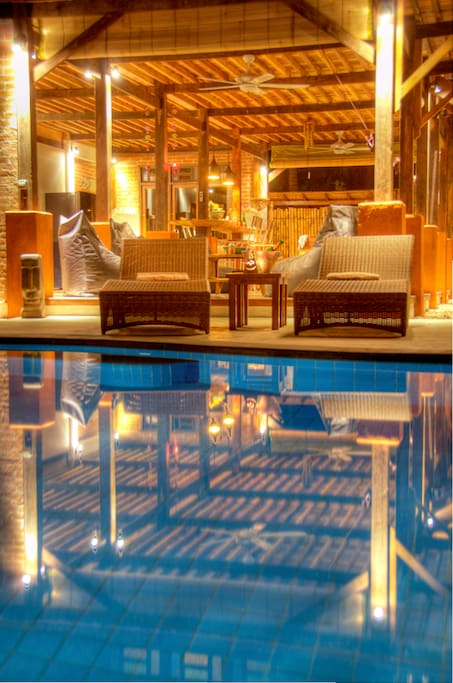 With 5 friends of mine, we decided to enjoy 5 days in Gili T. All I can say is thank you so much for making my holidays so incredible ! It was the highlight of my trip ! In terms of the emplacement : the villa is 6 minutes max with bikes from the center, the emplacement is very great. Quiet as not in the big and main street. Staff : The staff cleans the villa every day, and at your disposal whenever needed. Very nice ! Ara is here to welcome you and provide you with all the info needed !! The breakfast is huge and delicious, Maria is a very great cooker !!! Trust me, no better way to start the day. Little extra I was not aware of : The villa has a bocce ball court. I would highly recommend this villa. It might be more expensive than some others, but trust me it is worth every dollar/euro you spend !
Charlotte and her friends were excellent guest. Maintained good communication with me and the staff, respected the place and left it in a good condition. I would warmly 100% recommend to any lucky future host! Thank you for gracing the Villa with your wonderful energy ! And congratulations for one of girls who is birthday at 18th June (really sorry was forgotten her name). Regards, Ara
---
Villa Samalama was such a nice oasis in the center of Gili Trawangan. Although it is not located directly on the beach, it was great to be away from the busy Eastern shore, where all of the boats, Bars, etc... are located. The open air floor plan of the villa, along with the glorious pool, provided an incredibly relaxing environment after a day of scuba diving, snorkeling, exploring, etc... Plus, the provided bikes were perfect for getting around the island. Yogi might be the friendliest host I have ever met, and made sure that we had anything that we needed. The only issue that we experienced during our stay is that the refrigerator/freezer was not working properly, and didn't keep anything cold/frozen. Hopefully they will be able to fix it soon.
Justin and his friends has been an absolutely lovely and nice guest. They took great care of the villa, was very easy to communicate with . He has been extremely friendly and easy-going. It was a pleasure having him as my guest. I can definitely recommend him every host! He is always welcome back! It is very unfortunate that you were disappointed by the fridge. Thank you very much for letting me know, really appreciate it. We'll try to fix it as soon as possible. Regards, Ara
---
Fantastic place for a group holiday (We stayed in the 3 bedroom house but smaller villas available). Nice open communal area. Far enough away from the main area to be quiet, but close enough to both sides of the island to reach on the bikes. Daily cooked, private breakfast at your convenience (Make sure to get a traditional breakfast at some point in your stay). Pool area was superb. Bathrooms very clean. Filtered water available as well as bottled water. FANTASTIC staff. Maria is a great cook. Everyone else very accommodating (Climbed trees to get us fresh coconut!). Someone on the door 24hrs. All round good place to stay :)
---
Great place and lovely service! The villa is amazing. Maria helped us to find the beach, bikes were great and also the breakfast. Thanks so much, highly recommended!
---
We loved this villa set back in a tropical setting was fantastic. All the staff were wonderfully friendly, helpful and made us feel like we were at home. The rooms and pool area were great. There are bikes to use so you can explore the island. Would love to return one day.
Mr. Rui and his friends were excellent guest. All were lively, joyful, generous and great fun to have around. We benefitted and enjoyed as much from their stay as I hope they did Easy to communicate with. I hope that we will meet again in the future. Thank you for choosing to stay with us and enjoy the rest of your holidays. I would warmly 100% recommend to any lucky future host! Thank you for gracing the Villa with your wonderful energy ! Regards Ara
---