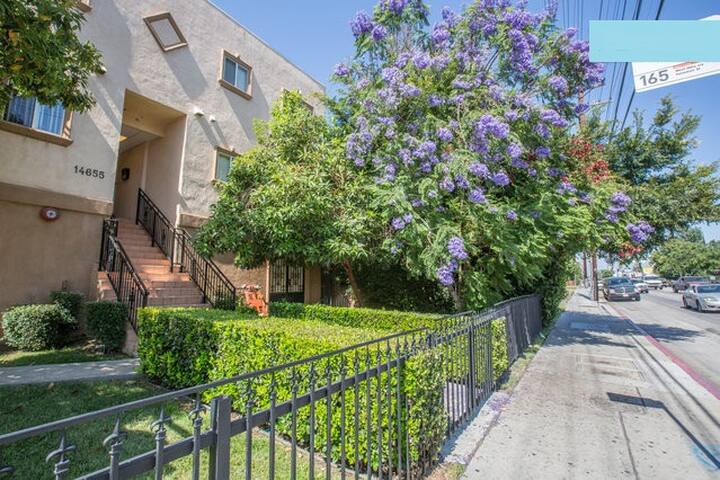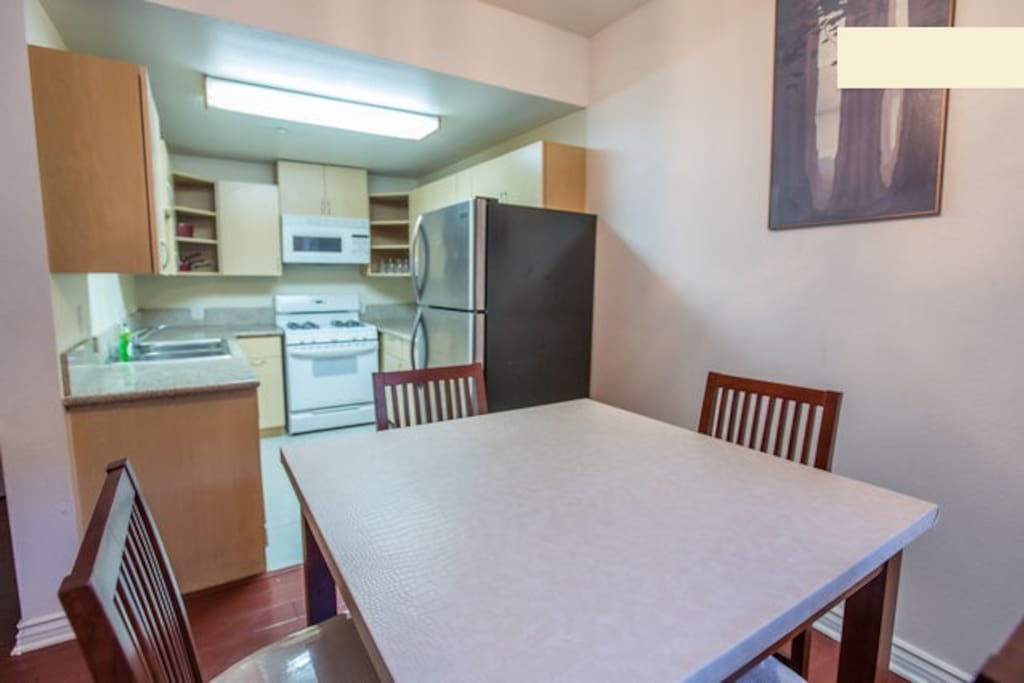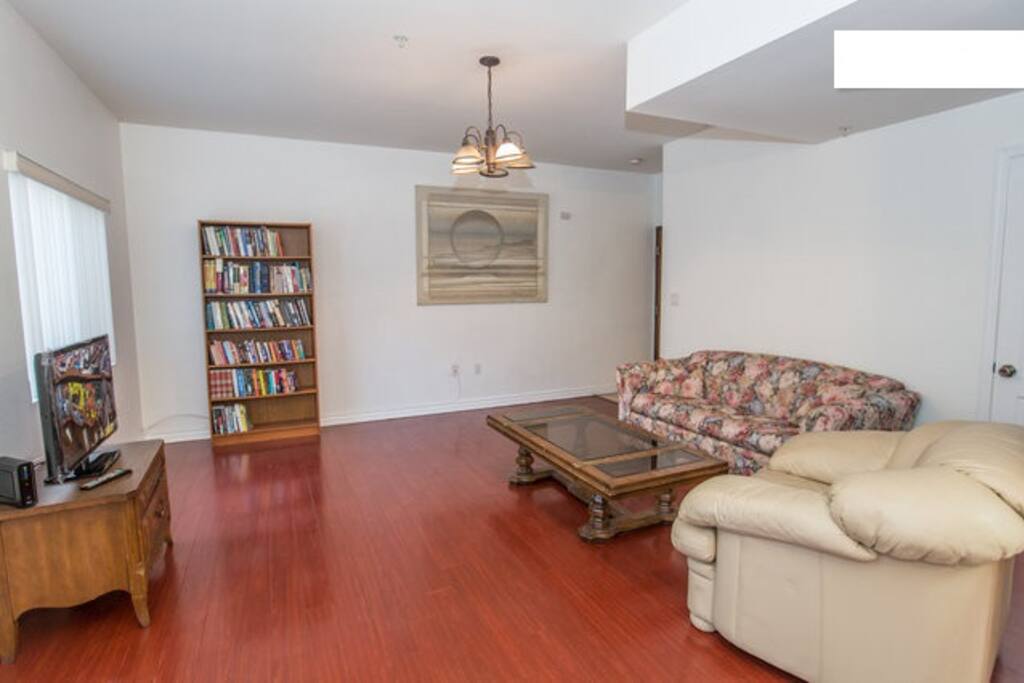 房源
这个可爱的Townhome是完美的家庭,情侣或四个亲密的朋友!拥有超过1200平方英尺的生活空间,设有两间卧室/两间浴室,带不锈钢电器的全套厨房,平板电视,硬木地板,私人停车位以及您无忧无虑的假期所需的一切!与亲人保持联系回家,因为无线网络和电缆包含在您的租赁套餐中。这家酒店为现代旅客提供高雅的清新度假,欢迎您的宠物宾客! 位于San Fernando Valley山谷中心,距离Van Nuys Blvd和公共交通仅有几步之遥,这是您的"全权通行证"! 各种零售商店,专卖店和餐馆都可在数分钟内到达,其中包括着名的谢尔曼橡树馆,拥有丰富的购物和餐饮选择!当地的社区设有一个熔炉的Angelenos和各种戒指。爱购物?询问我们的旅游到时尚区市区! 对于希望延长假期美元的度假者,这是完美的预订!设备齐全的厨房将消除每餐需要外出就餐的需要。加利福尼亚着名的当地农产品和水果的可用性将使您能够坐下来放松身心,观看您的大型平板电视,经过漫长的一天的网站和气氛! 如果您有任何问题或需要进一步的话,请告诉我们。此外,礼宾服务可根据要求提供您的访问。 中央位置:距离公共交通10分钟步行路程,距离AMTRAK 1 MILE。 距离这些目的地的距离近似: 电视艺术与科学学院(5 mi) 北好莱坞艺术区"NoHo"(6 mi) 环球影城(8英里) 格劳曼中国剧院(10公里) 好莱坞(10公里) 盖蒂中心(10公里) 农民市场(12公里) 伯班克工作室:迪斯尼,华纳兄弟,NBC(12公里) LACMA"洛杉矶县艺术博物馆"(13公里) 格里菲斯公园LA ZOO(15公里) 斯台普斯中心(18英里) 洛杉矶市区(18英里) LA Live(18英里) 玫瑰碗(20公里) 魔法山(20公里)* Knott's Berry Farm(40公里)* 迪士尼乐园(43 mi)* 乐高兰(107公里)* *地铁直通连接
This lovely Townhome is perfect for families, couples or four close friends! With over 1200 square feet of living space, it has two bedrooms/two baths, a full kitchen with stainless steel appliances, flat screen tv, hardwood floors, a private parking space and everything you'll need for a carefree vacation! Stay in touch with loved ones back home as wireless internet and cable are included in your rental package. Tastefully refreshed for the modern traveler on vacation, this property welcomes your pet guests too!
Centrally located in the San Fernando Valley and just steps from Van Nuys Blvd and public transportation, this is your "All-Access Pass"!
A variety of retail stores, specialty shops and restaurants are accessible within minutes, including the famous Sherman Oaks Galleria with its own abundant shopping and dining choices! The local neighborhood features a melting pot of Angelenos and a variety of quisines. Love to shop? Ask about our tours to the fashion District downtown!
For vacationers looking to stretch their vacation dollars, this is the perfect booking! The fully appointed kitchen will eliminate the need to go out dining for every meal. The availability of local produce and fruit, that California is famous for, will enable you to sit back and relax to watch your large flat screen tv, after a long day of taking in the sites and atmosphere!
Let us know if you have any questions or need anything further. Also, Concierge Service for your visit available upon request.
CENTRAL LOCATION: 10 MINUTE walk to PUBLIC TRANSPORTATION, 1 MILE from AMTRAK.
Approximate distance from these destinations:
Academy of TV Arts & Science (5 mi)
North Hollywood Arts District "NoHo" (6 mi)
Universal Studios (8 mi)
Graumann's Chinese Theatre (10 mi)
Hollywood (10 mi)
Getty Center (10 mi)
Farmers Market (12 mi)
Burbank Studios: Disney, Warner Bros, NBC (12 mi)
LACMA "Los Angeles County Museum of Arts" (13 mi)
Griffith Park LA ZOO (15 mi)
Staples Center (18 mi)
Downtown LA (18 mi)
LA Live (18 mi)
Rose Bowl (20 mi)
Magic Mountain (20 mi) *
Knott's Berry Farm (40 mi) *
Disneyland (43 mi) *
LegoLand (107 mi) *
* Metro Direct Connections Available

---
---
---
MyKey Vacation Rentals
"HOUSE RULES"
MAXIMUM GUESTS
PLEASE NOTE: The PROPERTY can accommodate no more than the listed people (strictly enforced), children included. If your party is more than the number of individuals approved upon arrival, your reservation will be cancelled immediately and your security deposit will be held. Owners reserve the right to terminate lodging. By sending a reservation request you agree and abide by our House Rules. **
We hope you love our home as much as we do, and ask that you respect our belongings and property with care. We pride ourselves in providing each and every guest with a clean and comfortable place to stay. Please help us keep it this way by abiding by the following rules.
PLEASE:
* Be courteous to our neighbors by keeping noise at a tolerable level.
* No shoes on the furniture.
* Turn off outdoor lights before retiring for the night (there are two separate outdoor lights, one switch in the master bedroom and one switch next to the main door in the living room).
* If you need to sleep on the couch, use the sheet set (leopard print) that is in the hallway cabinet to fully cover the couch cushions.
* No burning of candles or open flames.
* No smoking indoors. If smoking outdoors, please use provided ashtrays, dispose of cigarette butts properly and be careful to not start a fire in the lawn.
* Supervise your children.

VISITORS
Please inform us of any visitors that may arrive by sending us a quick text or email so we are aware of anyone outside of your party that may be entering our property. Please, no overnight guests. If your party's size changes after check-in the additional guests must first be approved (guests should not exceed the maximum allowed) and will pay our regular rate of $10 to $20 per person, per night. Your reservation will be modified through the Host Site, and you must agree to immediately accept the reservation alteration that the Host Site sends, otherwise these guests will be asked to leave.
*** NO LOUD OR OUTDOOR PARTIES after 10PM on our properties (unless PRE-APPROVED). ***
(With our large properties, there is plenty of room to take the party inside and keep dancing the night away! Besides, most of these properties are in quiet residential neighborhoods, and you could be fined or arrested for disturbing the peace. We will not be held responsible if you violate the curfew or cause any disturbances, and reserve the right to END YOUR RENTAL and retain all deposits and payments.)

CONSERVING ENERGY
When leaving for the day, please be sure to:
* Turn off all lights, TV, and heating/cooling units.
* Un-plug chargers and hair styling appliances after use.
* Close and latch the driveway gates when arriving and leaving.

FURNITURE & DECOR
Please do not rearrange furniture or remove anything from the house.
Do not write on or vandalize walls, light switch plates, furniture, documents, etc., or modify any of our possessions in the house.
Please do not leave anything behind.
We do charge a cleaning fee with every reservation to clean the house after your stay, but please be mindful and do your best to leave it close to the way it was when you arrived.
Additional cleaning fees will apply if the house is left significantly different from its original condition.
If any of these rules are broken, your security deposit will be held. If for any reason something is broken or doesn't work, notify us as soon as possible so that we can resolve the problem.
Do not hesitate to contact us with any questions, concerns, or for any other reason.
Long term renters: we provide you with a starter set of shampoo/conditioner, body wash/lotion, paper towels/toilet paper, and dish/laundry soap. It is your responsibility to purchase your own goods after that.
Service dogs welcome.

CHARGES FOR MISSING OR BROKEN ITEMS
$150 Charge for un-returned or lost keys
$10 Charge for each locked bedroom/bathroom door that wasn't reported to management DURING YOUR STAY
$5 Charge for un-returned bath towels, $4 for hand towels, $2 for wash cloths
"Replacement Cost" for any broken or damaged items or MISSING items

CHECK-IN/OUT
*CHECK IN anytime after 3pm (you may check in as late as you wish)
*CHECK OUT by 12 noon (sometimes we can be flexible if the property isn't reserved that day)
**Please be respectful and observe the check-out time as we often have guests checking in after you.

REFUSAL OF LODGING
Owner reserves the right to refuse or terminate lodging in the event guest(s) do not follow the house rules, become disruptive, unruly, problematic, demanding, violent or threatening. Guests hold Owner harmless against any legal actions if they have violated the rules/policies.

RESERVATION CANCELLATIONS / SHORTENED STAYS / CHANGE IN GUEST COUNT
Cancellations: Guest must cancel in the allotted time stated on the site agreement.
Shortened Stays: Property Owner must be notified of shortened stay as soon as possible in order to re-book property. 48 hours notice is required to receive a full credit for days not used. If same day notice, then OWNER reserves the right to KEEP
THE DEPOSIT and/or CHARGE FULL AMOUNT FOR UNUSED DAYS, at his discretion (unless pre-approved in writing).
Change in Guest Number: A charge of $10 to $20 per additional person (after the maximum stated on your reservation) who were not on the original reservation, will result in a modified pro-rated charge upon our weekly and daily rates.
We thank you for staying with us and want to do everything in our power to make this an enjoyable stay.
Please acknowledge the receipt of these HOUSE RULES by completing the information below:
Your Printed Name: ________________________
Your Signature: ___________________________
Full Mailing Address:
__________________________________City____________ State ____ Zip ________
Date: ____________________________________

2nd Guest's Name: ________________________
2nd Signature: ____________________________
Date: ___________________________________
Once completed, please:
1) PRINT this page and the adjoining Short Term Rental Contract (complete also)
2) Sign them
3) Make a copy of your DRIVER'S LICENSE (or State ID)
4) Email all documents (including driver's license) or bring them to your host, once your reservation has been CONFIRMED. - Thank you


SHORT TERM RENTAL AGREEMENT

This agreement made this ______ day of _________, 2014 between
__________________ (Guest) and Greenfield Properties (Landlord). Address ______________________
Concerning the short term rental of the property.
Total people in renting party _________ adults and _________ children not to exceed_________.
Rental period begin at 3:00 p.m. on _________, 2014. Rental period ends at 12:00 p.m. on ________
Total rental amount: $________. Security Deposit of $_________ (refundable according to the terms of agreement).
TERMS OF AGREEMENT:
A.The Guest (s) and shall hereby indemnify and hold harmless the Landlord against any and all claims of personal injury or property damage or loss arising from use of the premises.
B.Guest (s) expressly acknowledge and agree that this agreement is for TRANSIENT OCCUPANCY of the property, and that Guest (s) do not intent to make the property a RESIDENCE or HOUSEHOLD.
C.We agree to abide by the above conditions and hereby swear that the information provided above is true and that this is a SHORT TERM AGREEMENT only for the time set up for rental of this VACATION PROPERTY.
GUEST ____________________(URL HIDDEN)GUEST (2) _________________
DATE____(URL HIDDEN)DATE______

LANDLORD _________________
DATE______

---
---
This site is under the management of Greenfield Properties Inc. Our office is located at 14529 Archwood St. Van Nuys, California.

Greenfield Properties has various vacation rentals (including estates, houses and apartments). Our agents are available Monday - Friday from 9am - 5pm to assist you with all of your rental needs. For more info feel free to give us a call at (.
语言:
English、Español、עברית