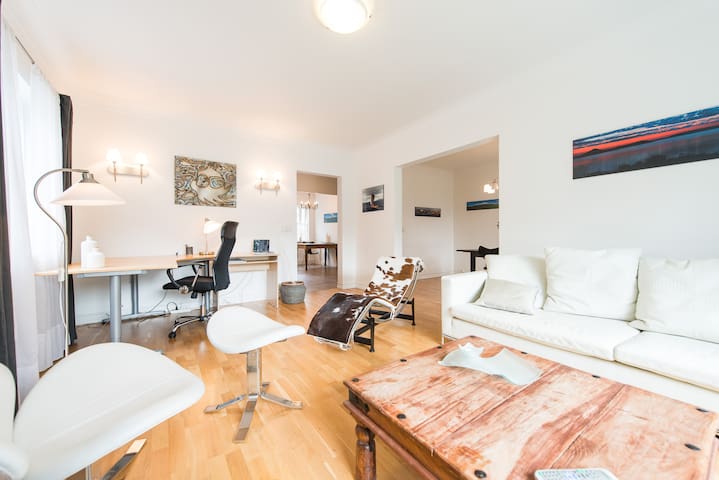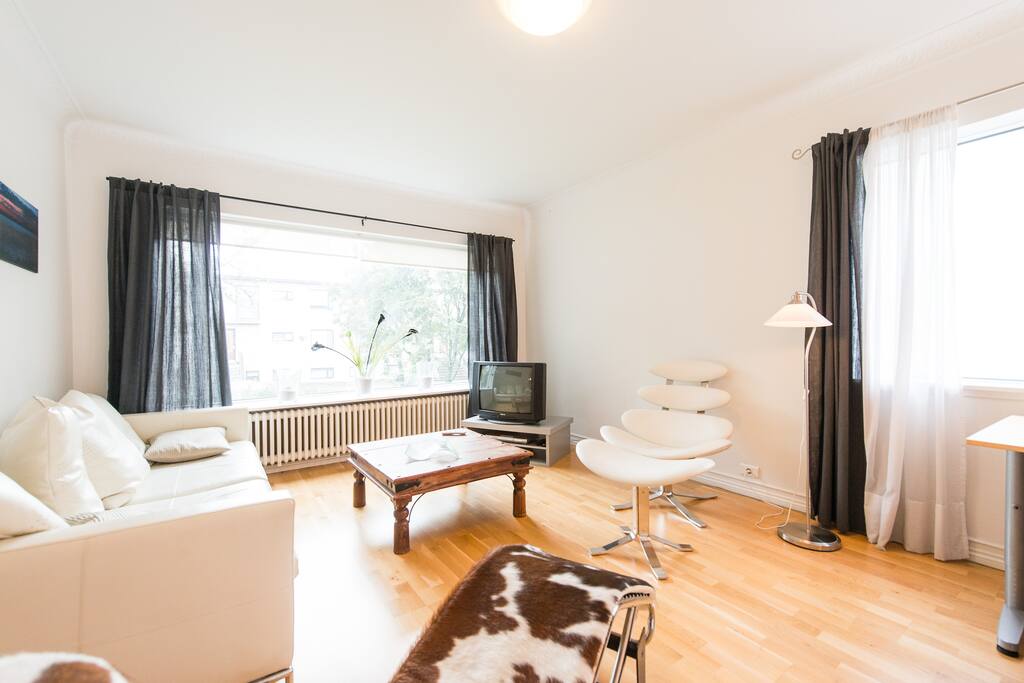 明亮,舒适宽敞的双卧室公寓,位于雷拉贾克市中心的两个最好的住宅区之一,也是非常接近市中心(在我们这里15-20分钟步行)。
Bright, cozy and spacious 2 bedroom apartment in Hlidar neighborhood which is one of two nicest residential areas of Reykjavik that are also very close to downtown (15-20min walk in our case).
房源
明亮而舒适的2间卧室的公寓距离雷克雅未克市中心15分钟步行路程。 睡6人。一间独立的卧室配有美国大号床。另一间独立的卧室还配有美国大号床(152 x 203厘米/ 60 x 80英寸)。 1张可放置在餐厅的便携式床。而客厅里有一个沙发(大而平)。 公寓位于三层楼的一楼,明亮开放,面积110平方米。有一个厨房,一个大客厅和一个相邻的餐厅,可以直接通往南面的阳台和楼梯,通往下面一个美丽的花园。有两间卧室。
Bright and cozy 2 bedroom apartment 15 min walk from Reykjavik city centre.
Sleeps 6 people. One separate bedroom with a US Queen size bed. Another separate bedroom also with as US Qeen size bed (152 x 203 cm / 60 x 80 in). 1 portable bed which can be placed in the dining room. And 1 couch in the living room (big and flat).
The flat is on the first floor in a three story house, it's bright and open, 110m2 in size. There is a kitchen, a large living room and an adjacent dining room with direct access to south facing balconies and stairs leading to a wonderful garden below. There are two bedrooms.
房客使用权限
公寓设备齐全,并将使用所有必要的工具,电视,DVD,音响系统,洗碗机和公寓内洗衣机租用。硬木地板,房子外面有大量的免费路边停车位 - 公寓7年前完全装修。
The flat is fully furnished and will be rented with all the necessary tools, a TV, a DVD, a sound system, a dishwasher and an in-apartment washing machine. Hardwood floors, plenty of free street parking right outside the house – The flat was completely renovated 7y ago.
与房客的互动
我们总是可以帮助您解决任何可能需要帮助的问题,例如有关空间的问题,如果您想帮助决定在雷克雅未克或冰岛做什么,您可以先点击我的个人资料照片以获取个人建议,然后我们可以说话更好!
We are always available to help with whatever you might need help with, such as issues regarding the space - and if you want help deciding what to do in Reykjavik or Iceland you can start by clicking my profile photo for my personal recommendations and then we can talk better!
---
---
---
Please only reserve if you are a reliable person used to treating your surroundings with respect. There is no smoking or pets inside the apartment. Also please don't "bring the party home".. general house rules in Iceland indicate a quiet time after 11pm and we ask to respect that rule at all times. Thank you :)
---
---
---
Can just echo the many positive comments posted by others. Clean, spacious, comfortable apartment. In a Great location - easy access to Reykjavik and sites outside Reykjavik and a great neighborhood to boot (nice park just a short walk away). Reasonably well-stocked (not a lot of extras). Einar is extremely responsive. Just an easy, great Airbnb experience that there is little chance you will regret.
---
This was an enjoyable stay. Einar was a pleasure to deal with. My first experience with Airbnb and it was painless. Einar responded immediately to all questions and concerns and gave helpful tips. We took the flybus to the BSI bus terminal. Then took hop off bus around city to get aquainted until we could check in. We stored our luggage in the lockers at the bus station. Luckily we decided to use small baggage as the big lockers were taken. We checked in with a code to get the key at the door. We had one bedding issue and Einar worked with us until it was resolved. He was totally concerned and on top of it and it was minor. We walked with our luggage to the apartment from the bus station. It is about 15 minutes. Same to town center. A bit out of the way, but totally doable if you are capable of walking. Iceland is a very service oriented country and is easy to get around. The tours picked us up at Alba Guesthouse and at the Bus Hostel (which you can wait inside of it's raining), both a close walk. The apartment was equipped with everything needed and was updated and comfortable. Plenty of room, it was perfect for our stay. A master and second bedroom with Queen beds and a single in an "extra" room. A living room with sofa and 2 chairs and desk area. Fully stocked kitchen and nice entry that we could keep wet shoes and coats. There is a small grocery up the block. This is in a neighborhood, not on a Main Street with bars and restaurants. But they are easily accessible. The Hallgrimskjirka is close by as is a park and the Perlan. I recommend Einar as a host and this property is ideal if you're able to walk a bit.
---
My personal recommendations for REYKJAVIK and ICELAND:

Written in 2013 - 2017.

Ask me to send this by e-mail after you book since Airbnb messes with all the links.

TiP: Icelandic tap water is considered extremely pure. I have never seen an Icelander buy bottled still water, ever, not even once :)

------------

RESTAURANTS in Reykjavik:
(updated spring 2016)

TiP: Most restaurants have lunch offer, often around 2.000 ISK, which can be half or one third of the dinner price. Many Icelanders make use of this.

All located downtown Reykjavik, within 10min walking distance of one another.

MY FAVORITES:

Fiskmarkaðurinn:
(seafood, sushi, great interior)

Snaps bar:
(trendy, inexpensive, popular among locals in the weekends)

Kopar:
(opened in spring 2013, good, trendy)

Apótekið:

Glo: (the one downtown, on Laugavegur)
(health food, raw, vegan, chicken, organic, self service, close 9pm)

Kol:
(opened in spring 2014, trendy, popular)

NEW SINCE 2016:
(I hear good things, they look good, I plan to go soon)

Essensia:
(Mediterranean style, on Hverfisgata)

Burro:
(trendy latin theme, on Ingolfstorg)

Rok:
(small, cozy, good design, has grass roof, opposite the big church Hallgrimskirkja)

Public house:
(fusion, street food style, on Laugavegur)

OTHER POPULAR WELL REVIEWED:

Fiskfélagið:

Matur og Drykkur:

Verbud 11:

Sjávargrillið:

Grillmarkaðurinn:

Also, in the area where you have Kopar and Verbud 11, by the harbor, there are many small restaurants.. The Burger joint is a famous one, also Cafe Haiti, and Sægreifinn.

For more on restaurants in Reykjavik see Tripadvisor:


Also, The White Guide ranks the best restaurants in Scandinavia, here is their list for Iceland for 2016 (Dill is at the top with a ranking of 79 out of a possible 100):

------------

BARS/CLUBS I like, in Reykjavik
(updated spring 2016)

All located downtown Reykjavik, within 15min walking distance of one another.

Kaldi Bar:
(trendy, popular, clientele mostly 30-50 but also younger)

Kaffibarinn:
(The best bar and nightlife/club in Reykjavik for the weekends. Voted one of the best clubs in Europe by Guardian:
Clientele mostly 20-35 but also older

Snaps bar/Hótel Óðinsvé:
(treyndy, popular, clientele mostly 30-50, blend of locals and tourists)

Port9 wine bar, Veghusastigur 9:
(new since winter 2017, seems like a hidden gem getting trendy by locals)

There are many more bars/clubs frequented by 20-35yo like: Húrra, Bravo, Kiki (gay focus), Vegamot, B5, Austur.

And there are a few more bars/clubs frequented by 30-50yo like: Petersen svitan Gamla Bio, Jacobsen Loftid, Olstofan, (and for all ages: Danske bar, English pub, Lebowski bar).

Cafe Rosenberg has live music every day except Sundays.

TiP: Many bars have happy hour sometimes between 16 - 20 (can vary within this time frame). Happy hour prices for a large beer can be around 7-800 ISK, while normal large beer price may be ISK (Fall 2017).

------------

CAFES I like, in Reykjavik

Stofan Cafe:

Te og Kaffi Adalstraeti:

Te og Kaffi Skólavörðustíg: (bookstore and cafe)

Babalú Cafe:

There are plenty more cafés in Reykjavik.

------------

MORE for Reykjavik

Reykjavik downtown area is small. It consists of Laugavegur shopping strip, Skolavorðustigur shopping strip (leading up to the big church Hallgrimskirkja), Austurvollur main town square, the pond, the harbor and the surrounding areas. It's a cultural place with abundance of restaurants, bars, cozy little cafes and design shops, museums, exhibitions and nightlife.

Here is a pretty good guide to Reykjavik with more than just the conventional stuff - 25 cool things to do in Reykjavik, written FEB 2015:


And here is one from the Wall Street Journal, written in MAY 2015:


And here is a clever budget guide for Reykjavik/Iceland written by famous travel blogger Rick Steves in SUMMER 2017 (think I agree with most said in there):


I strongly recommend the swimming pool complexes in Reykjavik. There are a total of 18 big swimming pool complexes with a combination of one or more big pools for lap swimming, several different heated hot tubs (outside), steam rooms and saunas. Entrance fee is normally about 6 Euros. I like them all but I mostly use Vesturbæjarlaug, Laugardalslaug and Arbæjarlaug.

Here is a link to all the swimming pool complexes


And Laugardalslaug also has a large gym with more expensive spa

The Blue Lagoon is about 40min drive from Reykjavik on the way to KEF airport. I would recommend going there. It is very touristic but also unique. Their website lists which times of the day are better than other to avoid traffic. As of 2016 the base entrance fee is 40 Euros, and in summer 50 Euros.


This guy here was not very happy with the Blue Lagoon experience (March 2016) I think he has a point, as with everything else that is in high demand, quality tends to go down and cost up. But I would still go experience it once, for a couple of hours, and for the lowest price offered. And look at it as an experience. But if you want to spend quality time somewhere on food, accommodation, spa etc. I would do that somewhere else where it's not so incredibly touristic.

------------

Traveling in or around ICELAND in SUMMER time:

First of all make sure to try out as many geothermal swimming pools as you can, use it as your shower that day. They are very popular. I am referring to two types of pools. The man made swimming pools inside towns and villages around Iceland. These often have geothermal water and they are similar to the ones in Reykjavik but often smaller. Then there are the natural hot springs and pools right in nature where you can go and bathe. Ask locals for directions to such pools as you drive around.

Here is a link to a Tripadvisor ranking of what seems to be mostlday tours near Reykjavik, these are not the big companies and if you read the reviews of some of these top ones they seem to be amazing:


Here is a link to 5 good natural hot springs to bathe in:

Here is a link to 11 interesting pools, either geothermal or located right by the sea:


Here is a link to about 10 non-commercial pools/hot springs (this is in Icelandic but you can the names and they also have GPS location next to each pool)


Here is a link to the Secret Pool at Fludir in South Iceland (1,5hrs from Reykjavik)

And they have special Aurora Borealis Floating tours

(just remember to check the Northern lights forecast yourself before going since more often than not there are no Northern lights)

Here is a link to Hveragerdis pool (40min drive from Reykjavik, I go there often they have a lovely natural (smelly) sulfur steam bath and entrance is cheap)

And next to Hveragerdis pool is this guesthouse/geothermal pool area


Here is a link to a new site (as of September 2015) called TripCreator which has won awards for planning trips in Iceland:


ICELAND ROUND TRIP

The following suggestions assume you have 2-3 WEEKS for a round trip around Iceland in summer time - but you can also pick and choose for smaller time periods:

Also note: Most of what comes below was written in 2013 and some of the better known places have become very over populated by tourists since then. It's always wise to ask the locals about the less traveled up and coming spots that can also be very interesting.

Starting from REYKJAVIK

Drive around REYKJANES and stop in the BLUE LAGOON. Then drive through Grindavík - Krýsuvík (nice geothermal fenced area with great colors in the ground) and continue to Hveragerdi (nice swimming pool there with natural sulfur smelling steam bath). Then drive on and right before Selfoss turn left and make a detour (from the round-trip):

That concludes REYKJANES.

The detour is called "The Golden Circle". It takes you to Thingvellir (must see, UNESCO National park and the first parliament in the world) –from there drive through Lyngdalsheiði to Laugavatn - then GEYSIR (one of the fountain geysers there Strokkur erupts every 10min or so) - then GULLFOSS which is a beautiful waterfall (must see both of these).

Then from Gullfoss drive back down to the shore for example through Selfoss, from there continue to the round-trip:

Start SOUTH ICELAND

Seljalandsfoss, Skogafoss, Thorsmork and Westman Islands - must see all of these, the first two are waterfalls, Thorsmork is one of my favorite places with beautiful landscape. You can stay in a cabin in Básar or Langidalur as an example (through Ferdafelagid or Utivist tour companies). But note there is problem getting all the way to Thorsmork unless you have a big wheel jeep, take a bus or get a lift. There are big rivers to cross. Thorsmork is a home to Eyjafjallajökull the famous volcanic eruption of 2010 which stopped all air traffic in large parts of Europe. Close by Thorsmork is Westman Island, quite a picturesque and interesting place in my opinion. In 1974 they had a volcano erupt and the whole village had to evacuate in an instant but nobody got hurt. You take a ferry to get there.

I really like a DETOUR here into the wilder area of the country. You might be able to do it on your car depending how you do it but it's best to have a 4 wheeler. Basically it means going Fjallabaksleid Nyrdri and sleep in Landmannalaugar which is a really nice wild area with natural geothermal pool to bathe in and a cabin house to sleep in. You can also go to Landmanalaugar through Fjallabak Sydri which is an even nicer route with colors in the ground from geothermal activities but for that route you need a very big wheel jeep. Landmannalaugar really is a unique place. This incredible photo is taken in Brennisteinsalda which is a mountain very close to Landnmannalaugar and is clearly shows the colors and the landscape you can expect on a good day there:

The Thorsmork area is almost a part of this detour, but it can also be done separately.

The other inland DETOUR you could do is book a trip from Myvatn in the north of Iceland and go to Herdubreid area and Viti (I haven't done this trip but many like it).

But on with the ROUND-TRIP. Assuming you just finished the Landmannalaugar detour you will now end up somewhere on the shore again. Continue driving east. Places to stop on the way could be Kirkjubaejarklaustur (they should have good camping). Then Vik i Myrdal which has Reynisfjara, Reynisdrangar and Dyrholaey. These are all quite nice and it does not take that long to see them.

Then drive to Skaftafell. They have good camping. Must do a walk from the camping ground towards the glacier Skaftafellsjokull, you should be able to hear the glacier move once you are there, it's not a very long walk. Then close by Skaftarfell is Jokulsarlon one of Iceland's most famous places with big glaciers floating around. James Bond was filmed there once.

Here is a link to a Justin Bieber video filmed in end of September 2015 that has amazing footage of: Seljalandsfoss, Skogafoss, Dyrholaey, Reynisfjara, Jokulsarlon and some other places in South Iceland.


That concludes SOUTH ICELAND.

Then drive towards the East Fjords. Höfn í Hornafirði, Egilsstaðir, Hallormsstaðarskógur and Atlavík are all good places to see. Also some of the villages in the fjords such as Seydisfjordur where Norræna ferry stops. You can bring your car from mainland Europe, rental cars are very expensive in Iceland.

That concludes EAST FJORDS.

From Seyðisfjörður drive counterclockwise, the first important things to see:
Asbyrgi, Hljodaklettar and Dettifoss. Dettifoss is the most powerful waterfall in Europe. The beginning of the movie Prometheus was filmed there, and by Gullfoss waterfall. Must see all three of these (Ásbyrgi has good camping)
Then drive to Mývatn (should have good camping) - go bath in Also there are very nice colors in the ground near the geothermal activity close to Myvatn called Krafla area. Also go walk a bit in Dimmuborgir.
Then drive to Eyjafjörður - stay in Akureyri which is Iceland's 2nd largest town, but quite still small. Visit Laufás old church place opposite Akureyri.
Then drive through Dalvík, Ólafsfjörður and Siglufjörður.

That concludes NORTH ICELAND.

Then you have option to go to Vestfirðir which are best characterized by very big mountains and no trees. You can for example drive from Blönduós to Isafjordur. It's a long drive. Once there you can sail to Vigur island, half hour. Then drive through Bildudalur - Talknafjordur - Patreksfjordur (small fishery villages). Close to there is Látrabjarg the westernmost part of Europe with big cliffs and white sandy beaches - then drive to Brjanslaekur.

That concludes VESTFIRDIR.

Take the ferry from Brjanslaekur to Stykkishólmur (pretty little town with old well kept houses) - now you are in SNAEFELLSNES a very nice peninsula which you can drive around in a few hours. Drive to Grundafjordur - Olafsvik and around the Snaefellsnes Glacier. There you land in Hellnar. I remember a nice little restaurant by the sea in a nice environment. Then either walk or drive to Arnarstapi a very picturesque place with high cliffs towards the sea and beautiful view towards the Glacier. They also have good camping. Close by is Budir with a pretty little church and an upscale hotel. From there you can drive up to the glacier and get rides on a snow scooter on the glacier if you like.

That concludes SNAEFELLSNES.

Concluding the round trip around Iceland drive from Budir, through Borgarnes and end in Reykjavik again. You can either drive through the tunnel or take Hvalfjordur (1-2 hrs longer but nice) and then you end up in Reykjavik again.

Places where you could sleep on the round trip:

Asbyrgi
Myvatn
Akureyri
Stykkisholmur
Arnarstapi
Reykavik
Thingvellir
Laugarvatn (on way back from they Geysir and Gullfoss)
Thorsmork
Landmannalaugar (or Westman Island)
Vik i Myrdal
Skaftafell

Remember to do a Image search for the names of the places I mention above so you can see what they look like and make a decision what you want to prioritize.

Hope you have an excellent time in Iceland!

Einar
语言:
Dansk、Deutsch、English、Español