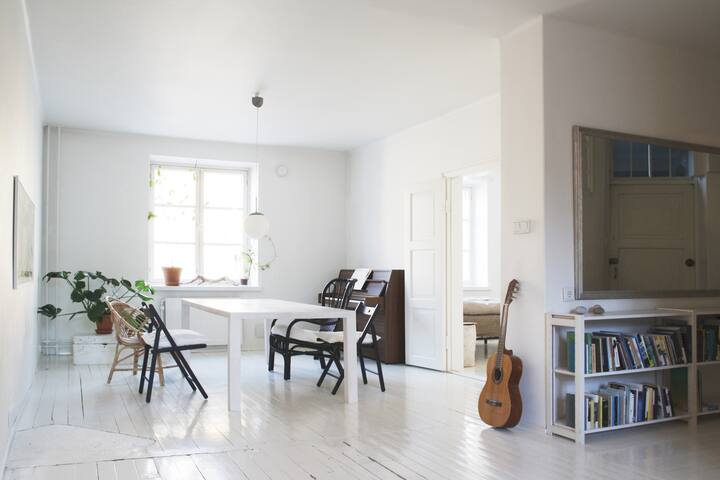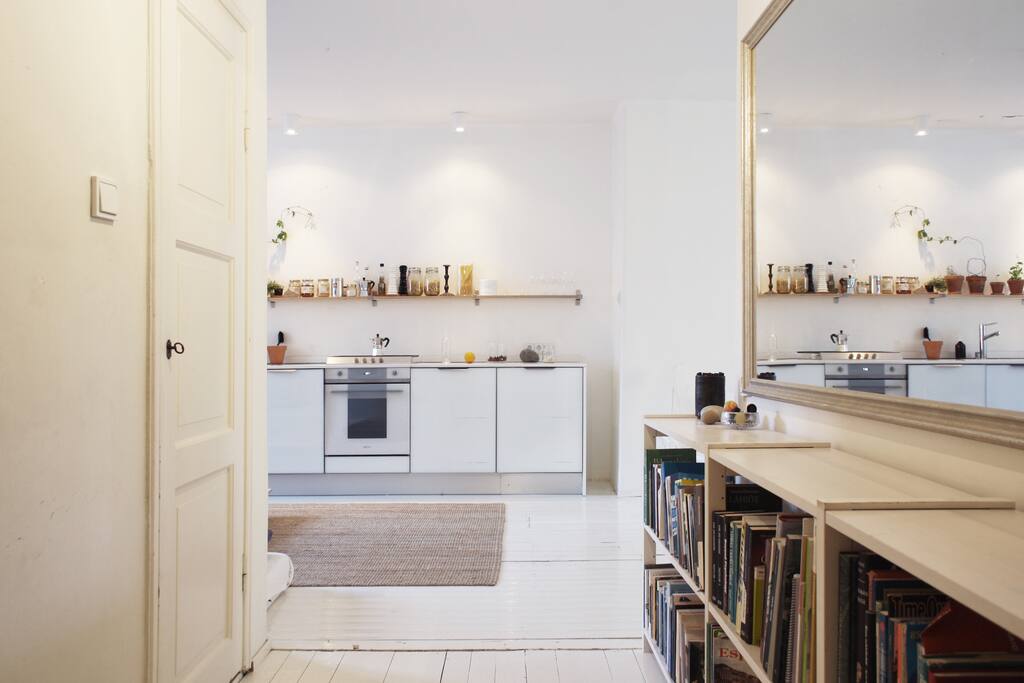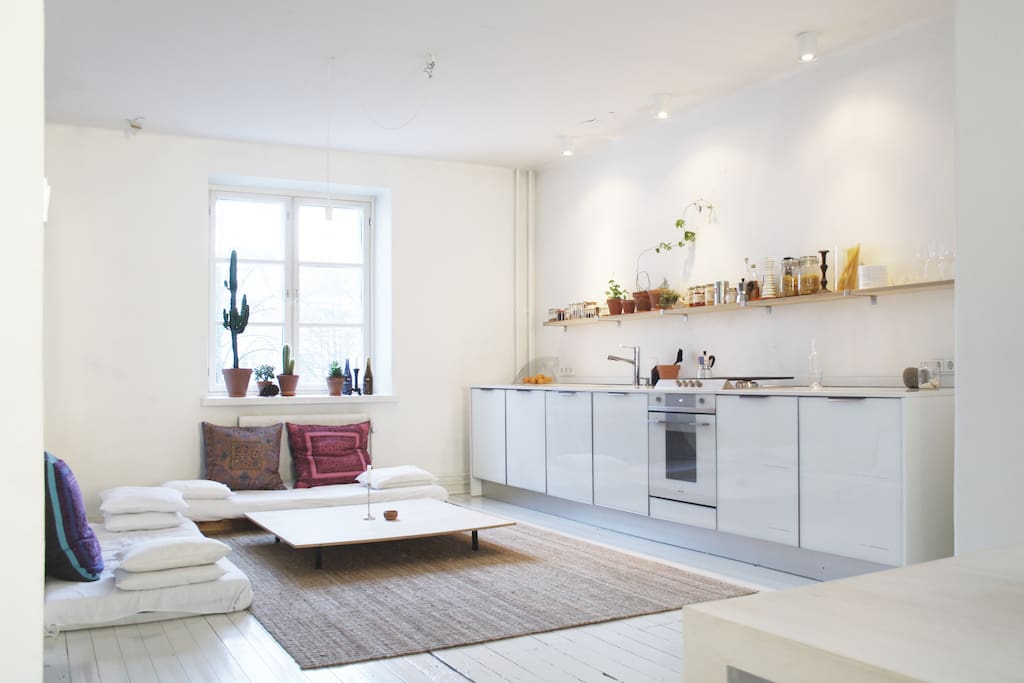 们85平方米的公寓的18平方米的房间位于Vallila,一个田园诗般的,新兴的区域有有趣的咖啡馆,振兴的老工业区和车间。 Vallila是从公共汽车30分钟从机场。 电车和地铁在15分钟内带您前往市中心。靠近的是游泳池和Vanhankaupunginkoski的自然区域。 公寓坐落在一个美丽的古典建筑的20世纪20年代与一个可爱的庭院。 这间客房适合单身人士和情侣入住。
The 18-sqm room in our 85-sqm apartment is located in Vallila, an idyllic, up-and-coming district with interesting cafés, revitalized old industrial areas and workshops.
Vallila is 30 min from the airport by bus.
Tram and metro take you to the city center in 15 min. Close by are the swimming pool and the natural areas of Vanhankaupunginkoski.
The apartment is situated in a beautiful classical building of the 1920's with a lovely courtyard.
The room is suitable for singles and couples.
We will provide you a travel card. The travel card can be used for public transportation in Helsinki-Espoo-Vantaa areas. You can easily load the money you need downstairs at Sturenkatu 49 in R-kioski shop. This card can be used for all busses, tram, etc in the city. To give you an estimation, the way to center costs about 1,50 € by tram. Trams and busses to center are leaving nearby in Hämeentie and Mäkelänkatu (both 4 min walk).
---
Kiti's place is awesome -- so beautiful and so wonderfully located. It's easy to get anywhere you need to go. Kiti has lots of great suggestions of what to do, things that are a little more out of the typical Helsinki experience. Kiti and Martino are so welcoming. My husband and I loved our stay and would definitely definitely stay again!
---
We had an absolutely wonderful time staying at Kiti's place! Although we never met them they were excellent at communicating and quickly responded to questions! The flat is very easy to get to from the airport by Finnair bus and 2 blocks from the bus stop. The apartment is very clean and cozy. We loved how simple it was! The location is just outside the city center. We were left a metro card but didn't use it often as we enjoyed walking along the water to get to the city! I would highly recommend to anyone visiting Helsinki!
---
Kiti and Martino's flat is gorgeously decorated. It was a very calming and chill space. They were also so sweet to wait up for us when our flight was changed & then delayed. Very gracious host. They even had a list of recommendations , city maps, and public transportation cards in the room. Martino even wrote our a separate list for us based on our interest in design. They are good people. We really enjoyed the Italian coffee in the morning too. Apart from being amazing hosts, the flat is super close to public transportation. We are able to take the Finnair bus from the airport to their home in about 20 minutes. Also, tram is bus stops were just a couple blocks away. Lots of restaurants and grocery stores within a couple blocks too.
---
You have to stay here! Kiti and Martino are great. They are super helpful and fun to interact with. Their apartment is quite big and is very cool. To get to the market square (kinda where everything is) you take a tram (about 20 minutes) that's right near their house there is also a super market a near by and some places to eat. I really enjoyed our stay and meeting them. Definitely a nice place!
---
My friend and I stayed at Kiti's place during a short 24 hour layover in Finland after a week in Spain. The apartment is beautiful and Kiti and Martino were great hosts. They even gave us some really great tips for how we should spend our time in Helsinki. It's located close to the tram line which takes you right into the center of town, and less than 5 minutes walking from the FinnAir and city bus stops. I wish we could have stayed longer!
---