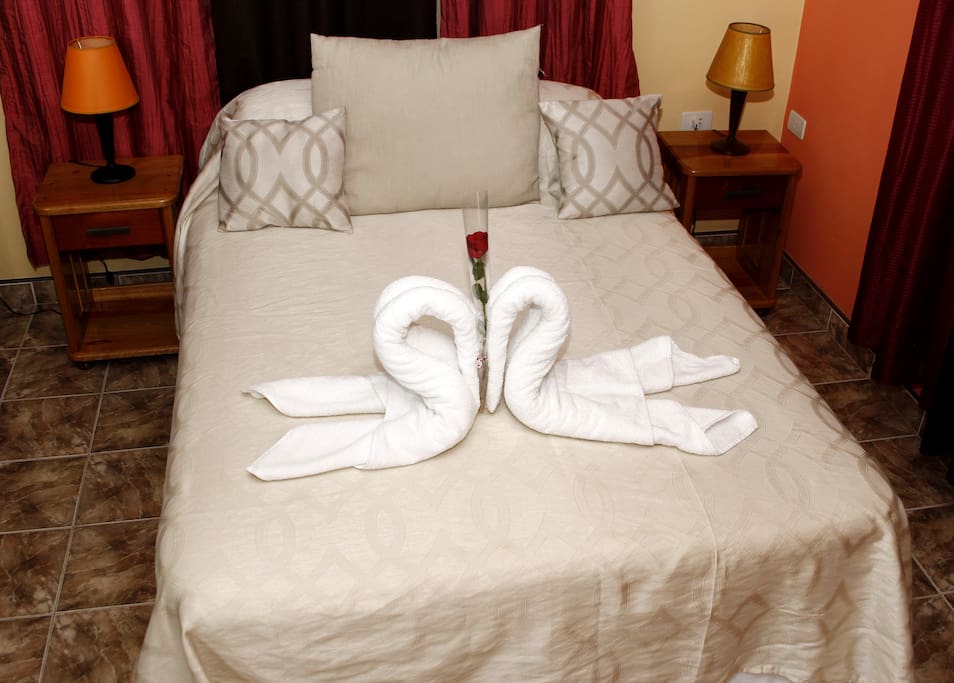 景点:餐馆和食品,非常接近最好的加勒比海海滩阳光和海滩目的地。你一定会喜欢它,因为人,环境和位置。我们的公寓是中投高地巴拉德罗在Santa Marta,步行约15分钟,距离最美丽的海滩在古巴,瓦拉德罗5分钟车程。你会喜欢我们的空间,为您精彩的舒适性和个性化的关注。非常适合情侣。
---
This place was great. Tons of amenities. The room was clean and updated, the bathroom was spacious, and the air conditioner made the bedroom very pleasant. The rooftop terrace was massive and made for an enjoyable stay. The outdoor shower came in handy when we returned from the beach and needed to get the sand off before entering the room. While this casa isn't on the beach, it's a short walk away and in a nice, local community. It definitely felt like a more authentic Cuban experience, rather than staying in an area flooded with tourists. I'd highly recommend. It was the best place we stayed during our week in Cuba!
---
Excelente y acogedor lugar.! Fue muy amable y hospitalario Arnaldo , las hermosas playas de Varadero están a menos de quince minutos caminando 100% recomendado , amplio, muy limpio y con una bella terraza
---
Arnoldo and Janicia (hope I have spelt her name correct) were excellent hosts. They made our stay comfortable and enjoyable. Both Arnoldo and Janicia communicated well in English and were able to direct or help us with our needs, i.e. Places to visit, how to get somewhere, etc. Breakfast is a must, at 5 pesos each, it was excellent value, it included continental and English with a range of fruit. The cleanliness of the apartment was excellent, cleaned every few days with change of bedding. The roof patio area was spacious and also very clean, with modern furniture to sit or lay and relax. The apartment is in a residential area, about 15-20 minute walk to the beach. Buses to other areas are abundant. The tour bus is worth a ride. It is hop on, hop off, the ticket is for all day, 5 pesos each. Excellent hosts.
---
I don't even know where to begin to describe how far beyond our expectations Arnaldo and his wife went while hosting us. They literally treated us as if we where family. Their home was impeccably clean, stocked with beverages, and when I say to you that the breakfast was amazing.... as a matter of fact I wish they lived closer to us just so that we could indulge on those tropical fruits while overlooking the city of Santa Marta. We walked to the beach everyday while we were there, if my memory serves me correctly, you can reach the stunning shores of Varadero in 15 minutes from their home. Also, there recommendations for restaurants are spot on, we had an amazing dinner at Terraza Cuba, it's 2 blocks away from their home and worth every step. We will be seeing Arnaldo and his wife again next year and you would be doing yourself a disservice by not staying with the most accommodating, welcoming, and beautiful family in Santa Marta! Thank you for making our stay a home away from home!
---
Un des plus beaux logements de notre séjour, un accueil très chaleureux dans cet appartement situé à santa maria, à environ 15 minutes à pied de la plage. Magnifique toit terrasse
---
Arnaldo's house is beautiful, we would stay there again any time. The room is spacious, clean, and has AC, which was crucial because of the high temperatures over the summer. We were given the option to have breakfast in the house for 5CUC, and we highly recommend it. The food was abundant and delicious. Otherwise, there is a small kitchen were food can be prepared. The house is 15-20 min walking from the beach, and there are plenty of taxis around. Communcation with Arnaldo was straightforward and easy, and him and his wife are very kind and welcoming.
---