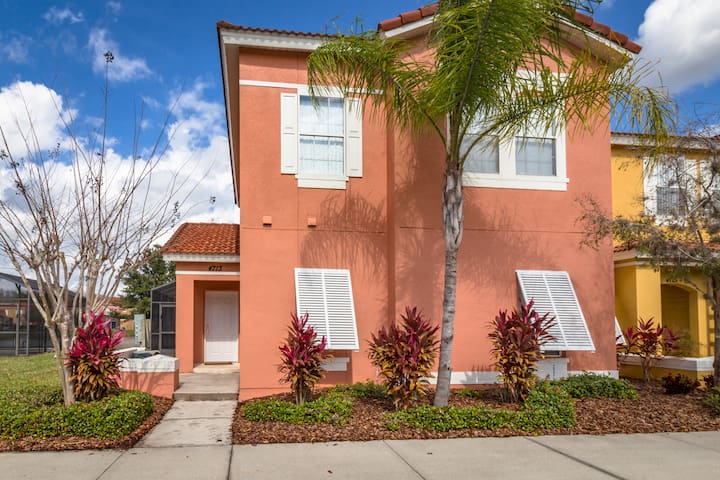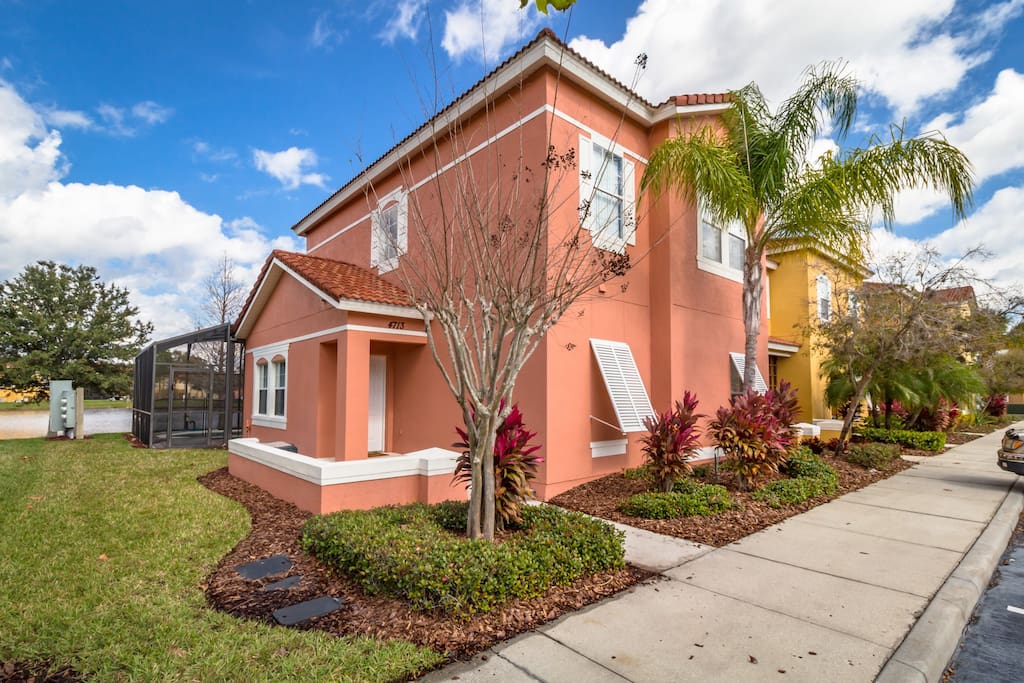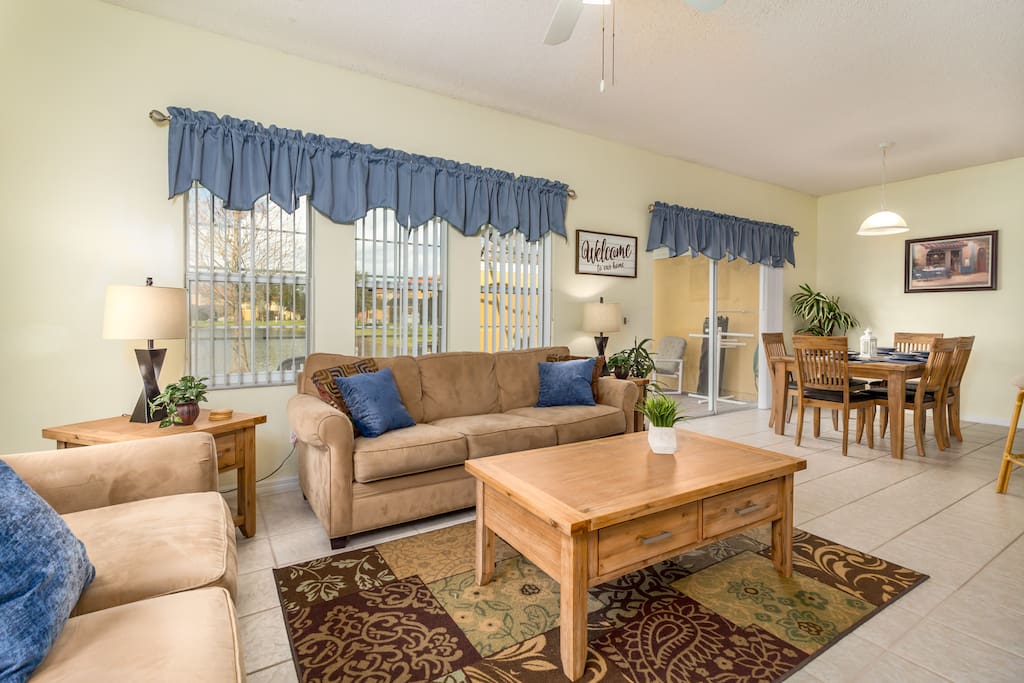 Beautiful 4 Bedroom Townhome with Private Pool
Welcome to Villa Giacomo! Our townhouse is located in a beautiful gated community called Terra Verde Resort. We are only a 15 minute drive from the Happiest Place on Earth - Disney World! There is a wide range of restaurant options to choose from within a 5 mile radius. For the shopaholics, our townhouse is only a 10 minute drive from the Premier Premium Outlets, the new Disney Springs and several other retail establishments. We look forward to welcoming you!
T
---
---
---
---
Guests must sign rental agreement:
RENTAL TERMS The party leader confirms acceptance of the terms and conditions detailed below and shall be binding on the person(s) booking and intending to occupy the premises.
RENTAL PERIOD The rental period begins at 4PM on the tenant's scheduled arrival date and ends at 10AM on the tenant's scheduled departure date. Early arrivals, late departures, and extensions to reservations are not included in the tenant's agreement. Payment for these options, when applicable, is expected at the time of request and will need to be handled in the same manner described above. Tenant's refusing to check out in a timely manner, without prior approval, will be charged a full nightly rate and/or reported to the appropriate sheriff's office for removal according to the terms and conditions of this agreement.
PRE-ARRIVAL INSPECTION Prior to each Tenant's arrival, a home inspection is performed to ensure the home is neat and tidy, with major appliances and utilities in functioning order. Any maintenance items found to be in need of repair or not functioning properly will be scheduled for a maintenance work order by our team. While we attempt to rectify these issues prior to Tenant's arrival, it is not always possible, and the work order will be scheduled for completion after your stay. If the Tenant wishes to report something regarding the home, please call our office to schedule a work order.
OCCUPANCY LEVELS For the tenant's safety, all homes have a maximum occupancy that has been set according to recommendation from the Fire Marshall. Please make note of this occupancy level and ensure that it is not exceeded. If occupancy is found to be exceeded, additional guests will be required to vacate property to return the occupancy to the approved number of occupants.
4 Bedroom Townhome/Vacation Home- Max people is 8 people
** The Fire Marshall's max number of occupants is determined as a person. So an infant does count as a person in the max number of occupants
Pest Control Florida has a sub-tropical climate that comes with its own challenges regarding unwanted pests, both inside and outside the rental property. On the property owner's behalf, Resort Home Network contracts licensed pest control professionals to perform services on a monthly basis. From time to time, additional service may be required; Tenant is to notify Resort Home Network at the earliest convenience, so service may be scheduled. If pest problem is found to be caused by tenant's negligence, any costs incurred for additional pest control and/or cleaning may be passed on to Tenant.
COMPLAINTS OR DISSATISFACTION In the unlikely event of a complaint during Tenant's stay, please contact Resort Home Network immediately ((PHONE NUMBER HIDDEN)). If the problem has not been reported, as requested, Resort Home Network cannot accept any responsibility. No refunds are granted for early departures or for malfunctioning mechanical or electrical equipment including (but not limited to): inoperable appliances, air-conditioning units, Pools and/or spas. No refunds will be given for community or road construction noise, or maintenance issues.
ADDITIONAL TERMS OF THIS AGREEMENT:
1. Tenant must be a minimum of 21 years of age.
2. Tenant is provided with 1 key, if applicable, which is accessible via lockbox at the residence. Tenant assumes responsibility for the whereabouts of said key. If key is lost damaged or broken, Tenant accepts financial responsibility for locksmith charges and applicable replacement costs.
3. Resort Home Network has the right to inspect the premises without prior notice at any time to enforce the terms of this agreement. Should the tenants violate any of the terms of this agreement, the rental period shall be terminated immediately. The tenants waive all rights to process if they fail to vacate the premises upon termination of the rental period. The tenants shall vacate the premises at the expiration time and date of this agreement.
4. The rental property is privately owned and managed by Resort Home Network, whom reserves the right to refuse service to anyone.
5. Tenant acknowledges that the rental property could, at some time, acquire bed bugs as a result of a previous tenant's occupancy. In the very rare event of the rental property acquiring bed bugs, Tenant cannot and will not hold Resort Home Network responsible for resulting damage or injury caused by bed bug activity.
6. The telephone and internet carrier and resulting services offered is determined by the property owner. Resort Home Network assumes no responsibility for services offered. At any time during the tenant's stay, you find telephone service to be inoperable; it is the tenant's responsibility to notify Resort Home Network of the issue.
7. The tenants shall maintain the premises in a good, clean condition, and use the premises only in a careful and lawful manner. The tenants shall leave the premises neat and tidy at the expiration of the rental agreement, defined by Resort Home Network as being free from dirty dishes, used food items, excess garbage, shopping bags. Tenants shall pay for maintenance and repairs should the premises be left in a lesser condition. The tenants agree that Resort Home Network shall deduct costs of said services from the credit card on file, if tenants cause damage to the premises or its furnishings.
8. The tenants shall dispose of all waste material generated during the rental period in a lawful manner and put the trash in the bins during their stay for pickup. Garbage designated pick up day can be found in GUEST BOOK located inside the rental property. Garbage that does not fit in the trash bin should not be left out for pick up; it will not be picked up and animals will have opportunity to get into it. Any fines incurred as a result of the trash bin being left at the road or outside, where applicable, will be charged to the Tenant's credit card on file
9. The tenants shall not sublet the property.
10. The tenants shall behave in a civilized manner and shall be good neighbors respecting the rights of the surrounding property owners. The tenants shall not create noise or disturbances likely to disturb or annoy the surrounding property owners. Creating a disturbance of the above nature shall be grounds for immediate termination of this agreement and Tenants shall then immediately vacate the premises. Quiet hour starts at 10 PM; pool and outdoor noise should be kept to a minimum during these hours.
11. In accordance with state law, there shall be no smoking inside the premises. If home found to smell of smoke, the cost to fumigate/purify the home will be deducted from your
credit card on file. Smoking is permitted outside the home. Please remove your discarded cigarette butts.
12. Resort Home Network shall provide towels, linens, cups, knives, forks, spoons, dishes, and other items as commonly used by guest and their families. Toilet paper, soap, dish detergent, laundry soap, shampoos, and other consumables are to be purchased by the tenant. No reimbursement will be made for unused consumables left at the premises. If consumables exist at the premises when the tenant arrives, the tenant is free to use them.
13. The tenants and Tenants' Guests shall hereby indemnify and hold harmless Resort Home Network against any and all claims of personal injury or property damage or loss arising from use of the premises regardless of the nature of the accident, injury or loss. Tenants expressly recognize that any insurance for property damage or loss which Resort Home Network may maintain on the property does not cover the personal property of Tenants, and that Tenants should purchase their own insurance for Tenants and Guests if such coverage is desired.
14. Tenants expressly acknowledge and agree that this Agreement is for transient occupancy of the Property, and that Tenants do not intend to make the property a residence or household.
15. We occasionally experience outages that are beyond our control. We report outages as each occurs. No refunds or compensation will be given for any outages.
16. There shall be no refunds of rents because of shortened stays or ruined expectations due to work and family emergencies, weather conditions or other commitments.
17. There shall be no refunds of rents due to an early departure.
18. It is the tenant's responsibility to learn about safety precautions, warning signs of water conditions, and safety procedures concerning swimming in or being around the pool. Tenant agrees to have responsible adult supervising minors while they swim in the pool. Tenant is hereby notified that the pool can be dangerous and tenant accepts fully the risks involved. Tenant is further notified to be cautious when exiting the rear of the home as the pool is open and in close proximity to the entry ways and can be a hazard. There are no permanent rails to prevent a fall into the pool.
19. Tenant agrees to keep doors and windows that are equipped with pool alarms closed at all times. It is a federal offense to tamper with the alarm to the patio door (if any) and smoke detectors. It carries a penalty of $5,000.00 or 5 years imprisonment. If any alarm is not working or ceases to work then it is Tenant's responsibility to inform the office immediately. Please do not disconnect the alarms. Always keep the child safety netting in pool area erect (if any).
20. Only legally owned and permitted firearms shall be allowed on the premises according to State and local laws.
21. Tenant agrees that Fireworks and other hazardous materials shall not be used in or around the property.
22. Tenant shall use the property for legal purposes only and other use, such as but not limited to, illegal drug use, abuse of any person, harboring fugitives, etc.; shall cause termination of this agreement with no refund of rents or deposits.
23. Tenant agrees not to access the "owner's closet" (if applicable), even if unlocked, which contains cleaning supplies and chemicals that could be hazardous to children and adults.
24. Tenant is advised that the property may contain a gas stove and cook top, gas heating, gas grill, and other gas powered items and will seek help from management if the proper operation of such items is not fully understood.
25. The property has smoke detectors installed and they are believed to function properly at the time of rental. Tenant will notify management without delay if a fire alarm "chirps" or has a low battery condition. Should smoke detectors found to be removed or damaged, Tenant will be charged $150.00 for tampering with safety equipment.
26. Tenant is advised that there may be no carbon monoxide detector on the property and accepts the risk involved in not having one.
27. Tenant shall see to their own security while in the property by arming the alarm (if applicable), locking doors, windows, garage doors, etc. when it's prudent to do so.
28. Valuable items left behind by tenant will be held for the tenant and every reasonable effort will be made to contact the tenant for return. If items are not claimed within 30 days of departure, they shall become the property of Resort Home Network. Resort Home Network shall not be held liable for any items left behind.
29. High speed wireless internet is provided as a convenience only and is not integral to the agreement. No refund of rents shall be given for outages, content, lack of content, speed, access problems, lack of knowledge of use, or personal preferences with regard to internet service.
30. Tenant agrees that Air conditioning shall not be set below 74 degrees and heat shall not be set above 78, and that the fan setting shall be "Auto". Doors and windows shall be closed when either heat or air conditioning is in operation.
Please attach a copy of your driver's license or photo identification below.
Below please provide name and age for each guest whom you may have staying with you for any part of your stay. Please provide their full name and age.
Name Age
_______________________________________________
_______________________________________________
_______________________________________________
_______________________________________________
_______________________________________________
_______________________________________________
_______________________________________________
_______________________________________________
_______________________________________________
_______________________________________________
_______________________________________________
_______________________________________________
_______________________________________________
_______________________________________________
---
---
---
---
Ann's home is absolutely perfect for any group seeking a clean and comfortable place to enjoy the surrounding Orlando area or just enjoy the home itself, with a clean pool and comfortable living space it was a great stay! Definitely recommending to friends and will stay again in the future. Thanks!
---
Thank you Ann. Your home was warm, clean and very comfortable for my family to stay in for the week. It offered everything we needed, and the location was close to nearby stores, Disney, and bars. Most importantly we felt at home and we definitely recommend and visit your place again.
---