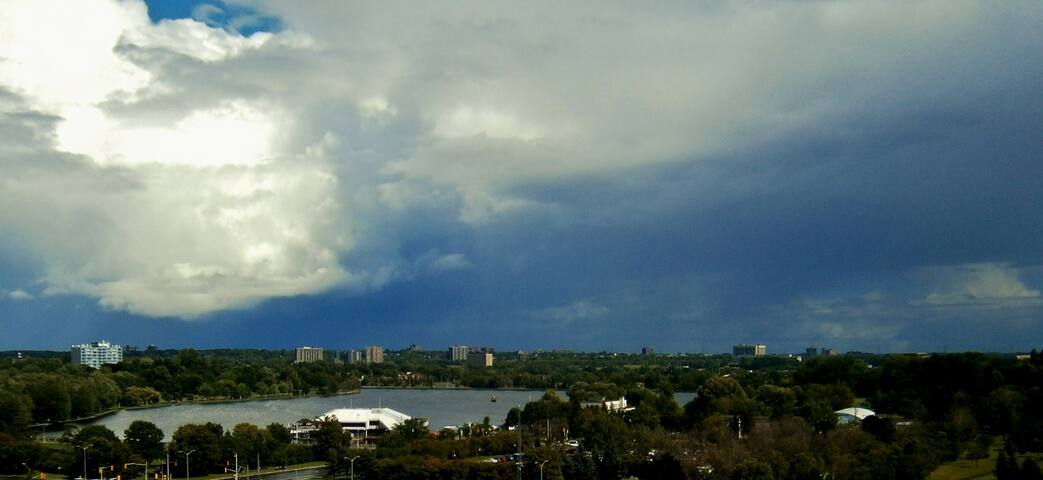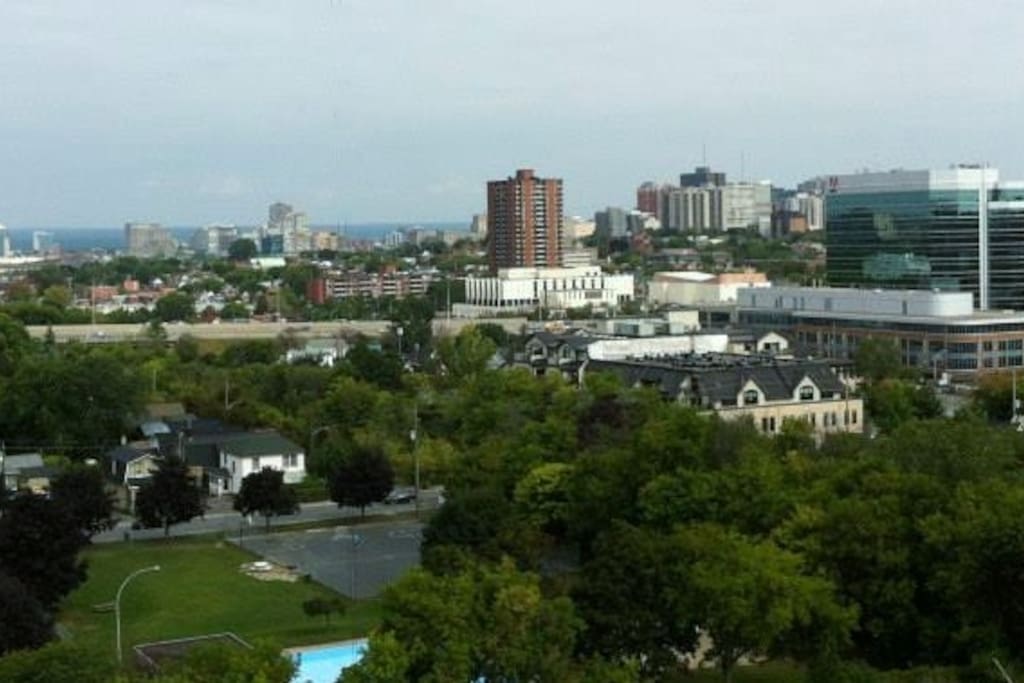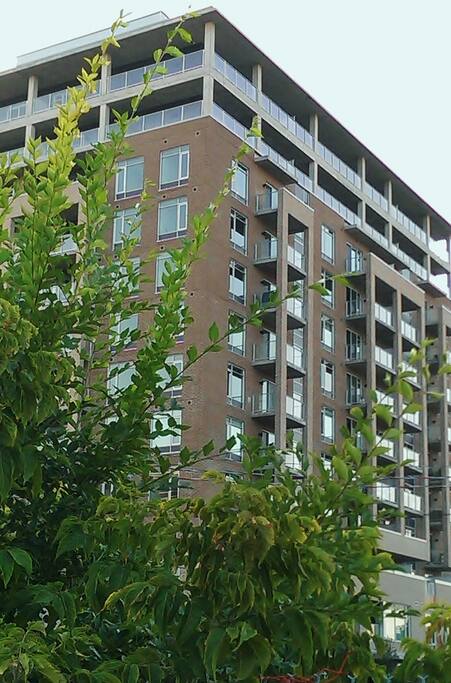 享受宽敞的2间卧室,2间浴室和阁楼套房,每间卧室配有一张大号床。书房包括一个被褥(双层,睡多达2个)。有一个完整的厨房,餐厅和洗衣房,以及一个令人惊讶的宽敞的客厅。环绕的阳台包括烧烤,各种座位和道斯湖的美景。所有的舒适的家外之家 享受渥太华爱尔兰节日(3月10日至17日),在不同的地点30分钟内开车或过境
Enjoy a spacious 2 bedroom, 2 bath & den penthouse suite, complete with a queen-sized bed in each bedroom. The den includes a futon (double-sized, sleeps up to 2 more). There is a full kitchen, dining room & laundry, as well as a surprisingly roomy living room. The wrap-around balcony includes a BBQ, a variety of seating and a great view of Dows Lake. All the comforts of home away from home
Enjoy the Ottawa Irish Festival (March 10-17), at various locations within 30 minutes by car or transit
房源
渥太华顶楼大型行政人员: •私人包围阳台俯瞰道斯湖 •易于使用的功能(互联网带有免费的Wi-Fi,Netflix,内置音响系统,iPod基座,阳台上的私人烧烤,套房内的洗衣等) •不锈钢电器,设备齐全的厨房,设置六个 •高档家具 •公共区域的双人床是以前被提及的被褥 •指定安全的室内停车位 建筑是: •禁烟 •LEED认证 •宠物友好 •靠近过境,自然,夜生活,商店和学校 注意:可应要求提供婴儿床和高脚椅。使用婴儿床不会降低单位的成人睡眠能力,但确实使婴儿床的区域更加受限制。
Large executive furnished Ottawa penthouse featuring:
• Private wrap-around balcony overlooking Dows Lake
• Easy-living features throughout (internet w/ free Wi-Fi, Netflix, built-in sound system w/ iPod dock, private BBQ on balcony, laundry in suite, and more)
• Stainless steel appliances, and fully equipped kitchen with place settings for six
• High end furniture
• The double bed in the common area is the previously noted futon in the den
• Designated secure indoor parking space
The building is:
• Non-smoking
• LEED Silver certified
• Pet-friendly
• Close to transit, nature, nightlife, shops and schools
NOTE: A crib and high chair are optionally available upon request. Using the crib does not reduce the adult sleeping capacity of the unit, but does make the area where the crib is set up more confined.
房客使用权限
• 健身房 •多用途公用休息室/会议室/小厨房 •户外普通露台休息室,设有带烧烤台的室外休息室 •宠物洗车站 •将入口处的自行车锁定室锁定 •客人停车(有限的过夜停车位 - 请询问您是否需要)
• Fitness room
• Multi-purpose common lounge / meeting room / kitchenette
• Outdoor common terrace retreat featuring an outdoor lounge with BBQ station
• Pet-wash station
• Secure bike lock-up room off entrance
• Guest parking (limited overnight guest parking - please ask if you need it)
与房客的互动
在您的预订确认后,我们将与您联系,完成客人身份/确认表。此表格必须在完成并退回前进行检查。有关此要求的更多详细信息,请参阅HOUSE MANUAL的第二段。 我们会在第一时间抵达客人迎接客人,以方便入住公寓;并与客人联系以协调他们的离开。 注意:具有检出和退出时间的灵活性可能是可能的。如果这是至关重要的,请在预订时提及。否则,可以在预订后通过信函进行结算,如果需要的话。 如遇紧急维修问题,我们也会提供。如果客人的住宿时间超过一个月,每个月都会进行小型维修问题的例行单位检查。
After your booking is confirmed, we will contact you regarding the completion of a Guest Identification / Acknowledgement Form. This form MUST BE COMPLETED AND RETURNED PRIOR TO CHECK-IN. See the second-last paragraph of the HOUSE MANUAL for more details regarding this requirement.
We will meet and greet guest upon first arrival to facilitate getting settled into the condo; and make contact with the guest to co-ordinate their departure.
NOTE: Flexibility with check in and out times MAY be possible. Should this be critical, please mention it at the time of booking. Otherwise, it can be settled via correspondence after booking, should the need come up.
We will also be available in the event of an emergency repair issue. Should the guest's stay be longer than one month, a routine unit inspection for any minor maintenance issues will be conducted each month.
其他注意事项
取消费 - $ 150.00 建筑物进入单位是完全残疾人无障碍。然而,该单位的两个洗手间都没有任何适应性来适应可及性。
Cancellation fee - $ 150.00
Building and entry into unit are fully Handicap Accessible. Neither washroom in the unit, however, have any fit-up to accommodate accessibility.
---
---
---
• There is NO SMOKING allowed anywhere in the suite, building or property (including on ANY building balcony)
• Please be respectful of other building tenants and keep the noise level down between 11:00 pm and 7:00 am
• The building does not have a garbage chute. Rather, guests are expected to (a) separate recyclable and compostable waste and (b) dispose of each waste "stream" (compost / recycled waste / other waste) in the main floor garbage room when the respective suite receptacle is full
• Pets are allowed in this pet-friendly building that includes a common pet-wash station
• Internet access via private WiFi
• Family/kid friendly building with a splash park nearby
• A common meeting room is available to book events that are not suitable to hold within the suite. There is no charge for the use of the room; but a security deposit is required to book the room in case of damage or clean-up costs
---
This was our second stay with Andy and it was as wonderful as the first. The building is modern and clean. The residents and staff are very nice. The gym is nicely equipped. The restaurants are close by and our favorite Gelato cafe is Stella Luna. The cafe was bustling for the holidays with all its charm. The apartment location is very convenient. It is not far from any areas of interest while at the same time it is a family friendly environment. Indoor heated parking was greatly appreciated as it was snowing during our trip. We can not thank Andy enough. We enjoyed every minute of our stay. Thanks kindly to him for all his efforts. We wish him the best.
---
Andy went above and beyond to make us feel welcome. we were not sure about the dates we arrive and he was very flexible. we gave him a very short notice, and the place was ready for us all clean and equipped with basic groceries, crib for our baby son, and games fro our daughter. the apartment is new and very beautiful and convenient. smart TV, modern kitchen, 2 bathrooms, porch with grill (Sunrise view from porch is amazing), underground parking. many nice restaurants in the area. Try La Roma and EVOO. We had some special circumstances, and Andy and Cheryl happily offered to help. they are amazing people and we are grateful for them.
As is noted below, after this "comment", there is an automated posting stating that Amanda's reservation was canceled. An explanation of how and why this occurred follows so that you may understand the exceptionally rare circumstances that caused this cancellation, and hopefully be assured that you should not expect this to happen with your reservation WHY THIS HAPPENED Our last guest, Lior and his family stayed with us in order to be close to the Civic Hospital for the birth of their son. The plan was to stay for just over a week before returning home to Boston. Unfortunately, their son was born prematurely, and suffered medical complications due to the early birth. He needed to remain in hospital far longer than originally expected, delaying his release and when he could safely travel Though we knew Lior`s son was born prematurely, we knew nothing of the medical complications until Lior contacted us on the morning of March 9, advising us that due to the time needed to convalesce, the hospital felt the boy would not be ready to be released until March 16. Lior therefore asked, at that time (on the morning of March 9), if their stay could be extended to March 18. I let Lior know we had a guest scheduled to check in March 10, so I couldn`t promise anything at that time, but I would see what could be done and would get back to him as soon as I had some kind of answer My hope was to get in touch with Amanda, explain the circumstances and, with her agreement, help her find alternative accommodations for her planned 4 night stay in Ottawa. Regrettably, as is explained below, that is not how things worked out However, first, a little more background regarding the "why" of this regrettable decision Lior and his family were, understandably, under a lot of stress due to the severity of the their son's medical condition; worried whether or not he would survive and unsure when, if ever, he would leave the hospital Checking AirBnB, I was not able to find another listing near the Civic Hospital that was available for all of Lior's family from March 10 to 18 Finding possibilities for Amanda, however, was less difficult and more productive. First, there were only two guests. Second, the stay was from only four nights – from March 10 to 14. The one unknown was whether a particular area within Ottawa was important to Amanda or not. A search revealed 37 possible alternative places where Amanda could stay across all of Ottawa, all complete homes/apartments, one of which was only 6 blocks from our location – should the area of Ottawa be important to her In my judgement, given the apparent lack of a suitable, close alternative accommodation where Lior's family could relocate and the (again) apparent multiple suitable alternatives where Amanda and her friend could stay, I felt the better solution under these unfortunate circumstances was to ask Amanda for her understanding and co-operation in changing her reservation. Unfortunately, that isn't what happened HOW THIS HAPPENED Immediately after my search for available AirBnB listings in Ottawa, I tried phoning Amanda using the contact number provided through AirBnB. There was no answer, but instead went to voicemail. The voicemail announcement message identified that the phone number was not Amanda's. In case the phone was a shared phone with a partner that did not share Amanda's last name, I sent a text explain (briefly) the reason for calling and texting, and the importance of speaking with Amanda as soon as possible After a reasonable wait for a reply, but not receiving one, I called the AirBnB support line (still relatively early in the day, March 9) and explained the complete circumstances including my desire to work out a solution with Amanda that was acceptable to everyone, but that I was not able to contact her. The AirBnB Support Representative left me with a sense that he understood the problem, sympathized with the dilemma and supported my proposed solution. He then went on to explain that the matter would be handed over to a Case Manager who would resolve the matter. He also assure me that the Case Manager would speak with me regarding the problem. Within an hour, I received a confirming message from the Support Representative that simplified the entire problem, included a mixed message of support, confirmed that the matter was being passed on to a Case Manager and re-affirmed that I would be contacted by the Case Manager or the Support Representative again later. Unfortunately, in the simplification of the issue, the Support Representative regrettably introduce an incorrect statement regarding a possible solution, and I can only assume this incorrect statement was passed on to the Case Manager as an "accepted truth" Hours passed with no word from AirBnB, or the message I tried to leave Amanda. Finally, it struck me to try E-Mail (essentially, when the "normal" fast methods of communication aren't working, try whatever else you've got). At last, success! Amanda responded, saying that she was busy, and could talk in two hours. She also noted her AirBnB contact number was out-of-date, and gave the correct number. I acknowledge receipt and let her know I would phone in two hours within minutes of receiving her answer Once we finally spoke, I explained the circumstances to Amanda and asked for her agreement to change the reservation, pointing out the number of possible options I found earlier in the day. She responded by saying (a) that this was so last minute (which would not have been the case had her contact number been up to date), (b) that she is not unsympathetic, working in healthcare herself, BUT (c) that she was so stressed out AND (d) therefore needed time to absorb this information before making a decision. After that, the next thing I know is that Amanda has called AirBnB, spoken with the assigned Case Manager, they could NOT resolve the problem AND the Case Manager CANCELLED Amanda's reservation, without ever speaking with me - something that I was assured would happen I believe the Case Manager made the RIGHT decision, BUT for the WRONG reasons. First, he never spoke with me, as was promised. Second, he therefore based his decision ONLY on Amanda's point-of-view without being aware of ALL the circumstances. AND third, there was the previously noted factual error in the Support Representative's message which presumably also played a part in the Case Manager's decision. The consequences of the Case Manager's decision, at first, was to lock out the dates of Amanda's intended stay - thereby BLOCKING any possible change to Lior's stay which was the entire reason for cancelling Amanda's stay. After phoning back to point this out, thankfully the Case Manager relented and reversed this block; and Lior's reservation was successfully changed BUT – I'm being penalized for doing what I believe to be the right thing without being given any opportunity to appeal AirBnB's decision as ALL the other host cancellation penalties remain in place: 1.there is an automatically generated message (immediately following this "comment") of my guest reviews stating that I (NOT the Case Manager or AirBnB) cancelled a guests reservation on short notice (without any opportunity for me to explain or justify the action, save for this comment you are reading now) 2.I have been given notice (verbally, by the Case Manager) that I will lose my SuperHost status next quarter for one year 3.I will presumably will get "fined" the stated $ 100 penalty on my NEXT payout I recognize that my reasons for even considering the possibility of cancelling Amanda's reservation do NOT fall within any of the predefined AirBnB extenuating circumstances; BUT I firmly believe the reasons clearly and directly fall within the principles these predefined circumstances represent. As a result, I wish to appeal the decision to apply the cancellation penalties, but have been denied any such opportunity AirBnB's predefined extenuating circumstances that permit the possibility of a reservation cancellation only consider the health and circumstances of the host. This all happened because of the needs of an existing guest. This was a rare and unfortunate circumstance, but I feel the right decision in this unique instance
---
We enjoyed our stay, Andy and his wife are terrific hosts, and everything was clean. It is in a safe neighborhood. The apartment is as advertised, however it is on the 11th floor not the 12th top floor, but is still considered a penthouse. I would definitely recommend this apartment.
We have never claimed to be on the top (12th) floor. In fact, if you check photo # 4 in our photo gallery, you will see that our unit number is # 1106. You will also see in that photo this is preceded by "PH" for Penthouse. The builder of this condo decided to build the top two floors of the building to a penthouse standard. The floor plans and design features (fit and finish) are the same on both floors.
---
Andy's apartment should be stand as the "exemplary place" for Airbnb! This was my seventh trip to Ottawa since 2004. I do love the city, always had great time and did not really care too much about where to stay. This trip was the best so far and I have to admit that, this time, the accommodation counted for a great deal. For the price way less than a two middle or low quality Hotel rooms me and my two students received something way above we expected. This is truly a penthouse apartment with a huge sunny terrace overlooking Dow's lake. It is equipped with a modern kitchen, high end furniture and a superb media equipment, central AC (individual units in each rooms) quiet neighbors and a first class garage. Andy is perhaps the most accurate and reliable host I have ever met. He provides self written manuals for every single equipment in the apartment and up to date guides for basically everything worth to visit in the city. Unfortunately we had to leave two days earlier than scheduled due to some sad personal issues happened back in the US. We would totally accept to pay for the last two nights but Andy sent the money back through Airbnb. Well, this is a gesture that is unparalleled and demonstrates how much does he care about his guests. Overall, if you visit Ottawa, beside the Parliament Hill, Rideau Canal and ByWard Market Andy's Dow's Lake penthouse is definitely a "must-experience in Ottawa attraction". Five star (at least).
---
We had such a good time. Staying in this apartment is a true five star experience. Andy was extremely accommodating and very responsive. He helped us with directions even while we were driving. He met us upon our late arrival and he even put fruit/basics in the fridge for us. If we had questions he responded quickly. He was a wonderful host. The apartment was extremely clean. Every item of need was thought of and provided. Linens and pillows were very comfortable. The kitchen was well supplied. Then study/den was nice additional space. We enjoyed the views from the balcony. The washer and dryer are tucked away but accessible in a closet. The inside parking is very convenient just near the entrance. The gym was clean and the tenants were nice and courteous. There is a little park near by and all the lovely restaurants in little Italy are very charming. Our favorite for dinner was the Quan Viet Fusion restaurant. The Paticceria Gelateria Italiana has scrumptious deserts with a nice place to sit and sip your coffee along with the sweets. You are near so many things, at the same time you can choose to walk or drive from the apartment. We had a wonderful time in Ottawa and we thank Andy and his wife for letting us stay in their beautiful apartment.
---