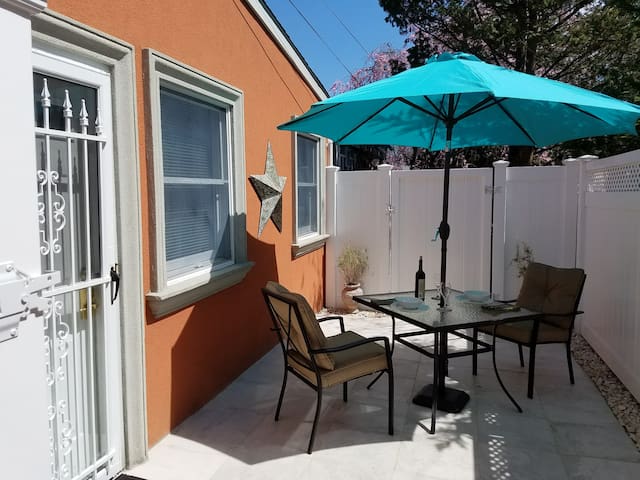 Secluded Sunny Studio. Private Entrance & Patio
我们的地中海梦想家园是寻求隐私和宁静的人的理想选择。放松在您自己的度假胜地套房,没有人群和麻烦的酒店。我们阳光明媚的一楼工作室设有高高的天花板,设备齐全的厨房和舒适的氛围。在温暖的月份,您可以在私人的围栏瓷砖天井中享用坐在伞下的餐点。情侣,独奏旅客,户外爱好者,LGBT和商务旅客将会在家外面找到家。
Our Mediterranean Dream home is Ideal for those seeking privacy and tranquility. Relax in your own resort-like suite without the crowds and hassle of hotels. Our sunny first-floor studio features high ceilings, a full kitchen and a cozy ambiance. During warmer months, enjoy a meal sitting under an umbrella in your private, fenced-in, porcelain tile patio. Couples, solo travelers, outdoor enthusiasts, LGBT and business travelers will find a home away from home.
---
---
---
---
* Smoking is not permitted anywhere on the premises, neither within the studio, nor on the patio. Smoking is not allowed poolside or in our gardens.
*Our kitchen has ample supplies for cooking and eating. We provide plates, glassware, utensils and pots for pasta, rice, meat, etc. Please turn fan above stove-top on "high" each time you cook. Deep frying food is unacceptable and strictly prohibited.
*Guests are responsible for cleaning kitchen pots and utensils. Please keep all papers and towels away from stove-top. Don't store or leave any items on top of stove-top.
* If fire alarm goes off inadvertently, please wave a towel at it. Don't attempt to disable the alarm.
*Cable TV and Internet use is 24/7 as long as the volume is kept at a reasonable level after 10:00pm. Use of your private patio is also 24/7 as long as use of patio is quiet after 10:00pm.
*Smoking anywhere on the premises, including the patio and gardens, is unacceptable and strictly prohibited.
*Conserve energy:
*Please shut all interior lights and unplug any unused extension cords each time you leave.
*Avoid fire hazards: Light candles only on the patio.
*Guests are required to sign a card copy of the following Guest Rental Agreement and Contract on arrival:
GUEST RENTAL AGREEMENT AND CONTRACT:
This Rental Agreement and Contract (the "Agreement") is a legally binding agreement made and entered into as of the Reservation Date written below by and between the undersigned person(s) or company (the "Guest") and the undersigned owner, manager or agent ("Rental Agent"), pursuant to which the Guest has agreed to rent the residence described below (the "Property"), for the duration of the Rental Term for the Total Rental Fee and other good and valuable consideration as described herein. OCCUPANCY Guest agrees that no more than [Max Guests] persons shall be permitted on the Property at any time during the Rental Term, all of whom shall comply with the conditions and restrictions imposed upon Guest under this Agreement.
CONDITION AND USE OF PROPERTY:
The Property is provided in "as is" condition. Rental Agent shall use its best efforts to ensure the operation of all amenities in the Property, such as internet access, satellite or cable TV access or hot tubs, fireplaces as applicable. Rental Agent shall not be held responsible for such items failure to work, but will make every effort to correct any issues as reported as quickly as possible. Guest acknowledges that use of amenities such as hot tubs, pools, spas, fireplaces, decks, and the like may be potentially dangerous and involve potential risks if improperly used, particularly with regard to children and such use is at the Guest's own risk. Guest shall use the Property for residential purposes only and in a careful manner to prevent any damage or loss to the Property and keep the Property in clean and sanitary condition at all times. Guest and any additional permitted guests shall refrain from loud noise and shall not disturb, annoy, endanger, or inconvenience neighbors, nor shall Guest use the Property for any immoral, offensive or unlawful purposes, nor violate any law, association rules or ordinance, nor commit waste or nuisance on or about the Property.
DEFAULT:
If Guest should fail to comply with the conditions and obligations of this Agreement, Guest shall surrender the Property, remove all Guest's property and belongings and leave the Property in good order and free of damage. No refund of any portion of the Total Rental Fee shall be made and if any legal action is necessary, the prevailing party shall be entitled to reimbursement from the other party for all costs incurred.
ASSIGNMENT OR SUBLEASE:
Guest shall not assign or sublease the Property or permit the use of any portion of the Property by other persons who are not family members or guests of the Guest and included within the number of and as permitted occupants under this Agreement.
RISK OF LOSS AND INDEMNIFICATION:
Guest agrees that all personal property, furnishings, personal affects and other items brought into the Property by Guest or their permitted guests and visitors shall be at the sole risk of Guest with regard to any theft, damage, destruction or other loss and Rental Agent shall not be responsible or liable for any reason whatsoever. Guest hereby covenants and agrees to indemnify and hold harmless Rental Agent and their agents, owners, successors, employees and contractors from and against any costs, damages, liabilities, claims, legal fees and other actions for any damages, costs, attorneys' fees incurred by Guest, permitted guests, visitors or agents, representatives or successors of Guest due to any claims relating to destruction of property or injury to persons or loss of life sustained by Guest or family and visitors of Guest in or about the Property and Guest expressly agrees to save and hold Rental Agent harmless in all such cases.
INDEMNIFICATION AND HOLD HARMLESS: Tenants and Guests shall indemnify, release and hold harmless the Landlord/Host from all liabilities, charges, expenses (including counsel fees) and costs on account of all claims for damages and otherwise and/or suits for or by reason of any injury or injuries to any person or property of any kind whatsoever, whether the person or property be the Tenants', Guests' or the Tenants' guests, arising from any cause or causes whatsoever occasioned by the occupancy and use of the Premises. Such release and indemnity is to be binding upon Tenants' and Guests' heirs and personal representatives.
RELEASE:
Guest hereby waives and releases any claims against Rental Agent, the Property owner and their successors, assigns, employees or representatives, officially or otherwise, for any injuries or death that may be sustained by Guest on or near or adjacent to the Property, including any common facilities, activities or amenities. Guest agrees to use any such facilities or amenities entirely at the Guest's own initiative, risk and responsibility.
ENTRY AND INSPECTION:
Rental Agent reserves the right to enter the Property at reasonable times and with reasonable advance notice for the purposes of cleaning the property, inspecting the Property or showing the Property to prospective purchasers, renters or other authorized persons. If Rental Agent has a reasonable belief that there is imminent danger to any person or property, Rental Agent may enter the Property without advance notice.
UNAVAILABILITY OF PROPERTY:
In the event the Property is not available for use during the Rental Term due to reasons, events or circumstances beyond the control of Rental Agent, Rental Agent will apply due diligence and good faith efforts to locate a replacement property that equals or exceeds the Property with respect to occupancy capacity, location and value that meets the reasonable satisfaction of the Guest. If such replacement property cannot be found and made available, Rental Agent shall immediately return all payments made by the Guest, whereupon this Agreement shall be terminated and Guest and Rental Agent shall have no further obligations or liabilities in any manner pertaining to this Agreement.
ADDITIONAL TERMS TO THE RENAL AGREEMENT:
In addition to the standard terms included herein, Guest acknowledges and agrees that the following additional terms and conditions apply to the Guest's rental of the Property:
GENERAL PROVISIONS:
This Agreement contains the entire agreement between the parties with regard to the rental of the Property, and any changes, amendments or modifications hereof shall be void unless the same are in writing and signed by both the Guest and the Rental Agent. This Agreement shall be governed by the laws of the State of New York. The words "Rental Agent" and "Guest" shall include their respective heirs, successors, representatives. The waiver or failure to enforce any breach or provision of this Agreement shall not be considered a waiver of that or any other provision in any subsequent breach thereof. If any provision herein is held invalid, the remainder of the Agreement shall not be affected. Any notice required to be given under this Agreement shall be in writing and sent to the contact information included herein. This Agreement may be signed in one or more counterparts, each of which is an original, but taken together constitute one in the same instrument. Execution of a digital signature shall be deemed a valid signature.
---
---
---
---
This studio was absolutely wonderful. It is everything the listing said. The decor was comfortable and inviting. I felt right at home. Everything was absolutely spotless. Every detail was attended to. The neighborhood was quiet and scenic. I felt totally safe the whole time I was there. I didn't get to meet Guy this time as he was out if town but he was in contact with me and his sister was there to greet me. His sister and her husband made me feel right at home. I loved everything about this studio and the pictures are real and true. Again I was more than pleased and hope to return on another trip. Thank you Guy for caring enough to make your guests feel comfortable and safe Stacey
---
Guy's was amazing. It was not a big place but big enough for three family members. Very clean, organized, and comfortable place. The best thing about this place is that the owner, Guy was very kind and friendly. He gives a lot of help when you ask. Thank you, Guy. My family have enjoyed staying at your place.
---
I love nature. Scuba diving, sailing, swimming, hiking, gardening and paddling on a lazy river are among my favorite activities. My gardens and pond qualify my property as a certified wildlife habitat through the National Wildlife Federation. I advocate for our environment in my role as Conservation Chair of a local hiking club.

I love jazz, classical music and pop music. I appreciate live concerts and listening to relaxing music at home.

I enjoy traveling authentically, and I seek out locations that are far away from commercial zones. I want the same for my guests. Our Mediterranean Dream home sits along a tree-lined street in a quiet, diverse residential neighborhood. Consequently, no matter where you're from, you'll feel like you belong in Valley Stream, and, as such, you'll experience travel as if you're a local- having a productive business trip, but not always feeling like you're away from home, or enjoying being a tourist but not feeling like one.

语言:
Español