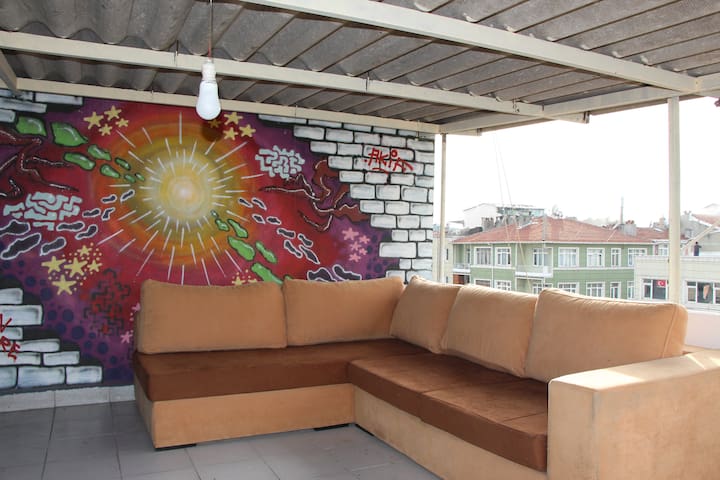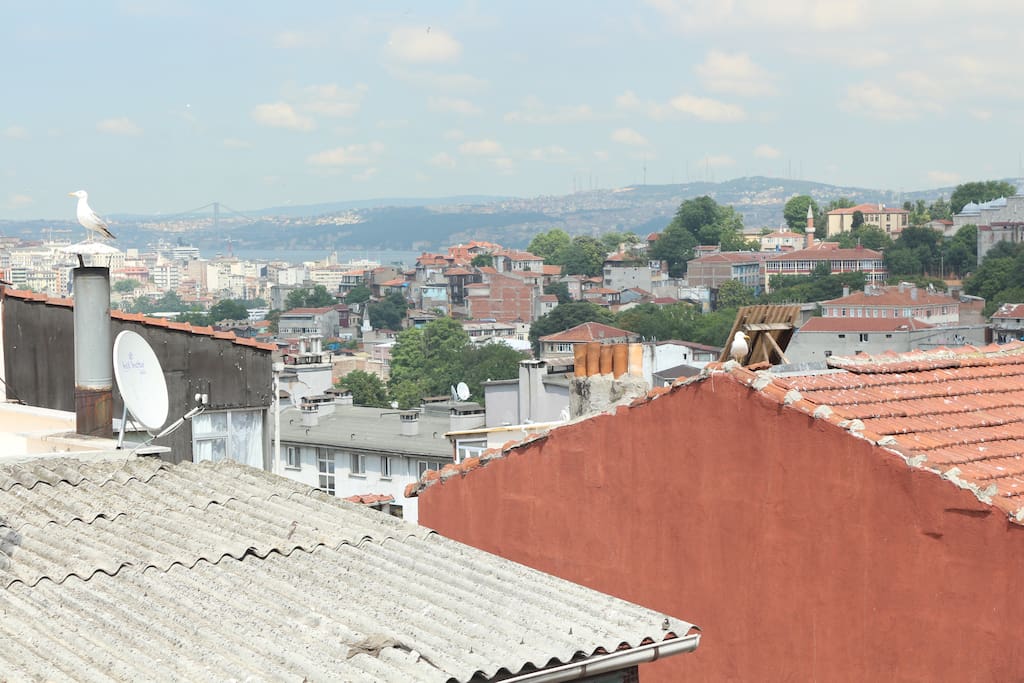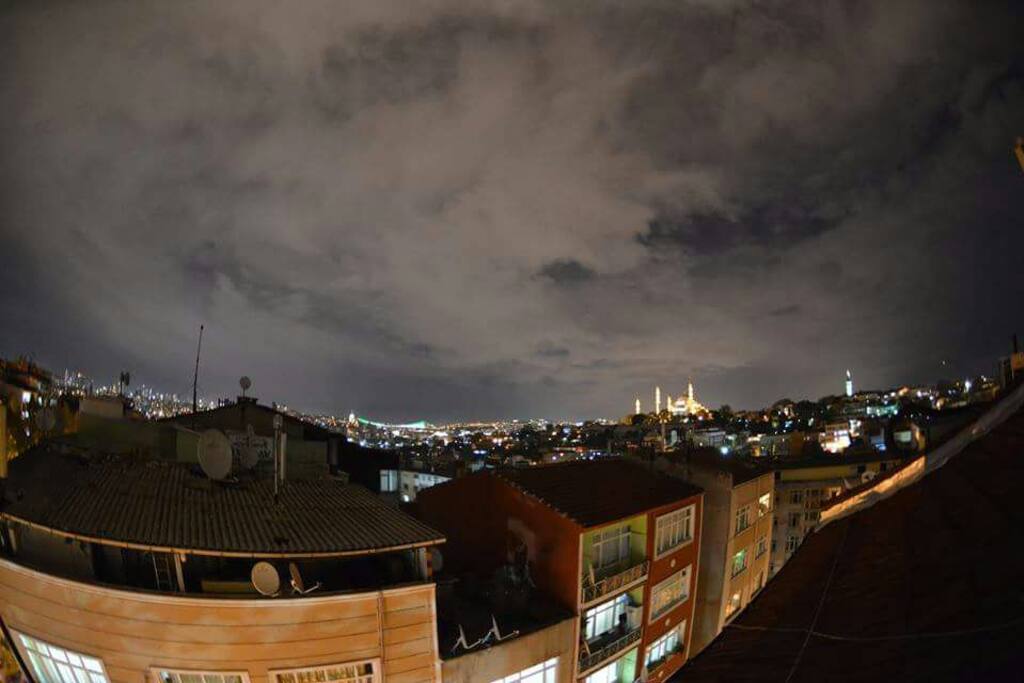 公寓位于大楼4楼,设有3间卧室,一间起居室和一个享有美丽城市景观的独立露台。它坐落在一个非常中央的位置,法提赫区,伊斯坦布尔的欧洲一边。
The apartment is on the 4th floor of the building, with three bedrooms, a living room and a separate terrace with a beautiful city view. It is situated in a very central location, district of Fatih, the European side of Istanbul.
房源
这个区位于老城区,步行即可到达Sultanahmet,Cemberlitas,Beyazit和Eminonu的历史街区。该地区的许多历史景点和纪念碑包括法提赫清真寺,Sehzadebasi清真寺,苏莱曼清真寺,瓦伦斯渡槽,大巴扎。该地区还有各种传统餐厅,土耳其美食和价格合理。这个地理位置也非常适合公共交通工具 - 步行3分钟内即可到达欧洲一侧的城市巴士站。可以全天24小时访问Taksim,乘公共汽车需要5-10分钟。请随时与我联系任何问题! 这是由Sussane Fowler关于位于我公寓的位置的"纽约时报"的文字。 "在罗马人巨大的瓦伦斯渡槽的石拱门的阴影下,Itfaiye Caddesi是一个远离伊斯坦布尔快速变化的喧嚣的世界,其高层和交通堵塞。 数十年前,主要来自安纳托利亚东南部的库尔德人涌入,这里开设了屠夫店,香料店和咖啡馆,并在法蒂赫地区的五层大部分步行区域。 不清楚为什么这个地区叫做Kadinlar Pazari(女子集市)。有人想像这是奥斯曼时代女性奴隶市场的地盘。其他人说这是因为妇女做大部分的土耳其家庭购物食物。 除了那些购物者之外,年轻人坐在渡槽拱门下面的凳子上,喝着浓茶。老式男子在钩编的头盖帽中排列着从低矮的胡萨姆·德茨加西尔清真寺的高峰窗口对面的长椅,街头小贩卖了清洁的羔羊肠,制成了肉桂加香的地面羊肉和米饭。其他推车可能装有红宝石红石榴,核桃和无花果。 在广场的一端,靠近拱门,一家商店卖了几种蜂蜜 - 松木,栗子,三叶草 - 其中一些仍然是蜡烛。另一方面,在金角上,香料店在五颜六色的土堆上展示了他们的商品,一串干茄子和胡椒悬挂着半宝石。你可以找到六种类型的红辣椒片;哈斯或罂粟籽;五香粉;和麻辣粉,由酸樱桃的种子制成。 广场也是午餐的好地方,办公室工作人员聚集在一起,提供布鲁斯烤肉串:一大堆烤羊肉服务于厚厚的绗缝的面包的温暖的盘子上。添加洒在一边的香料,包括lemony sumac和香的干麝香草。用咸的新鲜的。,。。。。。。。。。。。。。。。。。。。 然后考虑下一步在金牛座的金属板上,一块奶酪和甜的糖浆盘,直到它变得酥脆而金黄。"
This district is in the Old City center within walking distance to the historical neighbourhoods of Sultanahmet, Cemberlitas, Beyazit and Eminonu. Some of the many historical sites and monuments in the area include the Fatih Mosque, the Sehzadebasi Mosque, Suleymaniye Mosque, the Valens Aqueduct, the Grand Bazaar. There are also a variety of traditional restaurants in the area with good Turkish food and reasonable prices. This location is also great for public transport - within 3 minutes of walking distance the city-bus stops covering many points along the European side. There is 24/7 access to Taksim, which takes 5-10 minutes by bus. Please feel free to contact me with any questions!
It is the text which has been writtten New York Times by Sussane Fowler about location where is in my flat.
"in the shadow of the stone arches of the Romans' monumental Valens Aqueduct, Itfaiye Caddesi is a world away from the bustle of a rapidly changing Istanbul, with its high-rises and traffic jams.
Decades ago, an influx of mainly Kurdish people from southeastern Anatolia set about opening butcher shops, spice shops and cafes here and around a five-block-long, largely pedestrian area in the Fatih district.
It's not clear why the area is called Kadinlar Pazari (Women's Bazaar). Some imagine it was the site of a female slave market in Ottoman times. Others say it's because women do most of the food shopping for Turkish households.
In addition to those shoppers, young people sit on stools underneath the aqueduct's arches sipping glasses of strong tea. Rows of old men in crocheted skull caps warm the benches across from the peaked windows of the low-slung Husam Bey Tezgahcilar Mosque, and street vendors sell cleaned lamb intestines for making mumbar dolmasi, which are stuffed with cinnamon-spiced ground lamb and rice. Other carts might be loaded with ruby-red pomegranates, walnuts and dried figs.
On one end of the square, near the arches, a shop sells several varieties of honey — pine, chestnut, clover — some of it still in a waxy comb. At the other end, toward the Golden Horn, spice shops display their wares in colorful mounds, with strings of dried eggplant and peppers dangling like semiprecious gems. You can find a half-dozen types of red pepper flakes; hashas, or poppy seeds; allspice; and mahlep powder, made from the seeds of sour cherries.
The square is also a great place for lunch, and office workers crowd into spots offering buryan kebab: chunks of pit-roasted lamb served on a warm disk of thick, quilted pide bread. Add a sprinkling of spices served on the side, including lemony sumac and fragrant dried thyme. Top it off with salty fresh ayran, a foamy yogurt-based drink served with a long-handled spoon.
Then ponder your next move over a metal plate of kunefe, a cheese and sweet syrup dish that's baked until it is crisp and golden."
房客使用权限
您将能够访问公寓内的所有内容。厨房,我自己的露台等
You will be able to access everything in the flat. Kitchen, my own terrace etc.
与房客的互动
我总是想帮助我的客人。如果你想,ı将准备好向你展示。
I always would like to help my guests. If you want, ı will be ready to show you around.
---
I have been living İstanbul since i was born. I gruduated from History Department of Istanbul University. I am interested in music, movies, modern history and world literature. I would like to learn about other cultures and traditions over the world!

I like meeting new people from all around the world. Also ı am trying to do my be to feel my guests in their home and will be ready to help and give some tips my guests about city. If they want, ı can show around the city! ;)
Akif.
语言:
English