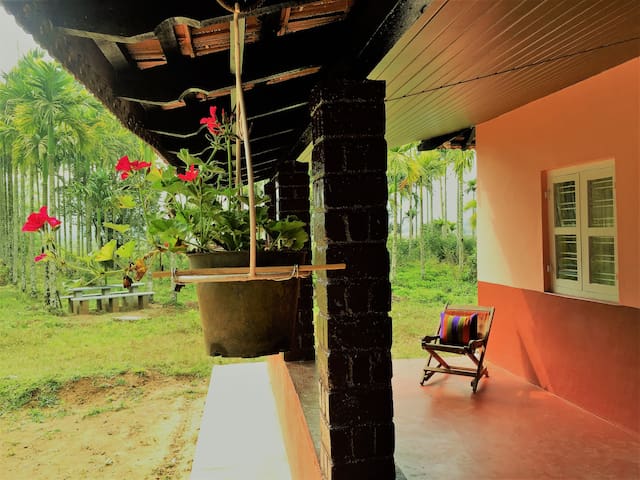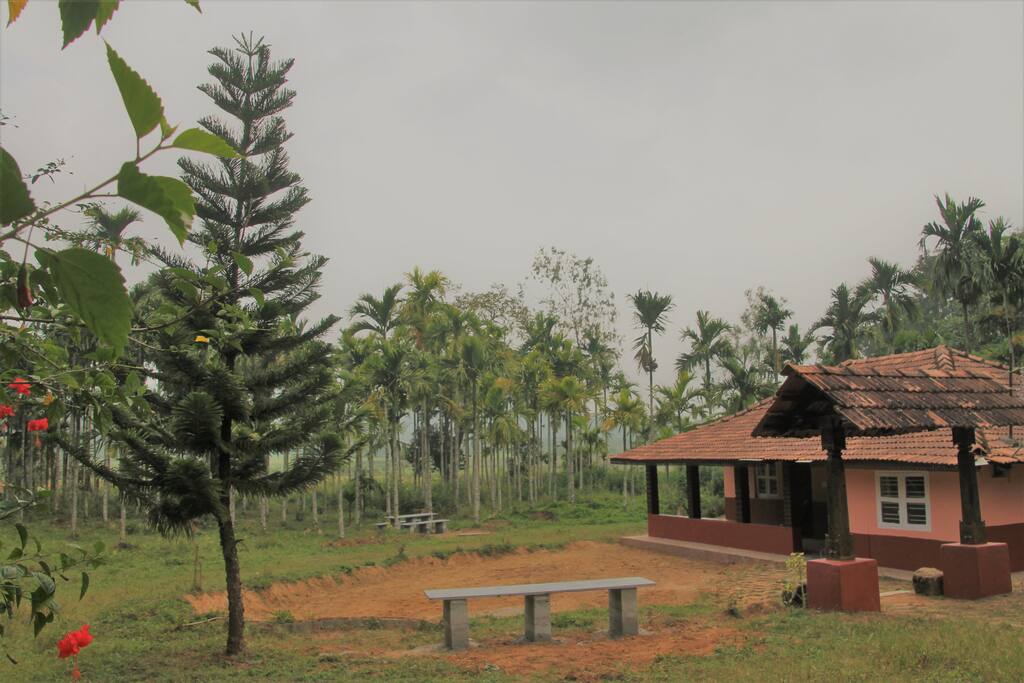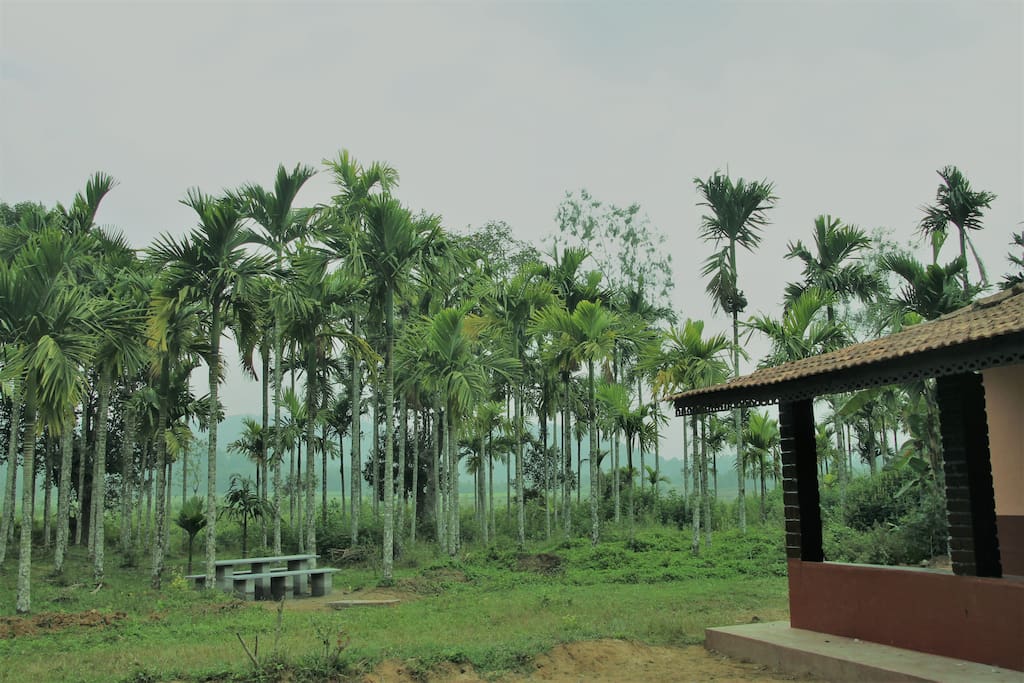 Whether you like to sit out under the trees- sipping a cup of freshly brewed coffee or laze in the verandah stretched out on the easy chairs - you will love The Lazy Dog home stay. Nestled amidst coffee plantation with some very scenic views - this place is a photographer's delight. Catch up with your family and friends on all the stories you missed, have some tasty meals which comes from our kitchen, read that comic you bought a few years back and have an absolutely lazy holiday.
房源
The Lazy Dog home stay is a small cozy cottage perfect for groups of 4 to 5 people. It situated in Nalavathoklu village in Virajpet, South Coorg. While we have tried to offer some minimum modern comforts - there is a small fridge, induction stove, UPS backup and a generator ( to pump water for those day(s) when we don't have electricity - there is no TV, no wifi and only BSNL connectivity ( sometimes). So Digital detox is what you get- and if that helps gets you started on the conversations with your loved ones- do send us a thank you note. We would like to remind that this is a home stay and so there are no butlers and no room service - you will need to go and make your filter coffee yourself ( we will show you how to do that).
房客使用权限
The guests have access to the whole property. There are benches outside in the plantation where you can sit out have your meals and drinks. Weather permitting, ask us to arrange a bonfire and a barbeque for all of you ( charges extra) There is ample space to park.
与房客的互动
The home stay is run by 2 friends and while Jyotsna looks after the reservations and other details, Rabitha meets and hosts the guests at the homestay. A fantastic cook, the meals ( pre-ordered ) comes from Rabitha's kitchen. Remember to ask her to prepare you her special coorg pork curry.
其他注意事项
Coorg is a pristine and a fragile eco-system which is drowning in a sea of non- biodegradable waste. we request you to please be responsible about the waste you generate- be it cigarette butts, water bottles, plastic spoons, straws, food wrappings . We are trying our best to reduce our waste footprint - so please do dispose your waste in the designated areas. Coorg is also facing acute water shortage and hence we request you to please be wise about the water usage.
Please do not use ANY electrical gadgets- hair dryers, iron boxes, induction stove etc while on UPS. Phone chargers can be used. In case there is no electricity, geysers can run on the generator.... but please wait for us to turn on the generator.
---
The Sleeping Dog is what dreams are made of. To begin your day with clouds in your backyard, and ending it with only the buzzing sound of crickets and raindrops, this place will blow your mind. The never ending backyard with Silver Oak trees has a bench in between to soak in everything the place has to offer. Although Jyotsna was not around for the weekend, her friends Rabita & Soni took care of everything from a candle to the best home made meals. The rooms are very cozy, and equipped with all basic necessities you would require, including a couple of books, bedside reading lights and a set of playing cards. For all you know, you might end up spending all your time in the beautiful porch on the lazy chairs, enjoying the breathtaking view all day long. Cherry on the cake was the lack of proper phone network, which is exactly what we needed. This was my 1st Airbnb experience, and boy what an amazing streak of luck! Already saving leaves to come back here at the first chance I get! Cheers :D
---
1. Location - This 'two (very spacious) rooms with attached bathrooms + Kitchen' bungalow is situated amidst a lot of greenery and far from the traffic noises. You can hear the crickets chirp and frogs croak clearly in the night. There is a lot of space in and around the property for you to roam around and ponder over your life choices in complete silence. 2. Host - The owner of the place Ms Jyotsna wasn't there in person but she made sure that we were well taken care of. Her friend Rabitha and a caretaker, Pramod were always a call away. 3. Food - The local cuisine they served us (Stew, Sambhar, Puttu, Idli, egg curry, chicken curry) were some of the most delicious things we have put in our mouths. We didn't eat, we hogged. A few things that - 1. The kitchen has an induction plate so don't think of cooking anything fancy. Tea, maggi is doable. 2. The water in the taps was a bit muddy. They have an Aquaguard. 3. Power cuts happen but they have UPS at the place so your usual lights and fans would work but don't expect the geyser and induction to work. Not really a bother tbh. 4. They have arrangements for the driver to sleep. 5. There are no dogs on the property. Neither sleeping nor awake.
Thanks a ton Avinash for your review - we loved having you and your friends over and look forward to your visit again. Rabita and I are already planning out the menu for your next visit...and yes .... we will have a dog- sleeping or awake by then :). Thanks for being such lovely guests...cheers
---
Travelling, movies, dogs ( not so much cats) sufi music and mythology make me happy - not necessarily in that order of preference. While I earn my living as a management consultant in the social responsibility space, The Lazy Dog homestay for me is my way of sharing the joy of …